Today is #MarketFriday initiated by @dswigle (Denise, that's me!!) I hope you will join me as we share markets from across the globe. Different and varied as the countries themselves, I always look forward to seeing what you send me. Come. Sit down. Relax. Enjoy the shortest trip around the world you ever experienced, perhaps taking in a market from somewhere you have never been, seeing something you may have never seen.💓💓
A a few nights ago, right before Christmas, the family, young and old alike went to a Chinese Lantern Festival right outside of Raleigh-Durham, North Carolina, in a small community named Cary.
How can this not be your absolute favorite? A huge Chicken-Phoenix-Dragon, staring reflecting into the universe as it floated on the pond. The sheer size of it makes it an amazing sight. Every year, a new and different set of structures.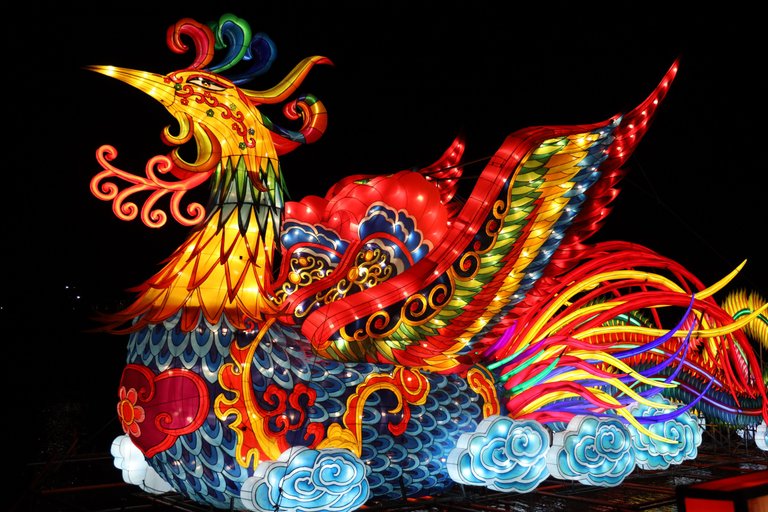 They're not exactly sure when the Lantern Festival originated, but, it could be as far back as the Han Dynasty. It is said that Buddhist monks light the candles on the 15th day of the lunar year, all in the honor of Buddha. It was made popular in secular or non-religious circles and adopted throughout China, then later, the world. The winter festival is the first important feast after the Chinese New Year. The most important thing going on during this event is to watch the Chinese lanterns. Who knew?

Welcome! Embrace the tunnel. Upon your entry, you walk through a tunnel of lights at the Chinese Lantern Festival. I have to admit, it feels a little bit magical. The colors are brilliant and the lanterns are spectacular. Every year, they put up the display and every year, they take it down. They start building next years almost right away. They never have the same one twice. They are built from scratch every year.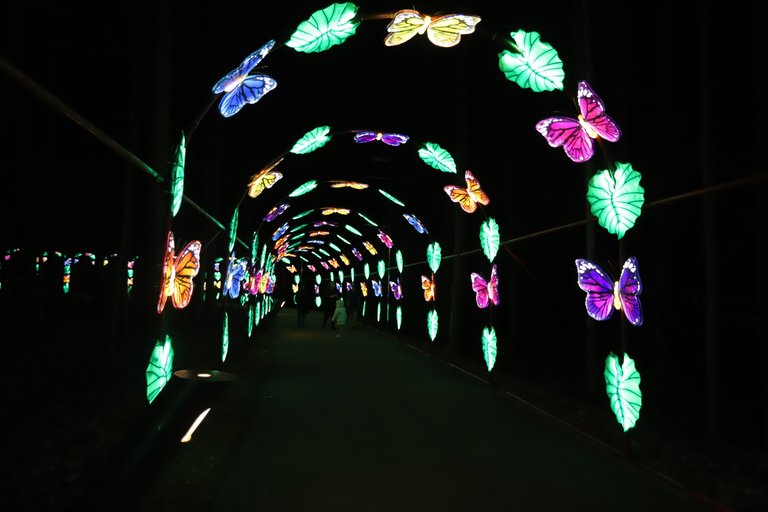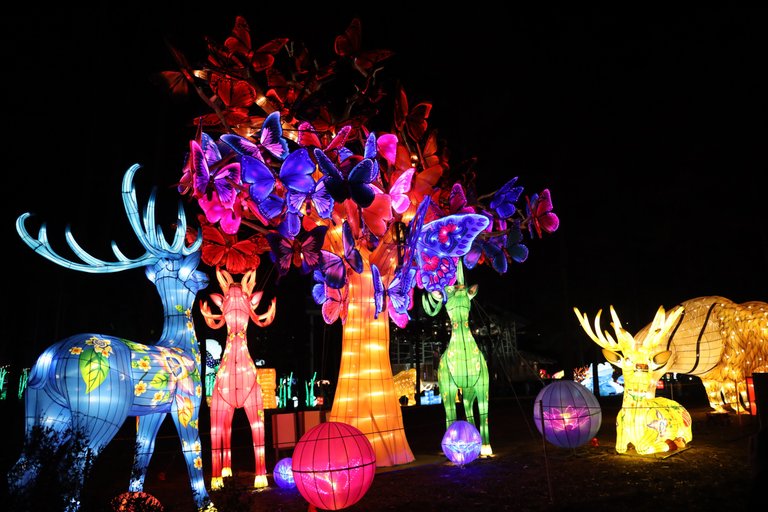 Who doesn't love to see what they will be selling in some foreign market, shopping in places I have never been to and some, never even heard of. I am always curious about foreign ingredients, different products that are being sold. So, yes! I would love to see you! We all do!! Don't forget to take photos wherever you happen to be shopping - whether it be the grocery, art galleries, or even a Christmas Market, wherever money is exchanged for a service or for merchandise. Don't forget to use the hashtag #MarketFriday and @dswigle.
Please leave the link to your post on here so it can easily be found by others. Make them available here, so we have them in one place. Where else can you take such a quick trip around the globe? Thank you so much!! ❤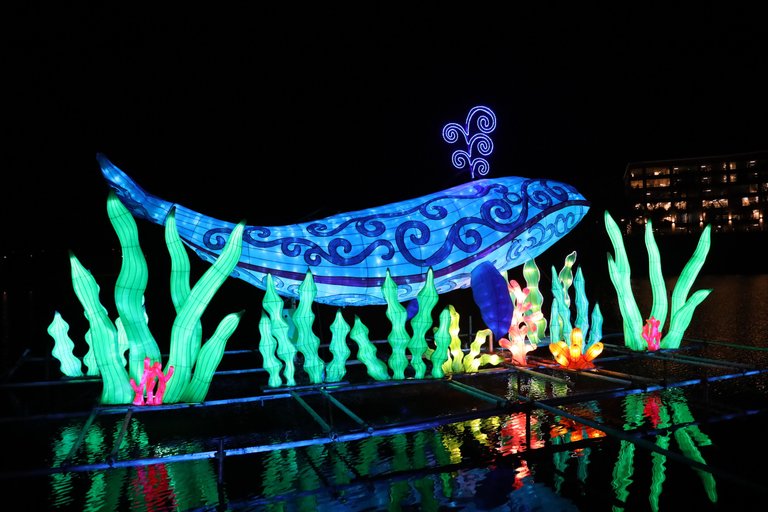 Miao Zhang works his way through the entire park of silk before the gates open at 6, making sure each piece works the way it should. The effect of the relatively brief cultural education that adults and children walk away with after a tour through the lanterns is well worth the five months it takes Miao and his team to put the festival together. In July, Tianyu Arts & Culture, the company that designs and builds the lanterns, start sketching out ideas at its home base in Zigong. Every year since the first Cary event in 2015, Tianyu has created new displays for the show, which always includes a 21-foot-tall dragon. Once the show is designed and approved, about 18 artisans and six performers arrive in October — along with the lanterns — to assemble the displays. The performers stay behind to dazzle audiences two or three times a night with a 30-minute show filled with acrobatic feats. Miao remains, too, to make sure the lanterns are in working order and to serve as the group's translator. source
The lanterns are made up of vibrantly colored fabric that is stretched over iron frames. The frames are illuminated by dozens of LED lights and if you look, they are strategically placed around the area for maximum visual impact. I thought I would be blase about the entire thing, but, I was like a little kid. It was pretty cool. There are thousands of lights, about 8,000 of them, giving each of these lanterns a most magical existence.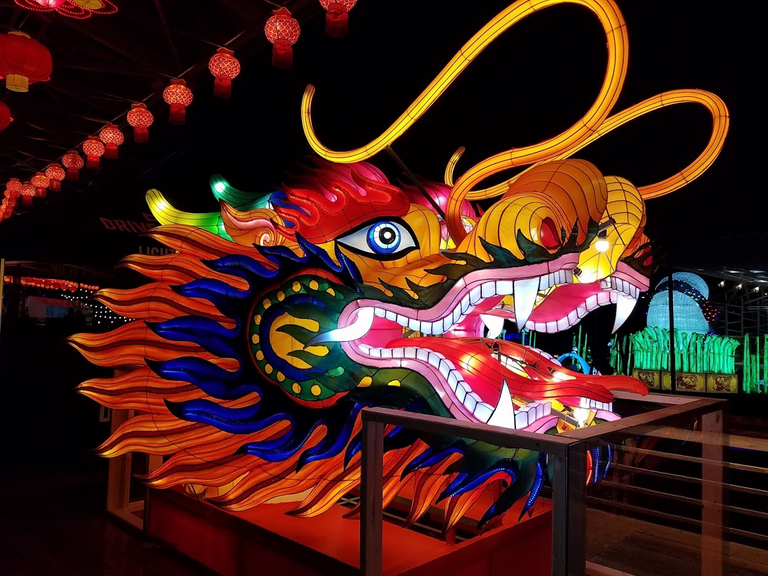 There were quite a few Alice in Wonderland type of characters. One of the men building these sets says that he likes doing it to promote Chinese culture. Each display has a sign that explains the Chinese history behind the individual lantern.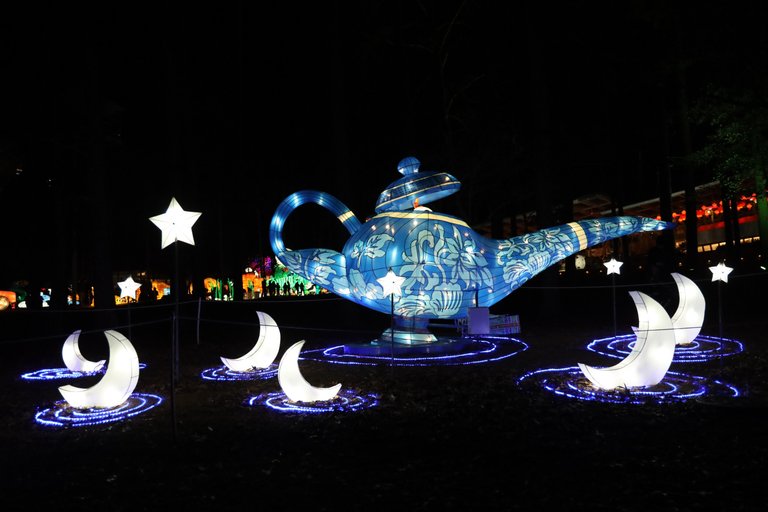 The penguins on ice. Their characters run from realistic to whimsical. It was fun to just meander through the park, watching and being watched. It usually is a great time to people watch, but, tonight it was all about the lanterns.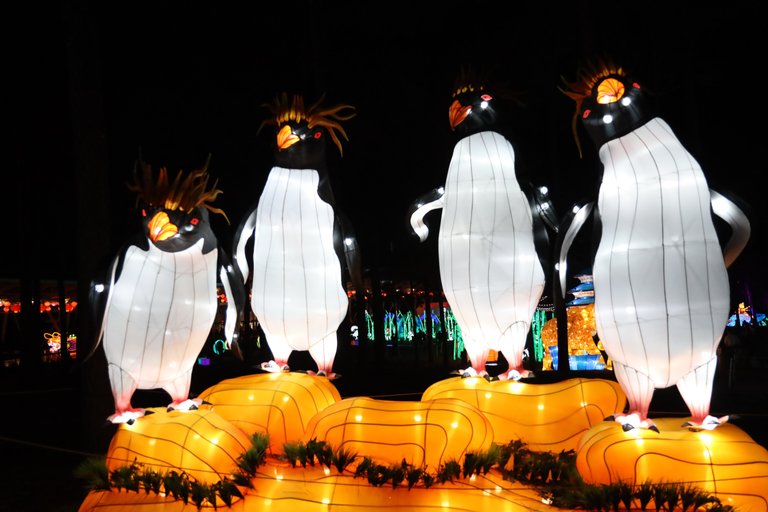 North Carolina Chinese Lantern Festival
8003 Regency Parkway
Cary, NC 27518
(919) 462-2025
November 22 through January 12.
boothamphitheatre.com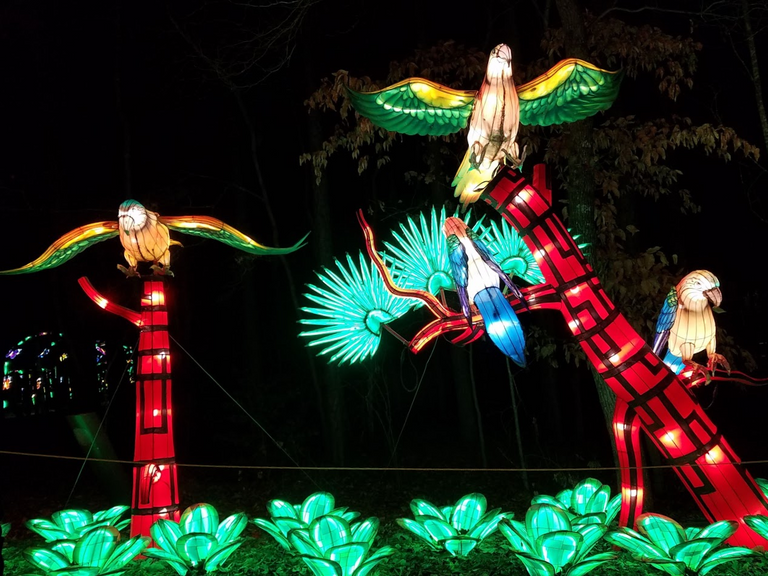 And just like that, this show is over! I want to thank you for visiting #MarketFriday! The support you show the challenge and me, just by showing up means a lot. I thank you for that and as always, have a great day!
#MarketFriday Loves You!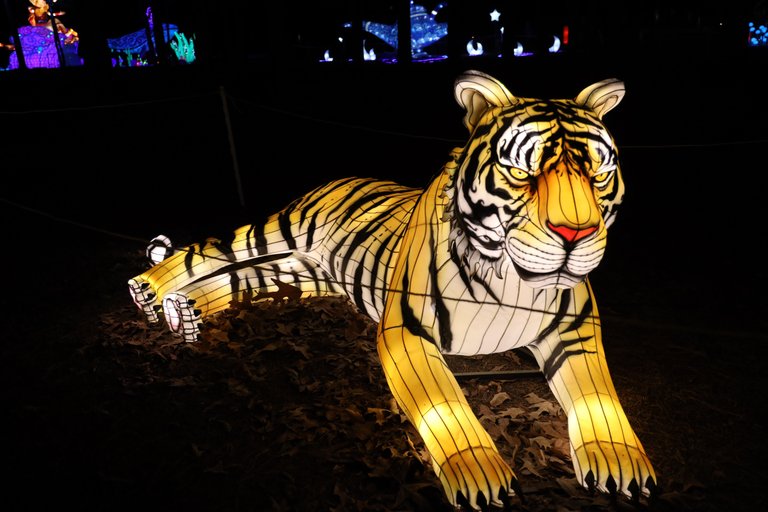 Will you marry me, it says. Oh, there were men and women alike standing there pleading for a hand in marriage. We will have to wait until next year to see if there are any takers. Love me, love me, love me do. Oh, the Beatles had it right.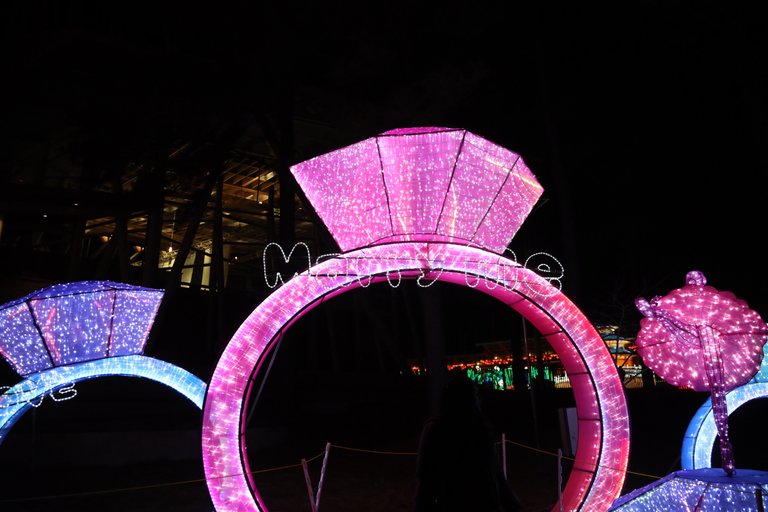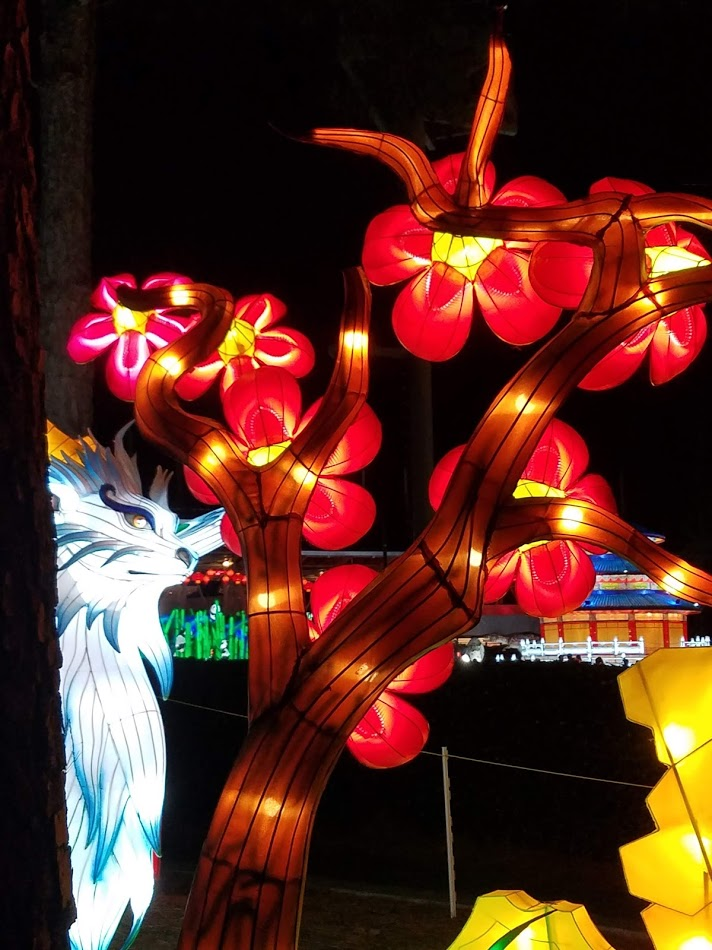 As always. there must be a flower to color my world. I hope you had as great a time looking at the lanterns, as I did showing them off!I had a wonderful time being there and there are so many more pictures, but, I will have to use one here and there on a random day.
Love to all, Denise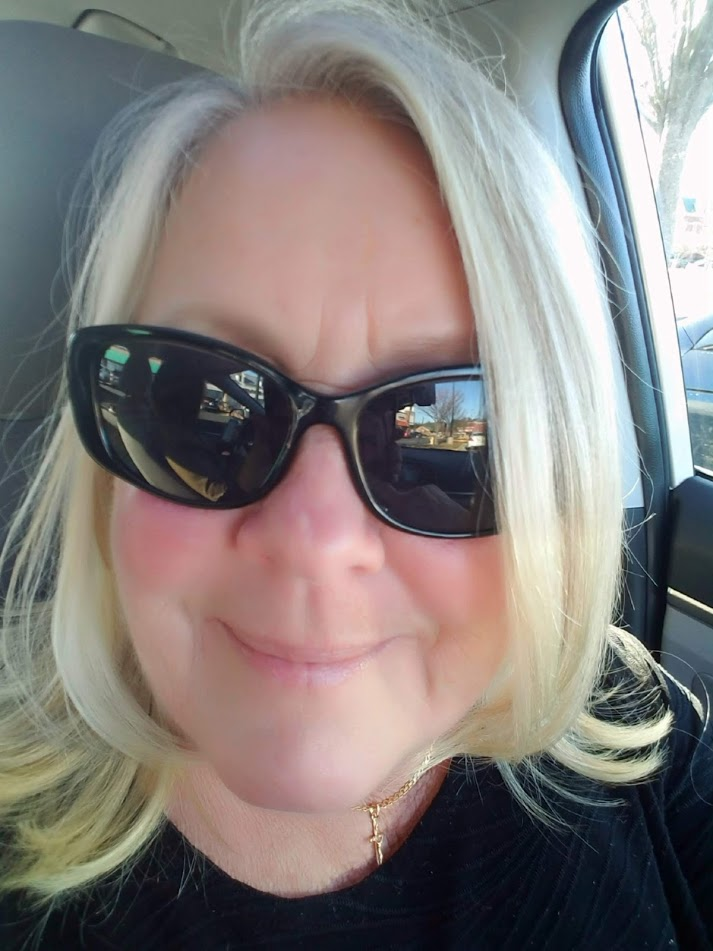 ---
I dedicate this post to all of you. You bring joy to my soul and spread your love across the world. For this, I thank you. And just like that, these musings are done...and just so you know, although we are throwing glitter around the globe, I can guarantee you that there is still a little left to take us through Christmas. Have a most fabulous day!
Thank you for visiting my post 💖 Because of you, I come back to post, again and again, I am encouraged by you, for the time you take to visit, comment or even upvote. For all of these reasons, I am eternally grateful. Don't ever forget what a wonderful world we live in, people. Some days, it is not as easy to see, how wonderful it really is. Kindness counts. Wherever you go, whatever you do.

We Are The World
There comes a time
When we heed a certain call
When the world must come together as one
There are people dying
Oh, and it's time to lend a hand to life
The greatest gift of all
We can't go on
Pretending day-by-day
That someone, somewhere soon make a change
We're all a part of God's great big family
And the truth, you know, love is all we need
We are the world
We are the children
We are the ones who make a brighter day, so let's start giving
There's a choice we're making
We're saving our own lives
It's true we'll make a better day, just you and me
Oh, send them your heart
So they know that someone cares
And their lives will be stronger and free
As God has shown us by turning stones to bread
And so we all must lend a helping hand
We are the world
We are the children
We are the ones who make a brighter day, so let's start giving
Oh, there's a choice we're making
We're saving our own lives
It's true we'll make a better day, just you and me
When you're down and out, there seems no hope at all
But if you just believe there's no way we can fall
Well, well, well, well let us realize
Oh, that a change can only come
When we stand together as one, yeah, yeah, yeah
We are the world
We are the children
We are the ones who make a brighter day, so let's start giving
There's a choice we're making
We're saving our own lives
It's true we'll make a better day, just you and me

#Steemusa is a growing community of quality-content people from the United States or those living here. Check us out on Discord!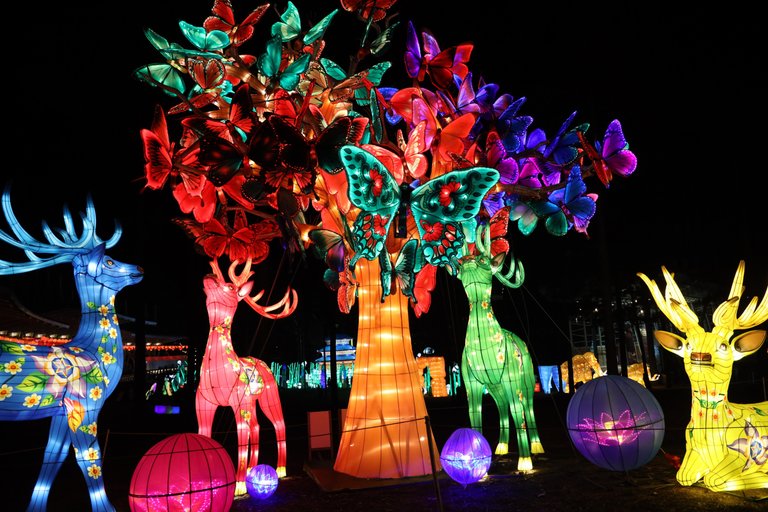 Oh, deer!!! This is longer than the end!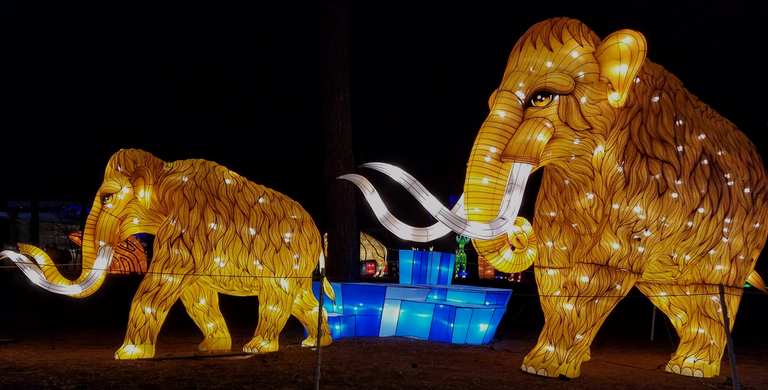 Join me at the end of the line! Have a great day!
North Carolina Chinese Lantern Festival
8003 Regency Parkway
Cary, NC 27518
(919) 462-2025
boothamphitheatre.com
Festival: November 22 through January 12.