All meme images generated from Imgflip at the link below:
https://imgflip.com/memegenerator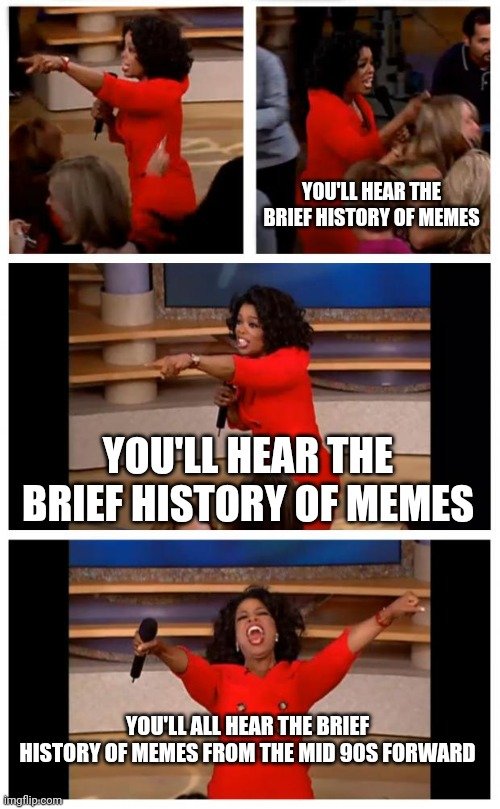 Why we Meme- behind the scenes making the memes
Stay awhile and listen...
Memes have been a part of my life since the demotivationals of the 1990s. Ever since web 2.0, memes have been part of both counter and popular-culture.
Enter me age 13...
I began my career in the internet at the age of 13. This was before search engines. I declined to play outside in favor of browsing the internet in the middle school computer lab. I needed the exact url to access websites and I still was devoted enough to give up outdoor time for time in front of a screen before it was in vogue.
Enter 1998. Google, Ask Jeeves, Meracrawler and other search engines allowed for easy access to all the internet had to offer. Search engines enabled the creation of memes. We could find and mash together images on meme templates, and this memes became a thing.
Memes began with demotivationals. Then the first generation memes including Scumbag Steve, bad luck, the troll and other favorites arived on the scene. These memes still circulate, and they captured my attention while I was in college. Their simplicity and ability to express an idea sarcastically captured me, and this is when I made my first memes.
Animated .gif memes took over in the early to mid 2000s. Most of my memes were political at this time, and I created very few .gif memes.
Why do I meme? I have been making memes for approximately 20-years and I enjoy it thoroughly. It's a part of my life now, and it's a habit I cannot shake.
I meme because I see issues and trends in society, and I want to convey this. I use humor and try to be a bit forward when illuminating these aspects. The past few years have been crazy, and memes express the spirit of our day.
To me, the meme is as much a part of the internet as TCP/IP or HTML. As a prolific memer, I am glad to have found Memehive. Thanks for making this community what it is. Let's grow it in 2023.