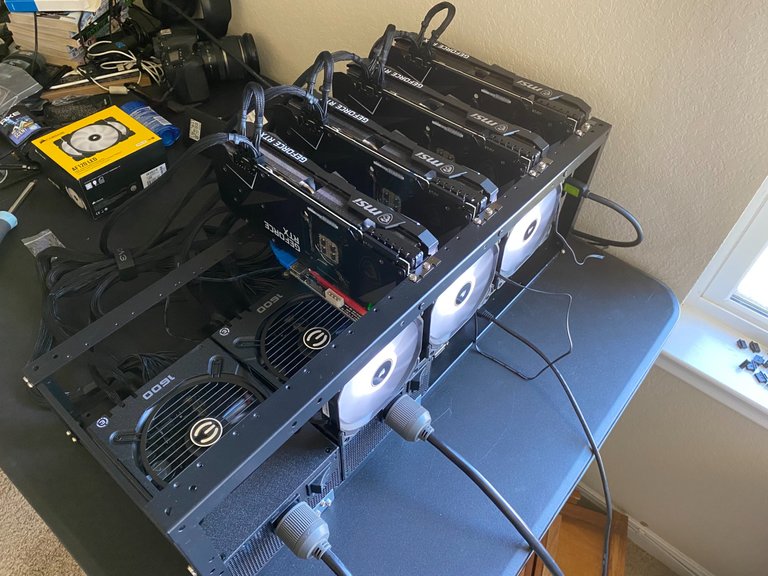 Yes I know ETH mining is coming to an end. Get off my back already. I've always had a tangential interest in mining, but it seemed like too much of a headache. Buying all the equipment, learning all the technical ins and outs, figuring out a space to do it etc. Thinks changed when my cousin decided to pull the trigger and get into mining. He was late compared to me in crypto and was looking for a was to earn his way in vs just buying in at these prices. I figured I could learn through him so I've been closely monitoring his journey. The end result…
Couldn't pass it up. Even with POW mining ending on ETH it's still worth it. Plus if ETH does what it's famous for and delays the upgrade, even better.
My rig is a 4x RTX 3090 machine. I ape'd in a bit too fast I think. Paid internet premiums on the cards, and didn't realize that 3090's are ridiculous power consumption monsters. I may have to get a dedicated circuit in my house just for this so I'm not constantly tripping breakers.
It's also loud and hot. That's the bad part. The good part is it's pulling about 480mH which depending on the price of ETH brings in around $30-$40per day or between $900-$1200 per month. I went in with my wife and Dad for paying for everything and it's all up and running now. Pretty exciting.
As I was about to write this post a did a quick search to see if Hive had a crypto mining community and I didn't see one. Anyone know of one? We should def have one. Is anyone else here mining? Let me know in the comments. Until next time peeps.