Another Way to Leverage Gold Gains
Today highlights another type of gold stock to earn leveraged gains against the change in gold price. This will not only hedge against stock market risk but also inflation. (note: gold and related securities do fall with the overall market initially due to margin calls and other forced sellers but history shows this negative performance is short lived.)
Franco-Nevada (FNV)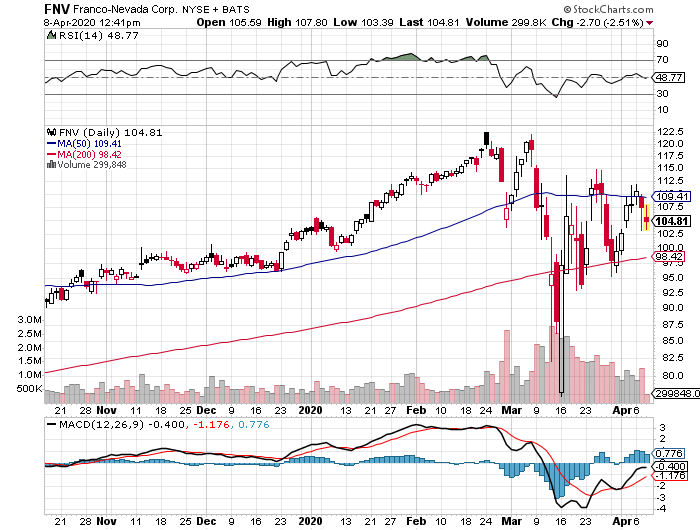 Franco-Nevada is not a gold miner which makes its business model 1000 times better than even Barrick Gold (GOLD). This company looks for great projects and establishes a royalty structure. It puts up cash once and gets paid as long as the mine produces.
This model is great since it doesn't take many people to run the operation. With just 30 employees Franco-Nevada is able to generate around $695 million per year in revenue ($23 million dollars per employee which is 23 times the per employee count at Goldman Sachs).
Gold prices are expected to continue to trend upward due to market uncertainty and increased Central Bank activity. Gold is a necessary asset in today's crazy times. After owning physical gold you need to own the best gold companies in the business.
As gold prices continue to rise, FNV will probably rally by triple digits. Take a look at owning Franco-Nevada today.

Disclosure: I wrote this article myself, and it expresses my own opinions. I have no business relationship with any company whose stock is mentioned in this article. The information provided should NOT be considered advice. The topics discussed are risky and have the potential to lose a substantial amount. I am not an investment professional and therefore do not offer individual financial advice. Please do your own research before investing.