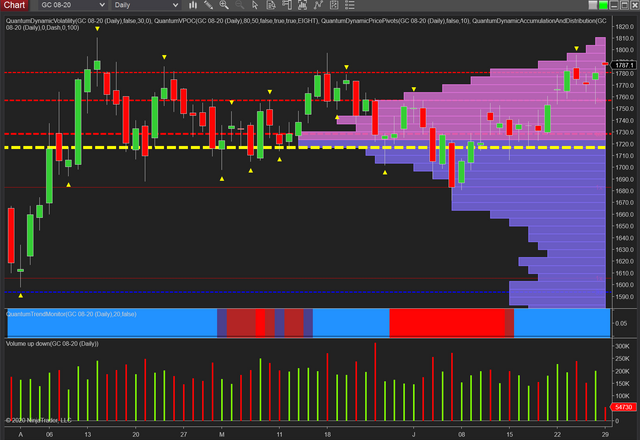 The next few days are likely to be critical ones for gold, and as the precious metal moves to test the $1,800-per-ounce level once more, a region that has seen several failures over the last few months and is, therefore, extremely significant. This morning's open gapped up through the resistance at $1,780 per ounce and which is now acting as support. This move higher was much as expected following Friday's price action, where the deep intraday move lower triggered strong buying, reversing the weakness to close up in the session. The move was on good volume and the daily candle completed with a deep wick to the lower body confirming bullish sentiment remains in play for the time being. This was also supported by the trend monitor indicator, which has remained steadfastly blue throughout recent pullbacks and reversals.
The key now for gold is the volume from two perspectives.
First, note the volume histogram for the volume point of control which falls away dramatically once above $1,790 per ounce and beyond $1,810, which is an excellent sign as this offers little to no resistance for any move higher.
Second, is the volume associated with the price action and Friday's close suggests the bulls remain in control. So provided we see a move through the $1,800 per ounce region on good volume this is likely to provide a strong platform and base for an extended bullish trend.

Original Post