Hello dear friends,__
Hallo liebe Freunde,
Today I'm happy to present you the first mix from the "New Mix Edition" of my / our current single "You Look Like Fire" by Klubbingman, Andy Jay Powell & DJ Fait feat. Kim Alex.
The first mix from this edition is an Uplifting Trance Mix of my sub-project "Savon", which I founded in 1999 and reserved for Uplifting Trance productions.
Soon another Trance Mix by "Satellite Robots" and a Hardtrance Mix by DJ Fait will follow.
I think this is again suitable material for @uwelang and his #danceweekend!
🔊 🔊 🔊
Ich freue mich, Euch heute den ersten Mix aus der "New Mix Edition" meiner / unserer aktuellen Single "You Look Like Fire" by Klubbingman, Andy Jay Powell & DJ Fait feat. Kim Alex präsentieren zu können
Der erste Mix aus dieser Edition ist ein Uplifting Trance Mix meines Sub-Projekts "Savon", das ich 1999 gegründet und für Uplifting Trance Produktionen reserviert habe.
Demnächst werden noch ein weiterer Trance Mix von "Satellite Robots" und ein Hardtrance Mix von DJ Fait folgen.
Ich denke, auch das ist wieder passendes Material für @uwelang und sein #danceweekend!
I have also embedded the new mix in my new Spotify playlist. In this playlist I will collect current dance, trance and house themes that I like very much.
🔊 🔊 🔊
Ich habe den neuen Mix auch in meine neue Spotify Playlist eingebettet. In dieser Playlist werde ich aktuelle Dance, Trance und House Themen, die mir sehr gut gefallen, sammeln.
Just sensational for us is the chart position on rank 4 of the Dance50 Dance Charts.
Many thanks to all who have supported us.
🔊 🔊 🔊
Geradezu sensationell ist für uns die Chartplatzierung auf Rang 4 der Dance50 Dance Charts.
Vielen Dank an alle, die uns unterstützt haben.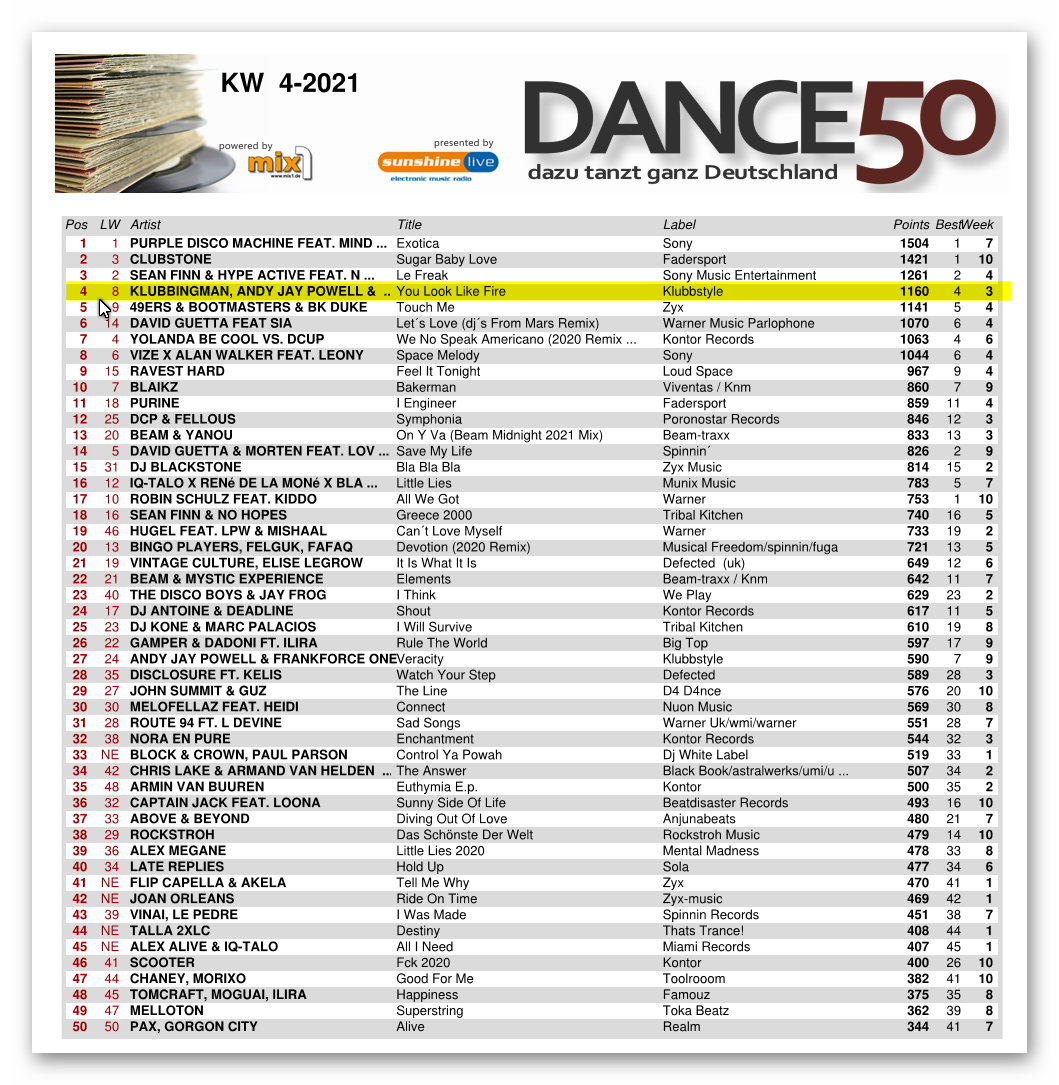 Ich hoffe, Euch gefällt mein neuer Beitrag für HIVE....
I hope you like my new contribution for HIVE.....
---