Hi again.Well,after a few days again i will share some of my wisdom with you.Just kidding,but i'm glad that i can write about event from 26.6.2017.
My friends and i went on a Prophets of Rage concert in Zagreb,capital town of my country Croatia.
To write about my love for Rage Against The Machine will took to much time,they are simply amazing band especially live.
But unfortunattley i never seen them,because of some circumstances in their career and the fact that they rarely played near Croatia.
So that day,that 26.6 was my chance,oportunity which i wait for years.
But to be no mistake this is supergroup formed bay 3/4 of Rage Against The Machine and B.Real and Chuck D. and DJ.Lord.
One man wasn't there,the man who is just package of energy,great frontmen and man who write genius lyrics.His name is Zack De La Rocha,and he didn't participate in this project.
I was skeptic when i found out about all this,and fact that someone else is sing this songs was kind of upseting.
After the concert i could say that i was half right,half wrong.
Chuck D. and B.Real are very good rappers,and they did the job correct.But....man they don't have that carisma,that stage presence and energy like Zack.
Just watch live videos on you tube and you will known what i talk about.It's mezmerizing how Zack bringing his view on such subjects as poverty,injustice,rasicm in his amazing lyrics and his uncontroll attitude.
In my opinion Rage Against The Machine is best live band in the world,and i still live in tiny hope that i will see them some day.
Let's switch to curent theme,Prophets of Rage.
They were amazing,just killing their instrumensts and send us large porcion of energy and we send same back.
Crowd of 5.000 people and six men on stage became a one,a one machine made of sweat,singing and jumping.And that machine was working on 100 % all hour and a half how long the concert was.
Setlist of most songs of R.A.T.M.,and few of Cypress Hill and Public Enemy.And one original song that will came out on album in fall.Maybe i sound too critical,with all stuff about Zack...but if you're a Rage fan like i you known what i'm talking about.
Let's be clear,i'm glad that Tom,Brad and Tim are playing together again,and i will support them all the way.
In this state of world and people's mind we need bands like them,who can make you to think about a many things after you listen the songs.Bands who can also 'force' 100 000 people to jump for hour,hour and a half.
And with Zack busy with his solo work they recruited their freinds and doing what they love and know best - play LIVE shows and write music.
Tottaly respect,and i read later reactions on concert and they are great.From people,music sites and magazines.
It means that we can have our opinion on playing without Zack but also supporting them by coming to shows.
And maybe buy Prophets of Rage album when it came out,i know i will.
Bombtrack,Bullet in the head,Testify,Bulls on parade,Sleep now in the fire,Take the power back...just few songs they play from Rage repertoar.To me it was enough,i was happy,sweaty after the concert and deeply satisfied.
Sure,there's lot of songs that i would love that they played.But man,you can,t always get what you want..am i wright :)
It's hard to satisfy all,we have to be just pleased to hearing a Rage songs after a some time.
So i highly recommend you to see them if you got a chance,you will not be dissapontited.
And to not forget,we have a chance to see House of Pain also in that concert and it was real pleasure.
Who could not enjoy in hear jump around live and a sweet smell in the air,you know what a talk about :)
Also to mention guys pays respect to their former frontmen,saddly passed away Chris Cornell.Instrumental version of song Like a stone,with audience singing lyrics.Emotional,beautiful.
And the main thing after all,Tom Morello is a genius,guitar hero of generation and for sure the best guitarist i ever heard live.
That's kind of all from me,hope you get a good glimpse of feel from amazing concert and that you are enjoy this post.
For the end one picture,from Prophets of Rage twitter.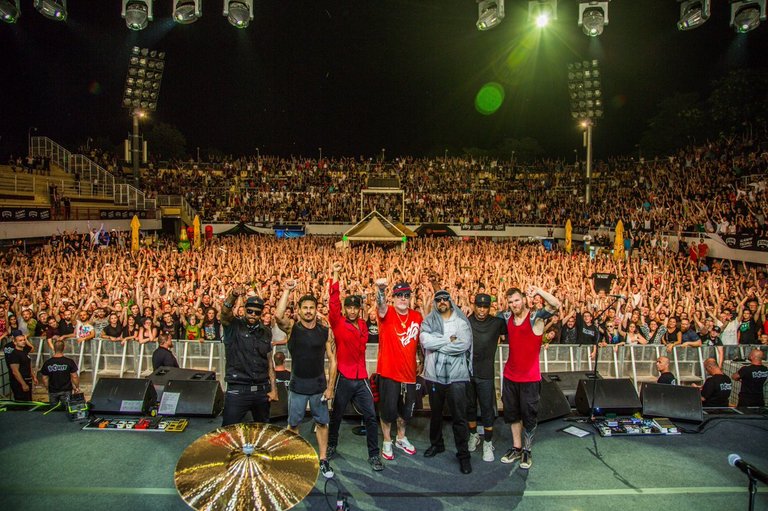 To all of you i wish a good day,or night depends where are you from.
Enjoy in life,be humble and be yourself no matter what.