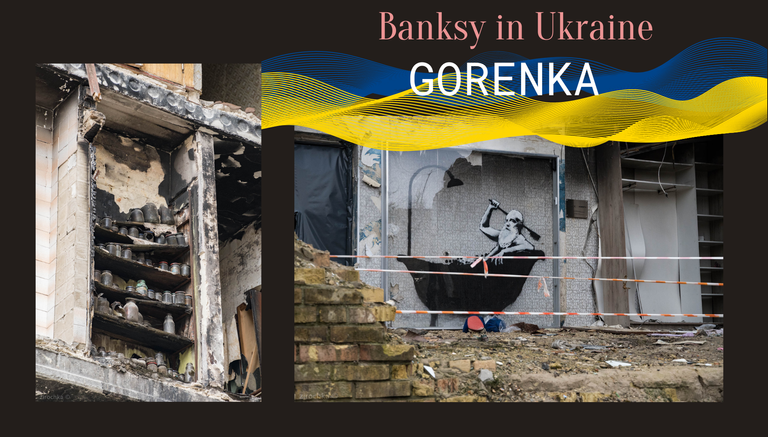 Hello, dear readers. Today I am going to finish my long and poignant story about one day in February when I visited all places where Banksy painted his street art in Ukraine.
If you missed the beginning you can catch up on the links below:
Kyiv 1
Hostomel
Borodyanka 1
Borodyanka 2
Irpin
This part is dedicated to Gorenka - another small settlement located on the edge of Kyiv city. It won't be long.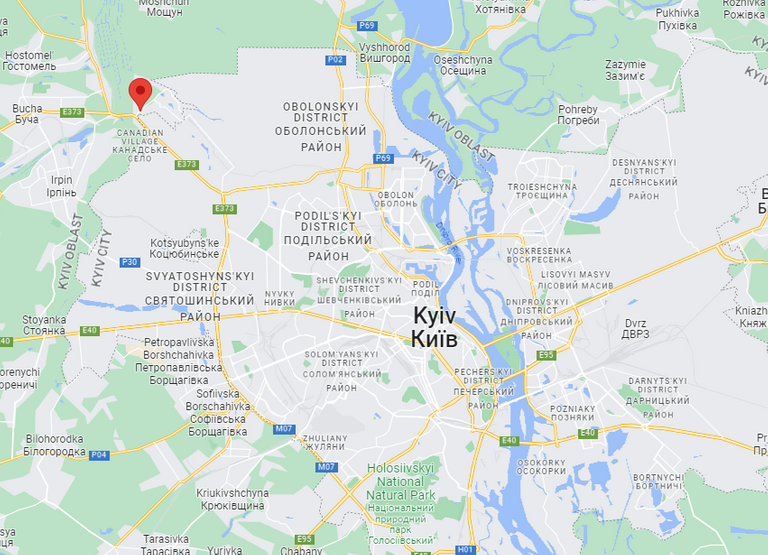 Google Maps has updated their satellite layer recently for Ukraine, and here is how this location looks nowadays. Sadova Street, 21.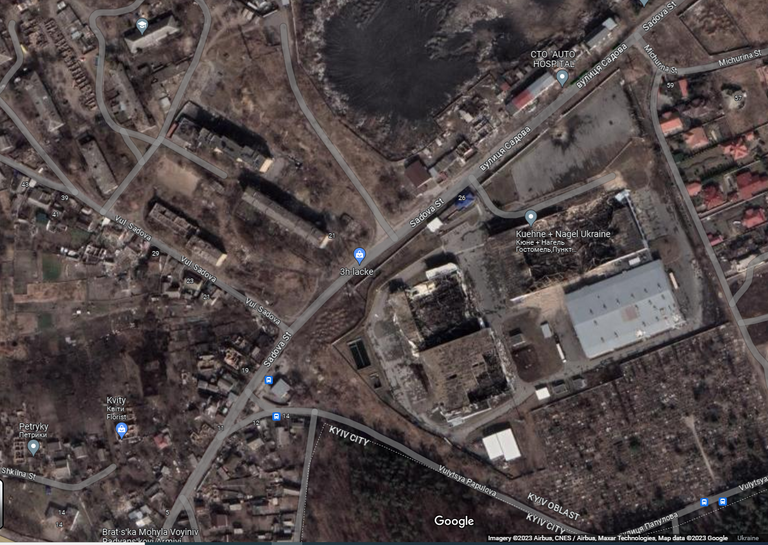 We turned off the main road onto a small street. On both sides behind the fence, mutilated private one- and two-story houses could be seen. We didn't have to look for our destination for long. Here he is.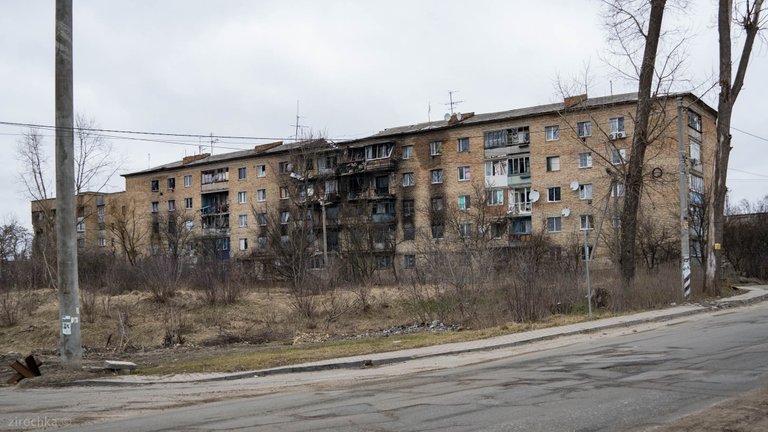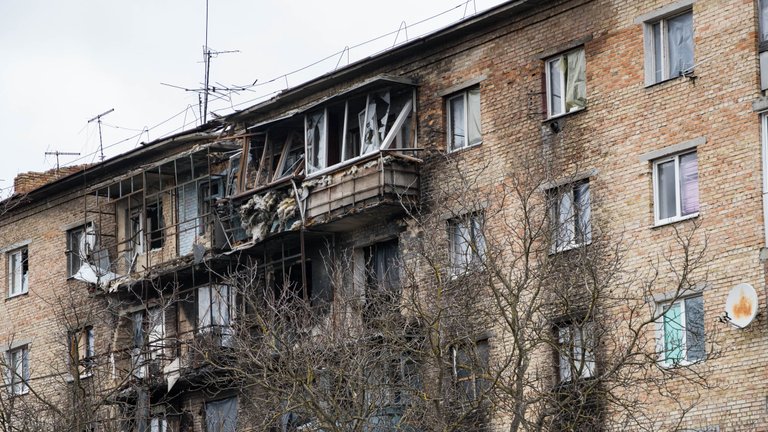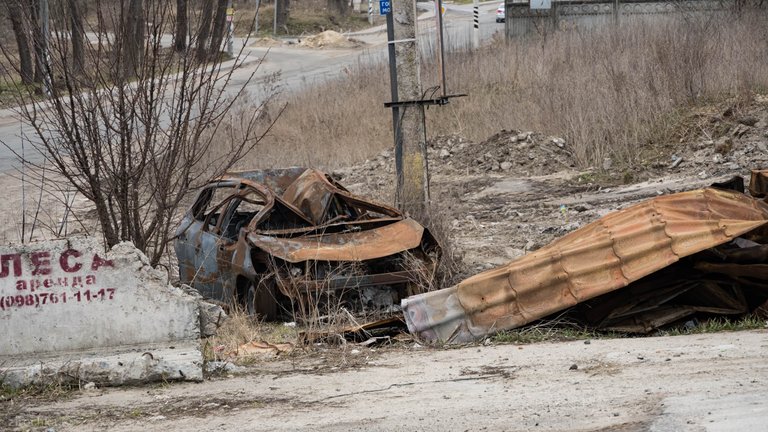 Two side parts remained from the house. People still live on the left. A year later, there are still heating points here. Fragments of concrete slabs and other debris are neatly stacked in the middle between them. Obviously, they started doing something with this building.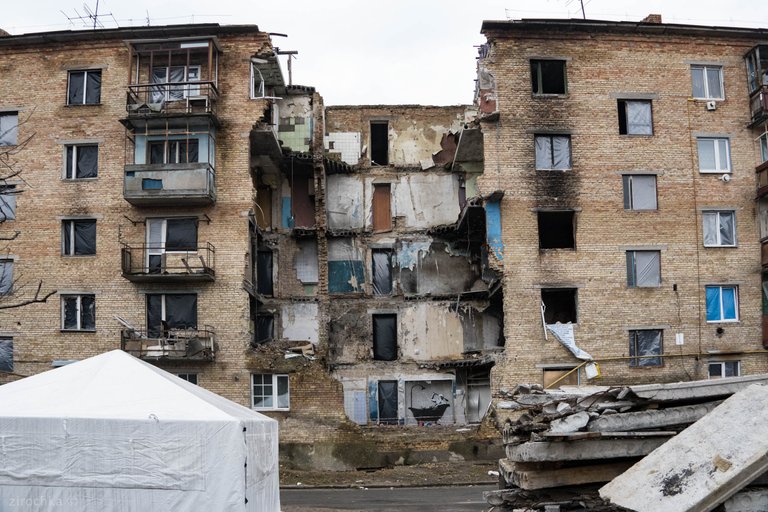 ---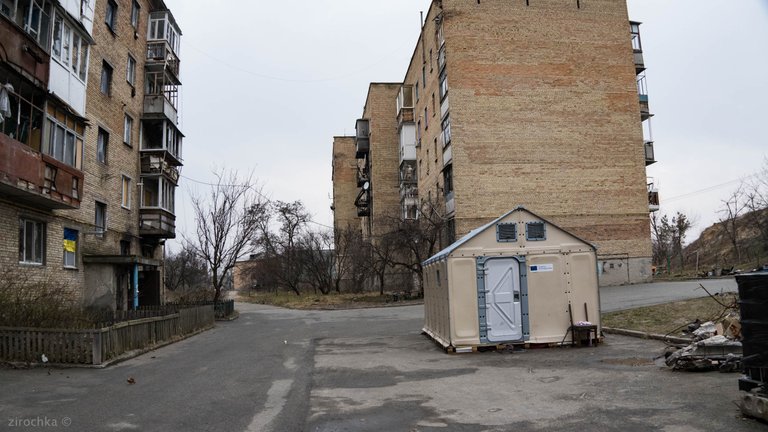 ---
Banksy's work is a man taking a bath. He has a stylish beard, a brush with a long handle in his hand. The bathtub is also fashionable - it is located separately, on beautiful curved legs.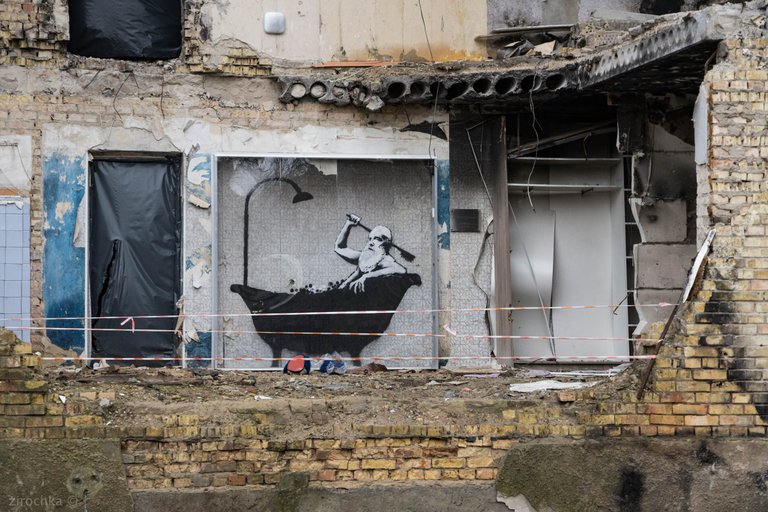 The work was hidden with a glass frame, the passage was blocked with tapes. It looks like a crime scene.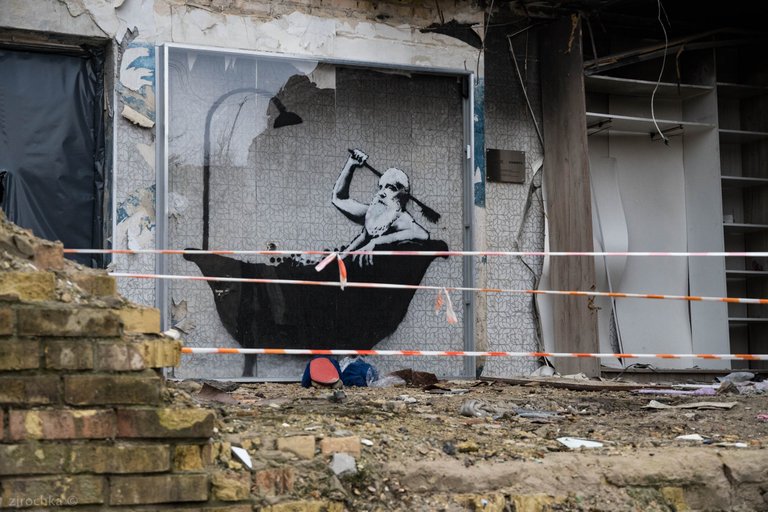 Only the back wall survived in the middle. You can see tiles, pieces of wallpaper, furniture, indoor shoes... the remains of life.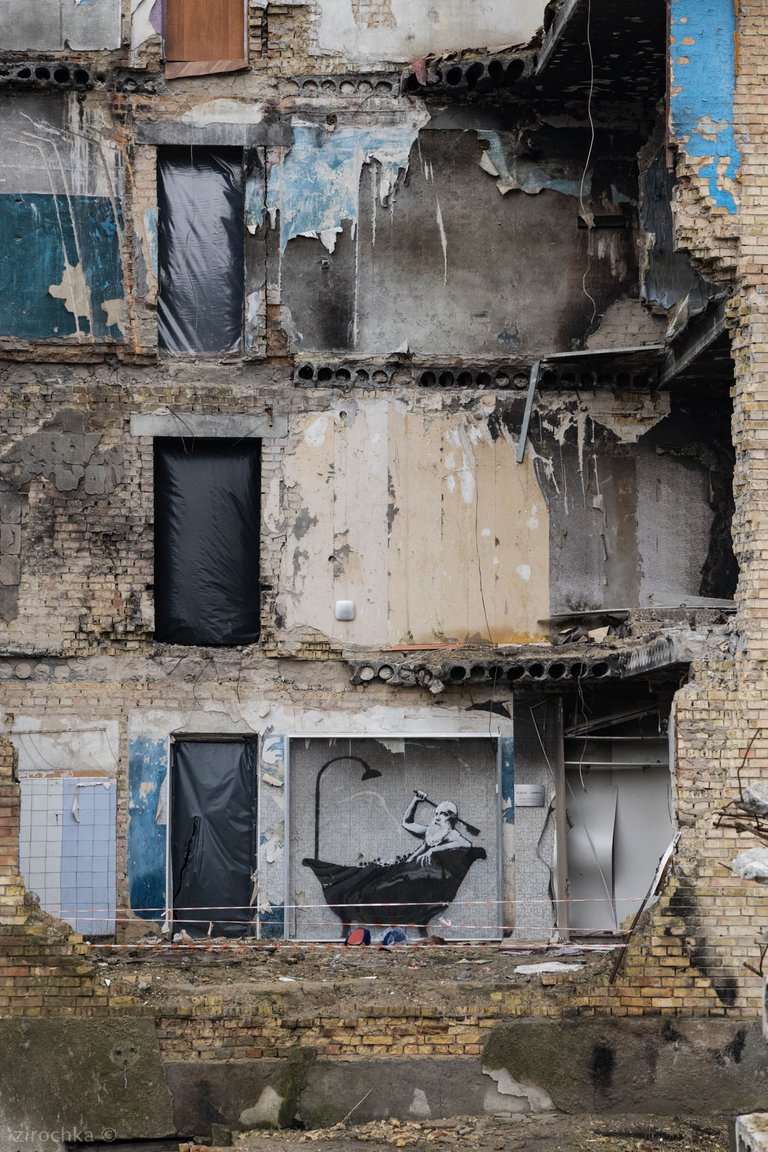 ---
I went a little further. A kitchen cabinet with dishes was left hanging on one of the walls (it was the kitchen). And next to it is a pantry where home preserves were stored.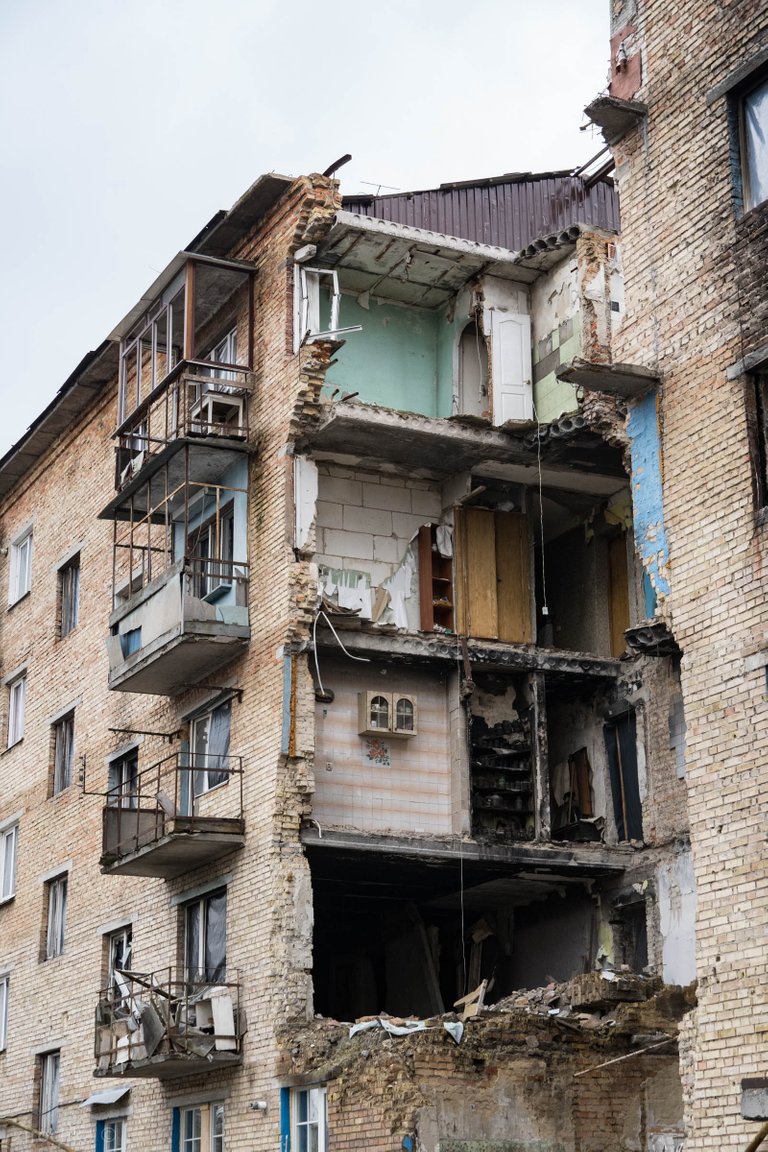 ---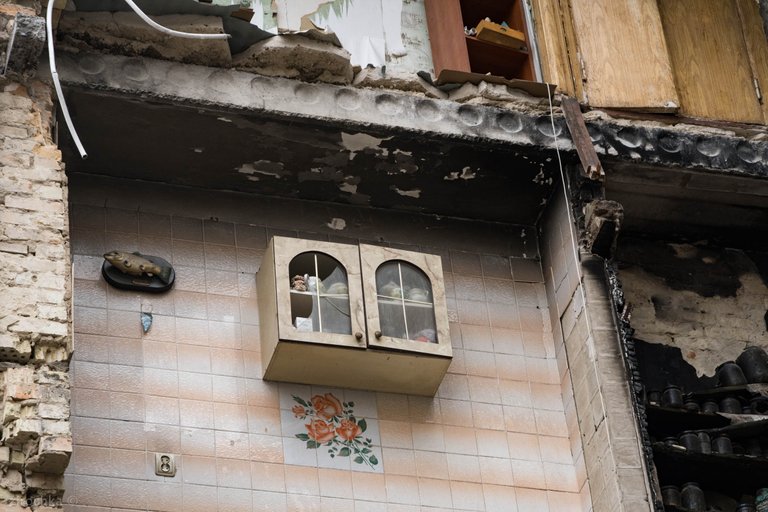 ---
The wall has collapsed, and the banks are still intact on the shelves. You know, even now I have a lump in my throat when I look at these photos.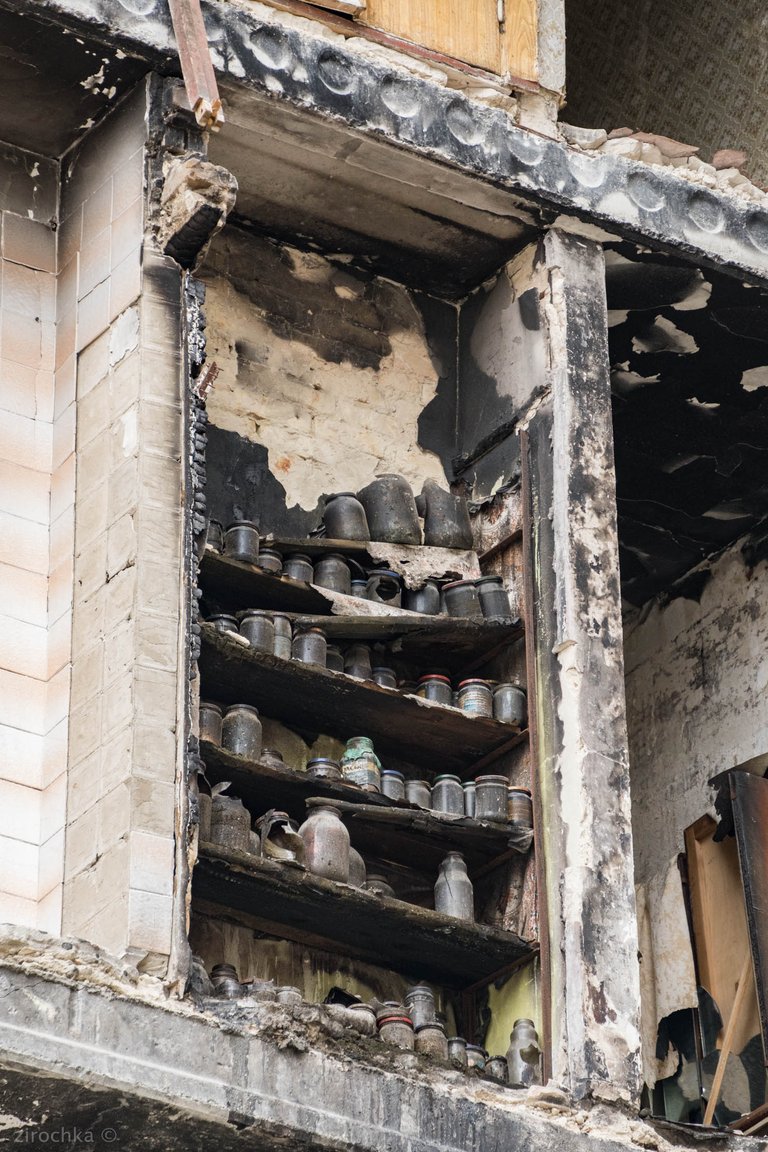 I told you in one of the previous posts that my daughter came to visit me. She has come for 3 days, and on one of those days, I took her here. Not because I enjoy watching remains of broken lives, but because I want her to see this, to remember, to tell her children (I hope she will have them). Luckily, she lives in the west of Ukraine. Russia shelled her city maybe a couple of times. On the first day of a big war they hit the airport which is actually within the city, and maybe 1 or 2 times later.
I'm glad she didn't have to go through what I went through, although compared to others I was also lucky. But what she saw on the outskirts of Kyiv, she will remember.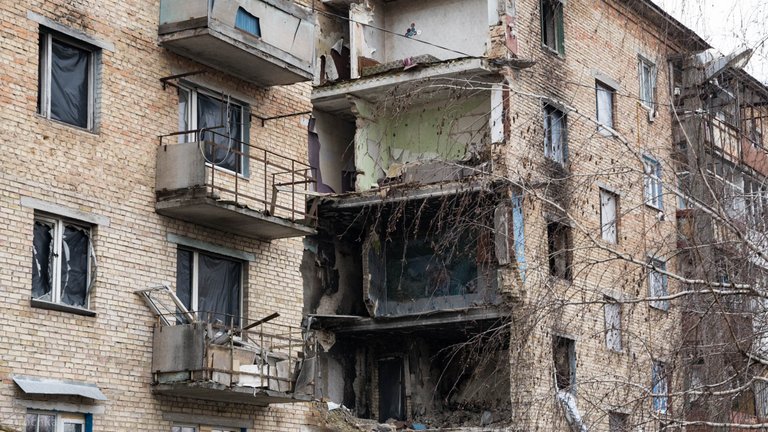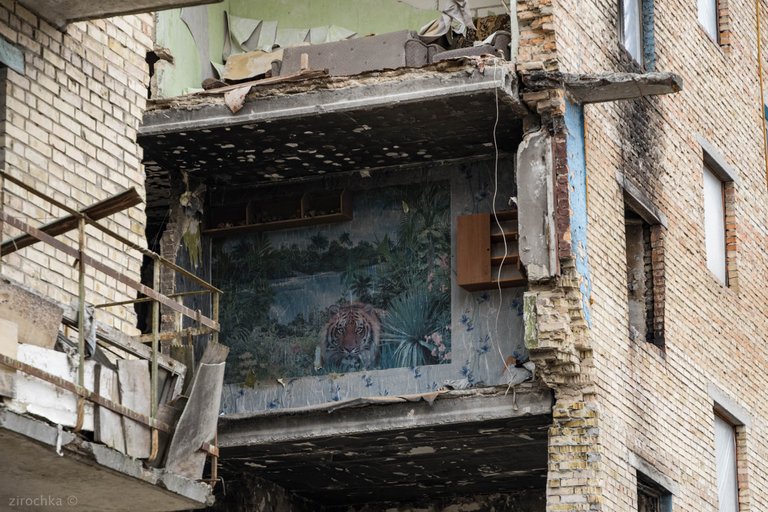 A room with photo wallpaper. A room with CDs on the wall.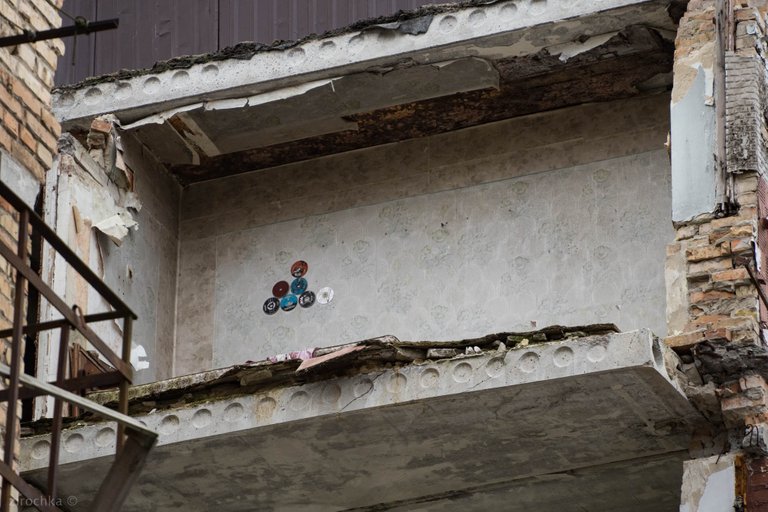 This big new flag caught my attention.
The Hero of Ukraine Vitaliy Kolisnyk lived here. He died for our FREEDOM. 15.04.1975 - 13.11.2022.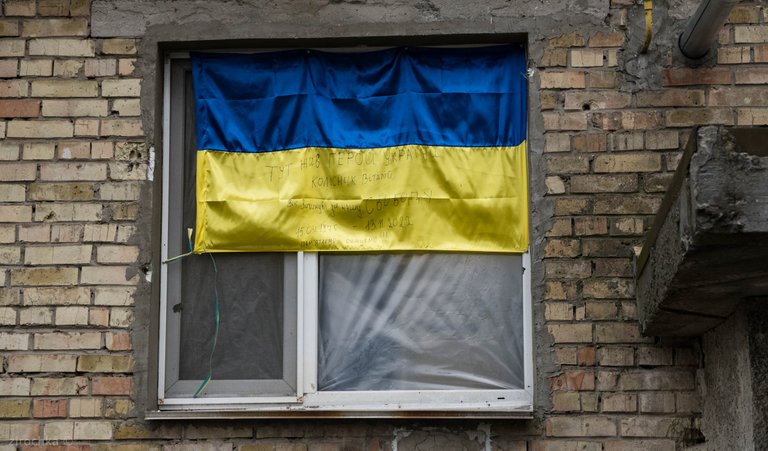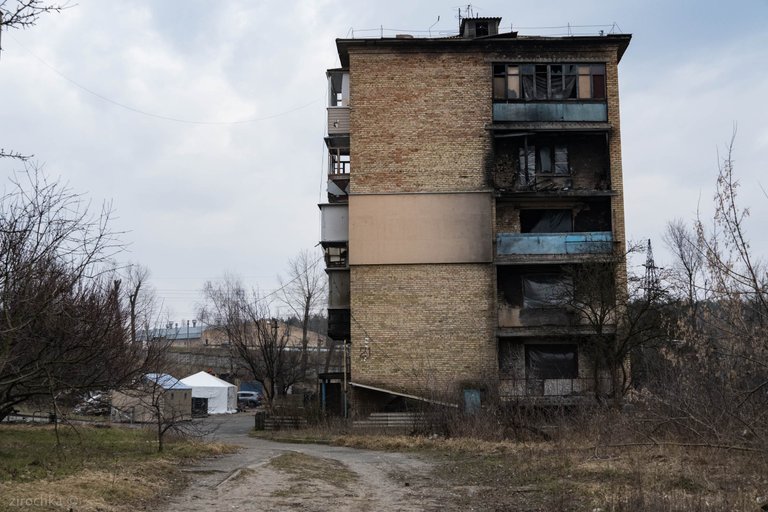 That's almost all. But I want my story to be complete, so these are actually the last of Banksy's graffiti that is again in Kyiv. Covered with a transparent frame as other pieces. But if you don't know what to look at you probably woldn't notice it walking down the street.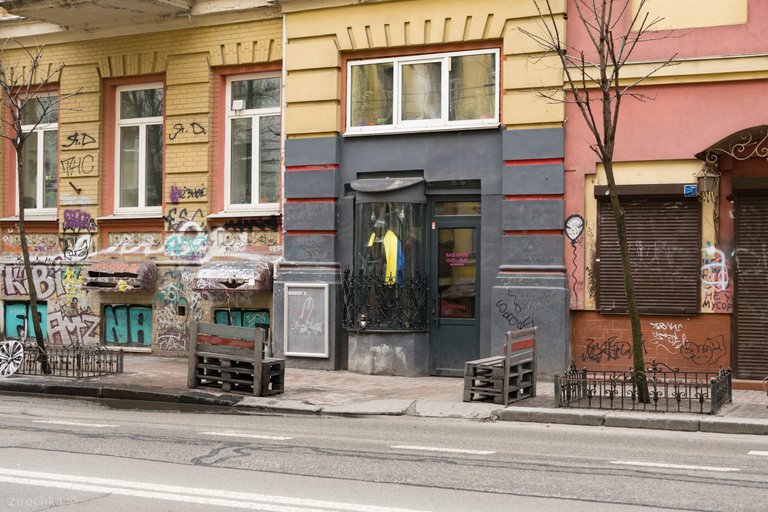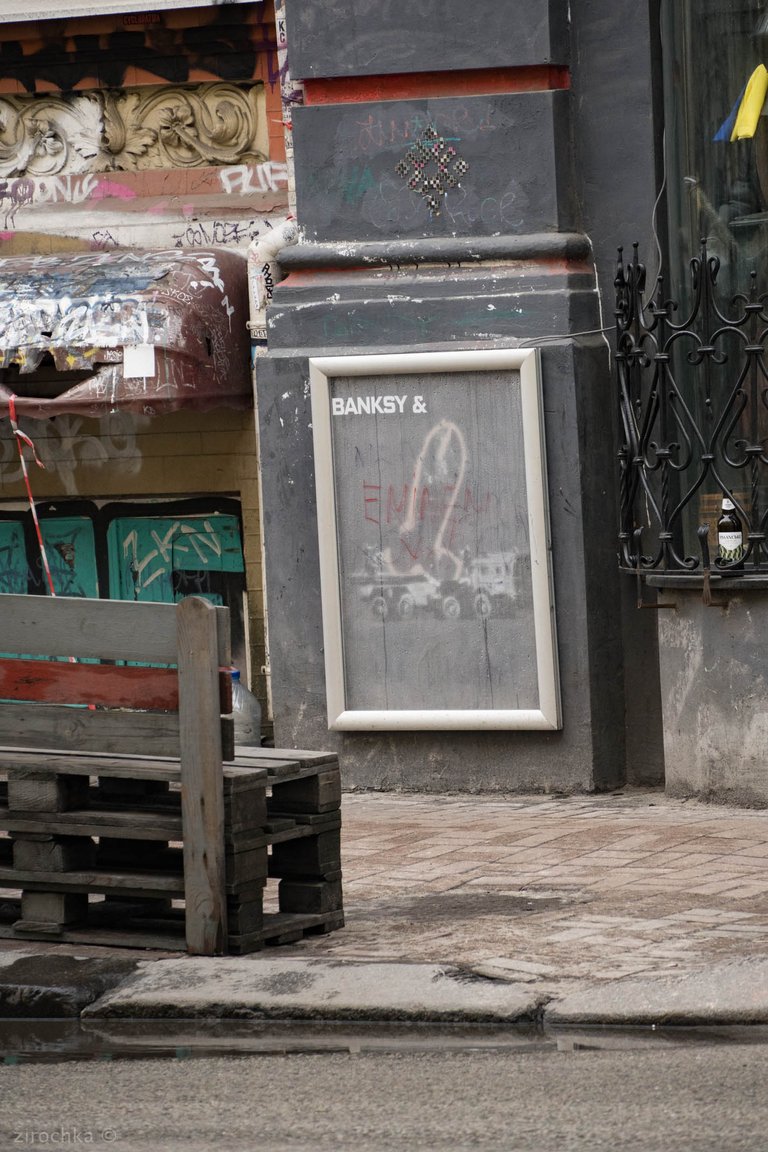 Now I can breathe a sigh of relief. It was as if a great burden had been lifted from my soul. I'm glad I finished this series today. Because today on May 8th we remember all victims of fascism and thank all those heroes who got us peace and life that we have. Or we had...
While Europe and the other world remembers the Second World War as a great tragedy that must not be repeated, tomorrow Russia will celebrate victory. Over the years, this celebration has turned into a cult of power, superiority, and violence, which they don't mind repeating again.
In January 1945, Saturday Evening Post reporter Edgar Snow printed an article during his trip to Ukraine. He wrote, in particular, that the war, which some are inclined to call "Russian glory", should be "justly recognized first of all as the Ukrainian war... The cities, industry, agriculture and people of no other European country have suffered such severe devastation."
Every fifth Ukrainian died in the WWII. Only 3% of the total number of enlisted men in the summer of 1941 survived.
Ukraine lost a total of about 8 (some say up to 10) mln - eight million Ukrainians - this is almost a quarter of the entire population of our country at that time (which was about 40 million).
Almost 700 Ukrainian cities (40% of all cities of the Soviet Union destroyed by war) and 28,000 villages were also destroyed.
But the thing is that since the end of the war USSR and now Russia did (and keep doing) everything to replace the concept of Soviet with the concept of Russian in the eyes of own people and other countries, like Germany, France, Italy and Great Britain. Wherever possible. Soviet solder? Russian soldier?
Let me explain to those of you who are confused about these concepts. At that time, all nations that were part of the Soviet Union were called the Soviet people. They were Belarusians, Ukrainians, Lithuanians, Kazakhs, Latvians, Jews and many other ethnic groups.

Russia purposefully belittled the contribution of other nations and countries year after year. Let me tell you my story because I grew up in USSR, and my school years were years of studying Soviet version of history.
In these days, the entire information space was filled with the victory over fascism. Mandatory attributes were red flags, red carnations and St. George's ribbons. Children learned songs, poems, concerts were held everywhere, posters, postcards, newspapers were hung everywhere, dedicated to ... The most used words were victory, glory, pride. Don't forgive, don't forget. It was a holiday. Not a Memorial Day or day of sorrow but an exultation of triumph. At the same time, the focus was entirely on the contribution of the Soviet Union. Other countries were not mentioned at all, at least I don't remember it.
Even then, instead of "Soviet" it often sounded "Russian". As a child, I wanted to feel this patriotism and pride, but it was not there. I did not see this in my family, or in the family of my first husband. One of my grandfathers died on the battlefield and is buried in Lithuania in a mass grave, and the other was allegedly drafted into the army, but immediately thrown into prison for his pro-Ukrainian position. And he died there. My grandmother found out about it by chance from the newspaper already after the restoration of Ukraine's Independence.
Oh, but where was I. My daughter attended a school with an advanced study of the German language and her Deutch was really good. One day on May 9th when we celebrated Victory Day according to the Soviet tradition, I became curious, how is this day spent in Germany? I asked her to look something up on the internet, and to my great surprise, there was no mention of a day of... victory, or whatever they call it.
The daughter did not find anything. No mention. I google English resources. It was all the same. This struck me and made me wonder why? And why such a contrast, when there is victory, a parade, flags, songs and orchestras, and there is complete silence? This was the beginning of my journey to the truth.
This is how I found out that in real not Soviet history. Nazi Germany signed The German Instrument of Surrender with the Allies in Reims in France, on May 7, 1945. The document was supposed to enter into force at 11 p.m. Central European (Berlin) time on May 8.
But Stalin was not satisfied with the surrender of Germany in Reims, France, he wanted Germany to solemnly lay down its arms before the Soviet command in the very capital of the Third Reich. The Western Allies agreed to hold another ceremony for him. I did not hear a single word about this either in the history lesson or on the excursion to Potsdam. I confess, for a long time I could not understand what this lie was for.
Eh, I promised this will be short. I apologize for being so emotional. So, my message today is that we must stop this modern fascism as soon as possible. And tell our children true stories, and confess our mistakes, and learn all bitter lessons.
I say this almost in every my post and gonna repeat it today. I AM GRATEFUL TO YOU. For your kind and wise comments, for your support that you show to Ukrainians. May your family always have peace, harmony and prosperity.
Hugs,
@zirochka