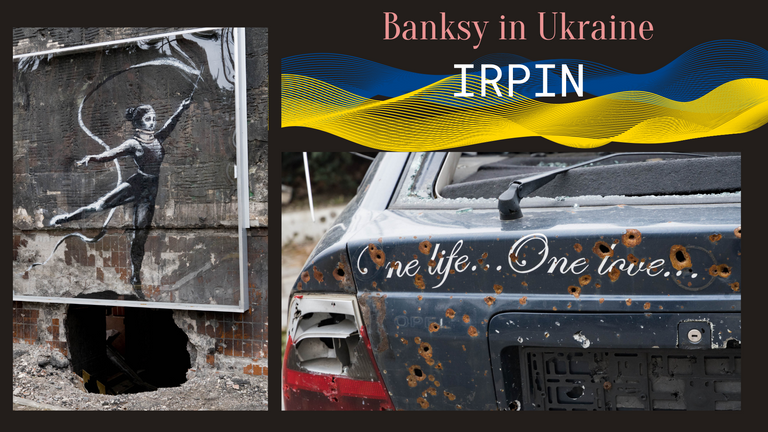 I hate loose ends. Instead, I love the feeling of completion. I've started the series of Banksy's graffiti that he created in Ukraine in November 2022. So far, I showed you photos from Hostomel, Borodyanka part 1 and part 2.
Today I gonna show you Irpin. It is a small, cozy and modern satellite city of Kyiv. At least it was like that until February 24, 2022. These photos were captured in a year, on Feb 25th 2023. I was driving on the navigator. And although I saw a lot that day, this place was a shock.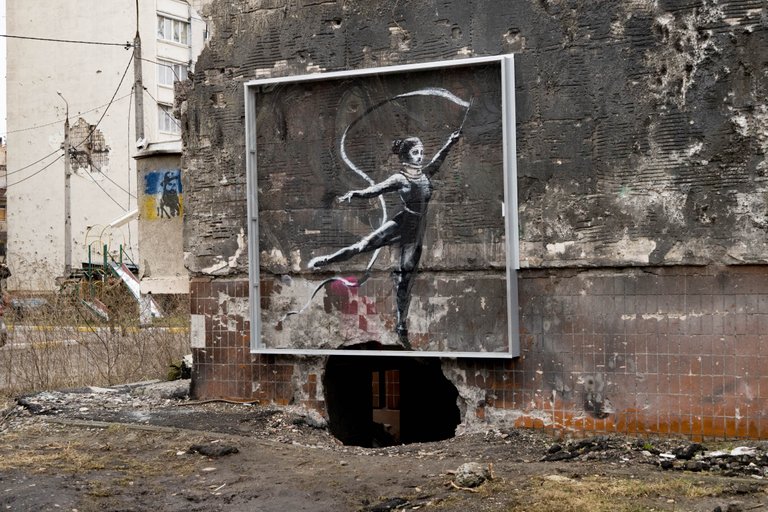 Here is it, "Girl on a Ball" by Banksy. If it were not for the protective frame, it would have an even more impressive appearance. A young gymnast with a bandage on the neck. She is balancing with a ribbon over the shell hole in the wall.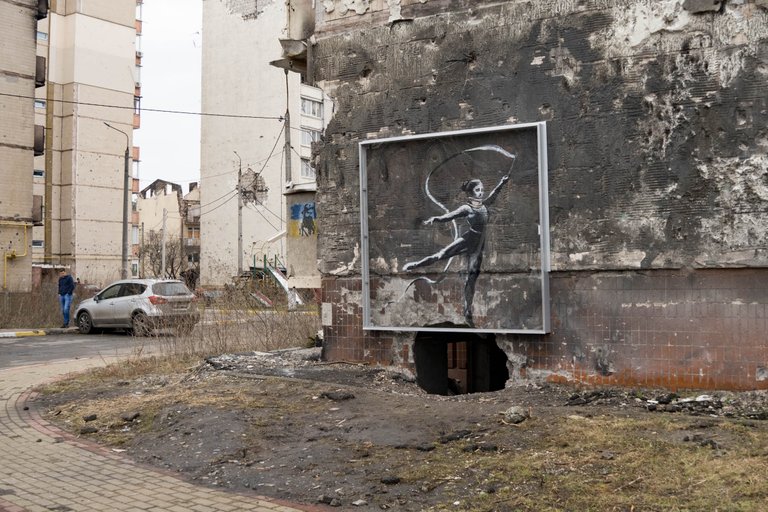 Ukraine took the place of the leader in world rhythmic gymnastics. We have had a strong school of this sport since the 1970s (23 medalists of international championships). A strong woman is one of the symbols of our country, and Banksy always uses socially significant and understandable images.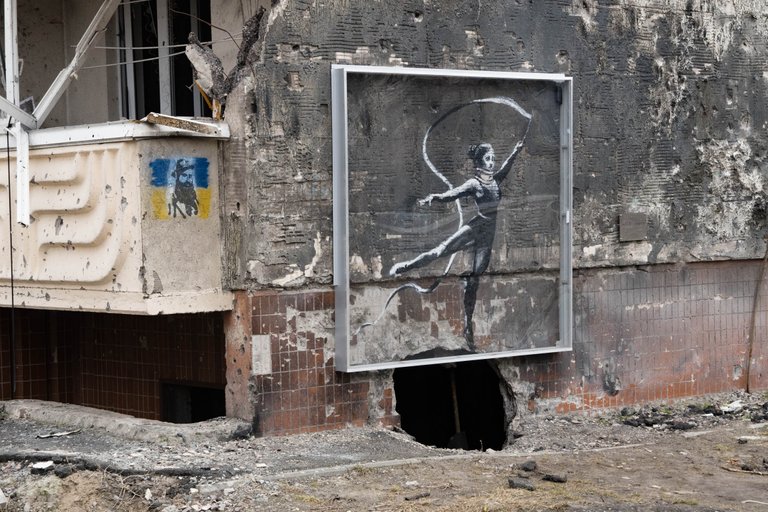 Because Banksy drew the attention of the world community to the extent of destruction in Irpin, the city council voted to make Banksy an honorary resident of Irpin.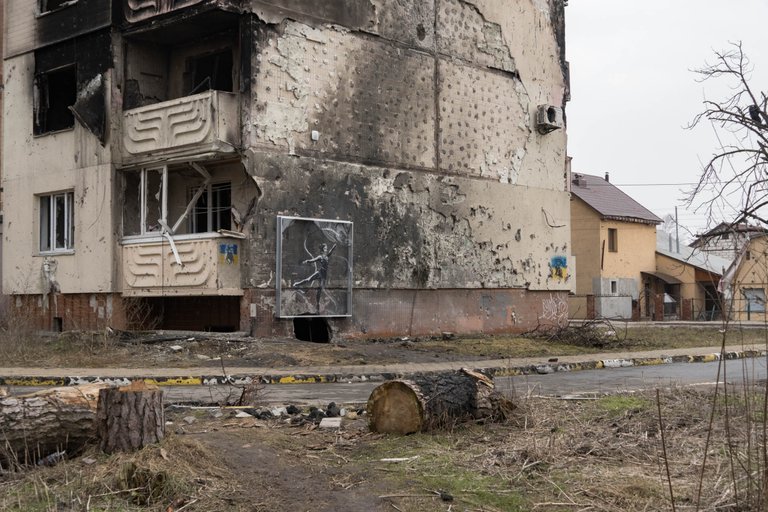 Another fact that became known a week ago. This house is going to be demolished. The graffiti will be preserved, but it is not yet known in what form. Maybe it will be an art object. Maybe it will be moved somewhere.
Except me and my husband, there were other people here who came to see the graffiti. They took selfies and posed against the background of graffiti. Maybe I should have? I just couldn't. I was looking for an association for my feeling... It was like taking a picture with a dead person.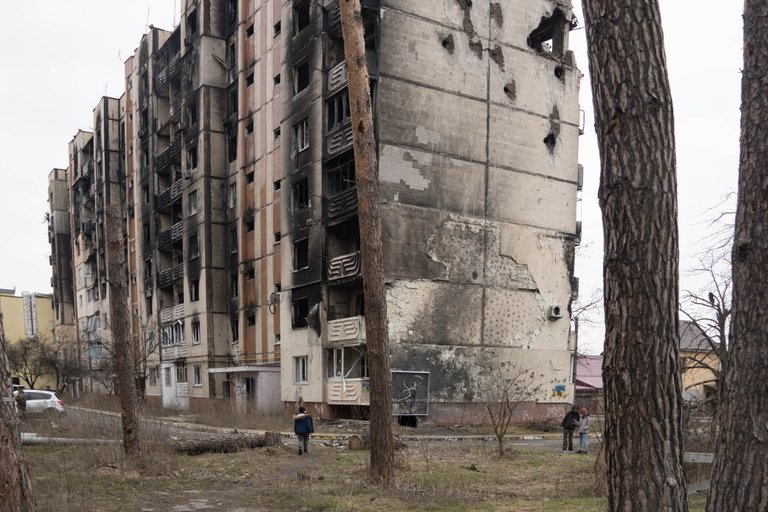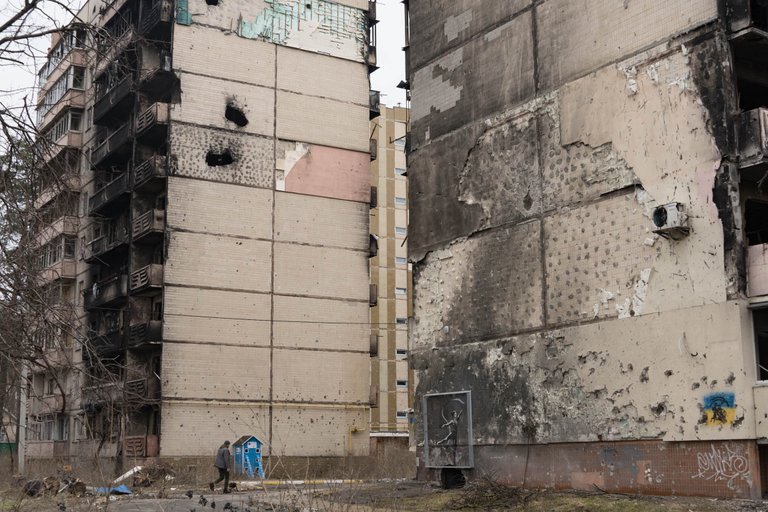 After I took photos of the graffiti from different angles, my husband and I explored the neighborhood. We walked into the yard.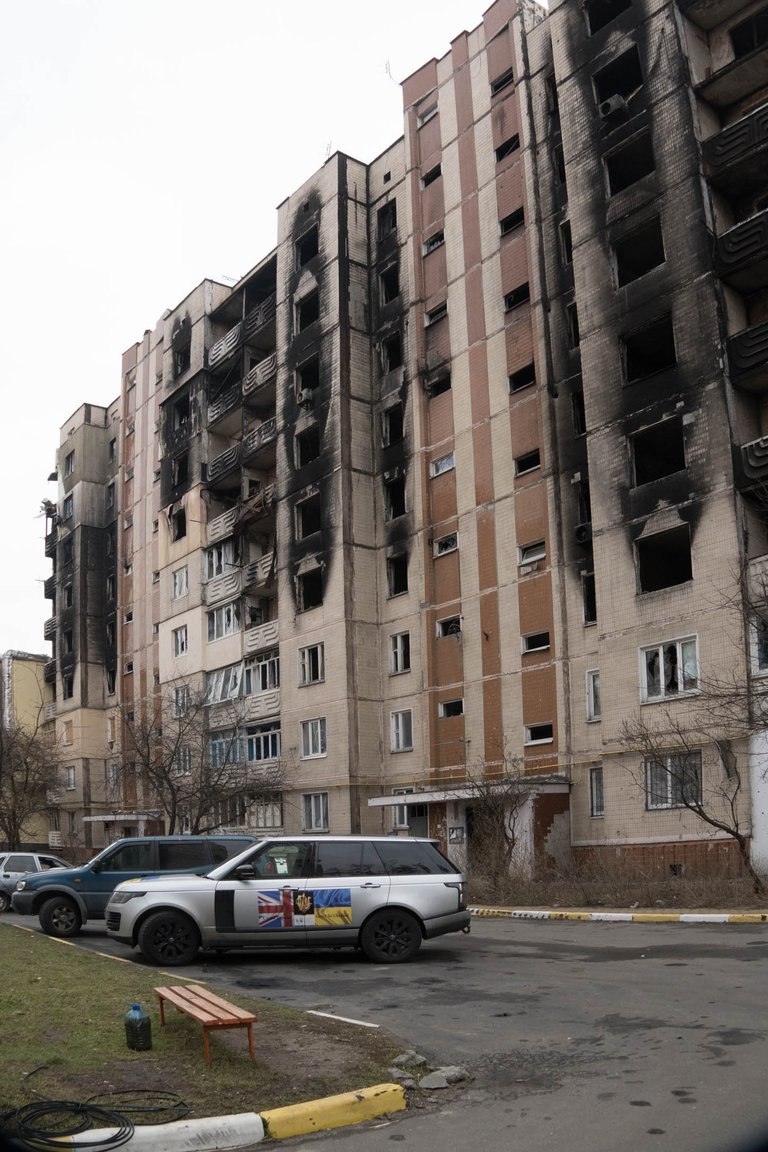 Here everything was a complete contrast and horror. Survivors are parked next to burnt cars. In the neighborhood of the burned-out apartment, someone covered the window opening with a baby blanket. There were traces of explosions everywhere on the asphalt. Every few meters. And everything around had traces of shrapnel. I thought with horror about what was happening here.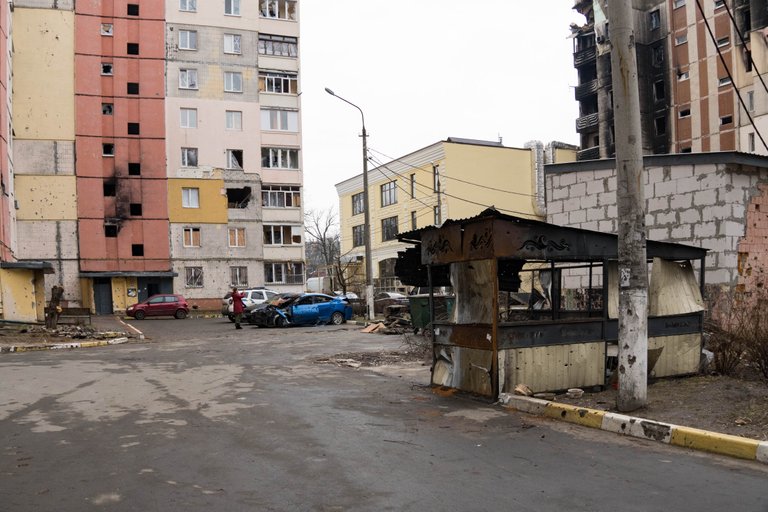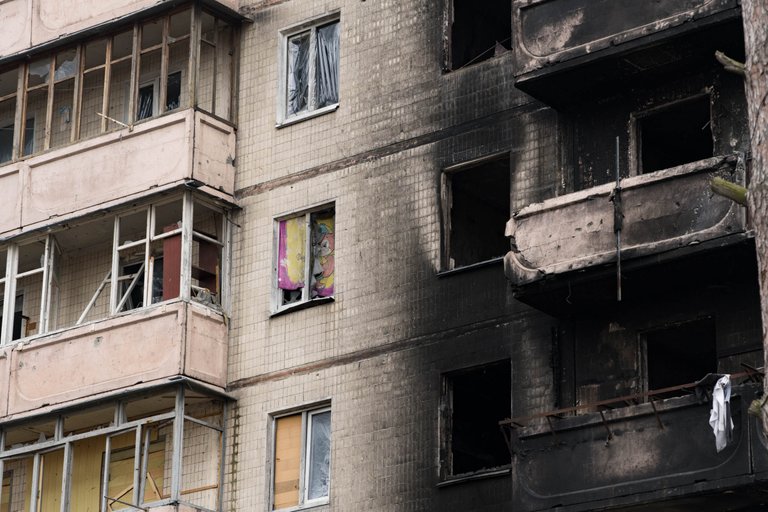 Above all, I was struck by walls like this. My husband said that they were fired upon at close range. For what? Why?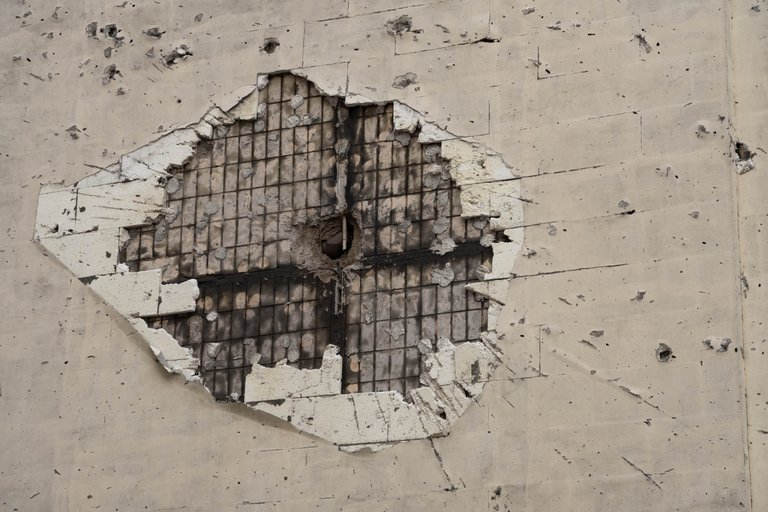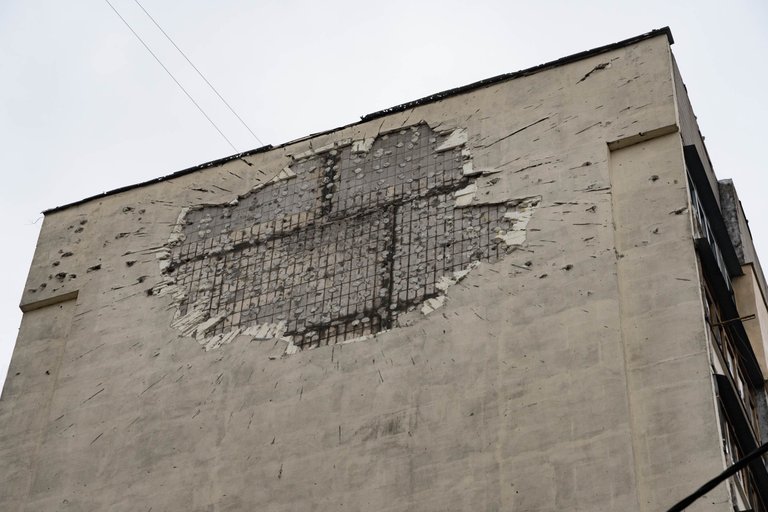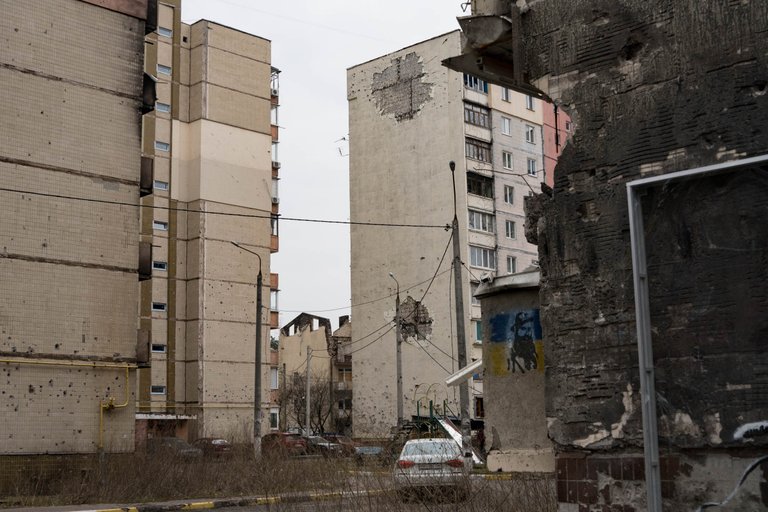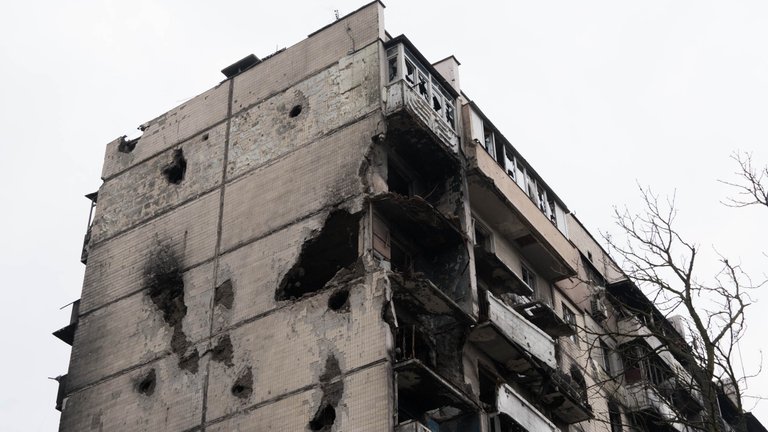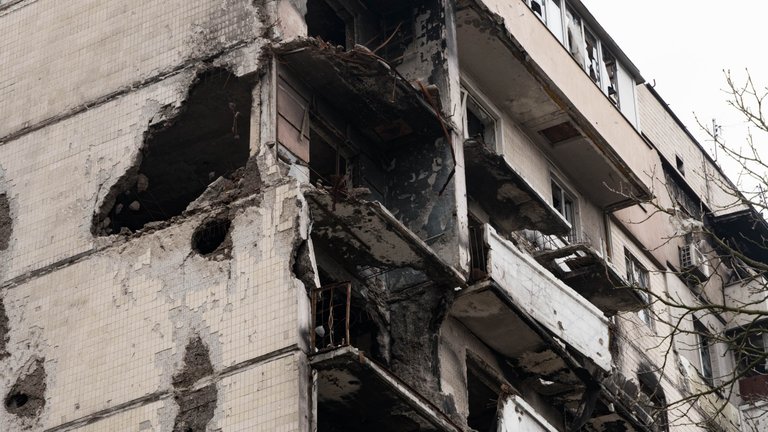 Guys are recording a video report.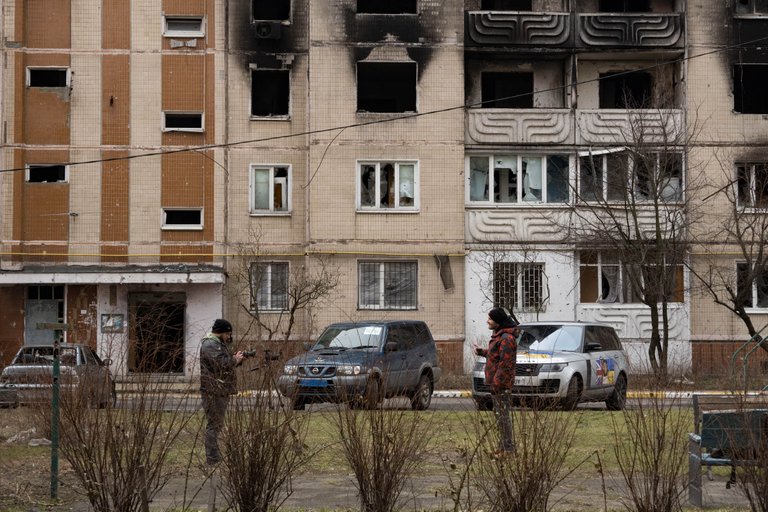 The inscription on the black car - "Elit Taxi". I don't have words.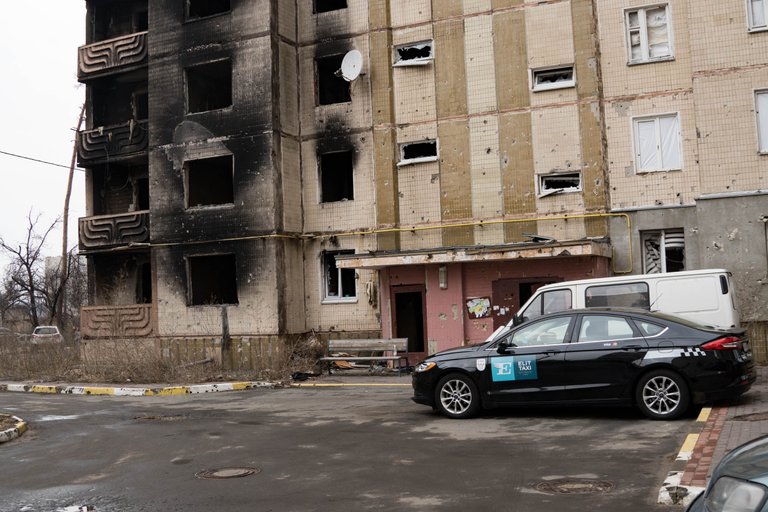 You probably recognize a very popular phrase about Putin since 2014 authored by Ultras - fans of the "Metalist" football club in Kharkiv. I'll not translate it.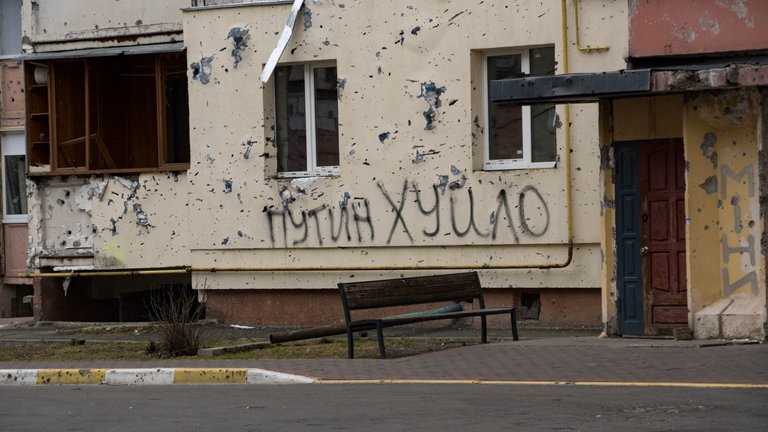 Something hit here as well.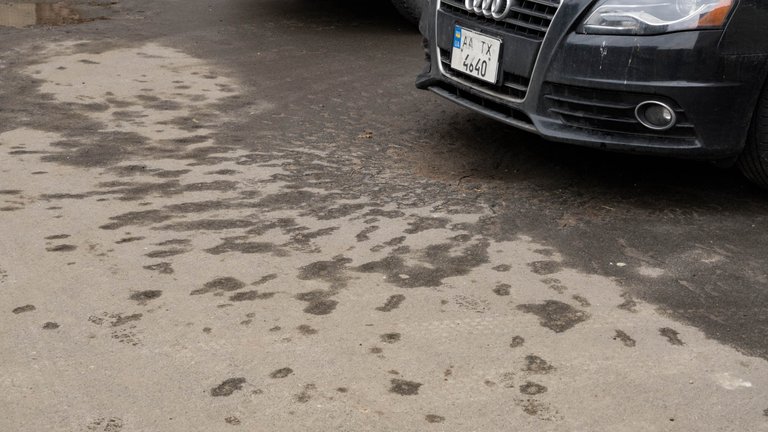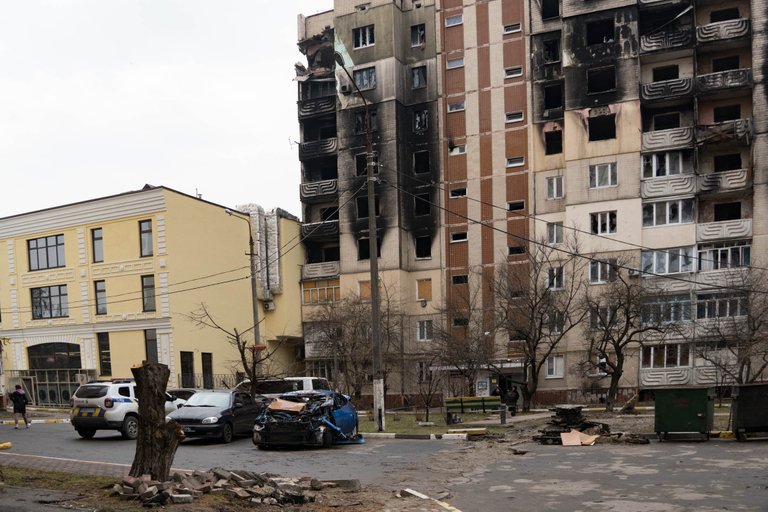 For some reason, it was here for the first time that I saw what this yard was like before those terrible days. Someone is riding a bicycle, a group of teenagers is walking a dog. Children were playing in the yard, and someone shouted "Ma-a-am!". And now there is a creaking silence.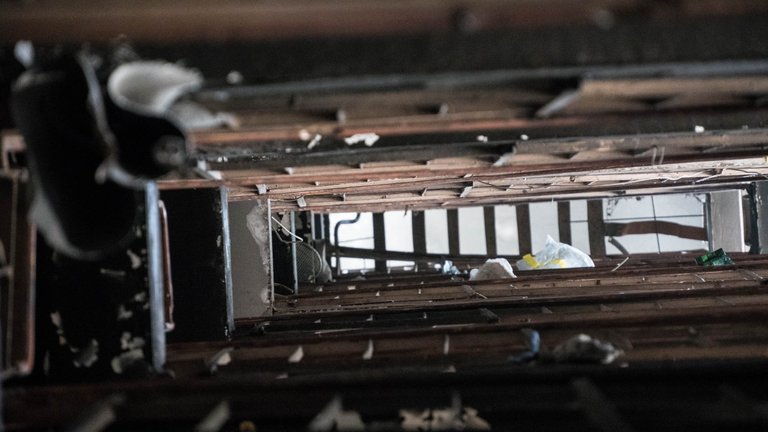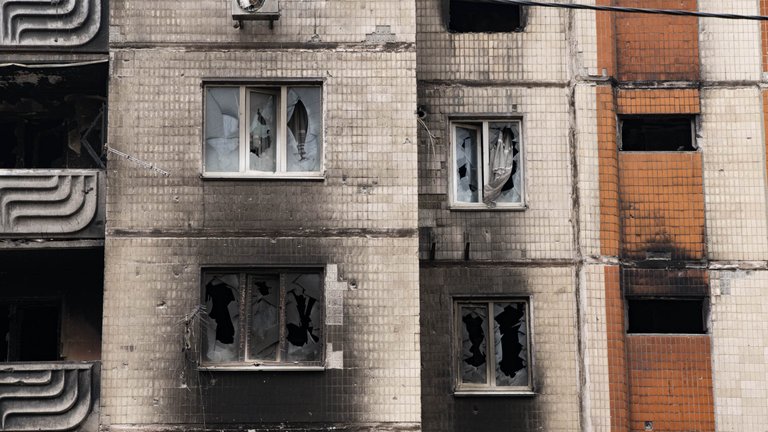 Strangers with cameras and phones walk here now. They photograph, film, record stories. Someone is accused and something is demanded. But nothing else here reminds of the quiet, comfortable life that was here until February 24. Now it's just scenery. Scenery.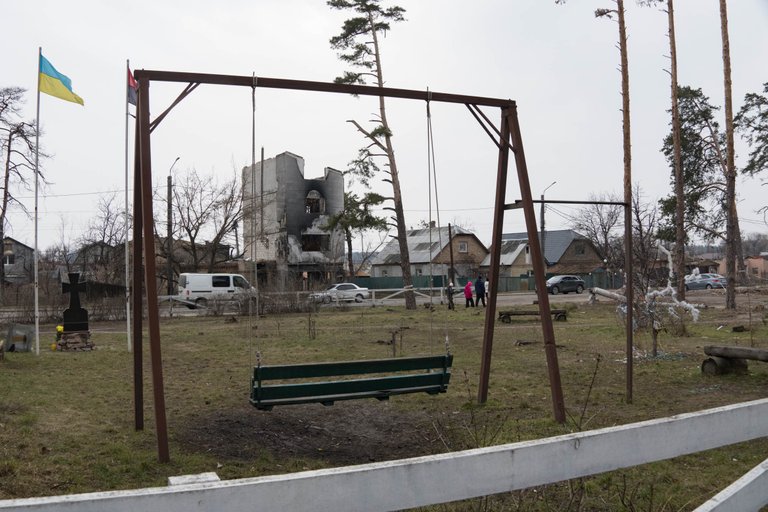 This is how "Banksy's" building looks from afar. No wonder they are going to demolish it. There is nothing to restore.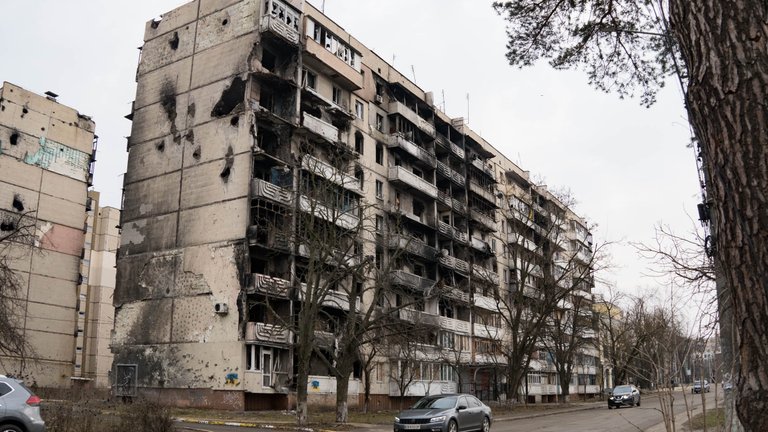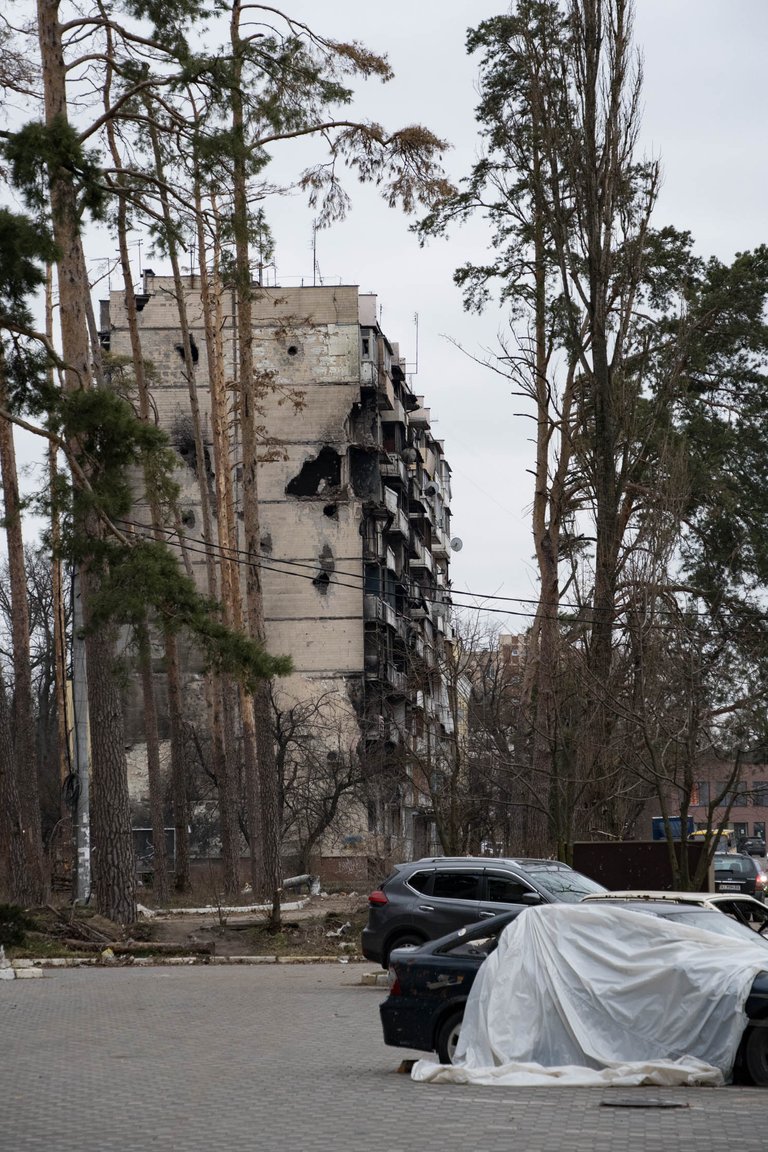 We are heading to the neighboring building. Obviously, it was built recently. Judging from the pit, one building has already been demolished.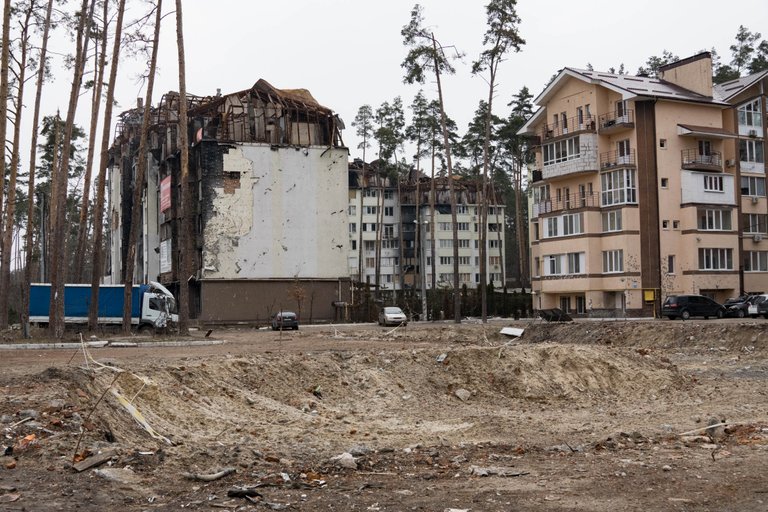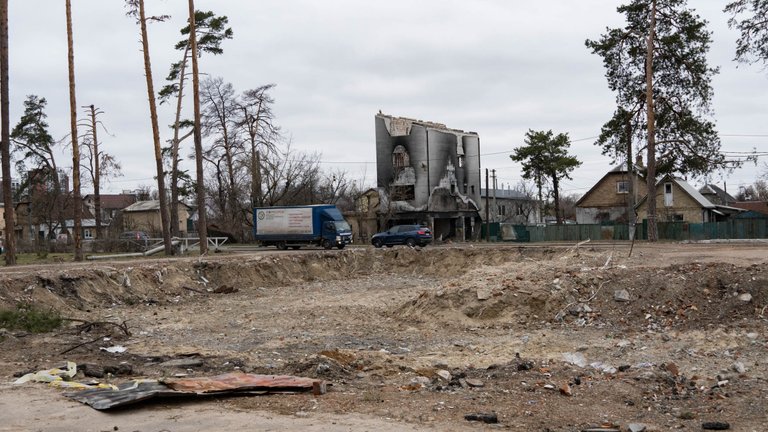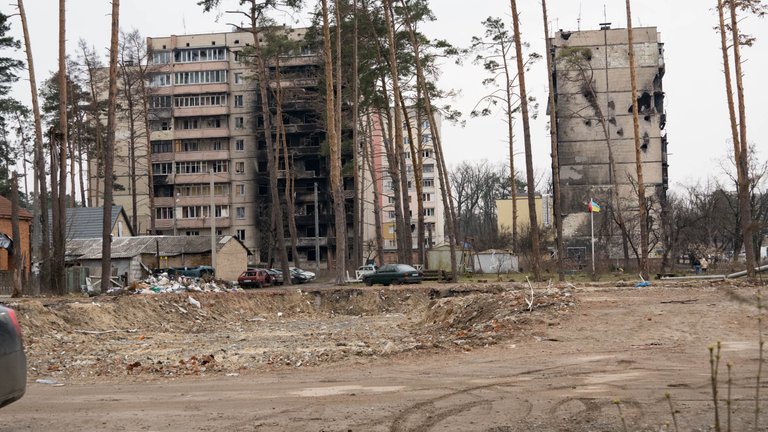 Actually, some quarters of Irpin have already been restored, and they now look even better than before. Many houses are in the process of restoration. But here everything is not much better than it was a year ago.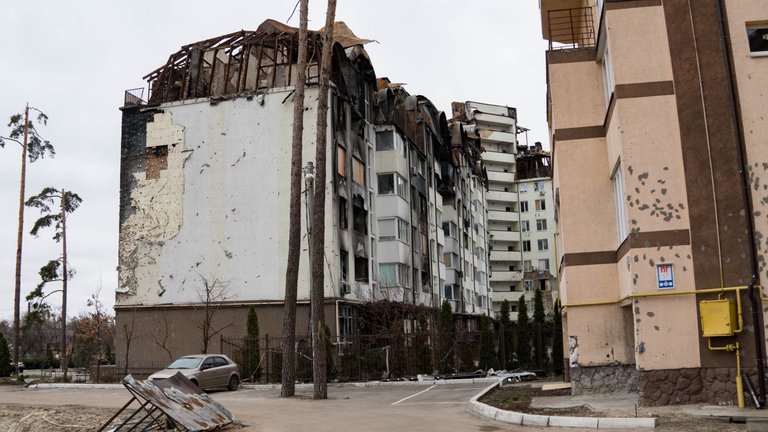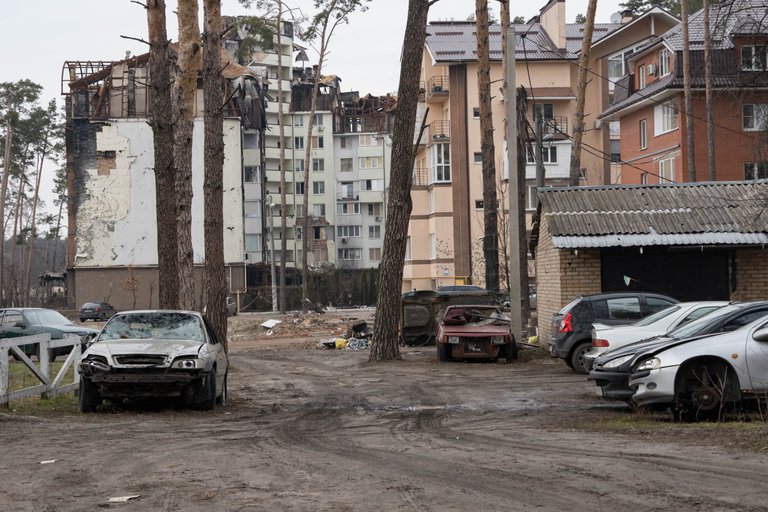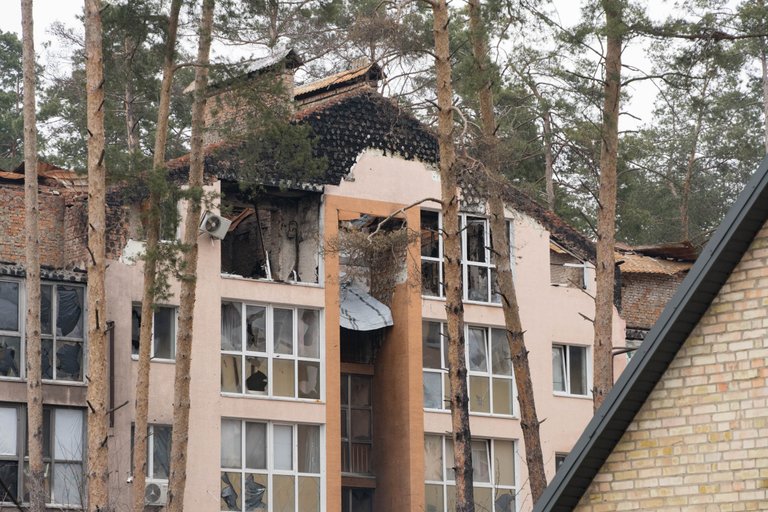 ---
Look closer at these cars.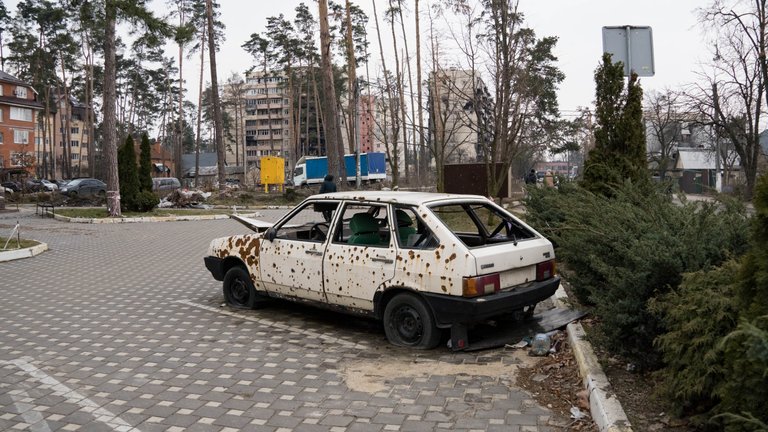 "SEASON OF HAPPINESS"... couldn't be better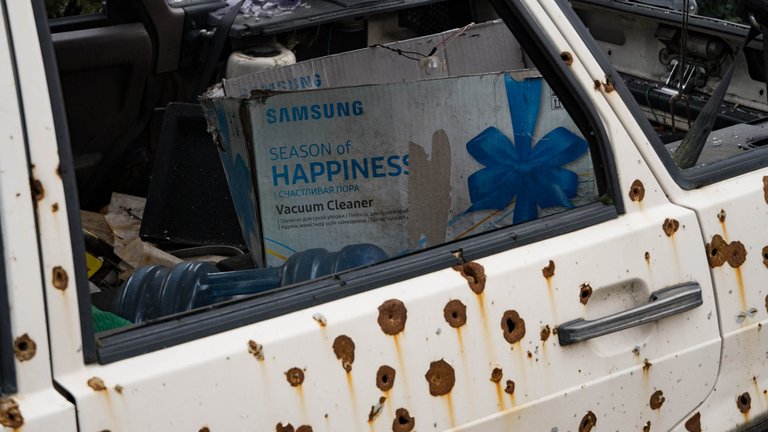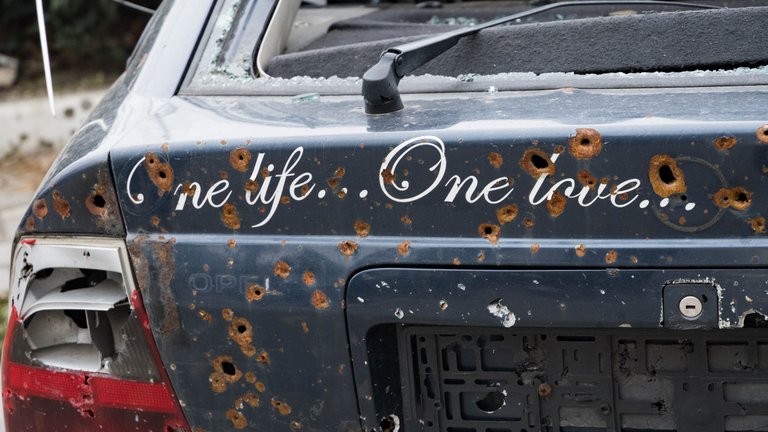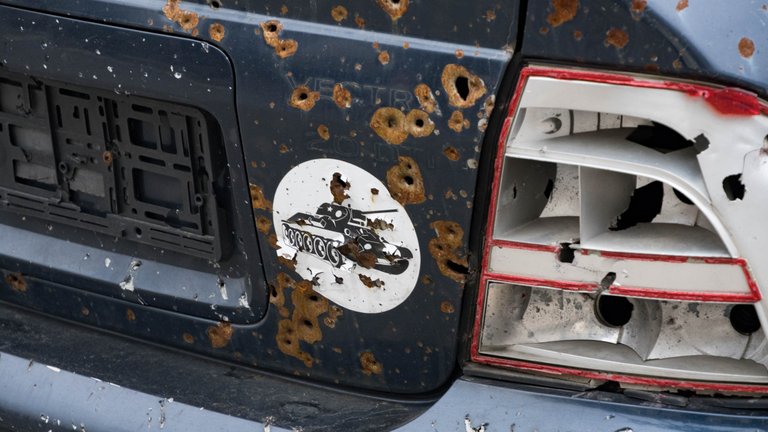 The residents of this high-rise building hope that their housing can be restored. This is evidenced by a large banner on the facade. But it is obvious that things are not going well. Maybe because of the lack of money, or maybe because of the technical condition.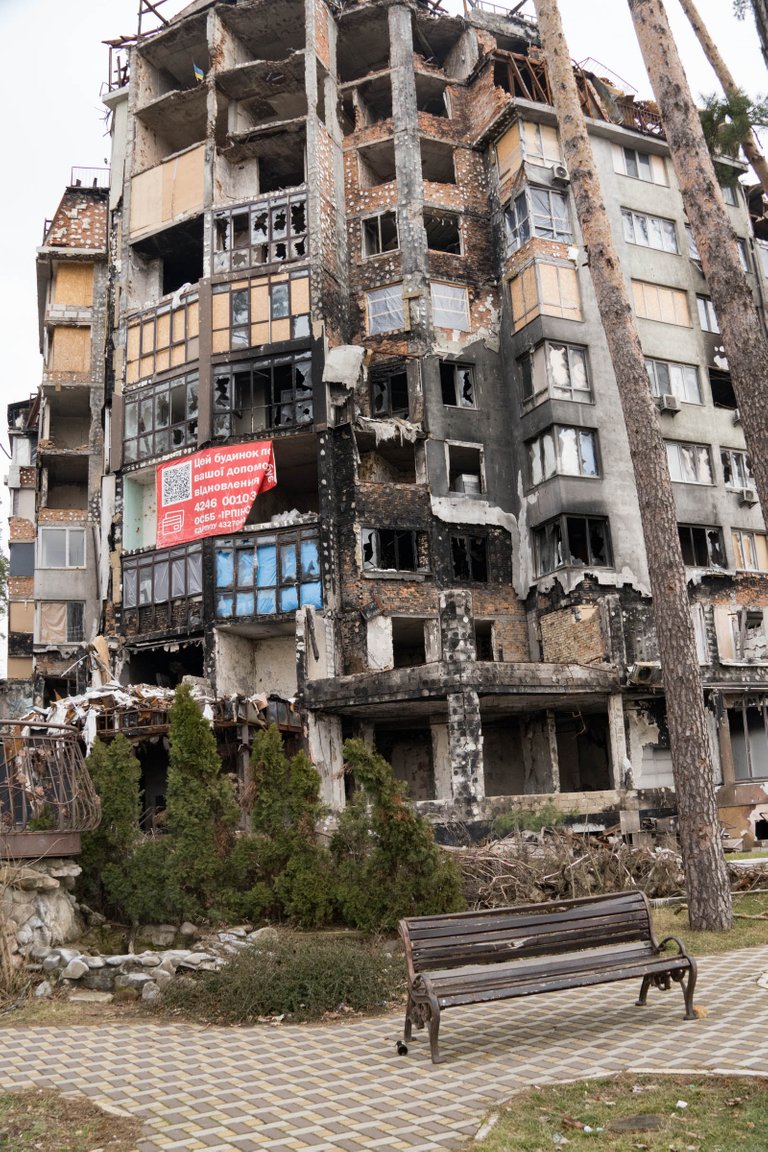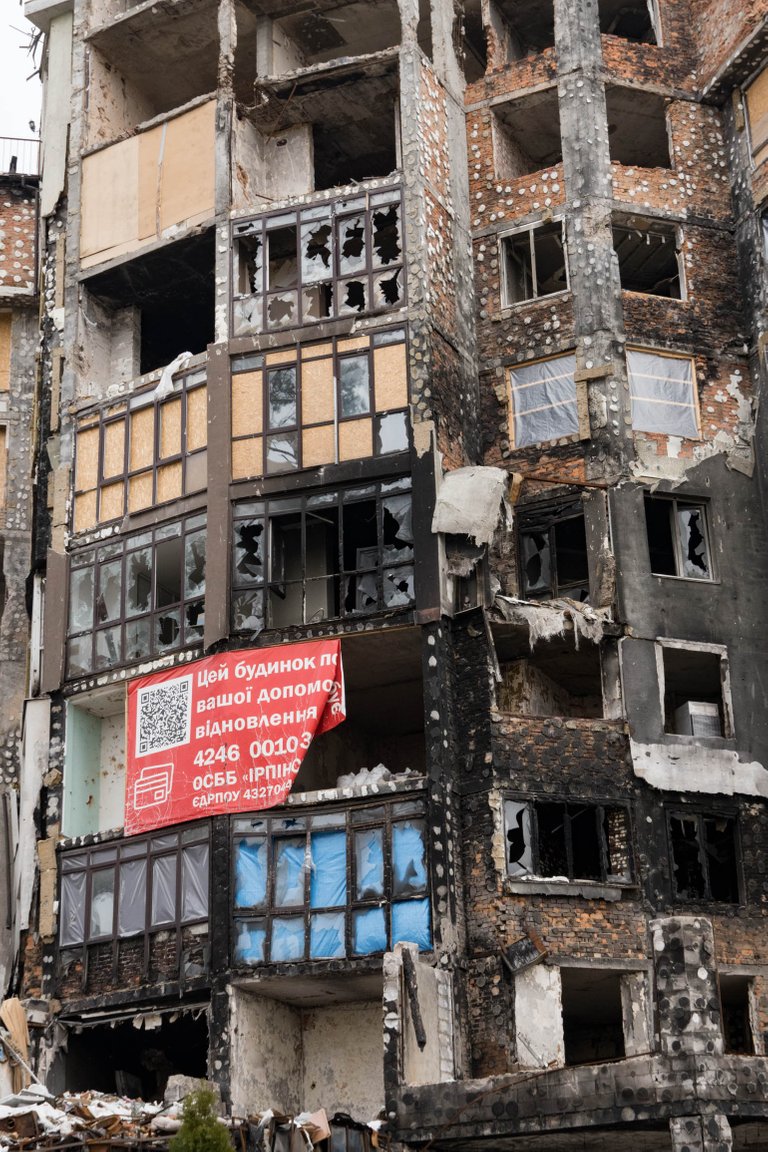 ---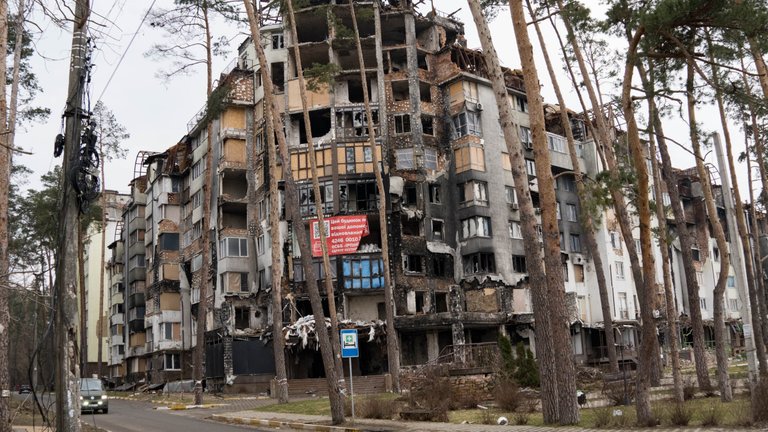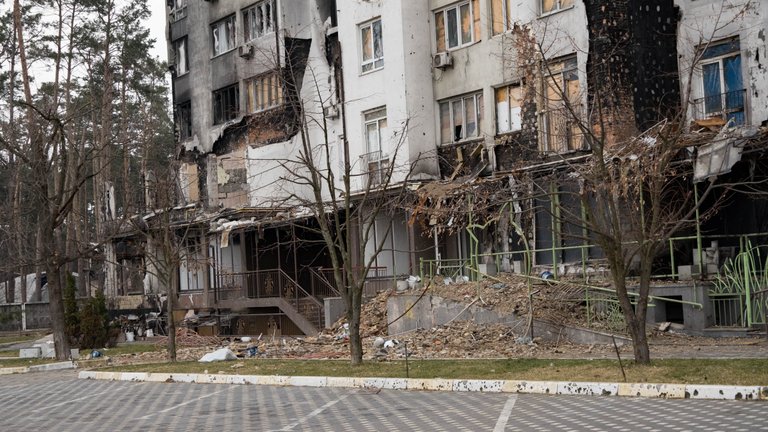 ---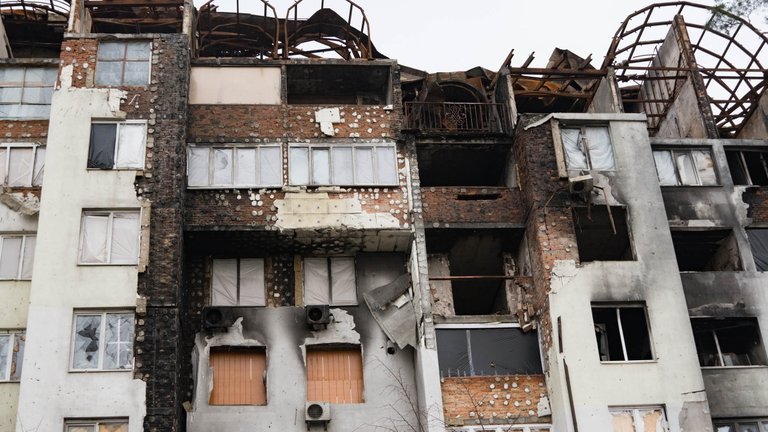 Well, I don't know... Looks sad, but I'm not en engineer.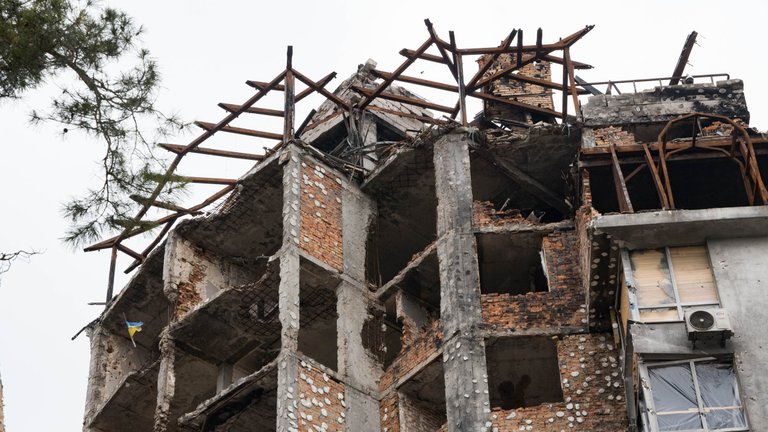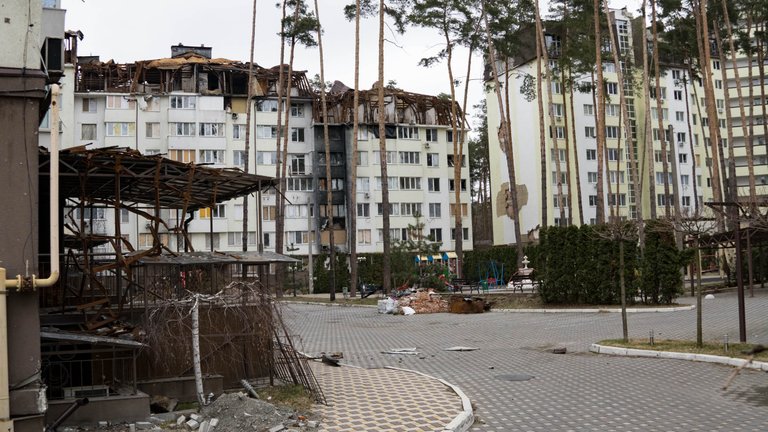 ---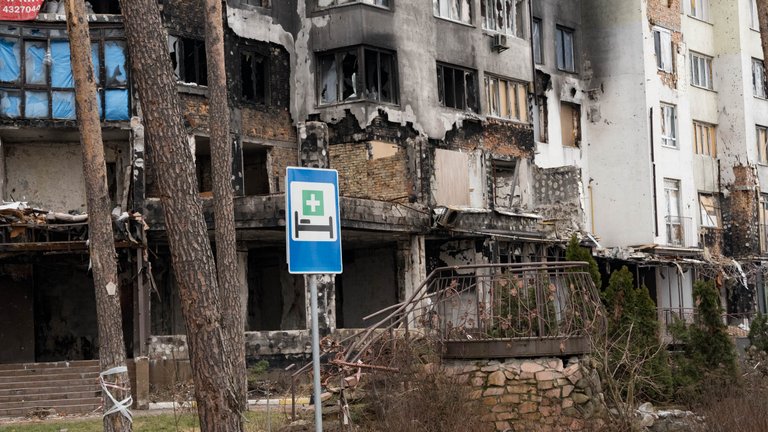 ---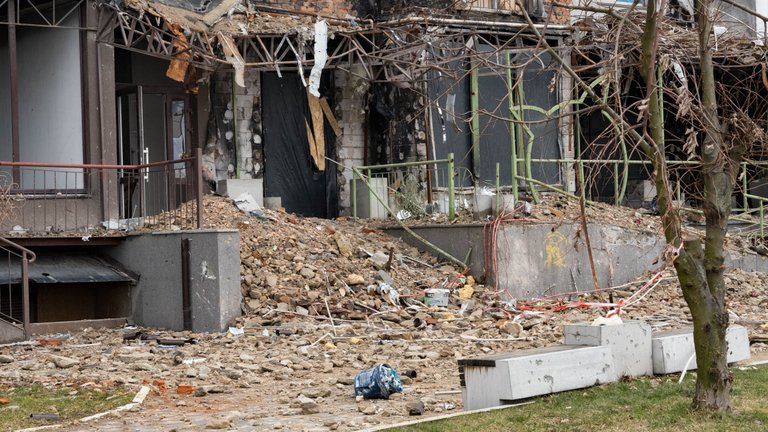 ---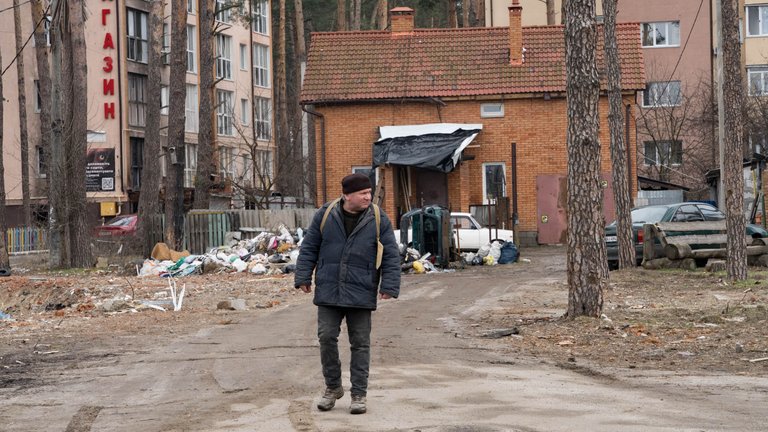 ---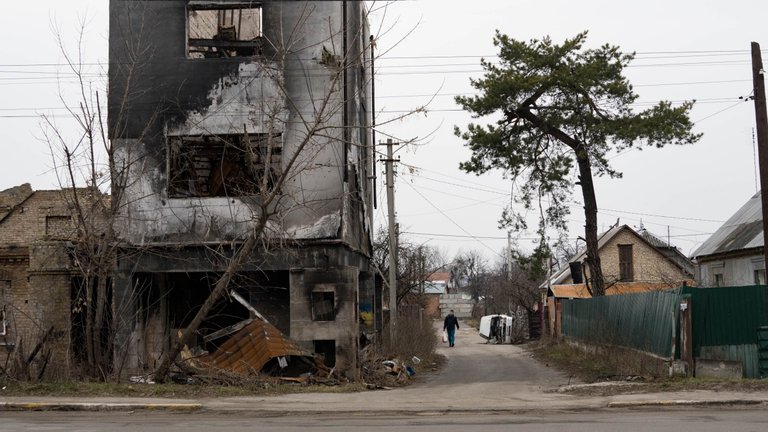 I took many photos on that day, and I'll not publish them all of course. Let's move on.
On our way home I saw House of Culture of Irpin. It was a beautiful building! With colorful paintings. It needs restoration too.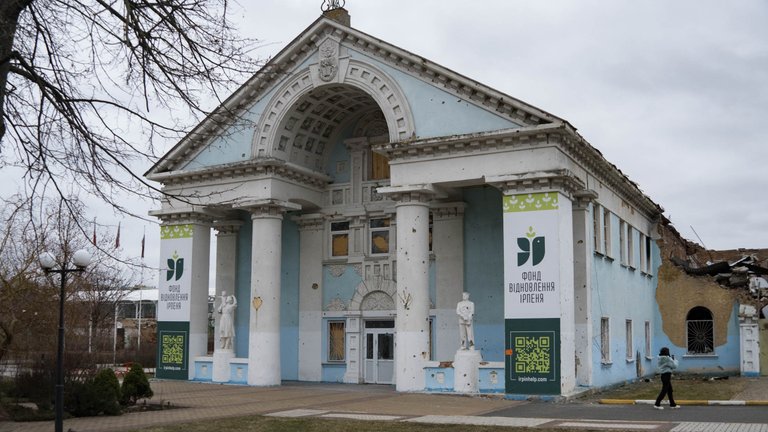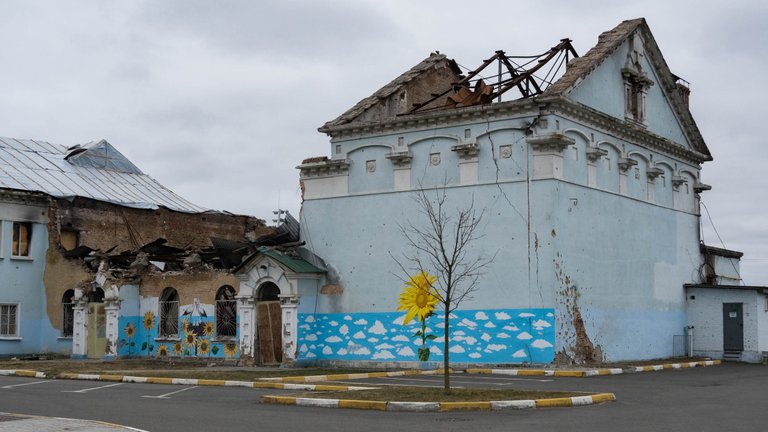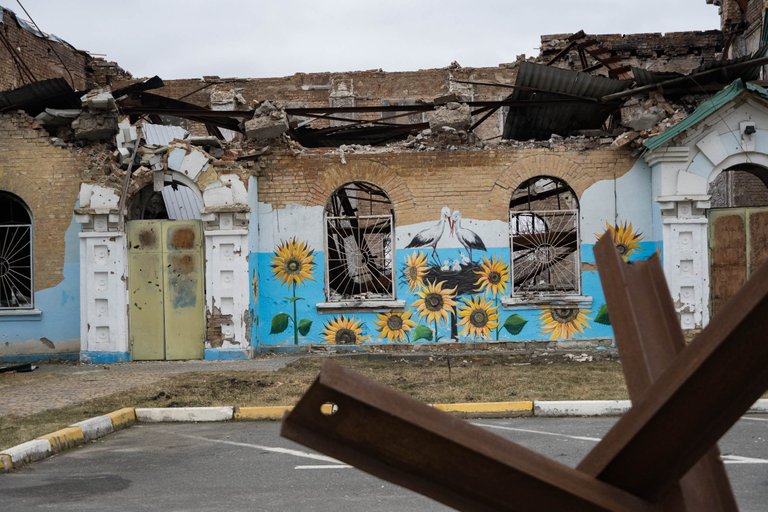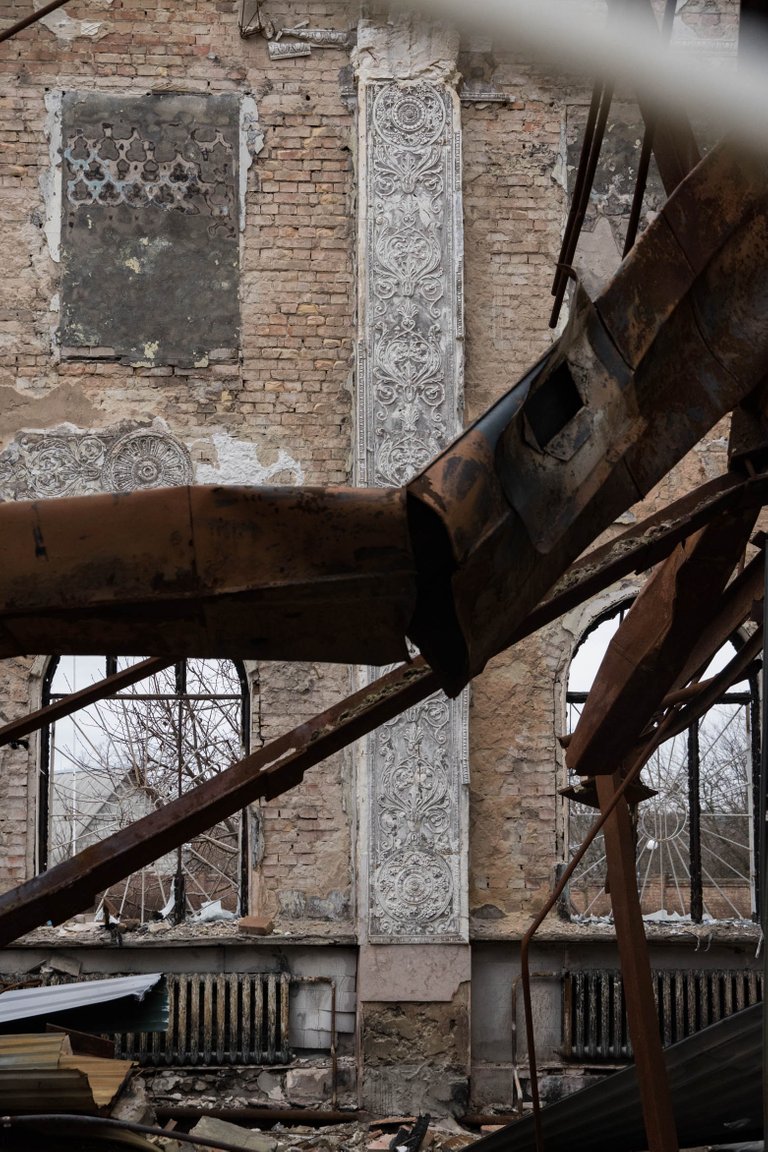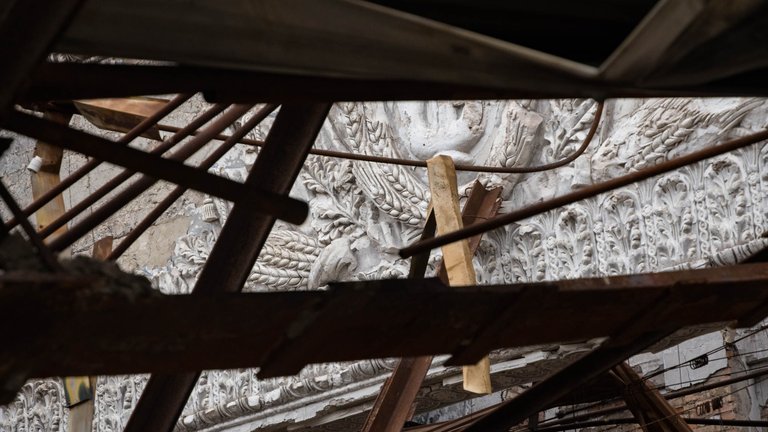 I found graffiti here too!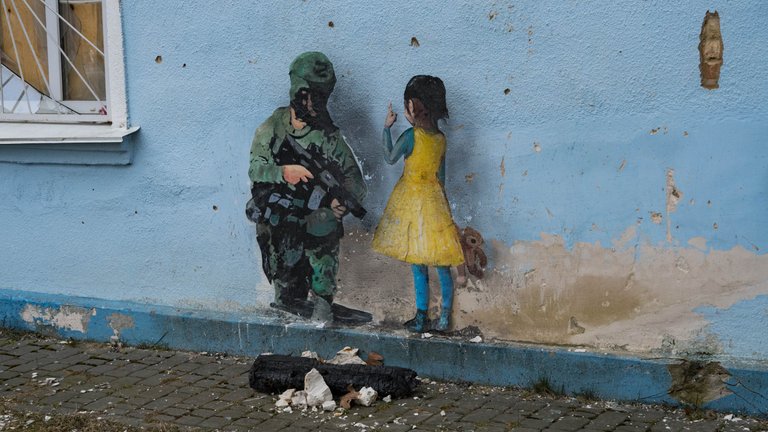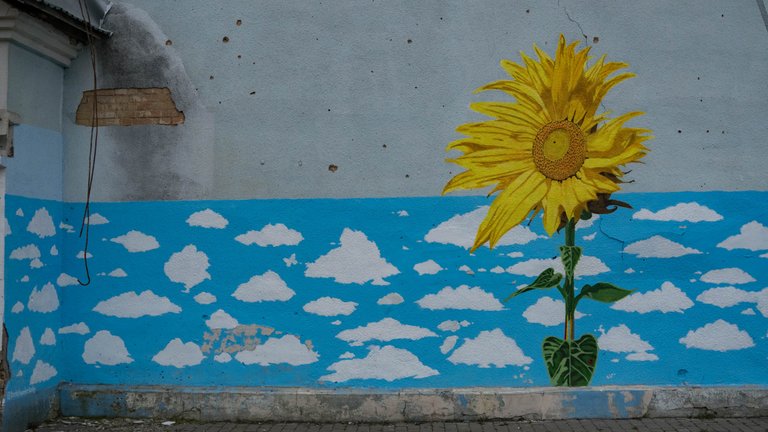 It's getting dark, and we're heading home. We were both hungry so we stopped at a gas station on our way home. It was one of two standing one by one that has survived.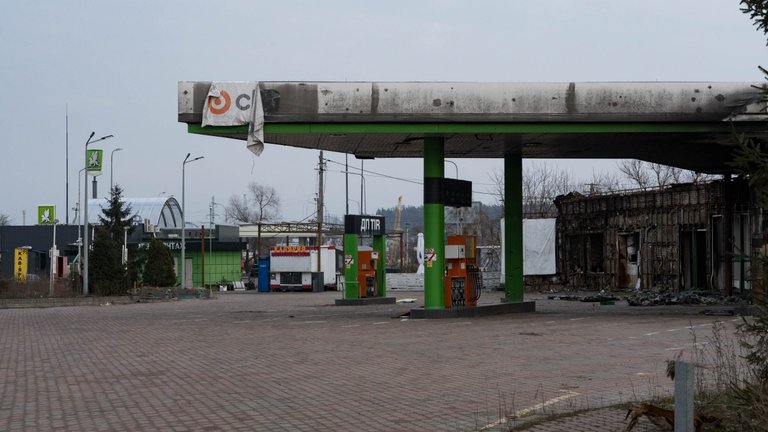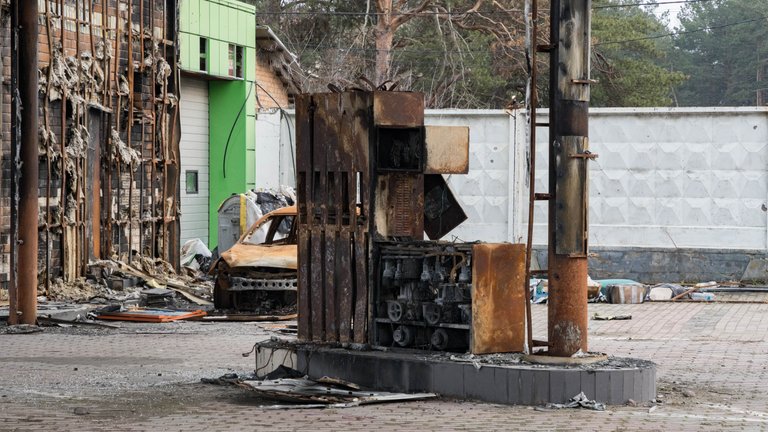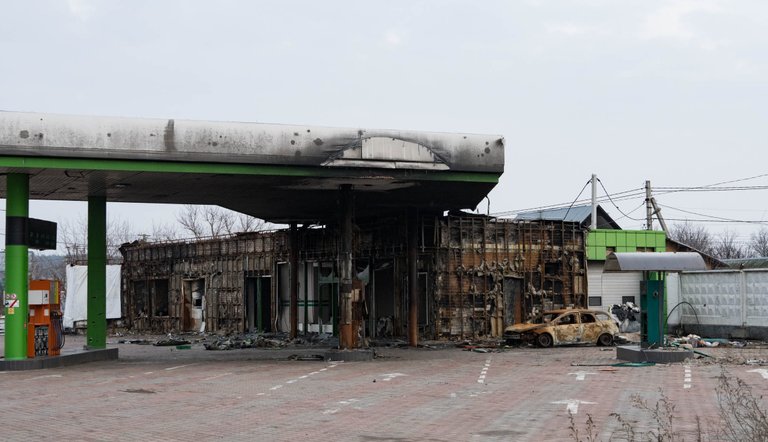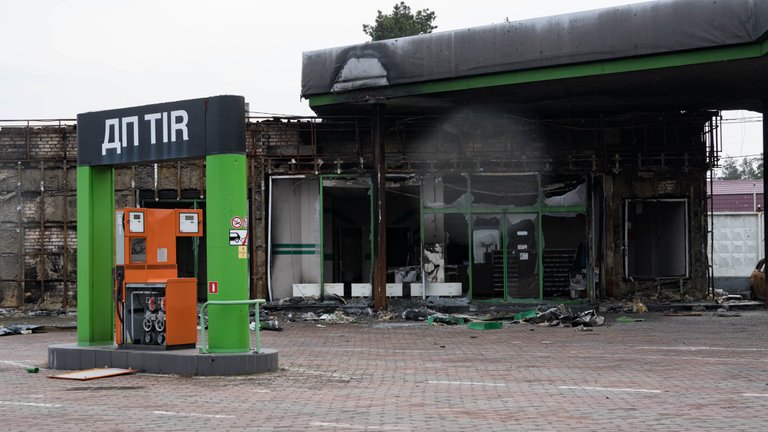 A shopping mall once was across the street...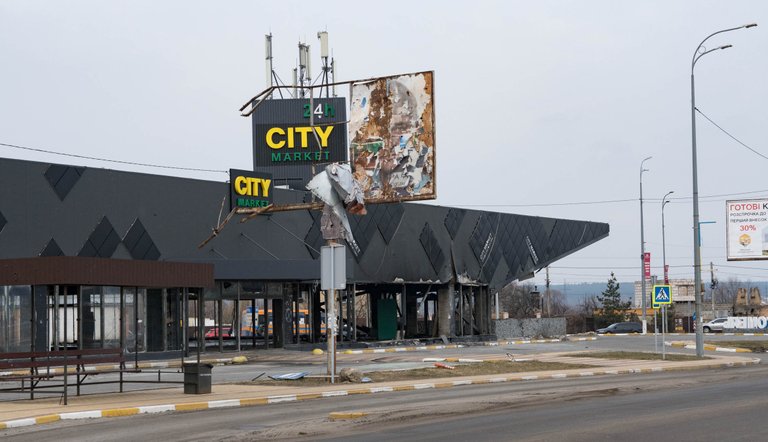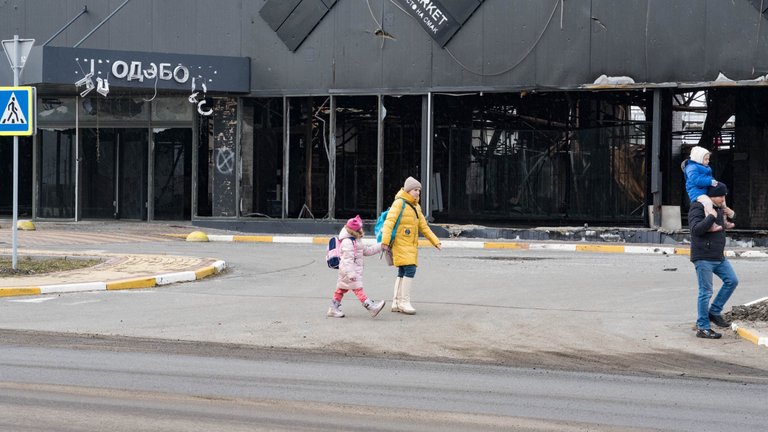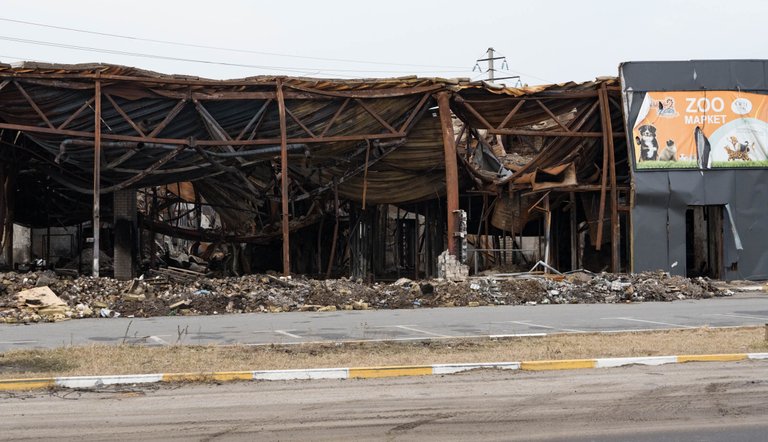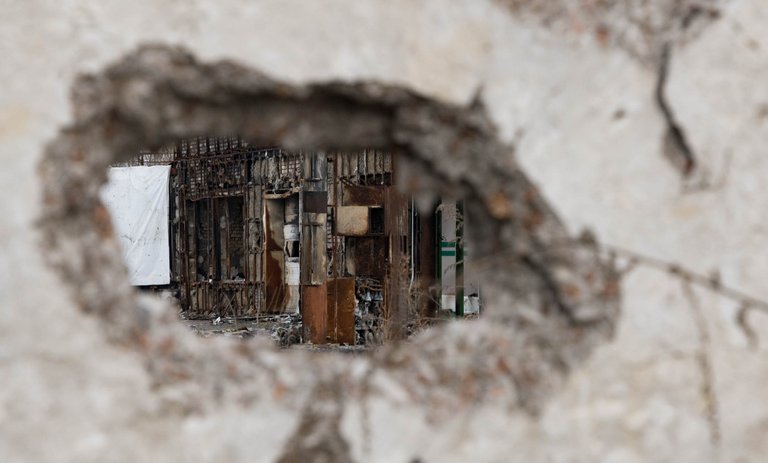 Well, that's all for today. Luckily, I edited most of these photos much earlier, so today it didn't take me too much time. Thank you for making it to the end! And thank you for the support that you always give to me. It means a lot. 🙏
Next time, I will share the last remaining part. Until then, take good care of yourself and your loved ones. And enjoy your day! Life is too short.
See you 🖤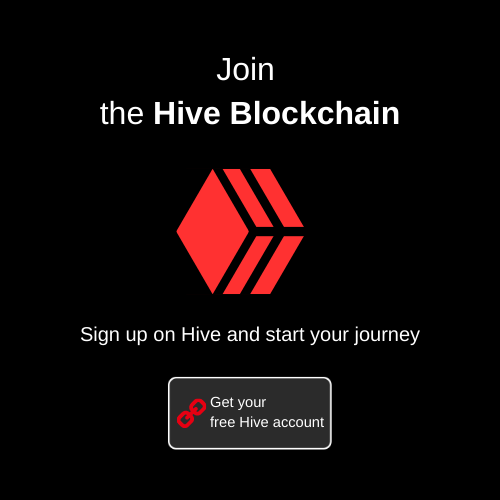 Need a free Hive account? Get yours now