A little climb up into the Blue Mountains in Oregon, surrounded by pines, is Jubilee Lake. Honestly I don't why I haven't been up there nor did I even know it existed. I guess I get too focused on the "Main Attraction" of the area, The Columbia River and forget to look around. Yet, if I just head in the opposite direction of the Columbia River and increase my elevation a bit there is a great time my family and I have been missing out on for the past 7 years of living in Walla Walla. It takes about 1-1/2 for us to drive up there but... WOW was it worth it!!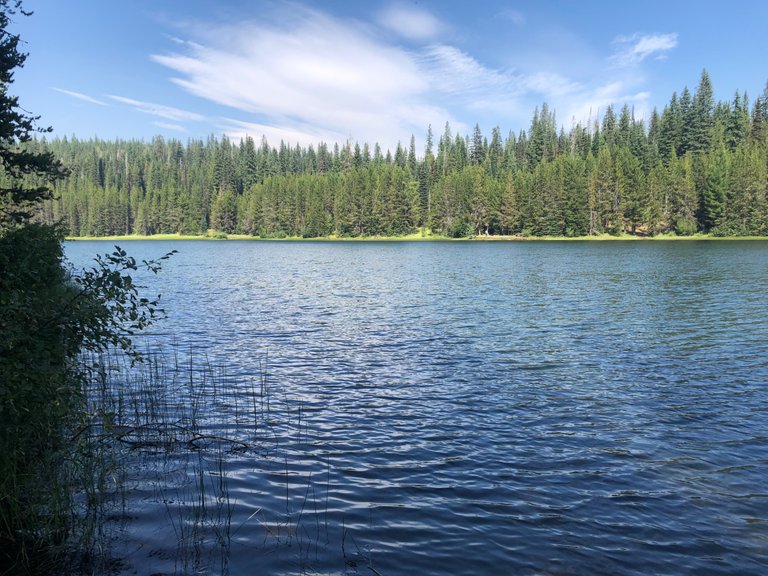 Jubilee Lake, Oregon
We did plan on taking the camp trailer to do a weekend camping trip but plans changed and we had to push it out a few weeks. So why not just take a little drive up there and take family hike around the lake? If it gets a little warm, take a swim. Doesn't sound like a bad idea to me.
This being our first time to Jubilee Lake, we took a cruise through and scoped out the camping sites. We got our eye on a couple spots that we hope will be available when we head back up here in a few weeks to camp. It's first come first Serve when it comes to the camp sites, so we will be keeping our fingers crossed.
We made our way back to the main parking area, got the backpack with some snacks and some water. Looking around there were a decent amount of families with picnic supplies, inner tubes, kayaks, and some even had little boats with electric motors. The only motors allowed on the lake are electric... interesting... So we wondered down to take a look at the map of the lake and see about this hiking trial.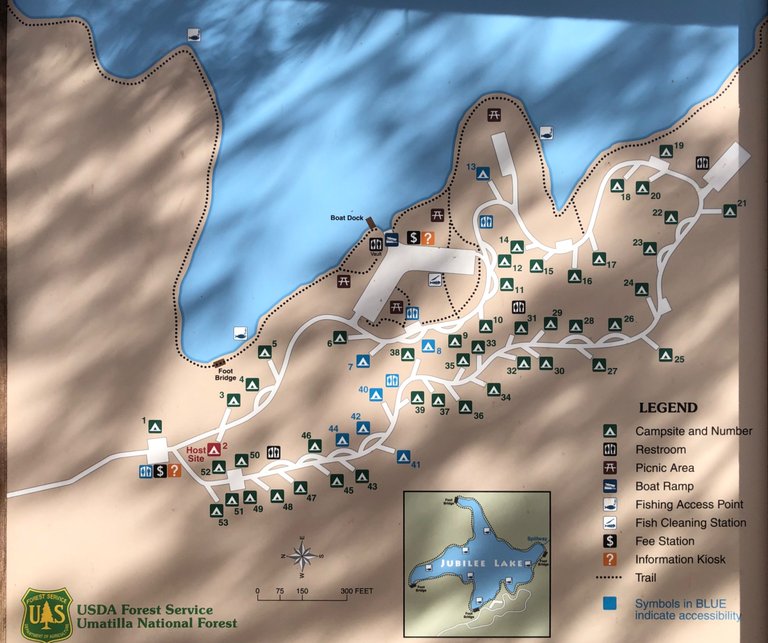 Camp Ground Area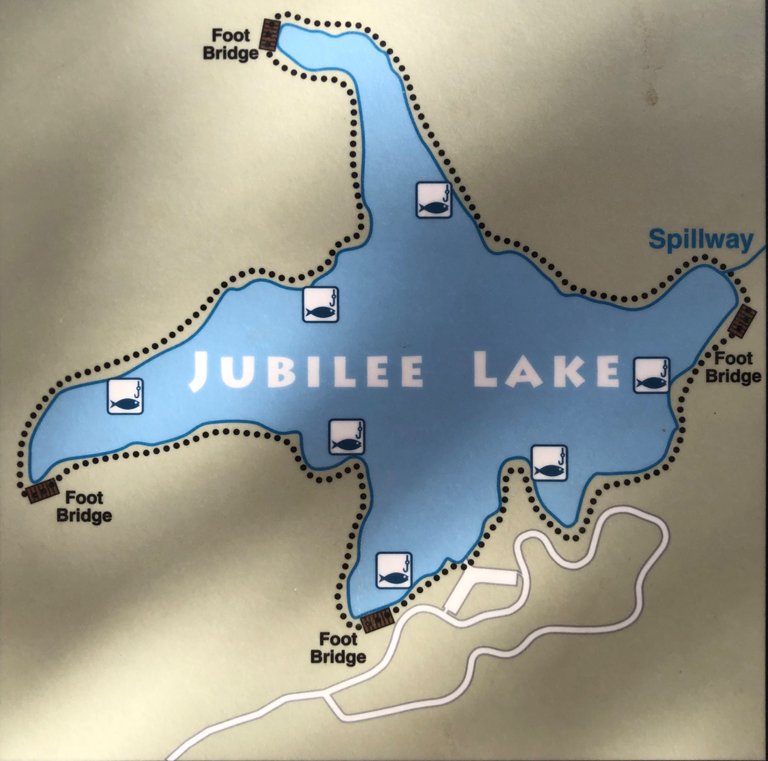 Hiking Trail around the Lake
At the time, we had no idea how long the hike around the lake was, we just started walking. The hiking path is nice and clear with a wall of trees on each side. Surprisingly, there weren't many raised roots to trip over. The oath is very well kept.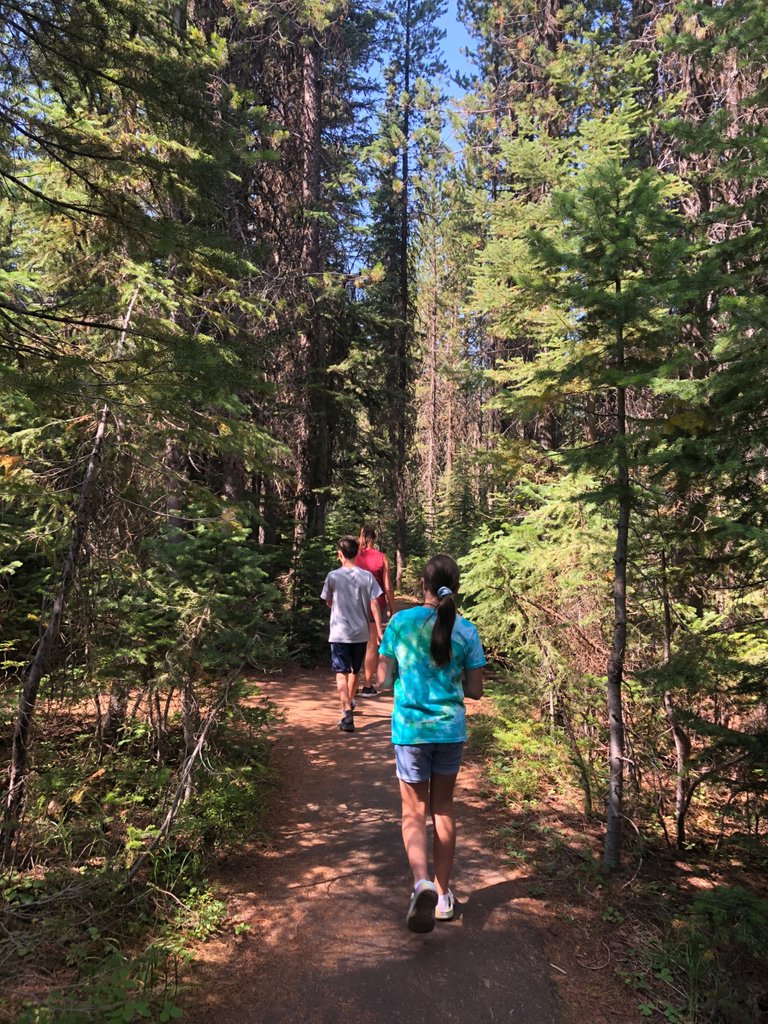 As we made our way around the lake, we noticed there are a ton of little access paths that take you down to the edge of the water. A few of them had picnic tables and the views of the lake no matter where you were.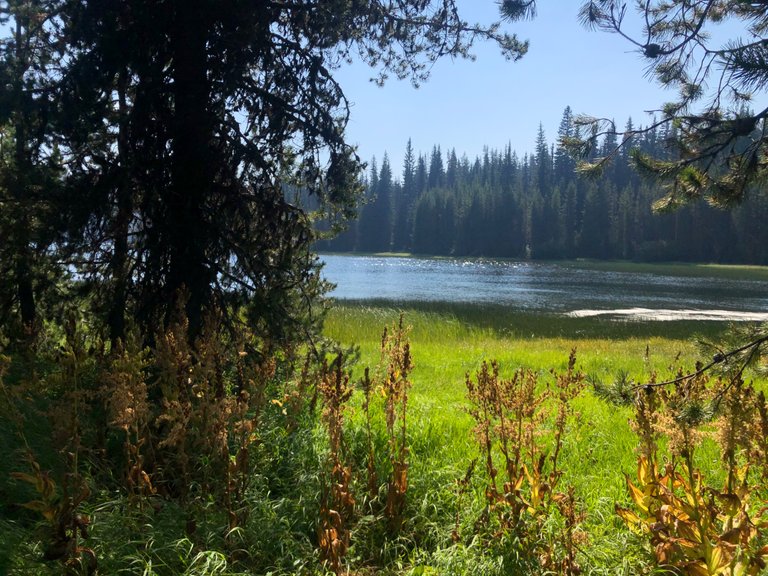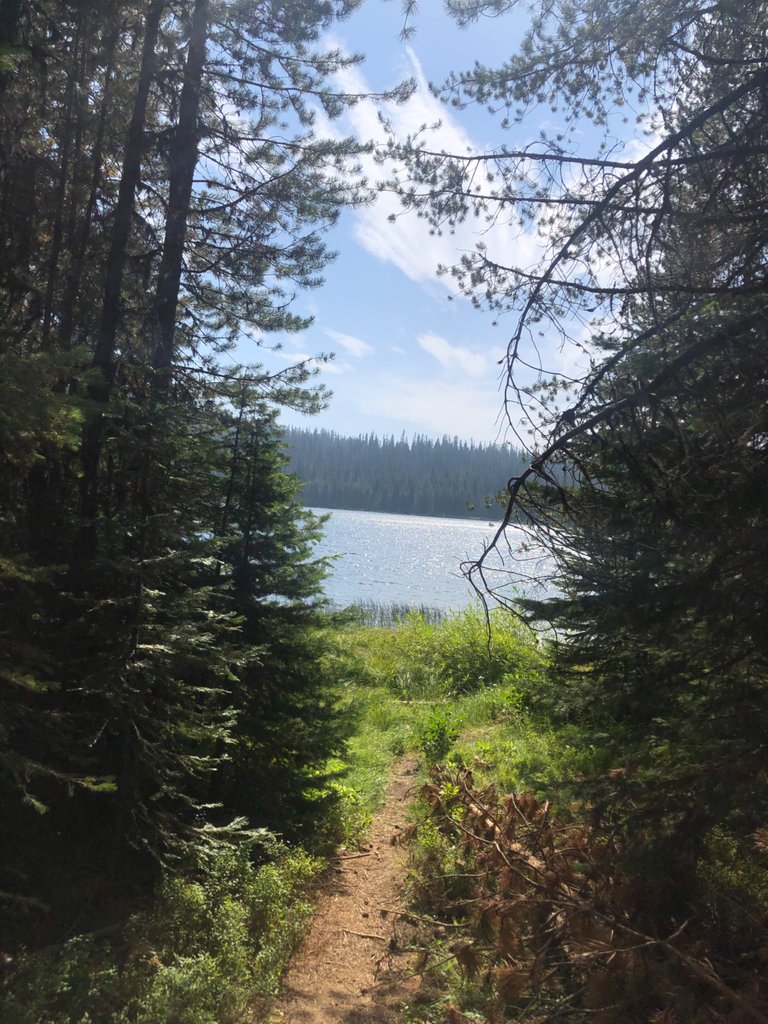 This isn't some crazy intense hike, it's really relaxing actually. A nice casual stroll through the woods around Jubilee Lake is just what the Doctor ordered. Some fresh mountain air, well it's a lot better air than down in the valley with all the fires going on in the area. Hopefully the mountain breeze we have going on will blow the little bit of smoke outta here. Non the less, the air up here is much nicer.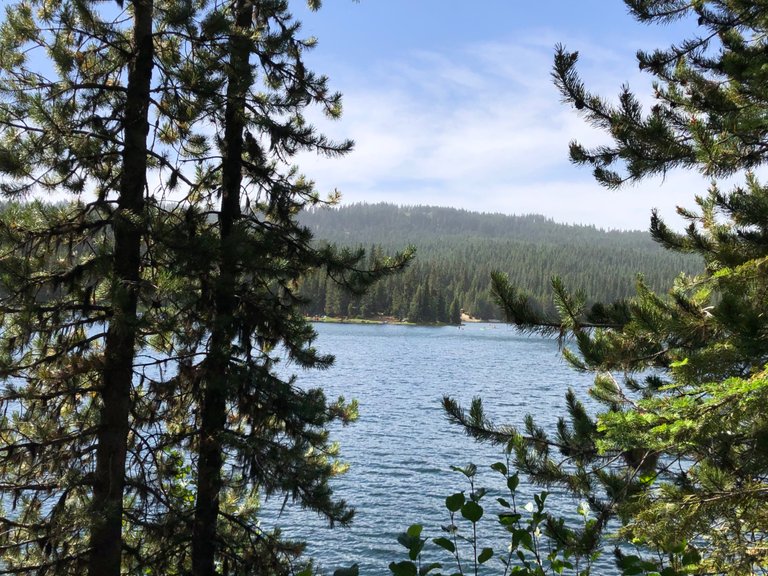 We weren't sure if we wanted to go all the way around or not when we started our hike. @kuku-Splatts said,
"We have to be almost half way around, let's go back to the car."
"Wait... if we are half way, we might as well continue making your way around the lake right?"
Both of the kids looked at each other and laughed, as we took a little break to get a snack and a drink.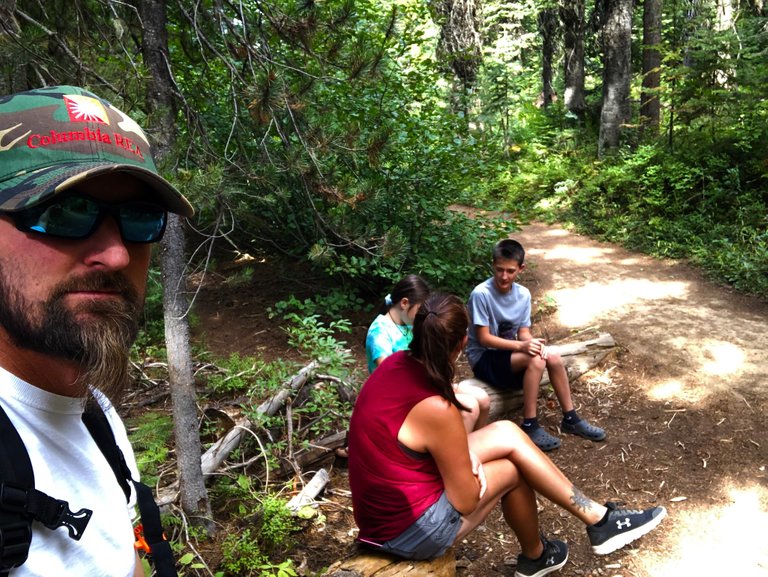 Some people just hopped into their kayaks, canoes, or whatever and paddled across to their picnic spot for the day. Loading up their supplies and cruising across for a day on the lake.
One group was bumpin' some tunes and swinging on a rope swing. I was hoping to see a backflip or maybe some sort of fail but I guess this will do.
The wind was picking up little by little and the wooshing sound of the wind through the trees began to get louder. It almost sounded like we were next to the freeway or something. The ripples on the water were also an indication of an increase in wind speed. That mountain breeze was coming in.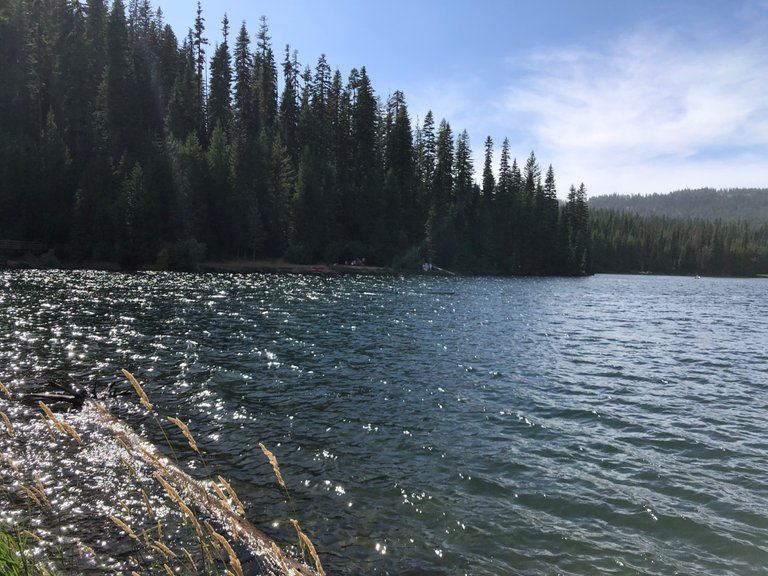 As we got closer to the parking lot the amount of families enjoying the lake and each other's company increased. The area by the parking lot is considered the "picnic" area but there were people scattered all around the lake. Not to mention a few ducks that seemed to be pretty comfortable around people. I take it that the reason they are so comfortable is... food.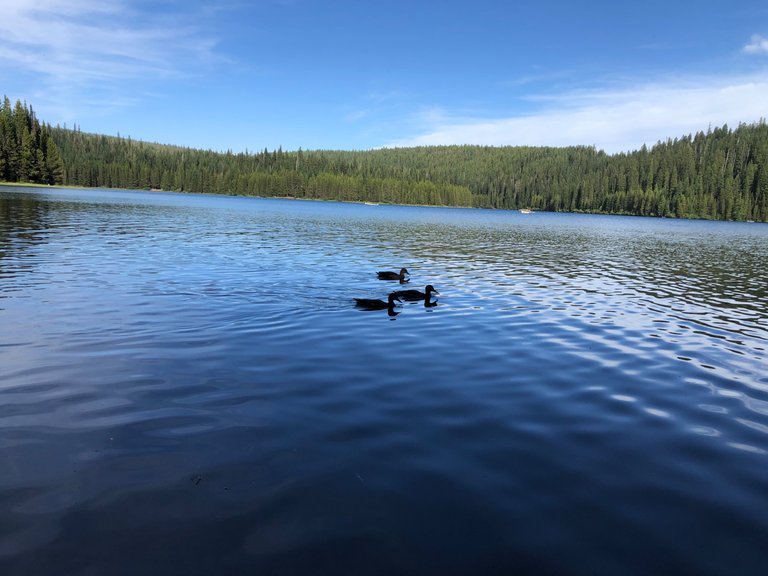 After we got back to the car, I just had to figure out how far this hike was. I was thinking like a mile and a half or so. Welp, it was longer than I thought. I found out is a 2.6 mile hike around Jubilee Lake. It sure didn't seem like it at all.
The whole family is pretty excited to come back up and do a little camping for the weekend. Day use fee is $3, small camp sites are $12 per night and the large camp sites are $19 a night. Not bad... not bad at all for a nice clean camp ground and access to a beautiful lake.
Until Next Time...



Hive On
and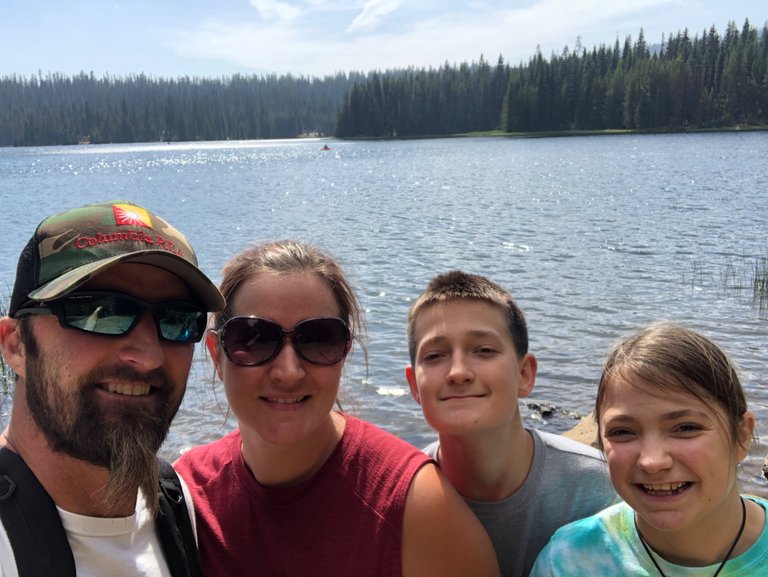 Family
&
Nature
Not much better than that