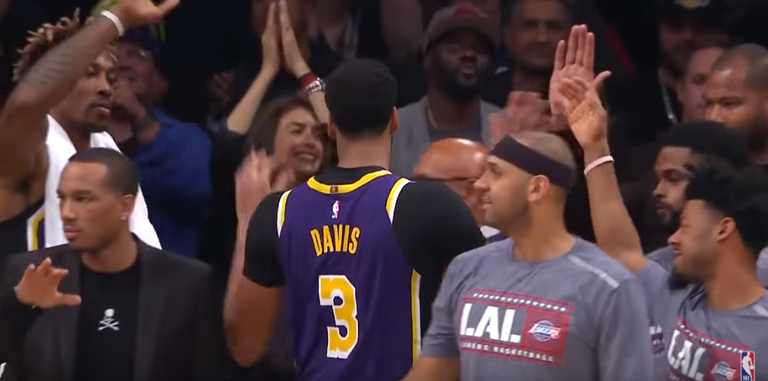 (youtube)
Lakers are playing the best ball in the NBA as we speak.
It reminds me the high time of Warriors when they were beating everyone with ease.
They are on a 8 game winning streak and two games ahead of Nuggets.
If the same game-play continues, they might leave everyone behind in the West.
Four years ago it was a completely different scenario in the West.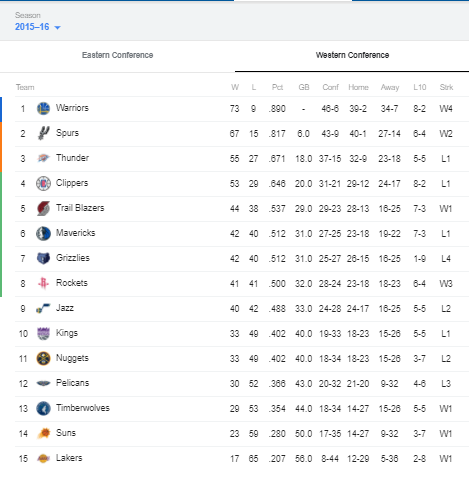 (google)
Clearly that was Warriors best season ever leading the NBA and losing only 9 games.
I am wondering if this season it could be the reverse of the medal.
Will Lakers win 60 games?
It is fairly possible with the roster they have.
Everybody is scoring for them.
Howard can score as a center.
If need be he can be a guy they can feed upfront to score
to enable load management for LBJ and AD.
(youtube)
You can feel the spirit they have playing together.
Apart from teams LBJ played for, this one in L.A. is different.
He is more mature and able to read the defense and get everyone involved.
You can see the elevation of the team around him.
Turnovers are a problem.
Together they pose an issue for team to read their defense scheme.
Health is a plus for Lebron this season.
He did not play a good chunk of months last season plus no playoffs in years, getting his body in shape
for this grueling season.
SUMMARY 2019-2020
| PPG | RPG | APG |
| --- | --- | --- |
| 25.6 | 7.4 | 11.0 |
| 11th | 33rd | 1st |
Lebron may not be the leader in points but he leads in assists
helping his teammates to score.
Since he has been in the league for more than 15 years, he has other things in mind.
Winning Championship with three teams is spectacular.
Winning Championship with different players and coaches are fit to go for.
This year is something out of ordinary since kahwi is in LA Clippers.
Cannot wait to see the next matchup between these two teams.
The season is only 17 games through and we are set for great match ups down the line.
I can see Lakers moving the line and prove to be a team to be reckon with.
Definitely Lakers with LBJ will put a mark in the NBA.
Hard to see what is next but 2020 has a lot to handle.
Once again Kuzma needs to step up and this team will match Clippers in points production
consistently.
It will come surely.
Stay tuned!