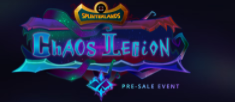 What Do We Expect After Chao legion Presale Is Over
Hello splinterlords and splinterladies across the world, how are you doing? I knew after participating in the choa presale, many of us will be waiting for the opening of the packs we bought: just like me, I am furious to know the cards that i will get and am earnestly waiting for december 8th when the packs will be officially opened.
LET LOOK AT THE FEW THINGS WE EXPECT AFTER CHAO PRESALE
I just assumed the following may happen or not, they are:
Expect 13 new reward cards: my thought about these cards is that you need most of these cards in the game and also a bonus to you. Therefore, it is a big opportunity for everyone that participated to get these cards rather than buy them in the market. Presale is a big opportunity for participants to increase their account so that they can have an opportunity to play at a bigger level and participate in the tournament. If you have been watching the AMA you could see some new cards that are about to be released, some of these cards can be parts of it. When i read about the new promo card that will be open on the 8th december 2021, which is doctor blight; i knew this promo card will be cost in the market because it is rear in splinterlands to see a single card with 5 abilities- affliction, slow, poison, scavenger and life leech.
source
Battle will be very competitive: this is going to happen: players that invested more will have the upper edge over small players that are not invested. Players that did not invest will remain in that level and players that invested will move ahead of them. More players will be fighting for the leaderboard than ever.
Few months ago, with my little account I was able to reach 50 in the silver leaderboard but now due to many players that invested more, I ended up in above 500. It's even hard for me to win battles, the battles are very tough for me to win now. Therefore, the presale will make the battle very tough and competitive.
Vouchers situation: well! Voucher is something that is predictable but am not good at guessing. I was talking to some of my friends that probably vouchers may not be dumped after presale. I think some of them have already sold their vouchers believing that it will be dumped after presale. looking at the situation right now, for the next 2 million packs, you still need vouchers to purchase packs. After the 2 million pack is sold out, if you buy 100 packs, you need 10 vouchers to get 10 bonuses. Hence , after this presale, I don't expect the voucher to go down below $10 because it will still be needed for the next phase of chao. I will even advise you to keep buying it for the next phase because the price of the voucher may increase.
More players will join splinterlands: splinterlands has been experiencing a breakthrough since the beginning of this year, i believed the moment players started sharing their profits through posting, i believed many people will join the splinterlands. Few people are just interested in the process, while most people want to hear the story of your success.
The more you invest, the more profit you make: all goes to the same in the big companies across the world, people that hold a large percentage automatically get more profits than those that hold little. The big players that invested heavily will get more profit than players that do not invest much. This is the reason
you need to invest more on this pesale chao so that you can get more profits.
To play splinterlands click my referral link
The pictures is gotten from splinterlands website