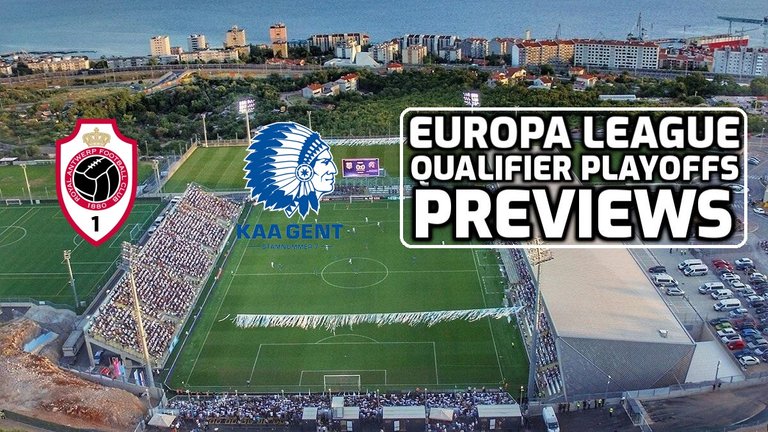 These are previews from the Belgian Teams in European Leagues with all the latest on team news, player form, injuries and my personal betting angles, ....

---
Club Brugge managed to qualify for the Champions League
yesterday
meaning it will be quite a busy betting season with Belgian Teams playing matches on every day of the week when there are European Games. I managed to make a bit of profit yesterday mostly taking some pre-game under positing and trading those out live making a bit of profit in the process. Both Antwerp and AA Gent can qualify tonight for the Europa League which would put 5 Belgian Teams into Europe...
---
FC Antwerp vs AZ Alkmaar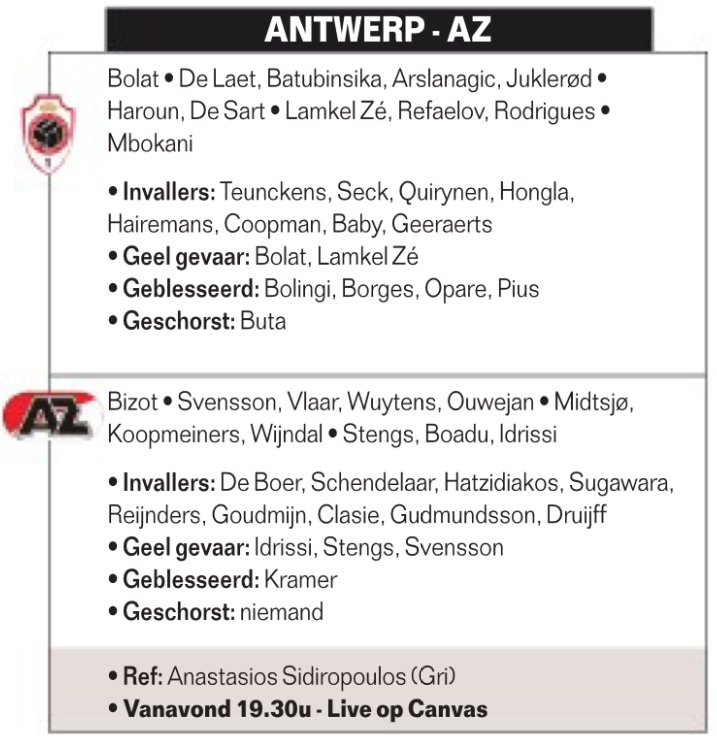 The match last week which was played in Twente without Antwerp Fans ended in a 1-1 Score. The draw was not an unfair result between teams with an opposing play style. AZ play an academical game while Antwerp has it from it's straightforward physical game. After Antwerp got red AZ managed to score the equalizer. The match today will be played in Brussels which is not the home pitch on Antwerp. Lots off Antwerp fans will make the travel (22.000 vs 375 from AZ) which should give something of a home advantage while the large pitch favors the -play style of AZ. For as far as betting goes in this match, I could make a case for both teams which makes Antwerp being the slight favorite probably about right. Antwerp plays a bit more offensive this season but also still is very much capable of playing for a result. with the 1-1 making the match go into extra time it's hard to bet the over. I will be going into this match very openminded view and will just see how it plays out having that as my main guide to take bets without a real play upfront.
No Pre-Game Bets
---
HNK Rijeka vs AA Gent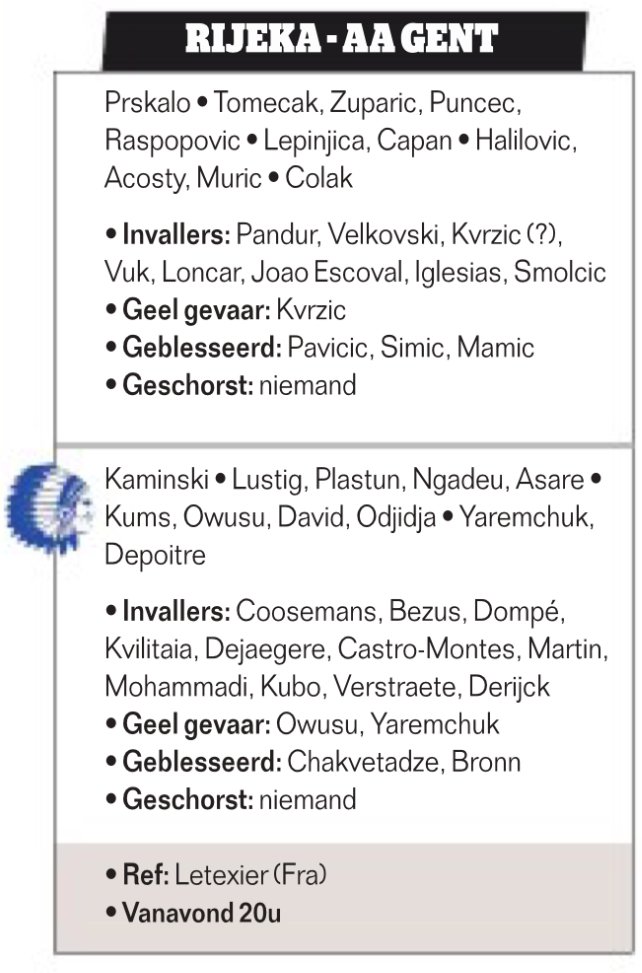 The main info I got from the first match which ended in a 2-1 home win for AA Gent is that Rijeka has totally different play style when playing on the road compared to playing at home. (If I can believe the commentator). Away they play organized while at home they go all-out offense. It was another match where AA Gent showed to have a team with far more quality but again it showed harder to translate that into an actual result only winning by 1 goal and getting a goal against. It has shown time after time that playing away matches in the Europa League can be extremely difficult especially for AA Gent even against weaker teams and I would not be surprised to see something similar today. AA Gent does manage to find the goal and score quite easy though and I would be surprised if they didn't do so tonight with Rijeka both playing more forward at home naturally and also the fact that they are forced to score. I took a small-medium bet yesterday on the
Over 2.5 @ 2.04
and will be looking to add to that possibly live as I have a hard time to see this one stay 0-0. the 2-1 home score is also perfect for at least 3 goals tonight.
---
Late info might change my view on what is written in these previews. I will cover these matches live in our SBC Discord Channel. The Bookmakers that I am personally using and currently am willing to recommend are Sportmarket Pro, Nitrogensports, Sportsbet.io. Bigger bets will te shared and tracked on Twitter and can also be followed directly on copytip. Odds can also be found on the 0% Fee Crypto Betting Exchange Betscorum Using my links when signing up helps to continue making these previews, Thanks!
---
August BTC Bets
| Date | Bet | mBTC | Odds | Result | Betslip |
| --- | --- | --- | --- | --- | --- |
| 31/08/2019 | Kv Mechelen -1 | 10 | 2.767 | Pending | Nitrogen |
| 24/08/2019 | Zulte-Waregem +0.5 | 10 | 1.920 | +9.20 | Sportsbet |
| 17/08/2019 | Anderlecht 1H +0 | 10 | 1.766 | +7.66 | Nitrogen |
| 16/08/2019 | Club Brugge -2 | 10 | 1.910 | -10 | Sportsbet |
| 10/08/2019 | Gnk vs Zul U3.75 | 10 | 1.800 | +8.00 | Sportsbet |
| 10/08/2019 | Waasland +0.75 | 10 | 1.890 | +8.90 | Sportsbet |
| 04/08/2019 | Moe vs And 1H O1 | 10 | 1.798 | -10 | Nitrogen |
| 04/08/2019 | Gent vs Eup O3.25 | 10 | 2.390 | +13.90 | Sportsbet |
| 02/08/2019 | Club Brugge -1.25 | 10 | 1.810 | +8.10 | Sportsbet |
---
Results History
---
IMPORTANT !
Past results don't guarantee Future Results. There are very few people that are equipped financially and psychologically to handle the ups and downs of gambling on a daily basis. If you're not a professional, every instinct you have will attempt and probably will sabotage your success. Human nature runs completely contrary to being successful at gambling. These bets are posted as a way to help myself in order to stay disciplined, always hold yourself accountable if you end up following. Proper Bankroll Management can highly decrease the risk of heavy losses!
---
I have something of a 1-post-a-day policy and will get all of them upvoted to reach the linear reward curve about 24 hours after it was posted making sure everyone that is putting me on their auto-curation list will get full curation rewards for it! Thanks