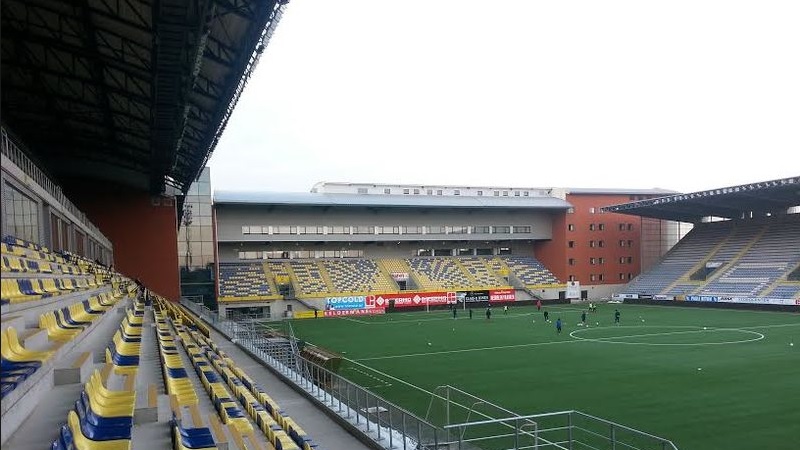 These are previews from matches involving Belgian Teams with all the latest on team news, player form, injuries along with my personal betting angles, ...

Another crazy high score yesterday in the match between KV Mechelen and Charleroi ending in a 3-3 score. I didn't anticipate many bets but ended up taking 9 positions good for 2.52 units mostly on the under and some on the corners market. The unders all ended up losing but the Corners did deliver ending the night with a -0.562 unit loss. For now I'm done with trying to bet unders as there are just too many crazy high-goal matches at the moment. 3 games to have a look at today...
---
Kortrijk vs Beerschot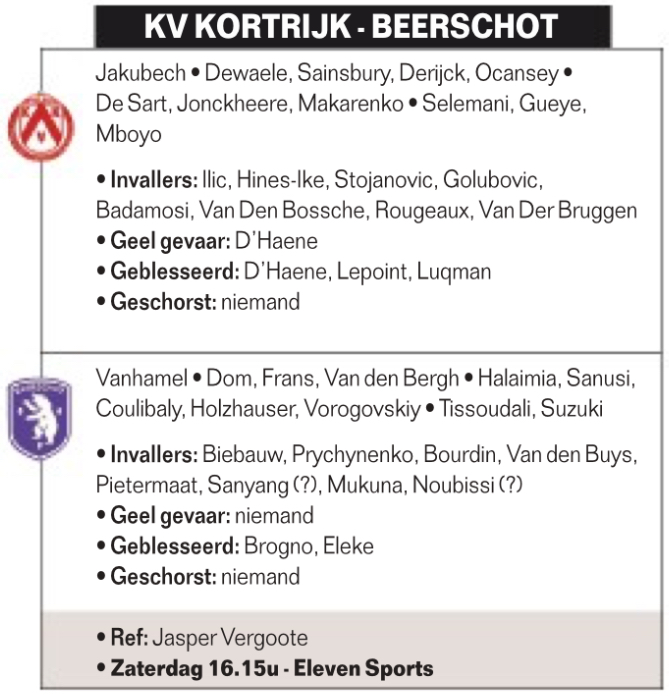 So far the patters of Kortrijk being an overish bad home team and underish good away team remains valid. Beerschot is without a doubt the biggest over team in the league and Beerschot coach even stated in the pre-game interview last week that it's their game to get many goals against as they don't mind taking risks playing open (they have a 28-25 goal saldo after 11 matches!). They are currently 2nd in the league so it's all working and no need to change anything. The over is blindfully obvious even at a higher handicap line. I took a small-medium pre-game bet on
Over 3.25 @ 1.95
yesterday evening yet odds went up overnight to 2.13. I'm not sure what to think of it as there is no news for as far as I know and I will see how it goes live to maybe get in some more. Beerschot has never won a corners matchup away while Kortrijk only lost 1 at home. this made me take a tiny bet on
Kortrijk -0.5 Corners
. If it is offered live I might take more depending on the scoreline.
---
Eupen vs Waasland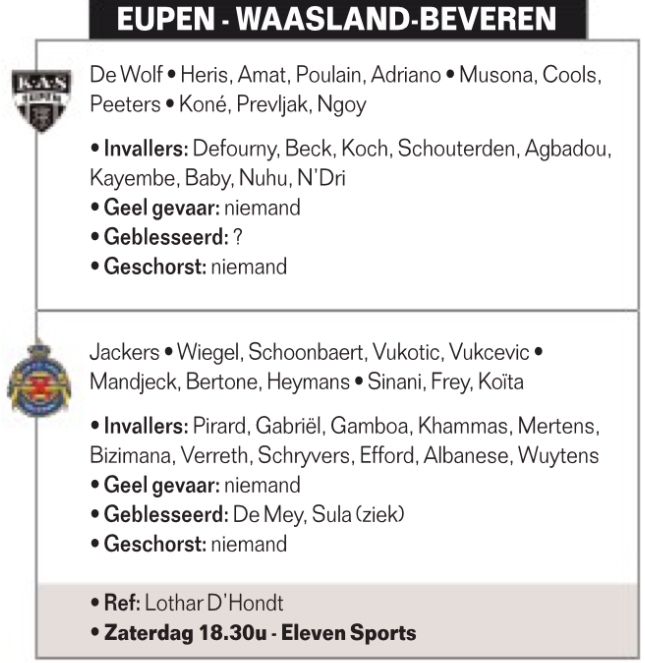 Waasland got totally overrun by AA Gent last weekend and the fact that they had not played a match in a long time might have had something to do with that. Overall they are a poor side but at times have shown to be not as bad as the results indicate. In the 2nd half they seemed to be up to it again but this might also be due to AA Gent allowing them. Eupen this season had a lot of promise with an increased budget and some major transfers but they haven't really translated that in points as they are only 13th with 11 points. They played an ok match last week but still lost 4-0 to Racing Genk. I get why they are a big home favorite but am more leaning toward betting Waasland even though that is also impossible. The -3 corners line is also set pretty high even though Waasland is 26-5 away in corners. In the last 7 away games from Waasland there were 36 goals. Both also have a fairly balanced 1H/2H goal balance which makes me keep an eye out for the 1H over.
No Pre-Game Bets
---
Sint-Truiden vs Genk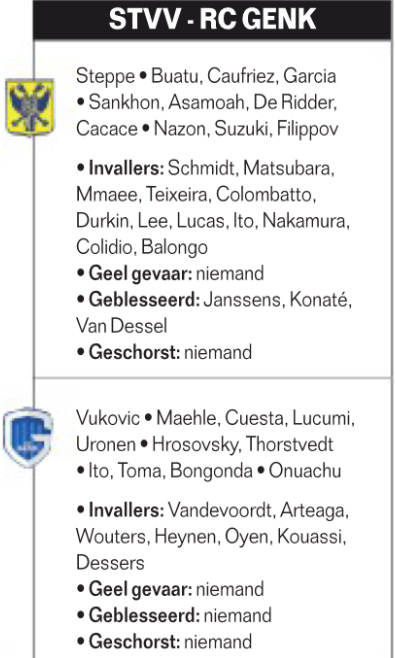 Stvv won their last home match against a poor Standard and confirmed their 1st half Under trend. They also grew more tired near the end of the match. Genk managed to turn their result around going on a 3-game win-streak despite not fully convincing yet in their overall play. They surprisingly saw their coach leave last week after he was around assigned 6 weeks ago. They already signed a new coach Van Den Brom who will be in the stadium tonight but not yet on the bench. Genk has more quality in their team but the match will be played on an artificial pitch which always is a factor. This is a match where I just don't feel the need whatsoever to get involved pre-game.
No Pre-Game Bets
---
Late info might change my view on what is written in these previews. I will cover these matches live in our SBC Discord Channel. All my bigger pre-game & Live bets can automatically be followed on Copytip
---
Pre-Game Preview Bets
I continue to share many of my pre-game bets in all my preview posts. Most of them are smaller bets or trading positions and some of them I took early in the week and might not have the exact same odds available. These bets should just be seen as info and not as something to blindly follow. Record on them so far this season is 103 Bets | +17.86% ROI on Flat Unit bets (See Results) Bigger pre-game bets which are rare these days I also tend to take extra on those in BTC.
Season 2020-2021 BTC Bets
| Date | Bet | mBTC | Odds | Result | Betslip |
| --- | --- | --- | --- | --- | --- |
| 01/11/2020 | Antwerp -0.5 | 10 | 3.50 | -10 | sportbet.one |
| 03/10/2020 | OHL vs Zulte 1H Under 1.25 | 10 | 2.010 | +5.005 | sportbet.one |
---
Bookies, Projects & Platforms I use...

Info

Info

Info

Info

Info
| Month | Bets | Won | Lost | Push | Staked | Profit BTC | ROI |
| --- | --- | --- | --- | --- | --- | --- | --- |
| Jan 2020 | 1 | 1 | 0 | 0 | 0.0100 | +0.01271 | +127% |
| Dec 2019 | 2 | 0 | 2 | 0 | 0.0200 | -0.002000 | -100% |
| Nov 2019 | 2 | 1 | 1 | 0 | 0.0200 | -0.001800 | -9.00% |
| Oct 2019 | 4 | 1 | 3 | 0 | 0.0400 | -0.020800 | -52.00% |
| Sep 2019 | 4 | 3 | 0 | 1 | 0.0400 | +0.028890 | +72.22% |
| Aug 2019 | 10 | 7 | 3 | 0 | 0.1000 | +0.033860 | +33.86% |
| July 2019 | 2 | 2 | 0 | 0 | 0.0200 | +0.018000 | +90.0% |
| Jun 2019 | 0 | 0 | 0 | 0 | 0.0000 | +0.000000 | +0.00% |
| May 2019 | 7 | 0 | 5 | 2 | 0.0700 | -0.050000 | -71.43% |
| Apr 2019 | 5 | 3 | 2 | 0 | 0.0500 | +0.024170 | +48.34% |
| Mar 2019 | 7 | 3 | 3 | 1 | 0.0700 | +0.004120 | +5.89% |
| Feb 2019 | 6 | 4 | 2 | 0 | 0.060 | +0.023210 | +23.21% |
| Jan 2019 | 10 | 0 | 9 | 1 | 0.100 | -0.079640 | -79.64% |
| Dec 2018 | 15 | 4 | 10 | 1 | 0.150 | -0.058880 | -39.25% |
| Nov 2018 | 17 | 7 | 10 | 0 | 0.170 | -0.032170 | -18.92% |
| Oct 2018 | 15 | 6 | 9 | 0 | 0.150 | -0.028290 | -18.86% |
| Sep 2018 | 14 | 13 | 0 | 1 | 0.140 | +0.141820 | +101,3% |
| Aug 2018 | 8 | 5 | 1 | 2 | 0.080 | +0.045470 | +56.84% |
| Jul 2018 | 17 | 8 | 9 | 0 | 0.135 | +0.033590 | +24.88% |
| Jun 2018 | 15 | 7 | 7 | 1 | 0.150 | +0.018200 | +12.13% |
| May 2018 | 2 | 2 | 0 | 0 | 0.020 | +0.023440 | +117% |
| Feb 2018 | 12 | 3 | 8 | 1 | 0.091 | -0.036293 | -39,88% |
| Jan 2018 | 21 | 10 | 10 | 1 | 0.147 | +0.005800 | +3.95% |
| Dec 2017 | 19 | 9 | 8 | 2 | 0.148 | +0.010422 | +7.04% |
| Nov 2017 | 21 | 11 | 10 | 0 | 0.210 | -0.008030 | -3.82% |
| Oct 2017 | 21 | 10 | 10 | 1 | 0.210 | +0.003080 | +1.46% |
| Sep 2017 | 9 | 4 | 4 | 1 | 0.090 | +0.001440 | +1.60% |
| Total | 266 | 124 | 126 | 16 | 2.491 | +0.092319 | +3.71% |