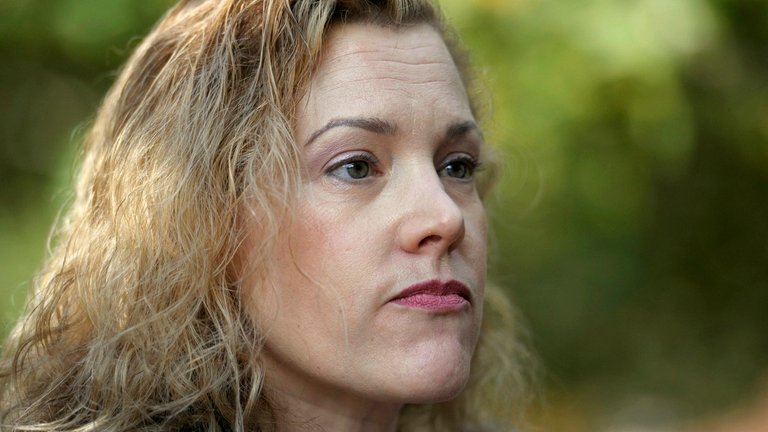 (AP Photo/Cliff Owen)
This article is my own intellectual property and was originally published via Disobedient Media.
Earlier today, legal counsel for Trevor FitzGibbon filed a lawsuit against the Institute for Public Accuracy (IPA) alleging defamation relating to Twitter statements by Jesselyn Radack. The latest suit comes as FitzGibbon's prior litigation against Radack, filed in 2018, continues to unfold.
The legal battle stems from sexual assault claims lodged by Radack and others against FitzGibbon in late 2015. Over the ensuing years, the conflict has evolved across various platforms, including in the press and on social media. In addition to the damage done to the personal reputations and lives of all involved, the issue has undeniably split the hacktivist and whistleblowing communities down lines of loyalty between FitzGibbon and Radack.
Disobedient Media previously reported that Trevor FitzGibbon is a communications strategist who has served Wikileaks, Assange, Chelsea Manning, Glenn Greenwald, the government of Venezuela and others in the whistleblower community. FitzGibbon supported Edward Snowden and helped create Chelsea Manning's twitter account while she was imprisoned.
Jesselyn Radack is an award-winning national security and human rights attorney, who in addition to her legal representation for high-profile whistleblowers including Thomas Drake and Edward Snowden, has served as an advocate among the hacktivist community and via a number of organizations. These include the Institute for Public Accuracy, a service specifically at issue in FitzGibbon's latest lawsuit.
The Institute for Public Accuracy is a non-profit founded in 1997 by journalist Norman Solomon. The Institute describes its purpose thus: "IPA boosts many progressive grassroots groups with scant resources for media outreach. Since 1998, IPA news releases have promoted analysts from thousands of different organizations doing work on a wide variety of public-policy issues."
The Institute for Public Accuracy's subproject, ExposeFacts.org, was launched in 2014. Radack currently serves as the Director of National Security & Human Rights with the project, which aims to provide "aid to whistleblowers in safely disclosing information relevant to human rights abuses, corporate malfeasance, civil liberties and war."
FitzGibbon's latest suit against IPA contends that Radack's Twitter statements, for which a restraining order was granted last year, took place in connection with the Institute for Public Accuracy because her Twitter account was "a work-account," allegedly endorsed by IPA. The complaint, which is publicly available on Pacer, contends:
"Radack actively and continuously uses Twitter in connection with her employment for IPA to espouse IPA's progressive policies and to communicate with whistleblowers, activists, clients, media sources and other business colleagues in Virginia. Radack's Twitter profile is a work profile, which highlights her position and employment with IPA, and links to IPA's website as follows:"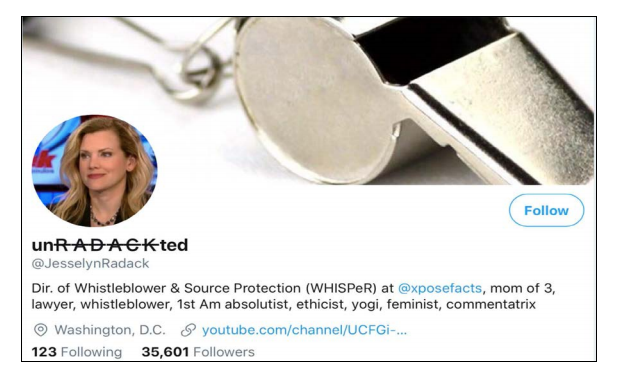 The suit continues: "At all times relevant to this action, Radack acted within the scope of her employment, acted during work hours and while conducting IPA business, using a work Twitter account that linked back to IPA, and with the knowledge and actual or apparent authority of IPA. IPA is liable for Radack's defamation of Plaintiff under the doctrine of respondeat superior."
The complaint requests "compensatory damages and punitive damages in the amount of $2,350,000.00."
In order to provide context for FitzGibbon's latest suit against IPA, we remind our readers that in April 2018, FitzGibbon filed a previous, separate lawsuit against Jesselyn Radack, alleging defamation and malicious prosecution for what FitzGibbon argued were false allegations of rape and sexual assault. Shadowproof's Kevin Gosztola recounted the events that led to the litigation and the contents of FitzGibbon's complaint:
"In December 2015, Fitzgibbon's progressive public relations firm, Fitzgibbon Media, shut down after significant allegations of widespread sexual assault and harassment by Fitzgibbon were published by the Huffington Post. Three criminal complaints were filed with the U.S. Attorney's Office in the District of Columbia. One of the complaints came from Radack. However, U.S. Attorney Channing D. Phillips declined to file charges against Fitzgibbon on April 20, 2017. Radack accused Fitzgibbon of first-degree sexual abuse and third-degree sexual abuse through the use of force.
According to the lawsuit, Fitzgibbon claims Radack was having a consensual affair and text messages show she was lying to police when she made criminal allegations against him. Text messages included in the complaint show she sent photos of her breasts to Fitzgibbon in November 2015, asked Fitzgibbon to describe his "sexual fantasies," repeatedly urged Fitzgibbon to send a nude photo of himself, and "used her cell phone to draw a nude body, complete with a vagina."
In 2015, Radack went on record with Style Weekly, describing FitzGibbon's pro bono work as "invaluable." Such praise demonstrates the close-knit nature of the social and professional circles in which Radack and FitzGibbon conducted themselves.
To provide further context for these latest developments and specifically the lawsuit filed against IPA, we return to late July of last year, when FitzGibbon won a restraining order against Radack, in which the latter was ordered to refrain from discussing the case on social media. Judge Robert E. Payne wrote: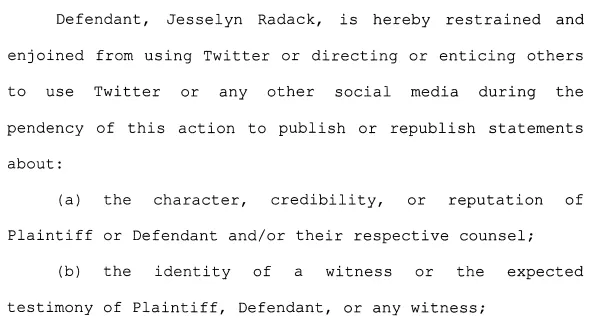 Despite the restraining order, Radack has continued to Tweet and retweet statements referencing her allegations against FitzGibbon. By the 7th of August last year, two of Radack's legal representatives, Andrew Clarke and Jeffrey L. Light, were granted a motion to withdraw from Radack's legal team. At the time that Radack's allegations became public, she was represented by Gloria Allred.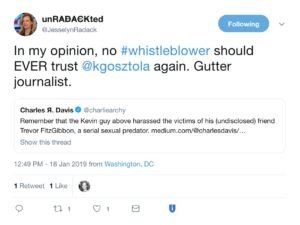 In August 2018, Radack attempted to obtain multiple civil protection orders against Fitzgibbon in a separate Washington D.C. court, arguing in one such attempt that the documentation of Radack's text messages to FitzGibbon in the latter's complaint amounted to "revenge porn." These attempts were dismissed, in one such instance by Associate Judge J. Michael Ryan, who wrote:
"In the instant case, Petitioner [Radack] apparently invokes sexual assault as a jurisdictional basis, however offers no proof of a sexual assault. Respondent's [FitzGibbon] complaint from the Eastern District of Virginia (EDVA) case, however, demonstrates a romantic relationship involving the exchange of sexually explicit text messages during a certain period of time. Moreover, Respondent's testimony corroborated such an ongoing romantic relationship. Petitioner fails to establish intent or malice as required by Virginia's criminal statute. Respondent credibly testified that he filed the lawsuit in order to clear his name."
The latest ruling in the first lawsuit filed by FitzGibbon against Radack saw Judge Payne deny a motion by Radack to transfer the case, due to Radack having recently filed for bankruptcy. Judge Payne wrote regarding the decision:
"In sum, even though the Court finds that Radack may have some difficulty getting to Richmond due to her health condition, that factor does not outweigh Fitzgibbon's choice of forum, the convenience of the witnesses, or the interests of justice. At best, the factors are at 'dead center,' which is not enough for Radack to fulfill her burden of proving that a transfer is warranted."
In light of FitzGibbon and Radack's mutual connections with, and support for, some of the most hunted whistleblowers and national-security targets on the planet, their legal battle is not merely a personal tragedy playing out in the press and staining reputations on social media. It has also torn the fabric of the hacktivist community at large. For this reason, the multiple lawsuits and their consequences are relevant to the public interest, especially for those who support whistleblowers and the cause of truth.
Disobedient Media will continue to report on this story as it develops.