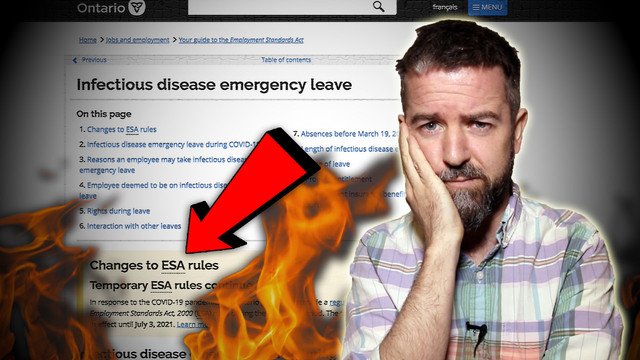 The newly revised Employment Standards Act
in Ontario now states that an employer can layoff an employee without pay for failing to prove that the employee has received a Covid-19(84) vaccine. Meanwhile vaccine passports are becoming a big brother nightmare reality as the world shifts into a digital realm where your every move will be tracked, traced and databased all in the name of keeping you safe from Covid-19(84).
In this video
Dan Dicks of Press For Truth gives a Covid-19(84) update about new Draconian measures in Ontario when it comes to safety in the work place and also "vaccine passports" that are coming down the pike for everyone in the near future!
WATCH ON ODYSEE ➜ https://odysee.com/@PressForTruth:4/No-Vac-No-Pay:2?r=C457cfbK5297LafoLDGTsCVsJMC4Ykjx
WATCH ON BITCHUTE ➜ https://www.bitchute.com/video/jqW9wGafqf3n/
WATCH ON FLOTE ➜ https://flote.app/post/f265a400-f576-4ef1-99a7-66ef70f03ee0
WATCH ON MINDS ➜ https://www.minds.com/newsfeed/1224480270475915264?referrer=pressfortruth
Support independent media:
Patreon ➜ http://www.patreon.com/PressForTruth
Patreon Alternative ➜ https://pressfortruth.ca/donate
Paypal ➜ https://www.paypal.me/PressforTruth
Cryptocurrencies:
Bitcoin ➜ 13oNiHUNGn9vdfv7MT5kjwe7np9bwf5ccv
Ethereum ➜ 0xEce2AEf1F26373a00BDC7243d1201a98578CC67e
Bitcoin Cash ➜ 1MxgFpQdMujLYRTkSTw4PGDmL99s83PFKR
Dash ➜ XirLdVdyaW9rXvhKic78ruc2X39HjNhdTV
EOS ➜ 0x2BBB00605730feA136623CA366979705293DA659
Litecoin ➜ LVVaVCfNN25AuU1Ex2s4tX2Ze3iCig2kRo
ARK ➜ ALLDoYdZTSo2G79Rn9RizzAes2bLwK2VVx
Lisk ➜ 6851060122493388407L
Verge ➜ DGx3kPjZmiYpsZfEePjEpT6sStsNXS1vK2
Reddcoin ➜ RkMCsv5mtMpKaQZRuQFE5fzadse2G2DNfp
Nano ➜xrb_3rc4uthr5ahyxxzhu1riihcmudiefr4qxzpoq9tq3brbaqpxe6wn8twzb3pq
Cardano ➜ DdzFFzCqrhsrGjJqD8F8NuPvhevcDkonwv3UfGwWxveZ5QQZ9ujtjmXpGxhrSXFa3AsxK94qdi8w2pq289FLqhgQVDyuUN3zxwd4g5M9
QR Codes for all the above cryptos ➜ https://pressfortruth.ca/top-stories/donate-cryptocurrencies/