Hello beloved people! 😊
How are you doing?
Doing great here! Since 3 days I am out of a 5 weeks phase of depression. So I am feeling great. Happy that I learned how to handle these phases and get out of them with great motivation. So here we go!
GET READY FOR THE BIGGEST $RAVEN HOLDERS DROP SO FAR! 🎉
On the 28th of October, I will having a special Halloween Show in the PIZZA Discord. During that show, there will be
TWO drops for you guys!!
I love Halloween, so there won´t be a Halloween without a drop, that´s for sure!
These drops will also include new music. 😱
---
📸 SNAPSHOT
We will take a snapshot of all the $RAVEN holders, and these will be whitelisted for the drops. This snapshot will take place on
🎃Tuesday the 25th of October, 6pm CEST🎃
So if you want to get the drops, you still have time to buy $RAVEN until tuesday. 😊
Please read about my token here, before you consider buying.

---
The drops will take place during the Special Halloween Show in the PIZZA Discord!
Save the date:
Friday, 28th of October 2022, 8pm CEST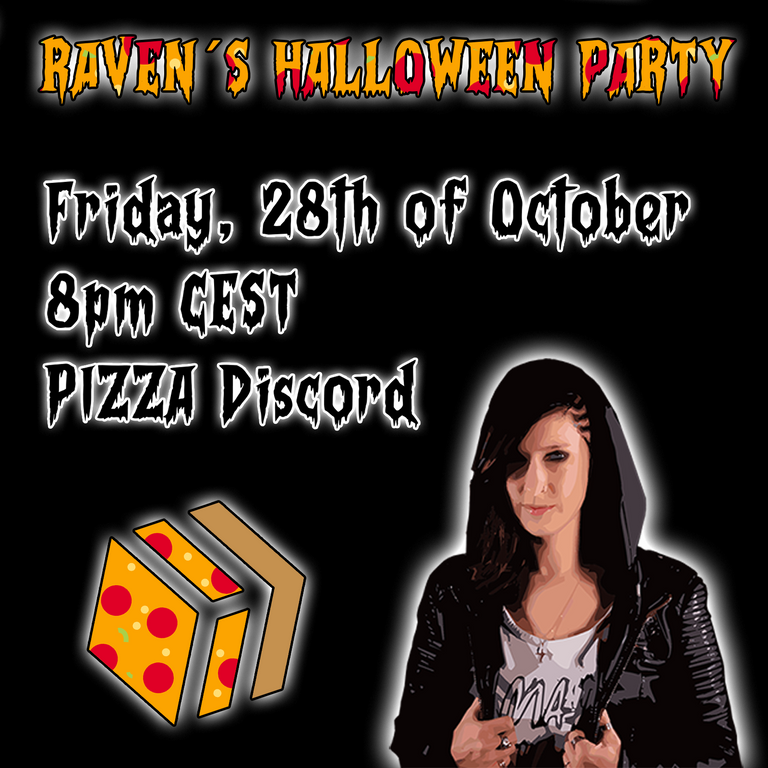 This will take place in the PIZZA Discord.
This show will not only be about the drops, but also about the PIZZA Halloween album, where many Hive musicians contributed music to!
I am looking forward to hear many great Halloween songs! 😊
So we will have a big show full of drops, music, fun, games and prizes!
---
I wish you a great day and hope to see you AT THE PARTYYYYY! 💜
Best regards,
RAVEN 🐦
---
I still need the wax wallet addresses of the following people for the next drop:
@pizzaexpress @polarmystro @alic3wund3rl4nd @taskmaster4450 @hive-183741 @tfranzini @tokenizedsociety @synergized
You can either submit the address in my Discord server, or send an email to [email protected] Thank you guys! 😊

---
I am very thankful for everyone who supports me on my journey!!