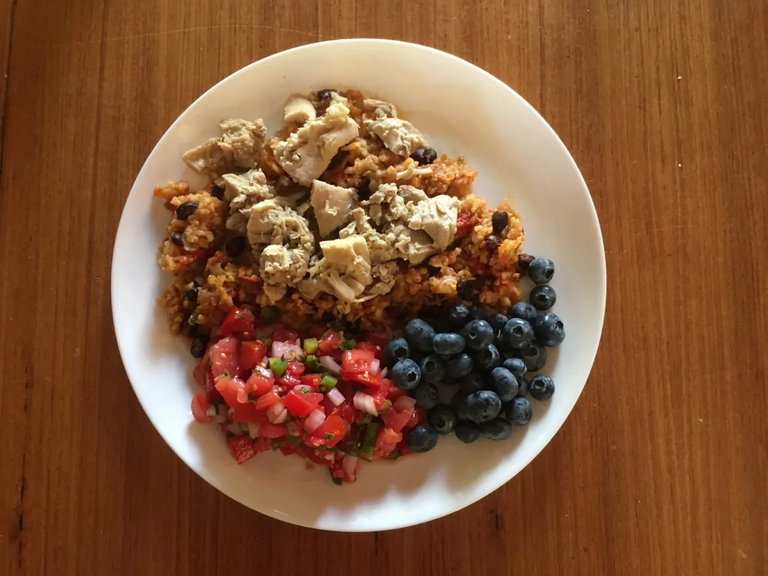 Sometimes, I have a colorful breakfast.
Cryptocurrency, Investing, Money, Economy, and Debt:
Oil prices hit lowest since Ukraine invasion amid recession fears
Alexander Vinnik reportedly en route to the US after extradition
Having served two years in prison in France, accused BTC-e mastermind Alexander Vinnik has now been extradited to the U.S. to face multiple charges in California.
Master of Anons: How a Crypto Developer Faked a DeFi Ecosystem
Coronavirus News, Analysis, and Opinion:
'The next public health disaster in the making': Studies offer new pieces of long Covid puzzle
Three Canadian Doctors Died of Long-Term Illnesses, Contrary to False Claims COVID-19 Vaccine Was Cause
Germany announces new Covid measures for fall, expecting another wave of infections
Politics:
Dick Cheney Calls Trump a 'Coward'
"In our nation's 246-year history, there has never been an individual who has posed a greater threat to our republic than Donald Trump. He tried to steal the last election using lies and violence to keep himself in power after the voters had rejected him."
"He is a coward. A real man wouldn't lie to his supporters. He lost his election and he lost big. I know it, he knows it, and deep down, I think most Republicans know it."
Four Officers Face Federal Charges in Breonna Taylor Raid
The Distinct Shame of Senate Republicans
Today, a year and a half after January 6, Donald Trump is on his way to announce his third campaign for the presidency, 70 percent of Republicans believe the Big Lie, the Department of Justice is investigating the largest crime in history—and Senate Republicans are silent.
Trump corrupted our democracy because people let him. Senate Republicans were complicit in it. They absolved him twice knowing everything. They attempted to prevent the rest of the public from uncovering what they knew. And now that the public is finding everything out anyway, yet they say nothing.
Long after Trump is gone, their legacy will remain.
Why The Fake Electors Are About A Lot More Than Fake Electors
What Fox News' Laura Ingraham said in her Minneapolis report
The Fox News host used 2019 homicide stats in an attempt to validate her claim that Minneapolis is "still suffering" from the 2020 murder of George Floyd.
Republicans Finally Caught the Car
After Kansas smackdown, anti-abortion right in denial: Either it didn't happen or it doesn't matter
After a stunning defeat in the Sunflower State, abortion foes make up excuses: Maybe they didn't go far enough!
The Christian Right Fires A Warning Shot At Senate Republicans
Obergefell has become the new Roe.
FBI Director Says Political Violence Is Soaring
FBI Director Christopher Wray on Thursday expressed deep concern for rising violence in the U.S. driven by an array of domestic grievances, from election-related disputes to lingering anger following the Supreme Court's decision to overturn the landmark abortion-rights case Roe v. Wade.
Said Wray: "I feel like everyday I'm getting briefed on somebody throwing a molotov cocktail at someone for some issue. It's crazy."
The implosion of Alex Jones continues:
Bankston just referred to Jones' "intimate messages to Roger Stone," which first, ew, and secondly, I think I hear the January 6 committee having a party from here

— Anna Merlan (@annamerlan) August 4, 2022
Donald Trump Jr. and his sister Ivanka Trump have been questioned under oath by lawyers for the New York attorney general's civil investigation of the Trump Organization.
Neither of the Trumps invoked their Fifth Amendment right against self-incrimination to avoid answering questions.
Their brother Eric Trump, who runs the Trump Organization with Donald Jr., invoked his Fifth Amendment right more than 500 times when he was questioned under oath in the probe in October 2020.
Serendipity:
Willis was a fast-talking lead who became a man-of-few-words star. It made his mental decline that much harder to notice.
Chris Vagasky, an analyst for Vaisala, which operates a national lightning network, said in a message that there was a "6 stroke flash near the White House that hit the same point on the ground" at 6:49 p.m. He explained that means six individual surges of electricity hit the same point on the ground within half a second.


Badge thanks to @arcange