As I continue to work on seeing how I can make easy and light camping meals I want to see if I can make Beef and peanut rice. The challenge is to make this in a boil once, one-cup configuration so that I can save weight on cooking gear.
Beef and Peanut Rice was a dish served by an Indonesian guy from a food stall at the University when I first started working there some time ago. At first he only had a gas fired barbeque underneath a gazebo but he graduated to an indoors spot and upgraded that spot after a year or so. He sold out the lease and moved off campus but I still have fond memories of the dish. I'm only making a cheap imitation, but good enough is good enough.
I'll skip the rice dehydrating photographs - I'm quite happy that 60 deg Celsius (140 deg Farenheit) for an hour yields good results. I also found that placing the rice in a flat ceramic dish gives good results without the mess of stray rice grains in the air-fryer.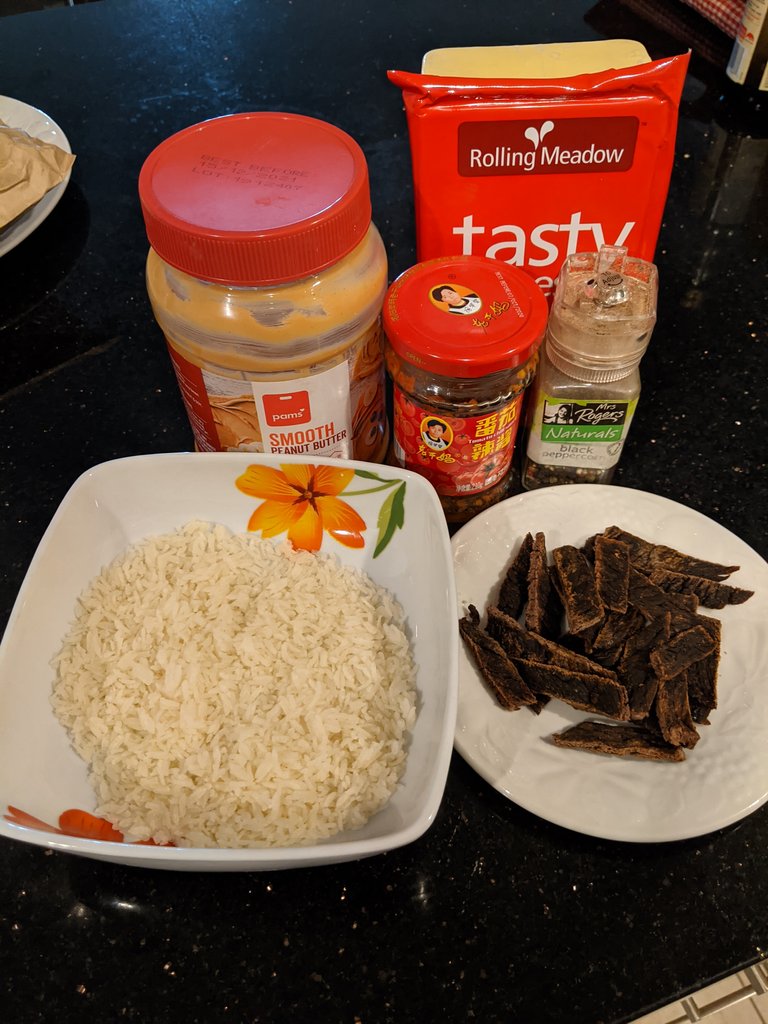 Here are the ingredients. Dehydrated rice, peanut butter, chilli sauce, cheese, pepper and dehydrated beef. I made the dehydrated beef by first searing some schnitzel in a hot pan without oil, lightly seasoning it, slicing and then dehydrating at 50 deg Celsius (~120 deg Farenheit) for about 3 hours.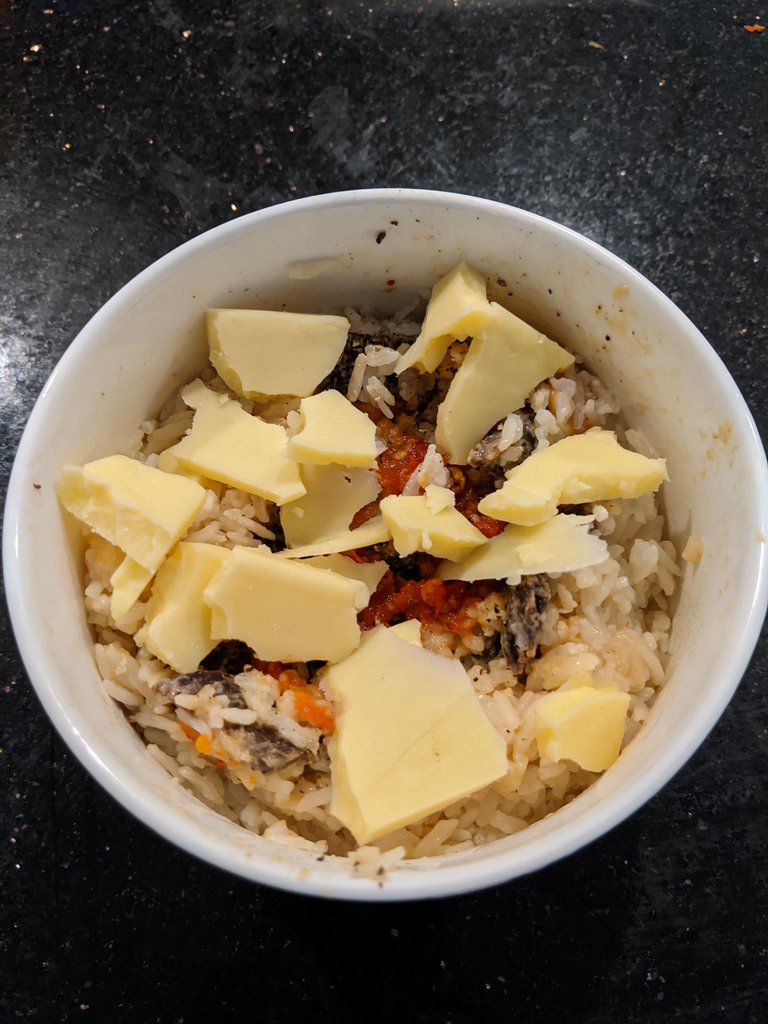 Place the rice into a dish with the beef on top. Add boiling water until the mixture is covered, place on a lid then cover in a towel for ten minutes. Stir some peanut butter into the top layer of the rice with the beef and add some chilli sauce. Cover for another five minutes. Then, add the cheese and finally dust with a generous amount of black pepper.
This dish was quite tasty, but chewy, Acceptable, even if not quite up to the quality of the Indonesian stall holder. There are a few things I will need to improve.
The beef lost a lot of flavour in the dehydrating process. I could still taste some of the searing but the meat flavour was weak. Flavour loss is common to dehydrated food and so I might try a few tricks to boost the meat flavour next time. From my experience with beef jerky, I developed a few secret techniques to super boost marinade flavours and I should be able to apply those to this. The challenge is that I don't want the beef to be overly spiced in of itself - it's meant to taste and feel like charcoal barbequed beef.
The beef did not fully dehydrately and so was quite chewy. The beef will need more time to rehydrate. I might have to cut the beef smaller and rehydrate the beef for a few minutes before I add the rice. I'm not exactly sure how to do this and remain within a one-cup, one-boil solution but I'll come up with something.
The final meal was a limited success, but will need improvement to become that end of day morale booster we expect out of a good hiking meal.
Until next time.