I used to be under the impression that growing plants directly from fruit was a tedious time staking affair, when in fact seeds from fresh ripe fruit in actual fact tend to germinate so much faster that the more matured seeds that you would buy in a shop. So recently when I decided to expand the diversity of the crops on the farm, I decided to grow my plants from scratch, using locally sourced fruits - and so far, I have been having great success with that.
So this time round I thought I'd try a different type of fruit all together to grow from seed;
The Dragonfruit.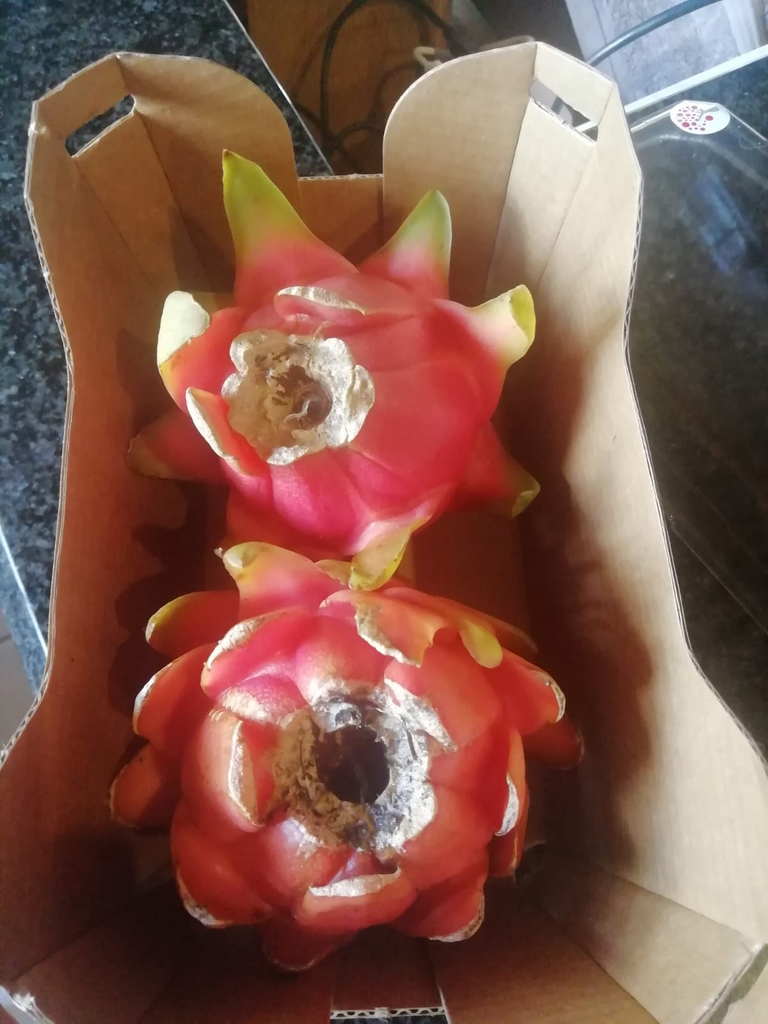 I had already done a trial on the dragonfruit, to see if they would grow well in this area, this was done about two years ago, and these resilient plants have proven themselves more than worthy as a sideline crop.
The reason why I am diversifying as well as making use of any additional space we can possibly make available, is simply because so many of my mango trees ended up dying during the recent 8 year drought, and planting new trees could take years to mature into fully producing trees, and although I am replanting new mango trees, as well as extending the orchard as time goes on - I am also looking for ways to supplement the loss of income with more drought resistant plants while we wait for the mango trees to mature.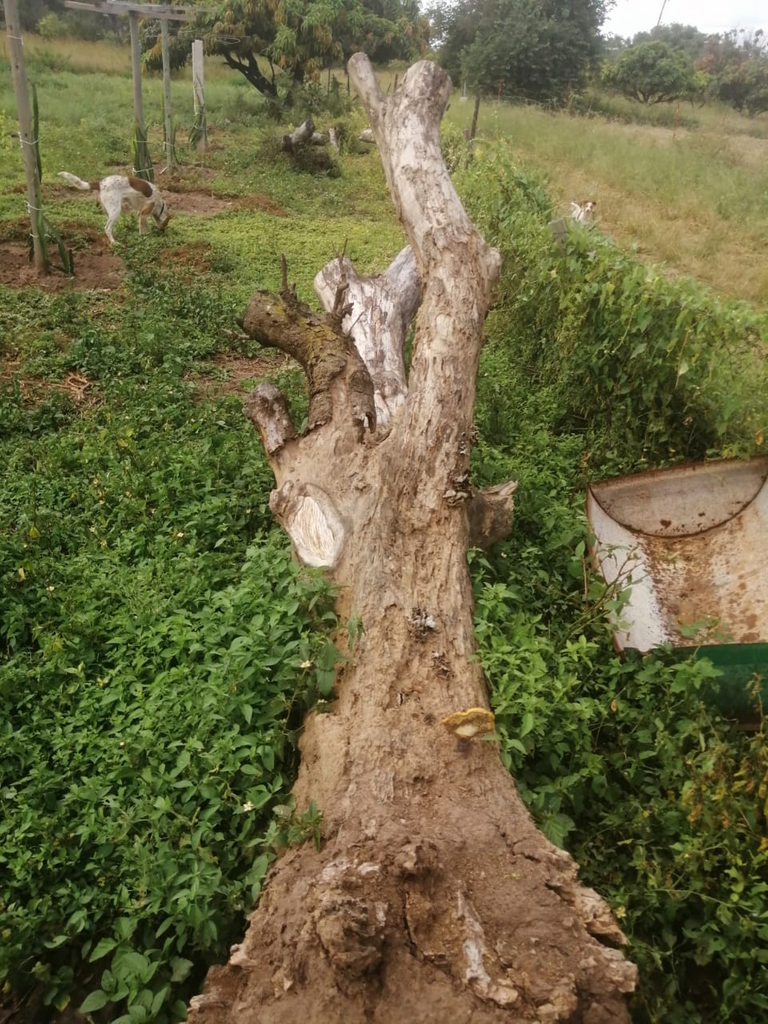 (One of the many fallen mango trees, in the process of being cut up)
So the first thing I needed to do in order to expand my dragon fruit orchard, was to find myself some fresh, ripe fruits... And I managed to get some right at the local farmers market that I exhibit at every month-end. (they are the two fruits that you can see at the beginning of this post)
Once home I simply put the fruits in a bowl on the table in a well lit area, and let them stand there for a few days, allowing them to get just slightly overripe. Then I peeled the fruit removing the center and mashed up the pitted mass into a glass of room temperature water. I let this mix stand for about an hour or so before stirring it up and pouring it out over some course river sand.
From here on out, I simply misted over the top layer with a hand spray bottle whenever I noticed it drying out a bit at the top.
(Below you can see what the inside of a dragon fruit looks like, so that you know what I was working with. These are pictures I took of a different cultivar of dragon fruit that I harvested last year)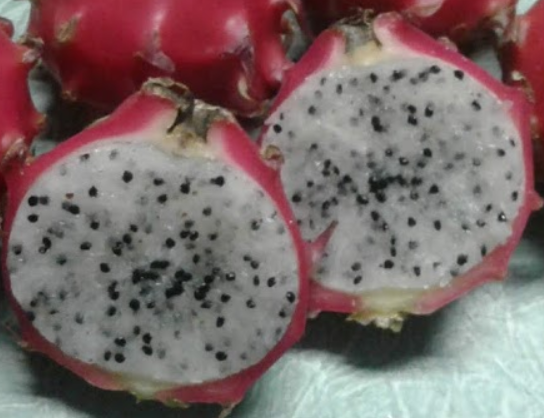 Within a few days I could already see the sprouts emerging and a few days after that the seedlings were standing strong. All it needed was a little bit of time and the occasional water spritz.
These little seedlings hardly looked like it was any form of cactus at this stage of their journey, guess I am not sure what I expected them to look like.
But since they have sprouted, the didn't get very tall before they started swelling out in girth. And very soon, these little plants will undergo a drastic change in appearance when they go from looking almost a bit more like a vegetable seedling to its more permanent cactus shape.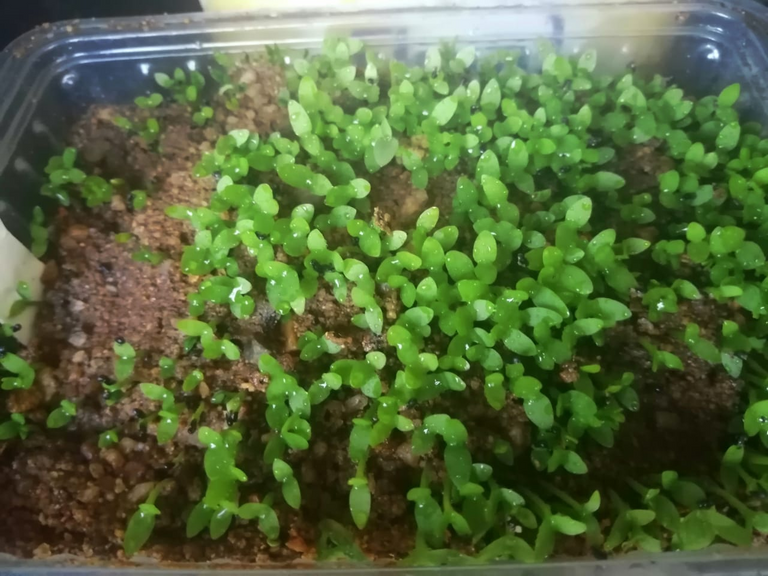 Looking at the root structure on these (see the picture below) - you can see that it has a very shallow rooting network going for it, just as you could expect from the majority of your cactus plants. These seedlings look very nice and healthy, and I am extremely impressed with their progress, however I would probably give these little plants another week or so before I start planting them out into bags, where the will stay until they are mature enough to be planted out on their own frames.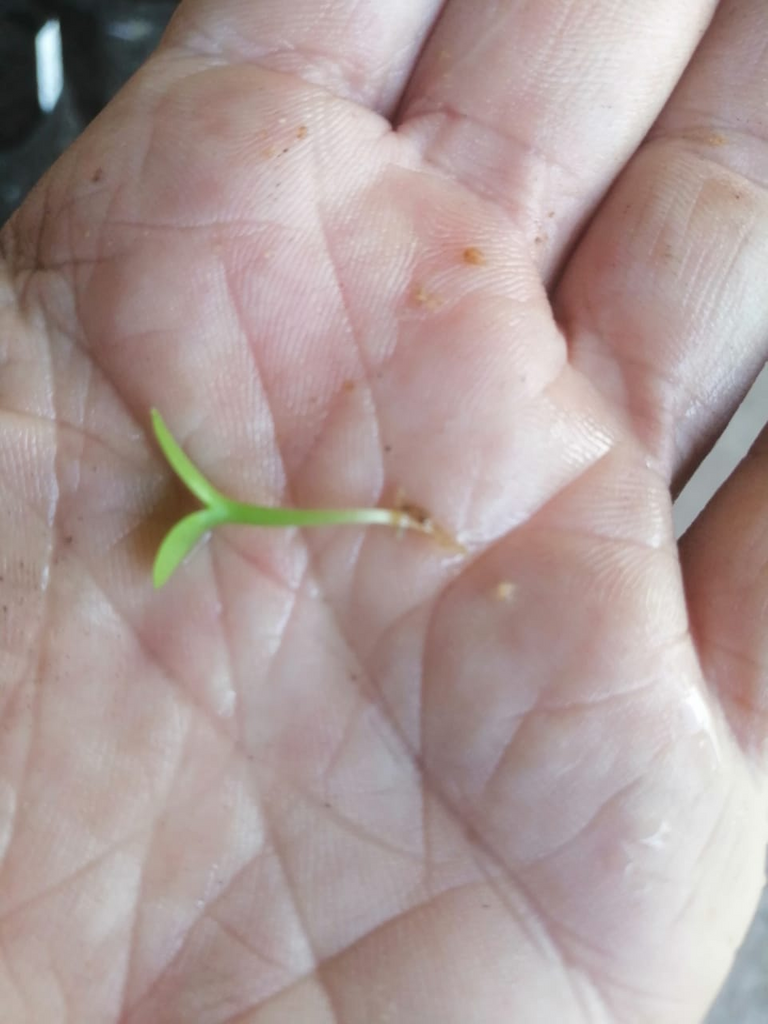 Having a look at some of the dragonfruit that I planted out on the farm already.
These plants are some that I managed to grow from cuttings, they were also grown in bags in the net house, up until the point where they were strong enough to be planted out on their own frames. Here you can see that I planted four plants per frame, and for the time being, they are being supported by some cotton string, as time goes, these plants will root into their support structure, and will no longer need the string as a base support.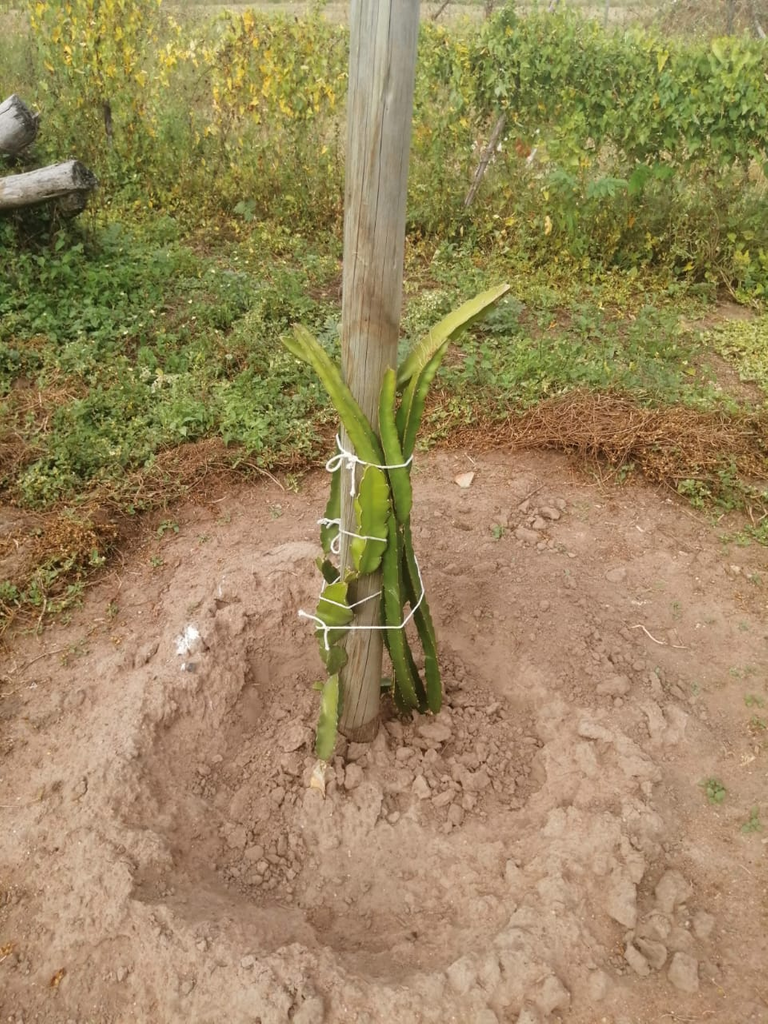 Below you can see that we have built and planted quite a few of these stands already, and as time passes, we will be building more of these stands while waiting for the new dragon fruit below.
The design of the stand is to allow the dragon fruit plants (which are creepers by nature) to creep up against the support pole and then cascade over the circular reinforced canopy structure. This helps the plant not only with stability, but it also simplifies the harvesting process later on.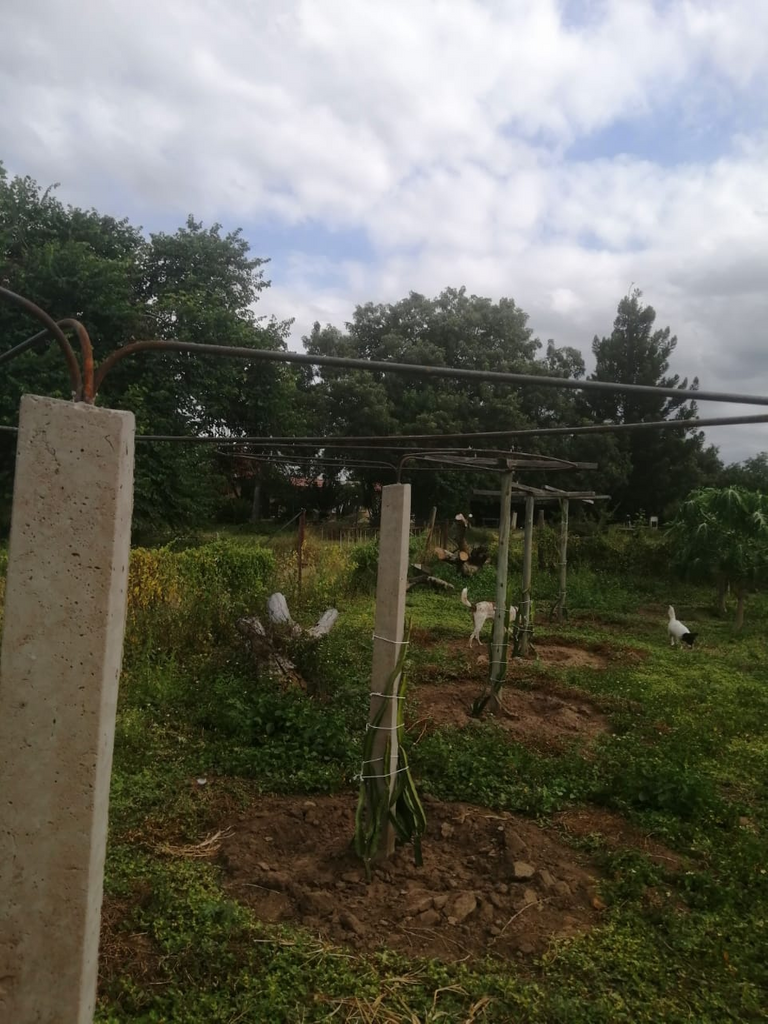 Dragonfruit is not only a deliciously refreshing fruit to savor on those hot summers days - they are also highly nutritious and host a whole array of health benefits, this is definitely an asset plant for any garden that is able to grow it....