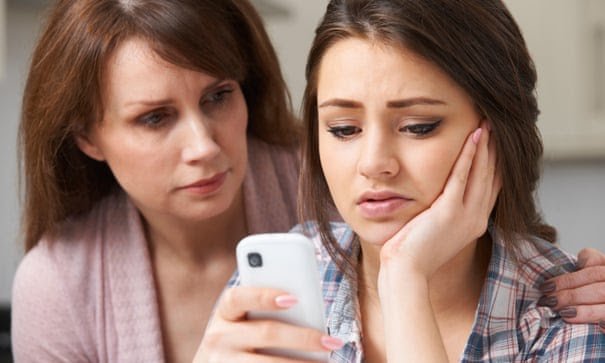 Controlling tone of voice
I recently read a news article - Mothers with 'controlling voice' fail to persuade teenagers https://www.bbc.co.uk/news/education-49841625 - which claims that mothers who talk to their teenage
children in a "controlling tone of voice" are more likely to start an argument than get a positive response. This is according to a Cardiff University study which examined the responses of 14 and 15-year-olds to instructions given to them in different ways of speaking.
Supportive
According to the results of this study mothers wanting to persuade teenagers to co-operate got better results when they sounded "supportive" rather than when they applied pressure.
Girls pick up on subtle changes
I can totally understand this. Who wants to be spoken to like they are getting told off all the time? Also I feel that as a mum of three daughters, little girls pick up more on subtle changes in tone of voice. Whereas a lot of little boys I know just let it go over their head.
I get a bit shouty
I'd love to say that I always speak to my kids in a honey sweet voice while continuously uttering positive and motivational phrases. But unfortunately this isn't the case. Like a lot of parents I try my best but after asking one of their kids to pick their clothes off the floor (for the tenth time!), to brush their teeth (because school starts in fifteen minutes!), or to go to bed (because it's way past their bedtime and I'm tired as hell and need to watch season 7 of Power!), I tend to get a bit shouty. This in turn leads to the children getting shouty.
Stresses and strains
My husband is always telling me to calm down a bit and I'm working on it. However, parents are human beings and not robots. We can't programme ourselves to have the correct tone of voice all the time. The stresses and strains of everyday life (not to mention hormones!) can make us snappy. Sometimes when I've been unnecessarily snappy to my kids (or husband!) I've apologised as it's not right to take things out on others and I wouldn't want them to do the same.
The way you phrase it
As a mother of a 10 year old, 9 year old and 3 year old I've learnt that it's also important to phrase things correctly when asking your kids to do something. For instance "it's time to do chores, you're on toilet cleaning duty" is never really met with a great response. But this is: "which of these do you want to choose...cleaning the bathroom, dusting, or hoovering?". Also "I love the way you cleaned the car last week, do you mind doing it again?" Or "you're really good at organising things, can you put these clothes away in my wardrobe for me?". I've used all of these successfully.
Home is a safe place
I think as long as your default tone of voice with your kids isn't harsh or overly authoritarian, then you should all be fine. If your default parenting style is loving, supportive and positive then you should all be fine. If the kids know that home is a safe place then you should all be fine. However nicely you speak to kids they will occasionally act out and have tantrums, regardless of their age. In a way it's good for them to let their emotions out then get back up to being positive. I always feel like people who have a permanent smile on their face and act like everything is always lovely could one day snap and start gunning everyone down with an AK47.
Managing emotions
I do believe it's important to manage our emotions and stresses so that we are not constantly taking our our moods on everyone else. It's something I'm working on myself. I try to manage it by having some me-time away from the kids, exercising, and by constantly swearing under my breath. Not ideal but it's working for now.
MummyImperfect x