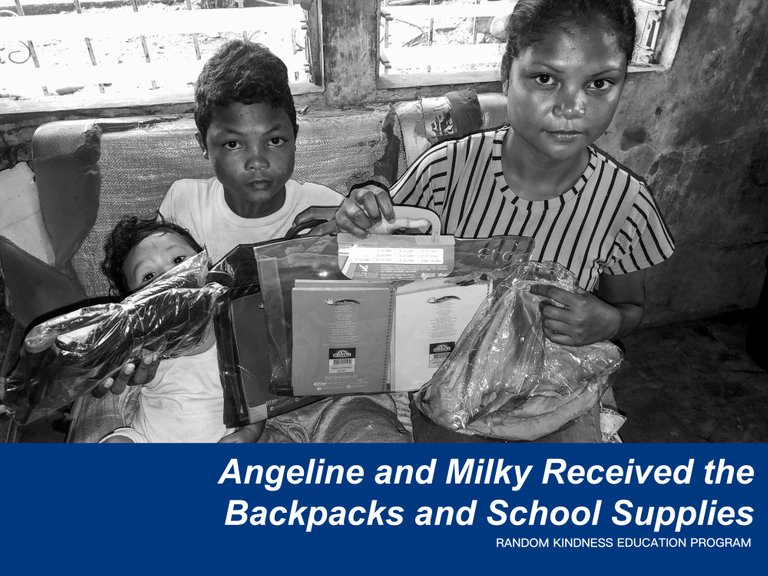 ---
Good day fellow advocates!
This photo was taken last Thursday, June 6, 2019 when the kids received the school supplies from @randomkindness and the backpacks pledged by @bluesapphire06.
How fun it is to collaborate for a good cause. @bluesapphire06, is a good friend, who has been very helpful and would always always contribute something in any way she can to support these kind of projects. I am so blessed to be surrounded by people who share the same value, and has the heart for others.
We all have dreams of starting certain projects but it is always hindered by the lack of available funds. We have these creative plans, beautiful ideas and good intentions yet putting it into reality seems impossible because we have no resources.
Then here comes this people who motivates and believes in you. They will uplift your spirit with their kind words that would fuel, and will help you gather that courage to get things started. These people are gifts, and randomly meeting them somewhere or here in the virtual world, confirms that quote we used to hear that says, everything happens for a reason.
Thank you for believing in @randomkindness, and for helping me start this wonderful journey. You are the reason why we will be able to share more to others, help them in their most vulnerable state, and hopefully will make a difference in their life.
I am full of optimism that this investment will yield a good harvest in the future, not in terms of wealth, but with people whose hearts has been transformed and moved by the love they received from strangers, and that this love will make them help others too someday, thus creating a beautiful cycle. This will be the most valuable legacy we can leave in this world when the day comes that we will be boarding to the other side.
How comforting it is knowing that we will be leaving this world with people who has beautiful hearts and who will continue what we started.
I know, there's just so much hate right now. The endless problem with poverty, crimes, injustice, war and the list goes on. Its so massive, it weakens our hopes. We just shrug everything off, because it makes us think that we cannot do anything about it anyway.
But deep inside, I know you care. I care too. And there are others who care as well. We just have to find each other and work together. Its not hopeless. We can do something. Just like what we used to hear, we may not change the world, but we will be able to change one life and this could mean a world to them.
Well this post went too far. Haha. This was supposed to be a quick update, but I got carried away. I'm just so overwhelmed because of this solid support I'm receiving from all of you guys, and I couldn't thank you enough. I am so grateful.
Currently, we received 39 Steem Dollars from @pennsif (adollaraday) and 50 Steems from @minimining, and this means we won't be worrying about the monthly grant for the next 2 months. I will make a separate post about this so I could discuss it further.
Have a wonderful Sunday beautiful humans! Stay inspired, spread kindness and keep making a difference. =)
---