I am tuckered out. Do you know what that means? Really tired. Yet, I am too excited to sleep and also, waaaaay too warm. It seems I am like Daddy, hot. And also hot blooded. While everyone else is saying silly things like "it's a bit chilly", I am there sweating my nappy off. I have been drinking soooo much lately that I think I am close to 100% Finnish!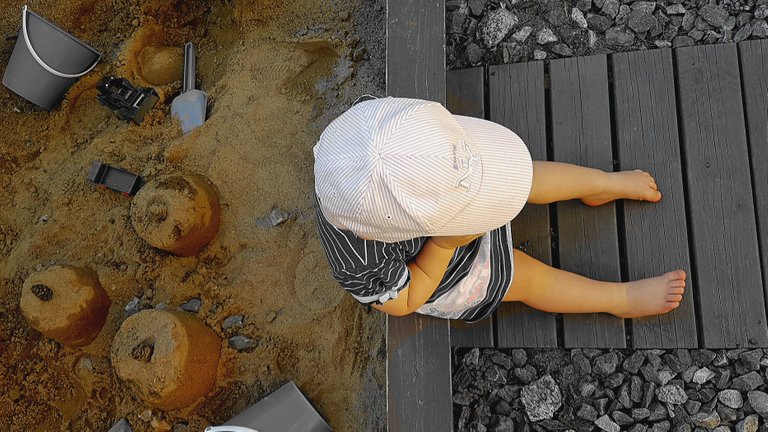 It has been great though because it means that those Australian visitors don't mind dipping a toe into the water and splashing around down at the beach. We had a great time this morning and uncle @galenkp and I counted to three many times and threw hundreds of stones into the water to make tiny little splashes. Lots of little life ripples that may be meaningless in the grand scheme of things yet, could also change everything.
They are only here a few days more which is really sad but, who knows what has actually been started by their visit as essentially it is another ripple in my life that is going to push or pull me this way and that. Maybe one day I will end up living in Australia and we will see each other every day. I think they would get tired of that though or, perhaps I would.
It is interesting to think about what might happen in the future but it is so uncertain that banking on any single thing is quite silly. So many people scream YOLO! and spend all of their time making themselves feel good and getting into debt with the attitude that they could die tomorrow yet, most won't. Instead, most will live in a debt cycle until they are 85. Or so Daddy says.
There is always something more to spend money on, another toy, a fancier nappy, a better set of crayons but at the end of the day, it is probably going to be the time spent doing something that will be valuable. And, having the means to do stuff generally requires some kind of investment so there is the space available for opportunity.
at the moment, I am investing into learning all I can from the people around me and although it all might seem useless now, they are all little ripples in my life that could build into a swell of mighty waves. I am going to try to ride the biggest waves I can find I think until, I make my own.
You only live once which means, only one opportunity to be the best version of yourself.
<3
Smallsteps