Ghost silhouette.
The little (13.8m tall) Pyramide on the hill in Garzau is an interesting mix of very different styles from around the world. Of course, there is a strong Egyptian and Greek influence visible. With this photo, I try to uncover the lines and texture of the building using some dramatic lighting.
---

To light up the pyramid, run the sparklers, and kick light the silhouette it is all in all a 234 seconds exposure time.
My french photographer friend DILIZ inspired me to play more with Sparklers. So here I once again try to incorporate this feature into one of my Light Paintings. From such a long-distance perspective, I was not sure how visible the shapes will occur, that I created. In the end, I saw what I actually drew in mid-air on my screen and had a big smile on my face. When the triangles are not that triangular as I imagined them in my head.
The silhouette on the other hand came out as perfect with the long shadows, yet revealing the entrance. That was the Ghost Shadow Silhouette that I wanted.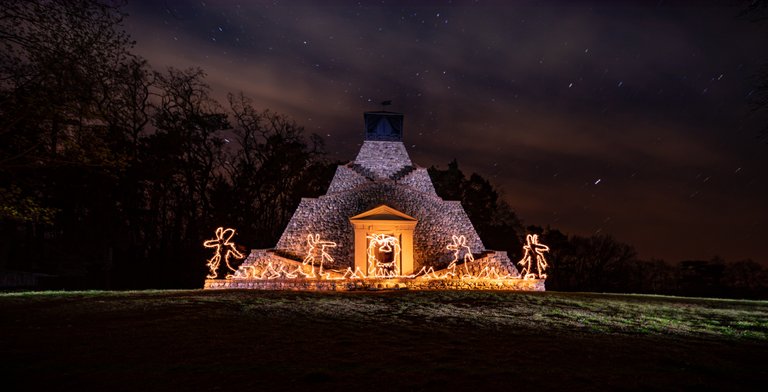 After Practicing the triangles we can go a little more advanced. I showed you about a year ago the initial version of this shot - here is the second also almost funny one. The exposure time here is 258 seconds before the trigger closed again to finish off.
---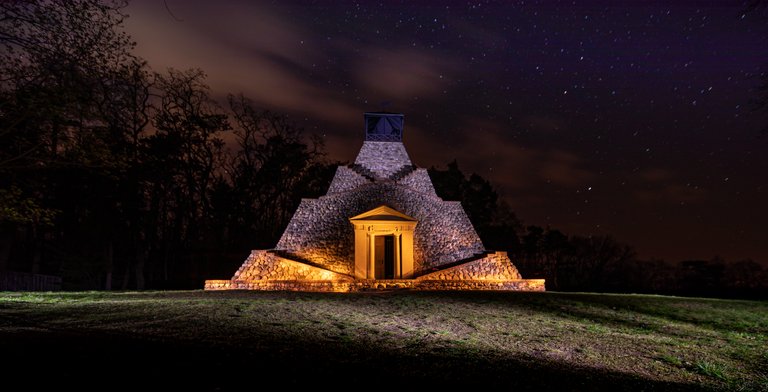 And of course for the people that like the simplicity. Here is the version without any distraction of funky lights. Just the simplistic lit-up pyramid. Love these as well.
What you see is once again a single exposure Light Painting with no Photoshop. Minimal adjustments like crop and color balance, noise, and sharpness have been performed. 1min Lightroom.
If you are interested in finding out more about this location follow this link to my Youtube channel. There'll you find a making-of video and some explanation on how the shots came to be.

I really hope you liked what you saw and this was informative and maybe also inspirational. If you have more questions please do not hesitate. I am happy to share my knowledge.
---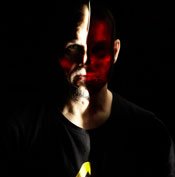 Gunnar Heilmann Photogrpahy
If you are interested in more of my art please also see:
Website YouTube Facebook Page Instagram Feed
Since I am one of the cofounders of the LightPainters project, I also help and support the Light Painting community as a curator - not only on the Hive.
We are Light Painters

To help and support the LightPainters community here on Hive I would appreciate your delegation of HivePower. Any amount is appreciated. It does not require much to get started, we are happy for any gesture.
How to delegate?
Delegate 50HivePower, [50HP]
Delegate 250HivePower, [250HP]
Delegate 500HivePower, [500HP]
All the Hive Power will help to upvote the artist's contribution as part of the LightPainters community.
Thank you so much!