dem bitches got big hearts ya know, tho' their antics be so strange
without shame do they start upon and each other do engage
playful domination is the bitchy war, so woofly is it waged
as neighbours look upon aghast, their 'decency' outraged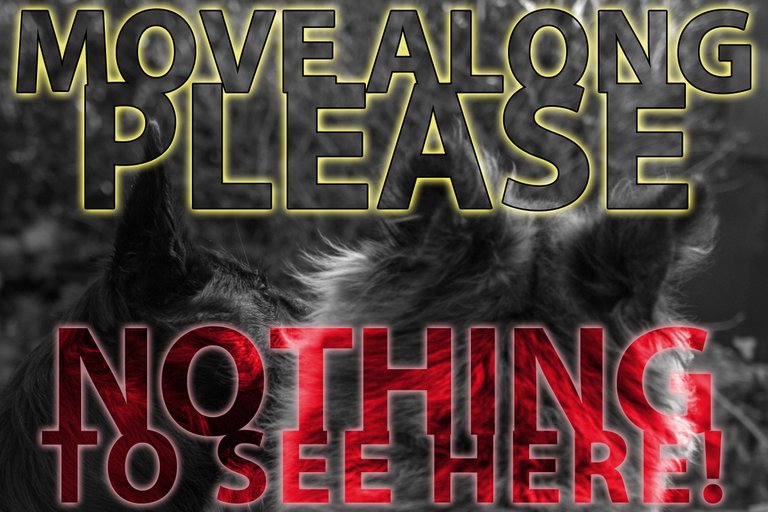 Start Of The Tale Tail:
A bitch comes along and sez "Yo Barge, gowon and shift up a bit willya".
The bitch announces that her name iz Shanti and that she lives in town with the DJ.
Barge shuffles along the bench and makes puh-lenty of room for the beautiful bitchy princess.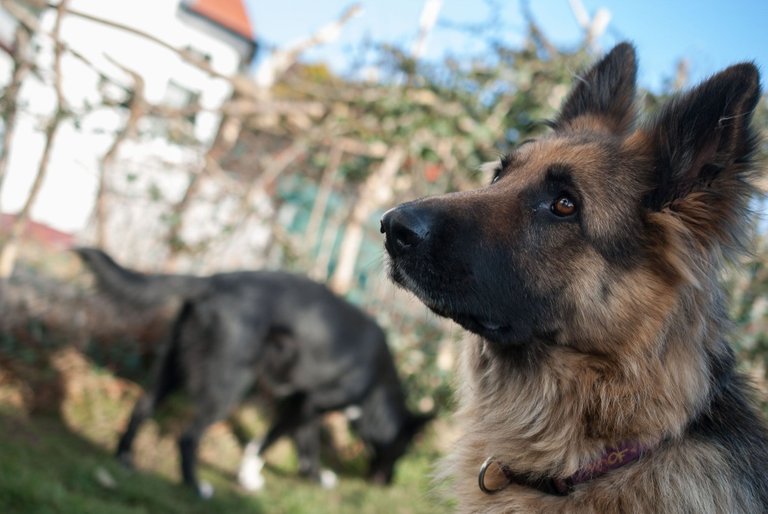 A few years pass and another bitch magically appears on the scene. She is FIRE and her name is Flame.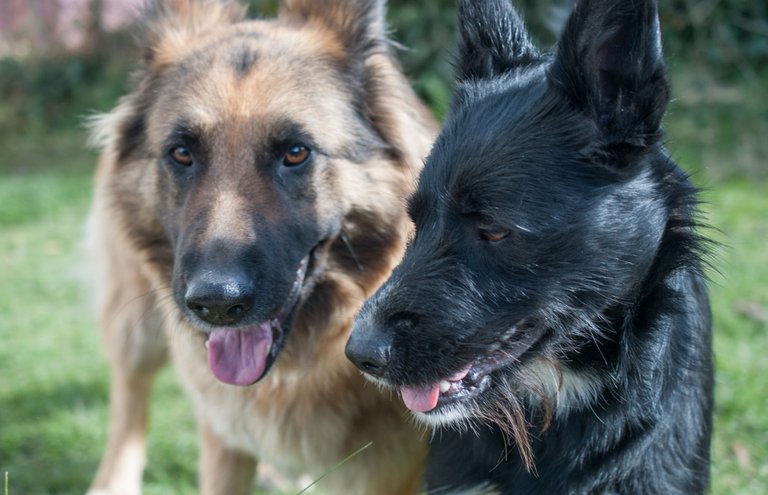 But that's all a loada intro-whakery, what happened next was incredible (at least as far as Barge and his concerns were concerned):
the bitches met for the first time
they got on like giggling teenagers, playing and occasionally bickering
after some time, barge hauled his and Flame's asses outa the centre of town and moved back in with Shanti and her human, the DJ, on the outskirts of town
the bitchy friendship continues apace, much to Barge's delight
Domination Games Taken Pretty Damn Far:
Yeah, Barge's title suggests that this'd be an image post - hah! More words in here than doggy-turds in a tiny poo bag that doesn't even fit around the poop pile and then threatens to squirt warm steaming stink into YOUR waiting palm....eh?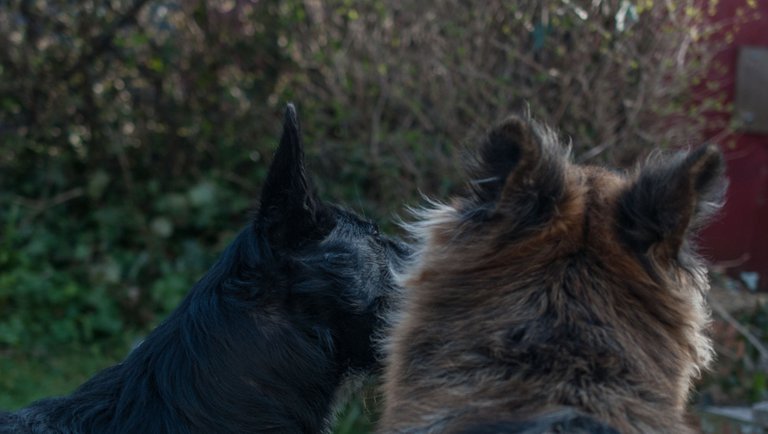 Nevertheless, he's a man of his turd word....therefore.......
Those NSFW Images That May Well Get You Fired:
Okay, so be warned and proceed only if you wish to risk witnessing events that even ol' pot-smoking Queen Victoria allegedly refused to believe possible.
Ready?
It kinda started with Shanti coming into heat and Flame making advances which Shanti appeared to be receptive to. Tails moved out of the way to facilitate action and a shady tale such as this was born.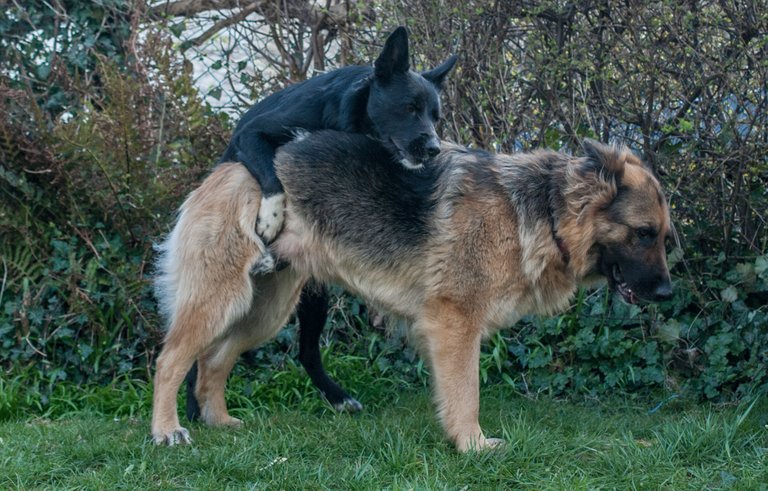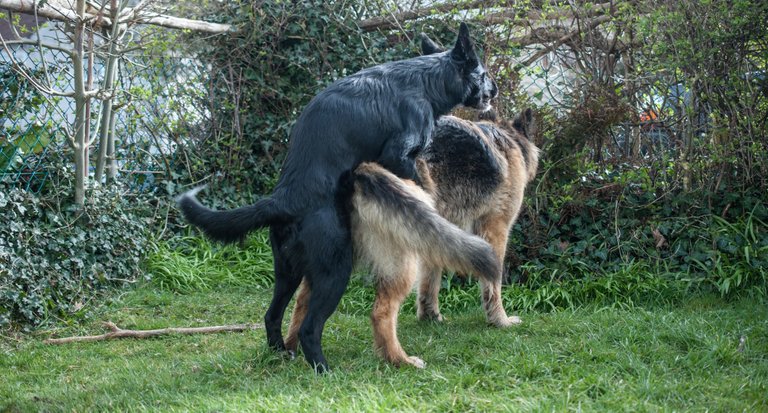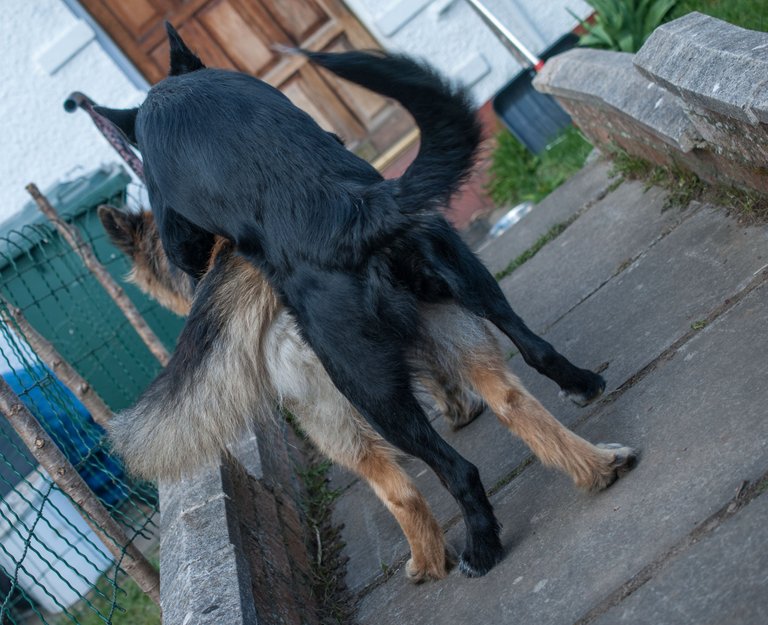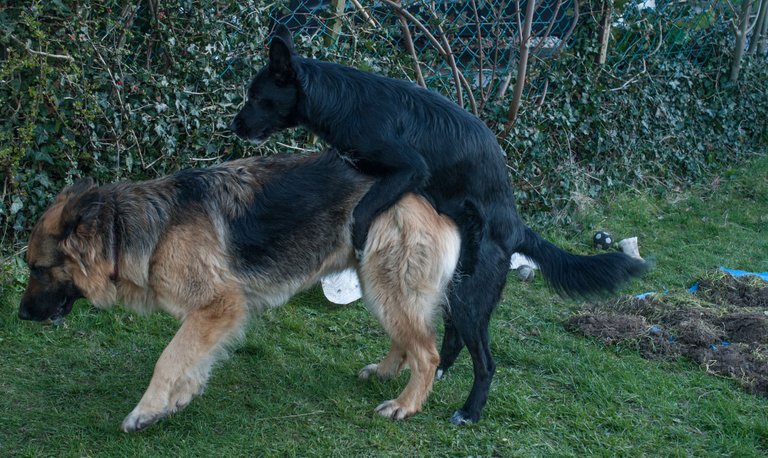 Undaunted by the lack of any equipment with which to 'do' anything and not knowing quite what to do, Flame choose to mount her aunty Shanti and shake a rear leg in excitement - always the left one!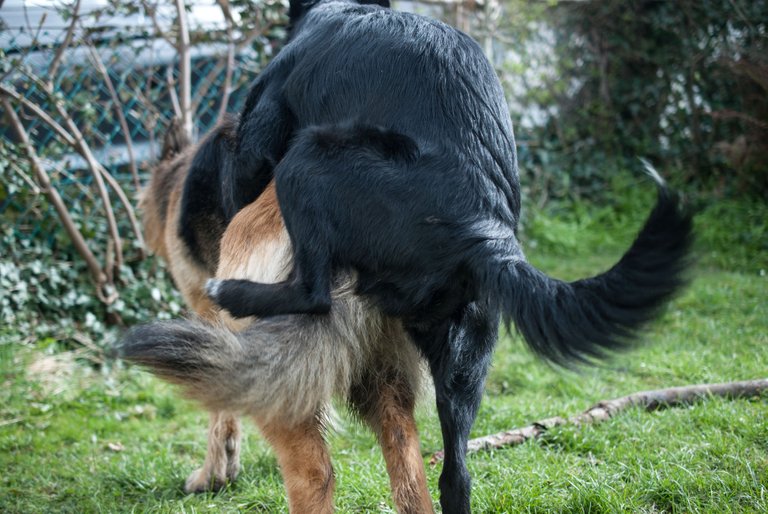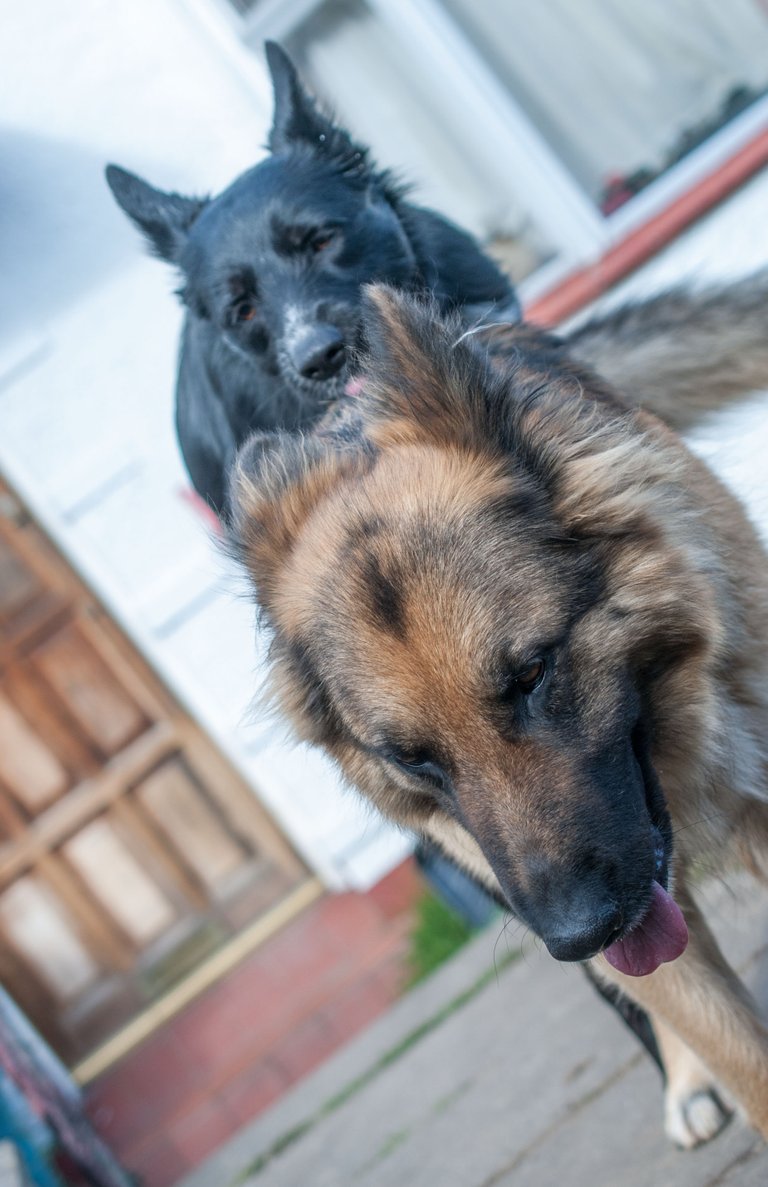 And thus a week passes in playful activities that may or may not have storylines beyond the spectrum of hyooman understanding. Neighbours look on in horror and mischievous fascination at the antics in the front and rear gardens..."We have our reputations to consider!"
Then, as happens I guess with bitches who have bonded with each other, during the last week of Shanti's three, Flame herself comes into heat. There is now orgiastic confusion in the air but this period of transition and confusion doesn't last long. Shanti stops being receptive and Flame's interest in nether regions takes on a different colour as she begins to bleed.
Roles are reversed. Aunty Shanti now stalks Flame and this is done with with intent.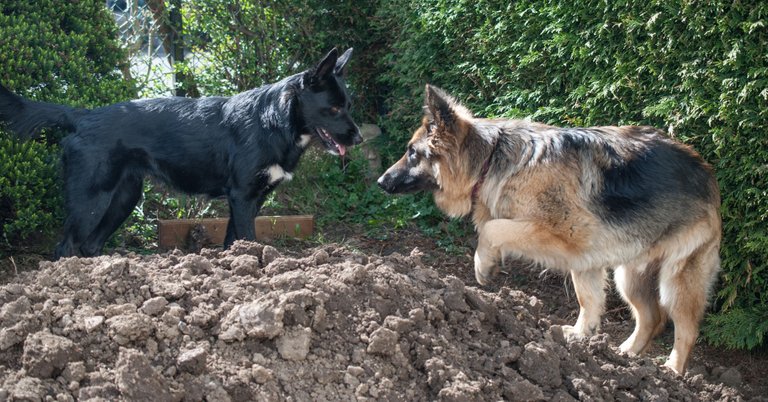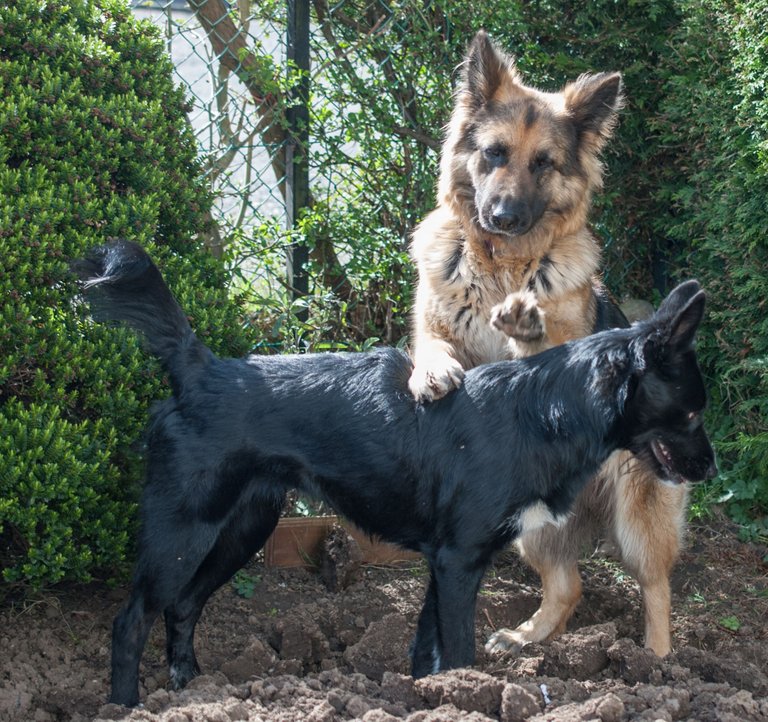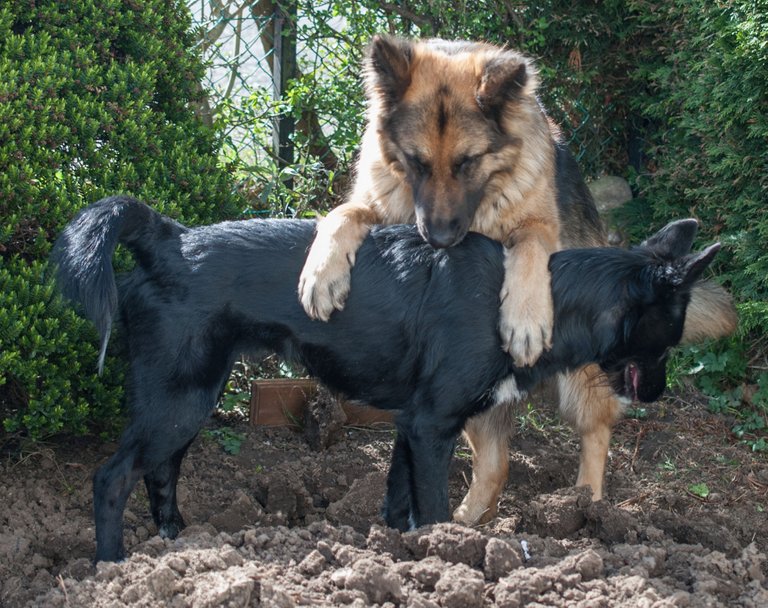 She gets her bear-like paws wrapped around Flame who stands receptive and willing, tail flicked out of the way. However, Aunty Shanti has no equipment either although she doesn't appear to mind in the slightest. Nor does Flame!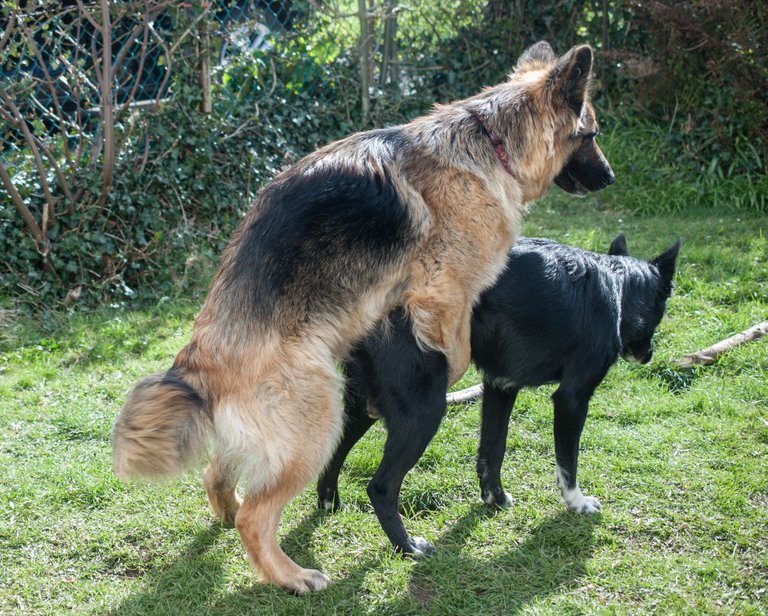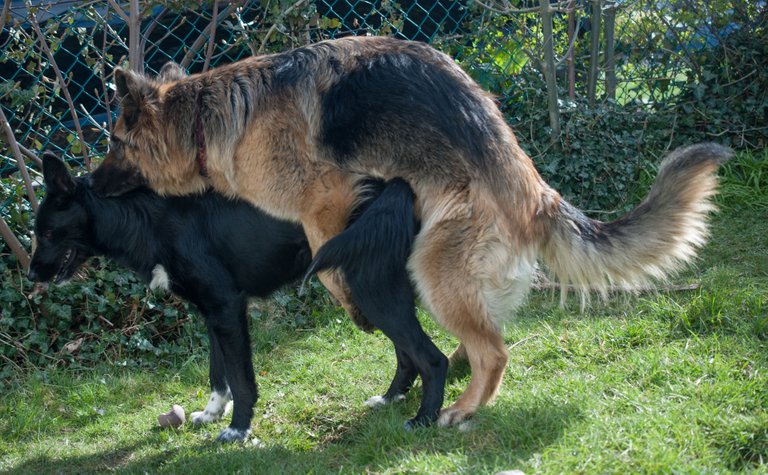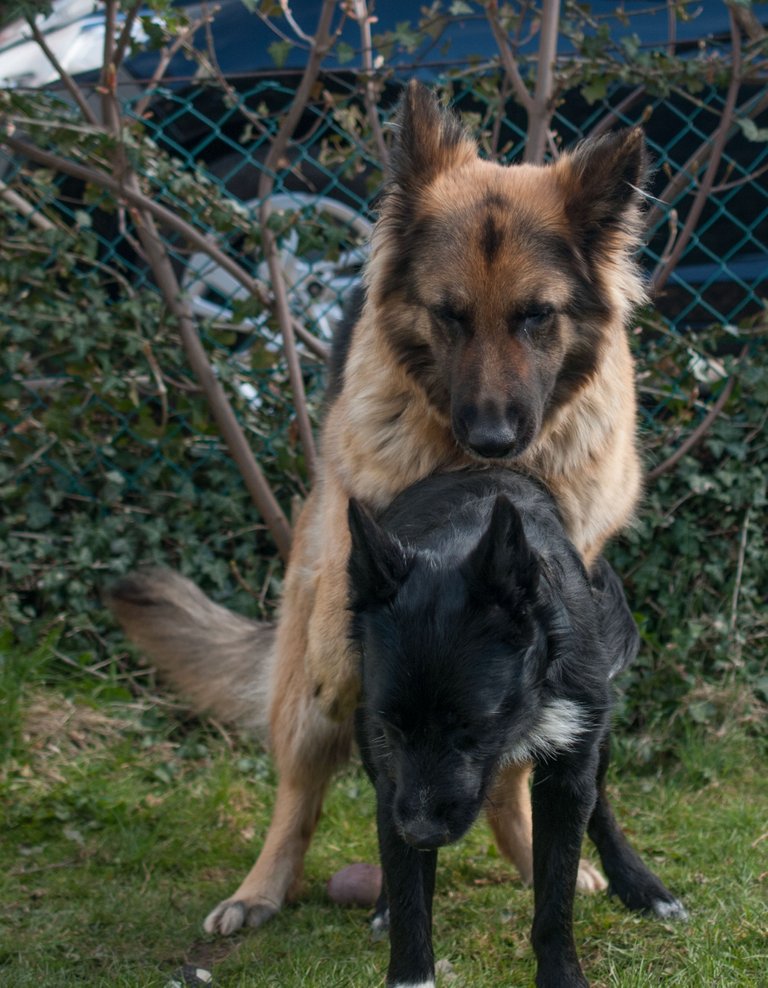 Right enuff stuff from the fingers of a Hyooman Bean, even one as woofingly kewl as Barge... now it's us bitches talking yo!
We've got both sides of this stick dig!? We KNOW what's up hyoomy-homies!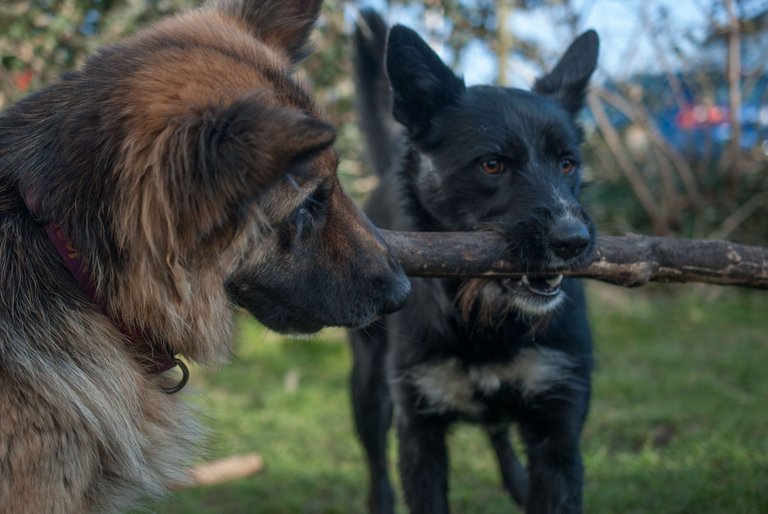 We dance...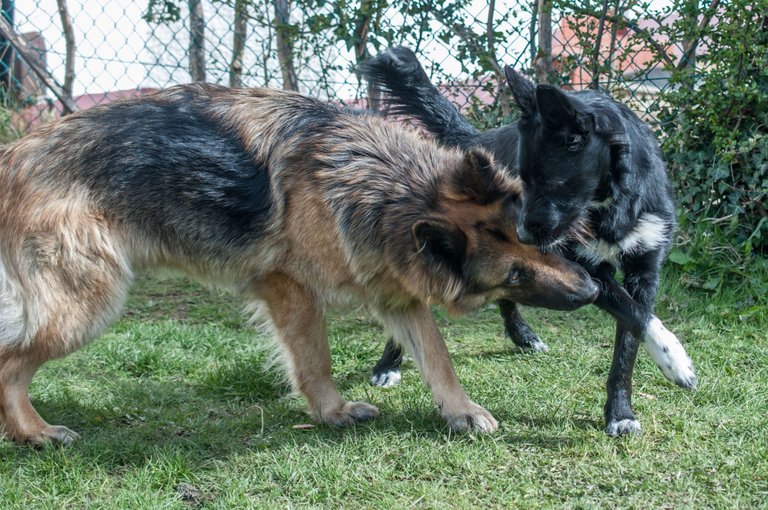 We roll the woof with it...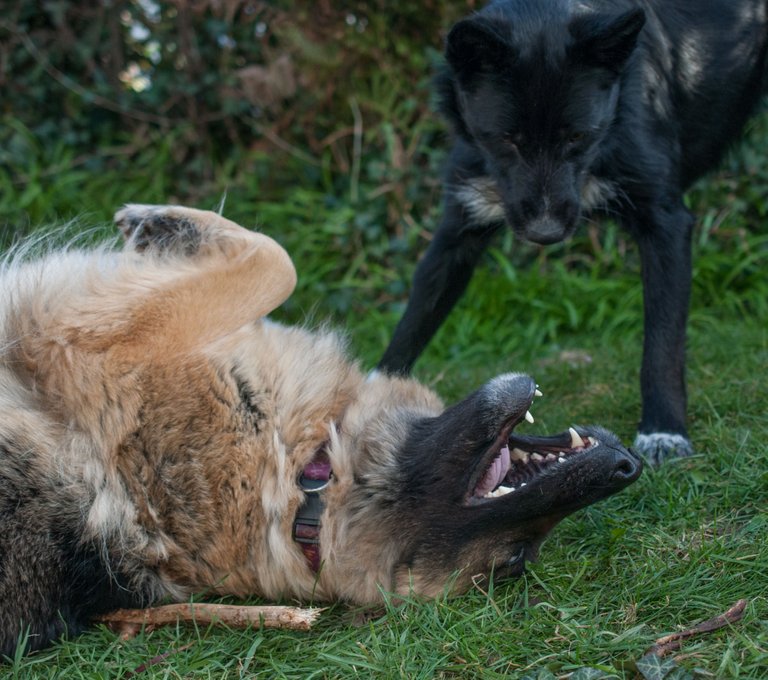 Teeth are for talking, you got it sideways down...so sad, some hyoomz! BTW Barge, you utter bastard for making these intimate pix public...but we forgive you with a show of canines!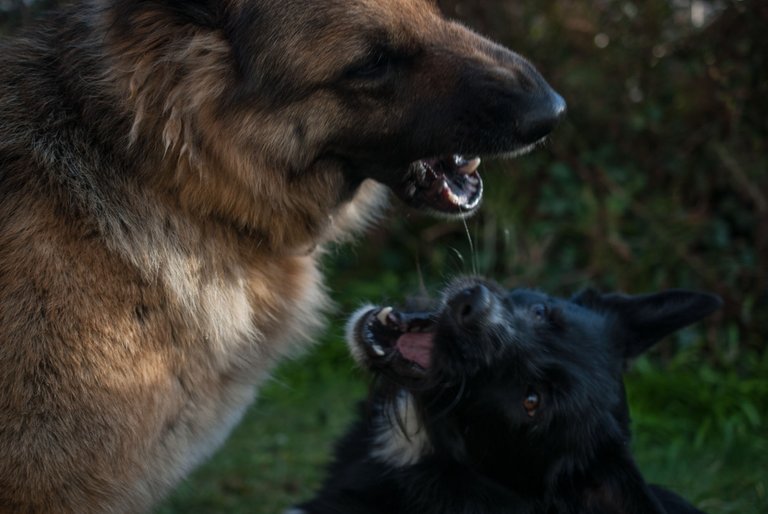 ...and, er, as for those indecent antics, well, dunno What The Woof you're talking aboot pal!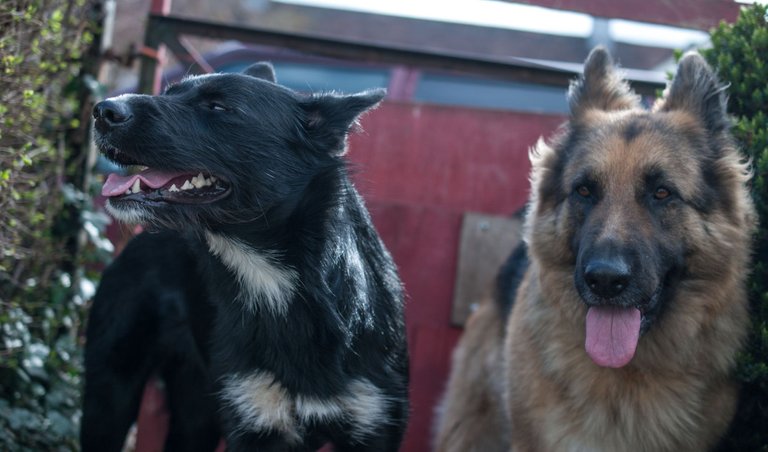 Editorial notes:
Clickbaited? ...ha ha, fuckyeah 👊
Don't like the word or its use? Ummm, ok, how's this:
I hereby reclaim it in its original meaning and decouple it from ALL the negativity associated with it in the hyoomanosphere, where altogether a little too much bitching goes on about animals.
Guess it's all a question of which came first, the bitch or the label; dog or god-ess mislabelled? ;o)

All images @barge | Thanks for visiting 🙏
| Camera | Nikon D200 |
| --- | --- |
| Lens | Nikon AF-S 40mm f2.8 MG |
| Location | Edinburgh, Scotland |
| Date | March/April 2021 |