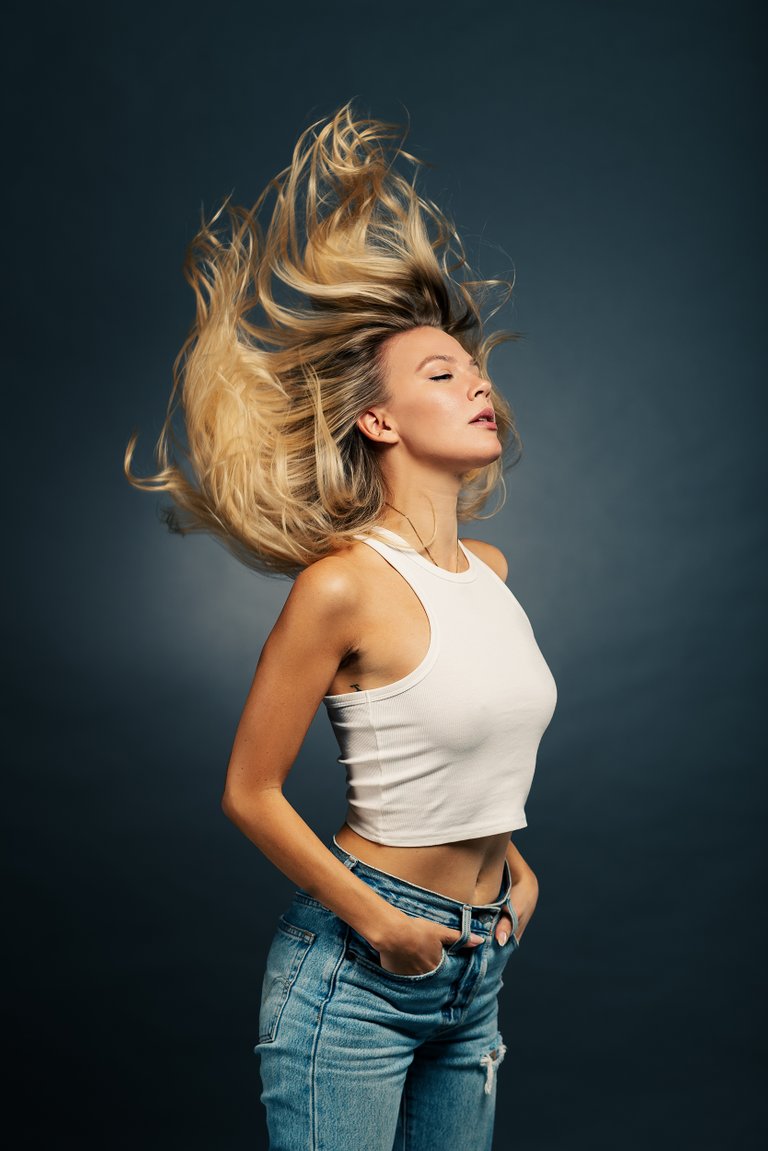 Photo by Juho Yläjärvi, edit by me.
I listen better when I have something to do with my hands so I usually do something on Photoshop when I'm at school. I asked Juho for some of the raw pictures from our shoot so I would have something to work on. I should make it a point to gather images that need to be heavily edited so I have always a library full of my own images to process.
We didn't really have a need for a photo like this, just decided to try if we could make a good hair flip photo. I think this took about 20 tries, which is really not bad at all. It's not the easiest kind of photo to model and shoot, timing is so crucial in this and having the pose, face and hair all looking good while in motion is quite hard, and you need to get a bit lucky.
While I am a bit of a control freak when it comes to either my photography or the photos I am myself in, hence the self portraits, I am open to leaving room for both error and luck. One can of course plan shoots in the studio, with no natural light, using a professional model, and hire professional hair, makeup and wardrobe team to execute a very precise vision, but there is something quite soulless about it. I'm not saying those kinds of shots are not needed, but I quite prefer leaving in more aspects of reality. OR it might just be that I really don't have the skills the make a perfect image where every single lash and strand of hair is perfectly positioned to look fab...
When I look at the works of my favourite photographers, like Helmut Newton and Peter Lindbergh, none of them are perfect. They have shot the most beautiful people in the world and had access to resources us mere mortals don't have, but when it comes down to making images that keep their value for years and years, it comes down to the artistic expression and storytelling that sets them apart.
I see people using expensive gear, bright lights and big studios, who make absolute garbage of images, trash you won't stop to look when it comes to your feed when scrolling instagram. That is actually mostly what you see, it's quite hard to find good photography these days, when it's buried under all the glitz and glam and filters.
I try my hardest to make sure my own expression and the way I see images stays intact and isn't influenced by trash. It's so easy to loose your way when you see other people doing things differently and using a lot of gear to do what they do. I think my biggest asset in the world of photography is the way I see the world around me in pictures, and my unwavering vision on what I want my images to look like.