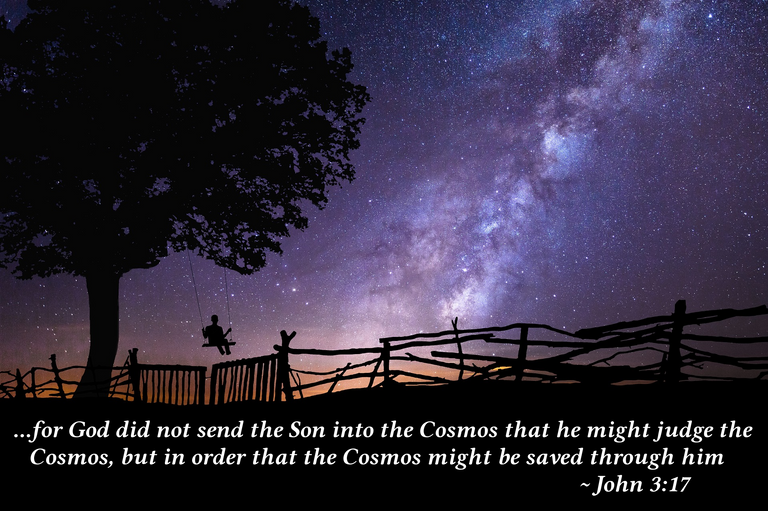 Christians and many non-christians alike have at least brushed up against John 3:16 at some point in their lives. It's often referred to as "the little gospel" and it speaks of God's gift of Jesus into the world as a gift of Love.
What may be lesser recognized is that John 3:17 continues the idea and actually speaks an expansion on God's INTENT for why send this gift of Love at all... It turns out God has a purpose for this Love gift.
.. for God did not send the son into the cosmos that he might judge the Cosmos, but in order that the Cosmos might be saved through him."
Some may be wondering about the use of the word "cosmos" in my translation... I use it here for two reasons.
The word in the Greek text is in fact "kosmos" throughout both verses 3:16-17. In Greek literature, this word can mean "the world" in some instances of translation, in others it is a more expansive idea perhaps better understood as "all the created order" or "universe" or "cosmos." It turns out that God is in love with all the created order which includes you and me as well.

I wanted to jog your imaginations and invite you to consider that our concepts of what we mean by "the world" that God so loved, might be a bit smaller than God's intent through Jesus to be the one who is making all things new. We are a vital part of these all things, but we are not the summary definition of them in total.
John flat out tells us in this gospel of his, the whole point why he wrote anything down that he shared.
"That you might believe that Jesus is the Christ. the Son of God and that believing, you may have life in his name." (John 20:31)
I share John's greatest hope...
God is in love with you... the world... the universe... which sprang into being, and continues to be sustained as an expression of God's very nature as creative and active and vibrantly alive. So in love in fact, that the Word became flesh and dwelt among us...
Jesus came for you... and all of creation.
May you trust him in this very good news...
Peace,
@genxrev
Picture Credit: Pixabay - Creative Commons Use 0 - Commercial / non-Attribution usage - permitted
Text Translation: @genxrev