Hey Steemies!
Well now it's official, I'm due back to work in about a week so vacation time is over until summer, thankfully! I need to fund more trips and stackibles 😎. With that being said, I better start writing the stories from this last trip because time will become really limited soon. It tends to be more like I live at work while occasionally visiting home working 70 hours + a week, the good news, it is generally just for a month or two at a time. I can't even imagine doing it for 50 weeks a year like some guys do. Without further ado, lets go to the topic at hand, MOUNTAINS!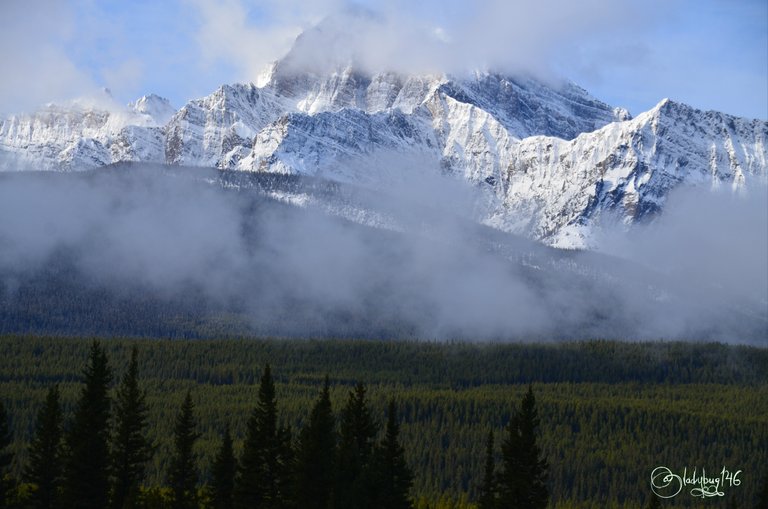 Stormy Mountain, shot 1/800 sec. f/7.1 78 mm, ISO 200
As a continuation from my last travel post, having fallen ill to an severe allergic reaction the day before we left for the trip, I was really hoping for a good night's sleep for my body to recover a little before the hikes to begin. I didn't care that I felt sick and certainly wasn't about to cancel mountains for it, the only thing that keeps me away from my beloved peaks is if they are on fire (it does happen during the summer season). Of course....the darn train woke us up every 45 minutes like an alarm clock on perpetual snooze mode and it became irritating especially with a bad headache. At about 6 am we gave up trying to rest and just hit the road as it seemed pointless to even try at this point.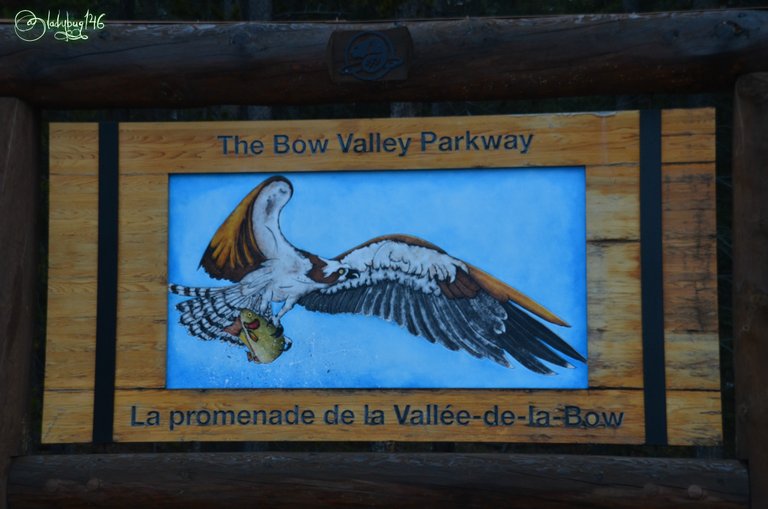 We wanted to get some sunrise pictures but much like the night before, everything was still foggy and wasn't a likely scenario, Why not get on the road towards Lake Louise, it wasn't a far drive from Castle Mountain. We knew the lake was frozen solid from the live cam we found online but all this snow would mean the glacier would be stunning and larger than we have seen yet. Things started pretty gloomy as stated, I suppose it was very fitting with the somber discovery we were about to make that we somehow missed during our previous travels on the Parkway. Then again it was pretty small, it looked to be a shrine of some sort by a mountain named Internment Mountain, I thought it was a rather sinister name for a mountain...How did they come up with that?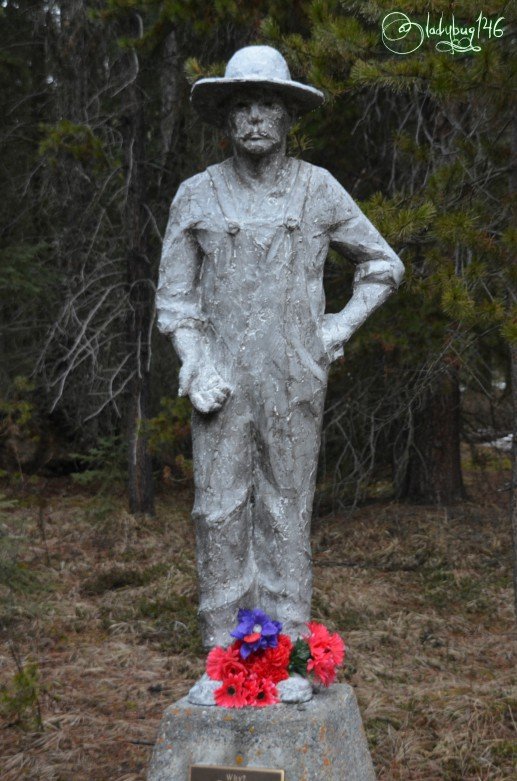 Shot 1/30 sec. f/4.8 40 mm, ISO 1250
Well hidden in Canada's most beautiful landscape and wilderness we call Banff National Park and away from the public eye along with our history books, Camp Castle was established. Sounds like a cool camp to go to right? Except this wasn't some cool summer camp for kids or an anticipated quiet getaway destination, this was an internment forced labor camp aka concentration camp for World War I enemy alien prisoners established in 1915. WTF! This was news to me, I never knew such thing ever existed in Canada, they do a good job at manipulating or omitting information to distract the population away from our dark dirty History. The camp mainly housed civilians of German, Ukrainian and Austrian descent along with merchant marines and military reservist and their families. The wives and children weren't forced into the labor camp but often accompanied their husbands having no other means to sustain themselves without their main bread winner in the real world during this difficult time of war and growing financial insecurity that eventually led to the Great Depression and in the days where women's rights were much more limiting than they are today.
I can only assume that many came to regret this decision as the forced labor of this camp was used to clear the land, establish roads, bridges, quarry stone and various other infrastructure that would be required to ensure accessibility for future tourism plans for the area. In total from 1914 to 1920, 24 camps across Canada housing some 8500 prisoners divided in classes were established including 4 in the Canadian Rockies Banff, Jasper, Yoho and Revelstoke National Parks. Camp Castle (summer use) and Cave and Basin (winter use) held as many as 600 prisoners and 180 guards where escapes were frequent. Working for as little as 25 cents a day, living conditions were squalid, often not outfitted with proper warm clothing to sustain the cold conditions, lack of food, some living in tents or un-insulated tar-paper shacks with the camp surrounded in barbed wire and armed guards, 107 prisoners died at Camp Castle for various reasons including suicides or caught trying to escape and often subjected to rough treatment. The Canadian government refrains from calling them concentration camp because of the tarnished image of German camps left behind, slightly less drastic and violent than the German counterpart, they are just that...Concentration Camps of slave Labor, in Canada.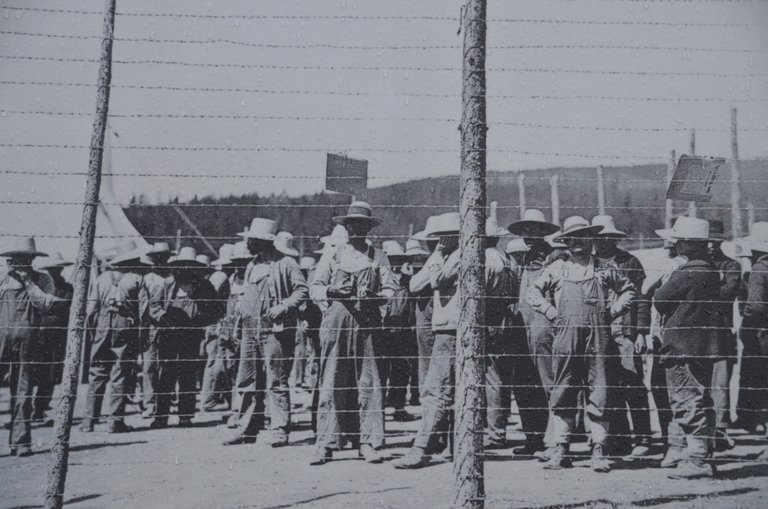 Took a photo of the Park display at the location.
Isolated and removed or hidden from society, the un-welcomed immigrants were previously brought into Canada by our government with the promise of a better future and to develop the railroads, fleeing an occupied Ukraine and looking to resettle to a better life abroad often were destitute and jobless or from a military background. When WWI broke out, public distrust for these individuals was at an all time high and were seen as a threat to the safety of the nation. After public outcry to the government , they were rounded up and separated from their families to be placed in these "Concentration Camps" to be forgotten and as far away from society as possible to appease the Canadian public under the "War Measure Act" of 1914. The tourism visionaries saw this as a golden opportunity and welcomed the unjust treatment to gain cheap labor to turn their dream playground into reality but there was little concern for the miss-treatment from the general Canadian citizens. The reality is, it was painted as a camp for German/ Austrian prisoners of war but in fact were mostly filled with harmless settler immigrants of Ukrainian descent.
The regular workday was comprised of 8 hours of work, one hour of physical exercise and often a few hours to walk to and from the work location often resulting in a total of 13 to 14 hours per day. The men were equipped with the basic hand tools to perform the hard tasks required of them, very rarely did they get to use the more modern technology available at the time. They stayed in "Camp Castle" during the spring and summer months to develop to road to Lake Louise and moved to "Cave and Basin" near what is now the Town of Banff in the winter months as the wither conditions became impossible at Camp Castle until their release in July of 1917 due to a shortage of labor but were still considered "enemies". Camp Castle was considered to be the worst of all the Canadian Concentration Camp. A letter from one of the internees to his wife has since surfaced.
Nick Olynyk, inmate 98 of the Castle Mountain Camp wrote to his wife of the ordeal: "As you know yourself there are men running away from here everyday because the conditions here are very poor, so that we cannot go on much longer, we are not getting enough to eat. We are as hungry as dogs. They are sending us to work, as they don't believe us, and we are very weak."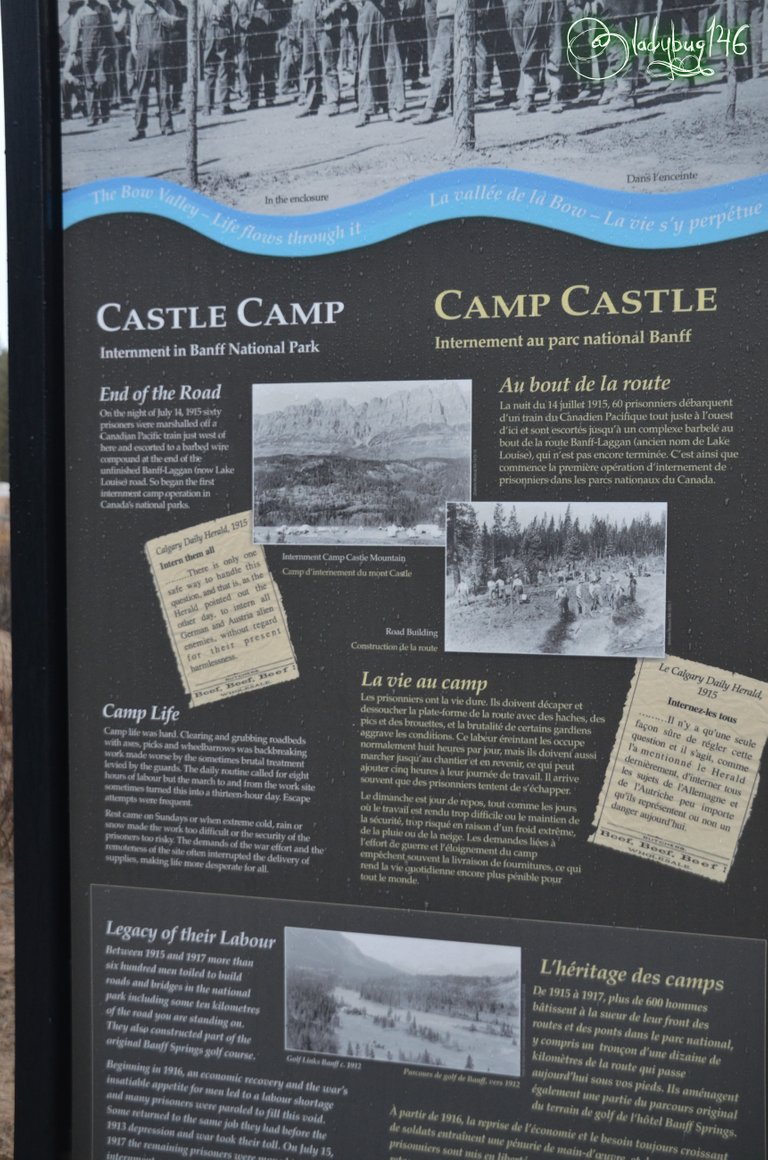 After these obscure events, many of the official documents were destroyed in attempts to erase this dirty piece of Canadian history, much of which wasn't even mentioned in our schools and so little ever knew about the unfortunate events. For many years, the Ukrainian population affected healed and bore the scars in silence in fears that their discontent would attract unwanted attention and further consequences to their communities that were simply looking for a better life for their families. Today, not much remains of the undisclosed camp but a few artifacts, cobble stones, fence posts and parts of the barbed wire fence. In 2008, former Prime Minister, Stephen Harper issued a formal public apology to the Ukrainian settlers for Canada's shameful actions against their communities.
https://www.internmentcanada.ca/PDF/Beaulieu%20-%20C%20B%20Internment%20Report%20AA.pdf
After our unsettling discovery of our shady past and how the landscape we have come to love an cherish, including the very Parkway we were on was build on blood and sorrows of the past, it gave us much to think about for the rest of our short journey to Lake Louise and I learned to appreciate it so much more than usual. As we gained elevation on the road, we were now above the fog and the blue skies and the snowy mountaintops were starting to reveal themselves. The view we had anticipated since our arrival was now within sight, like after the dark comes the light, the calm after the storm. It was great at lightening the load of the information we just had to digest.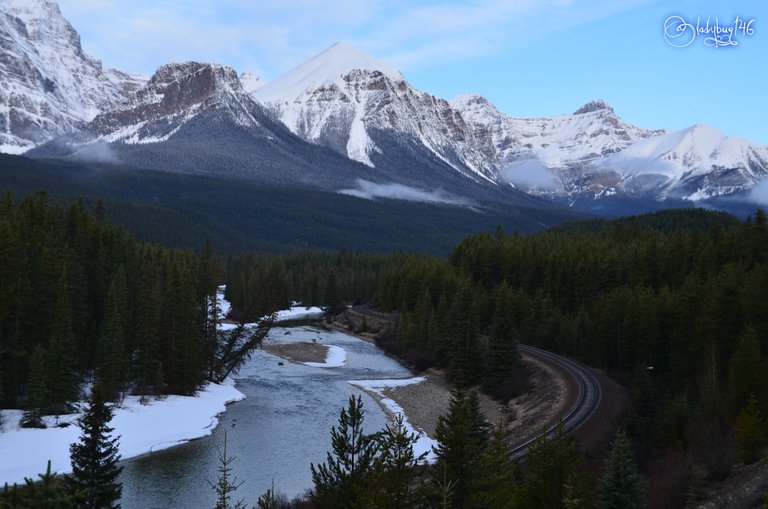 Shot 1/200 sec. f/7.1 40 mm, ISO 200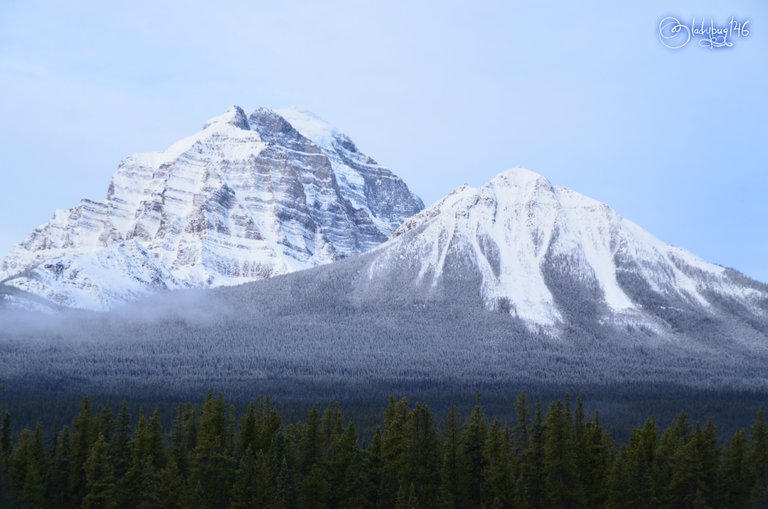 Shot 1/160 sec. f/6.3 55 mm, ISO 200
Because of the higher Altitude, The way to Lake Louise melts much later than the rest of the lower ares of Banff National Park, on occasion, road closures can occur due to avalanche risk the melting conditions poses. Luckily, today wasn't the case for this small portion of the Bow Valley Parkway. It was still pretty early in the morning and the temperature didn't have a chance to warm up yet, our time outside was cold enough and we were under dressed since we kinda just left our suite as we woke up, still in our pj's with every intention to return before beginning the day, we were only suppose to go to the near by riverside over looking Castle Mountain, oh well...shit happens! It was the perfect view, we didn't want to turn back and go back to the fog, I doubt Lake Louise would be booming with tourists before 7 am!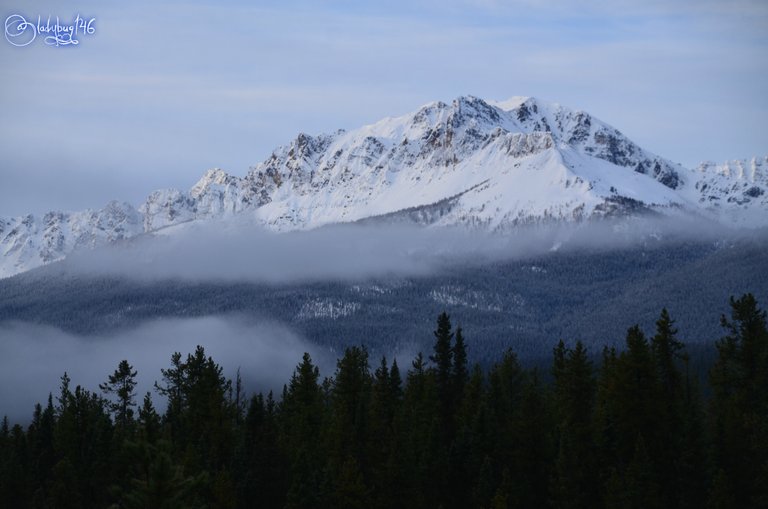 Shot 1/500 sec. f/5.6 78 mm, ISO 280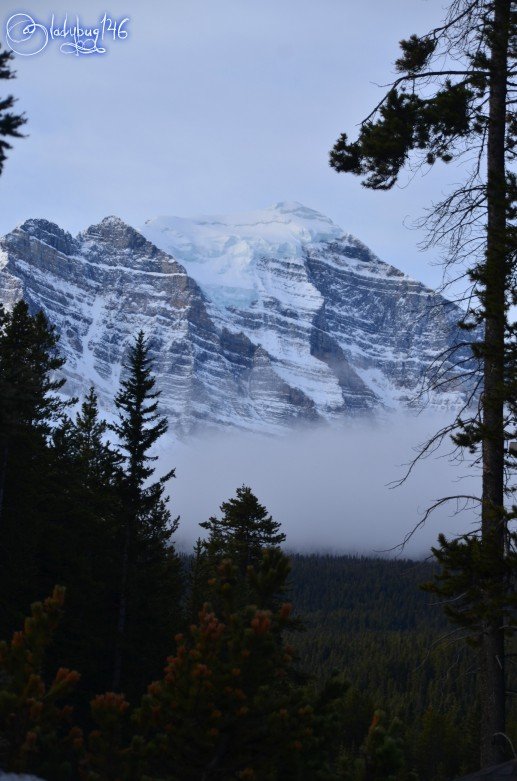 Shot 1/500 sec. f/5.6 78 mm, ISO 200
Oddly enough, a few were there already on our arrival so we just looked like a couple of weirdos. It was sill fairly quiet and the perfect time for a photographer to visit, we had the place almost to ourselves. It is best to visit the most popular areas before 9 am to avoid crowds. As we suspected earlier, it was still full on winter in Lake Louise and her glaciers, the ice on the lake was becoming too thin and unstable to step on, we could see the edges of the lake partially melted, it's just a matter of time now until it's famous emerald colored water reveals itself. We wont get to see it on this trip unfortunately but we still did a quick tour of the main viewing area and snap a few shots of the magnificent fully frozen Victoria Glacier ahead and the lonely boat house. We didn't do any trails considering we were under dressed and the places we wanted to view were still inaccessible due to high avalanche risk.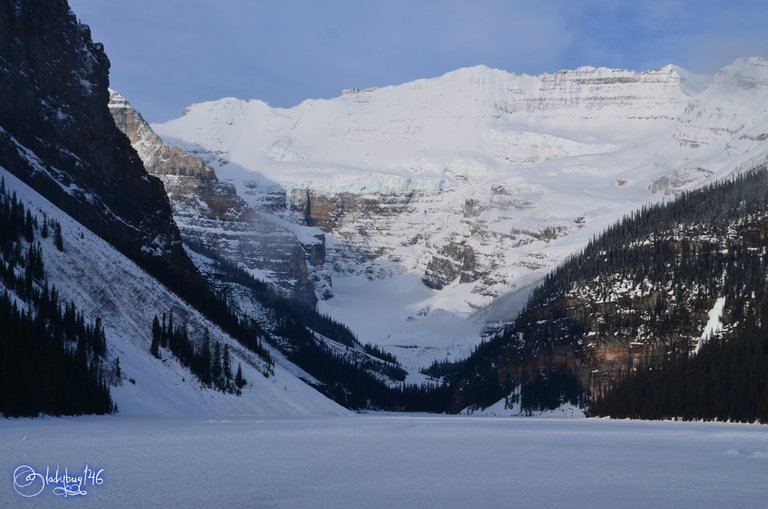 Shot 1/320 sec. f/9 46 mm, ISO 100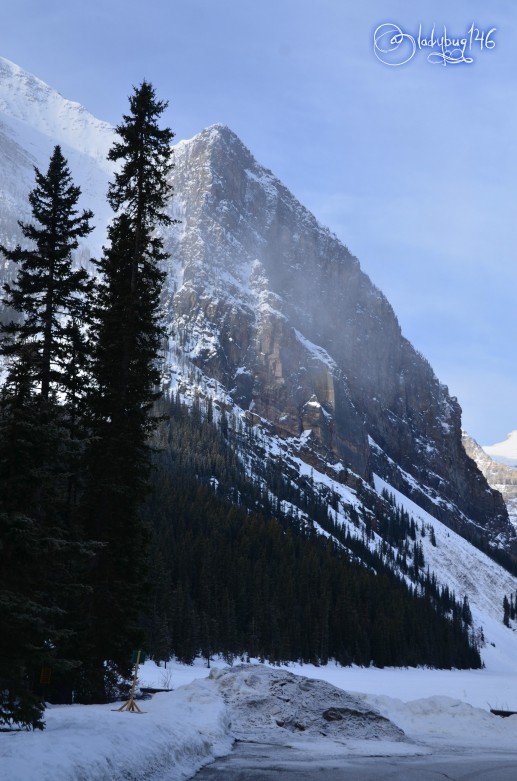 Shot 1/250 sec. f/8 34 mm, ISO 140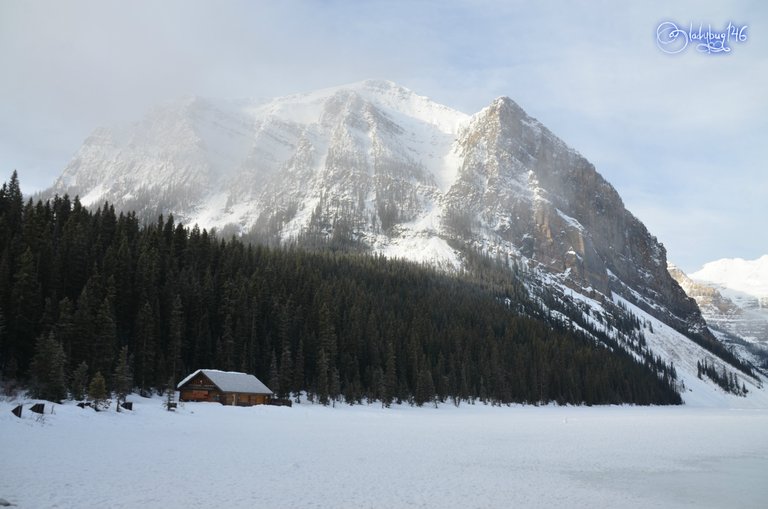 Shot 1/250 sec. f/8 18 mm, ISO 200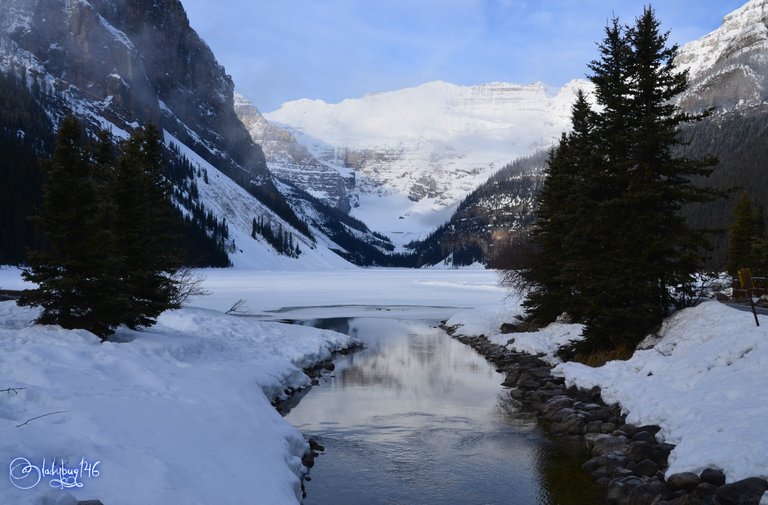 Shot 1/250 sec. f/8 22 mm, ISO 100
We didn't stay very long, I was starting to get cold and this was a deviation from our already busy agenda for the day, this was just a short drive from our cozy cabin at Castle Mountain, and no not a stay at Camp Castle! We enjoyed the ride back hoping that the sky at cleared enough to reveal some of the mountain tops, but not quite yet. Perfect time to have coffee and breakfast, washed up and dressed to a semi presentable state better suited for a hike and public encounters before our day officially started. This still wasn't a bad start of the day considering it was just the first 2 hours.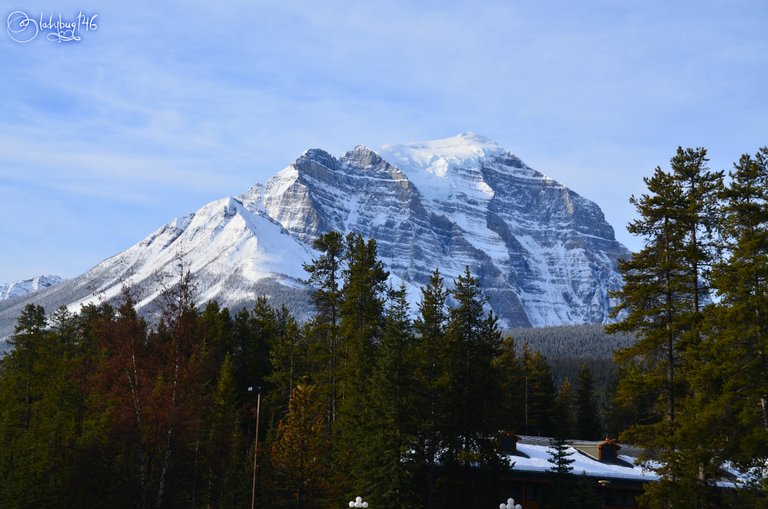 1/250 sec. f/8 46 mm, ISO 100
This post is getting long as it is with many pictures, just imagine the rest of the day! I will keep that for separate posts, I really wanted this to be mainly commemorating the suffering of the past atrocities committed against the early Ukrainian settlers and the beauty we get to enjoy today. Their suffering was an unfortunate part of Canadian history that should not be buried away or forgotten but from the heavens, they can look down and see the many smiles they have put on visitors faces with their sacrifice. Next time you find yourself on the Bow Valley Parkway from Castle junction to Lake Louise, remember and honor their sacrifice.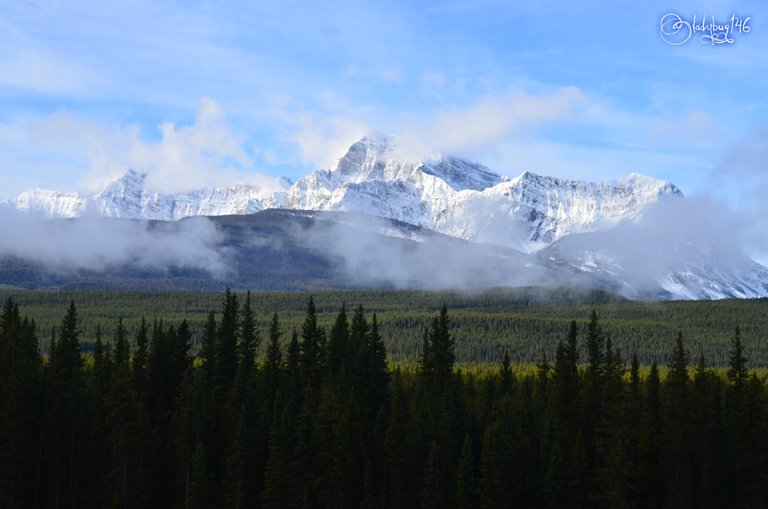 1/250 sec. f/8 40 mm, ISO 100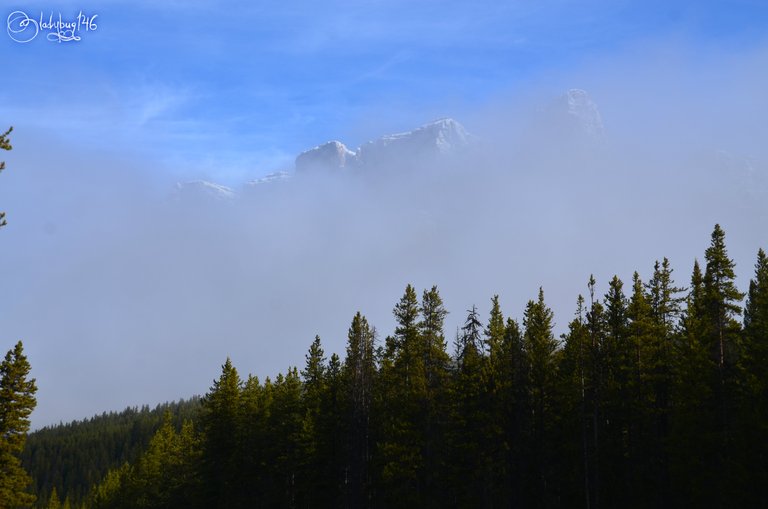 Shot 1/250 sec. f/8 40 mm, ISO 100
Cheers! X🐞X