Hello friends
How about Sunday?
Has it been #BeautifulSunday and #SublimeSunday ?
I went out for a walk like almost every Sunday, a city walk.
She is full of green gardens and many trees.
Hola amigos
¿Qué tal el domingo?
¿Ha sido #SublimeSunday y #BeautifulSunday ?
Yo Salí a pasear como casi todos los domingos, un paseo de ciudad.
Ella está llena de verdes jardines y muchos árboles.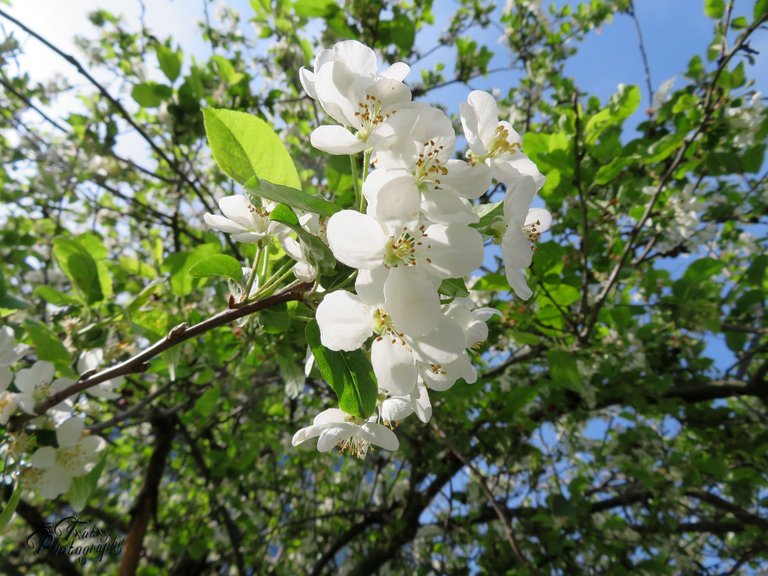 Today the ornamental apple trees are blooming, that fills my eyes with joy. As we walk we see its white flowers among newborn green leaves.
Hoy los manzanos ornamentales están floreciendo, eso llena de alegría mis ojos. Según caminamos vemos sus blancas flores entre hojas verdes recién nacidas.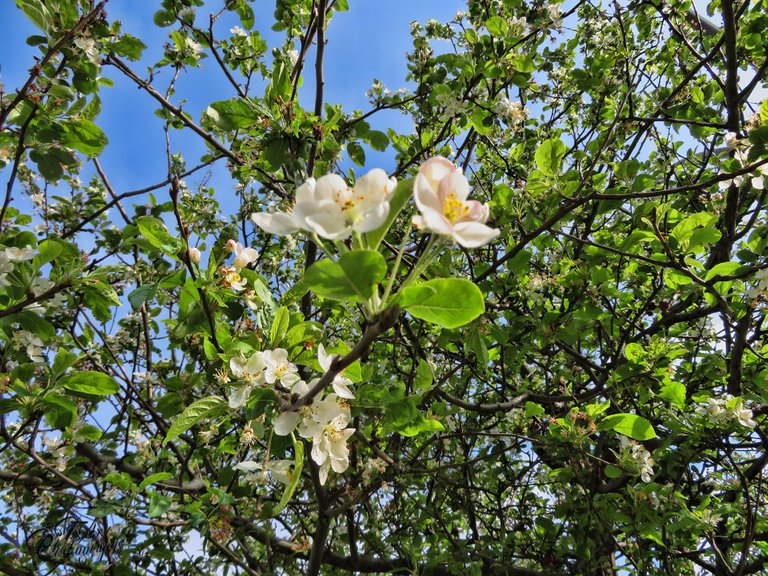 If you want to see the fruits of this tree, which are beautiful and small apples of an intense red, I present them here.
Si queréis ver los frutos de este árbol, que son unas bonitas y pequeñas manzanas de un rojo intenso, os las presento aquí.
The little apple (Malus sylvestris)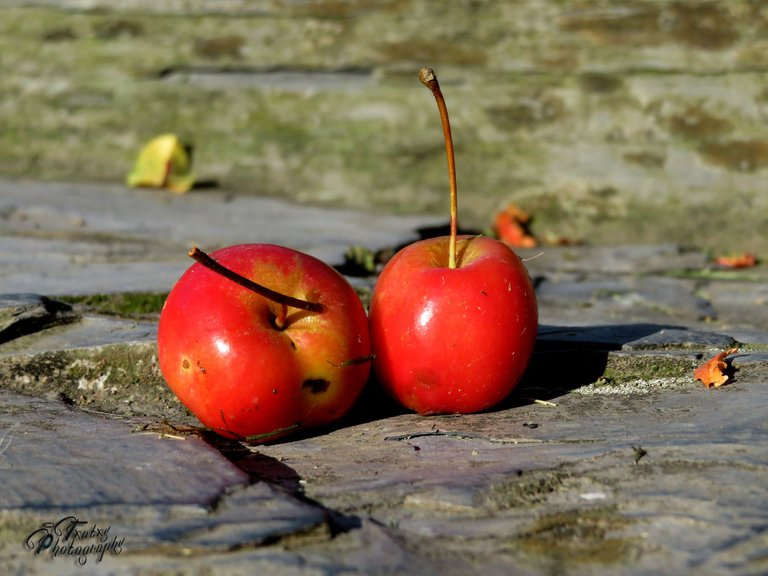 After 9 months, the landscape has changed a lot, the trees have completed their cycle and it's time to start again.
Después de 9 meses, el panorama ha cambiado mucho, los arboles han cumplido su ciclo y toca empezar otra vez.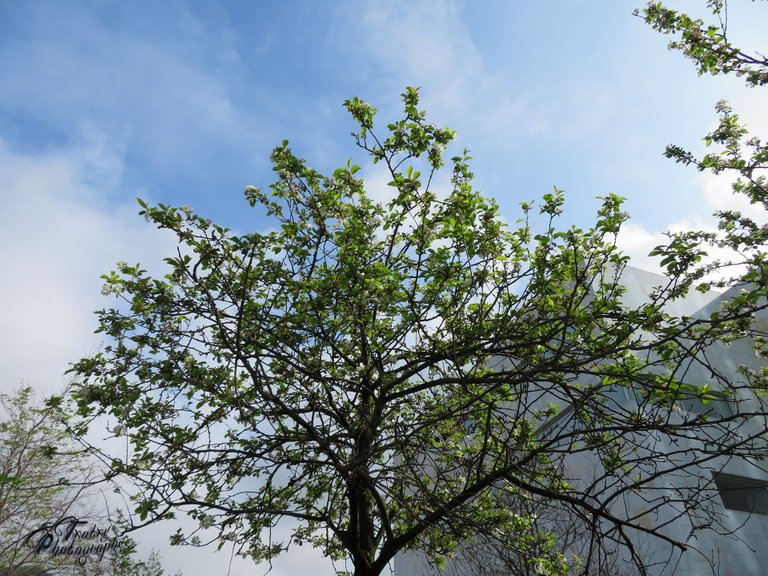 With the small buds of its white flowers that one day will open.
Inviting insects to fertilize them and thus be able to create life.
Con los pequeños capullos de sus flores blancas que un día se abrirán.
Invitando a los insectos que las fecunden y así poder crear vida.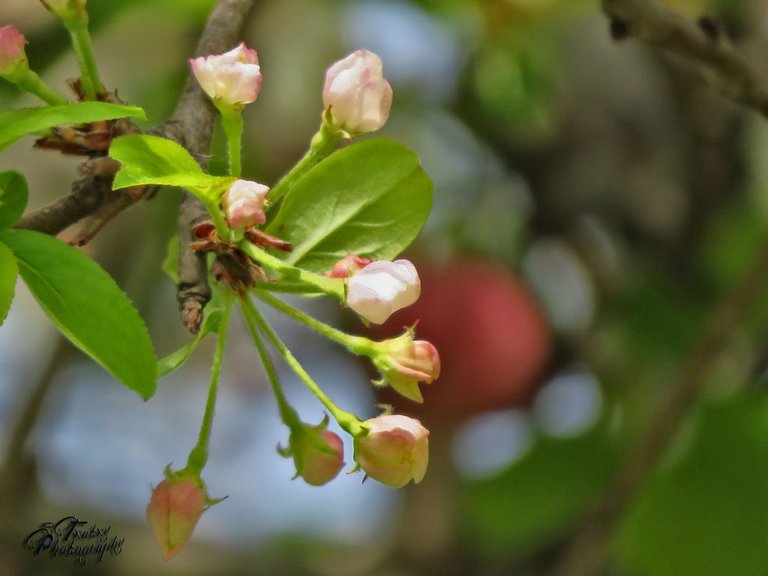 The trees watch our steps, they almost look like soldiers making our way through the green grass.
His uniform is the color of nature and hope.
Lime green, gold green, yellowish green.
Green crowd.
And the stars drop into her mantle to become white polka dots.
Los árboles vigilan nuestros pasos, casi parecen soldados abriéndonos paso entre la hierba verde.
Su uniforme es el del color de la naturaleza y la esperanza.
Verde lima, verde dorado, verde amarillento.
Multitud de verdes.
Y las estrellas se dejan caer en su manto para convertirse en lunares blancos.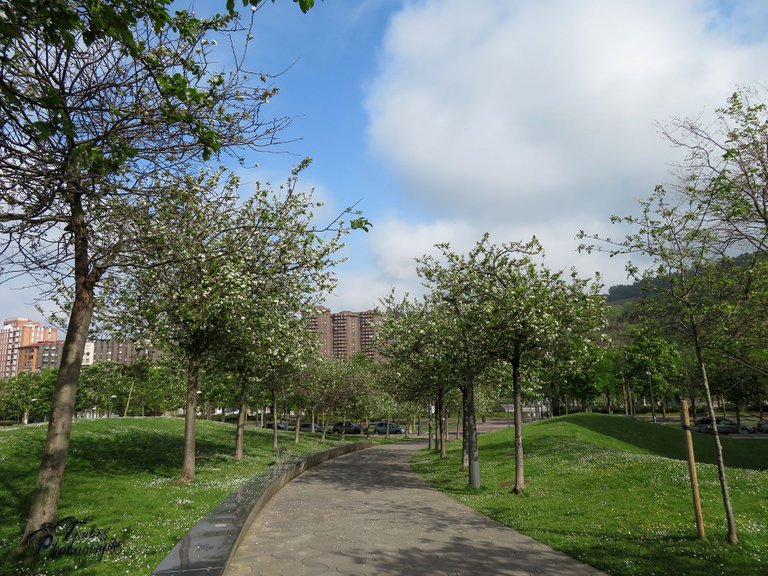 When we stop and look up, as if it were the first time we saw a tree blossom.
The first is not, but it is always different even if the result is the same.
Cuando nos paramos y alzamos la vista, como si fuera la primera vez que viéramos florecer un árbol.
La primera no es, pero siempre es distinto aunque el resultado sea el mismo.
Now you appreciate something else, the flowers that have not achieved it and silently wither.
Joy and sorrow together.
Ahora aprecias algo más, las flores que no lo han conseguido y se marchitan silenciosas.
La alegría y la pena juntas.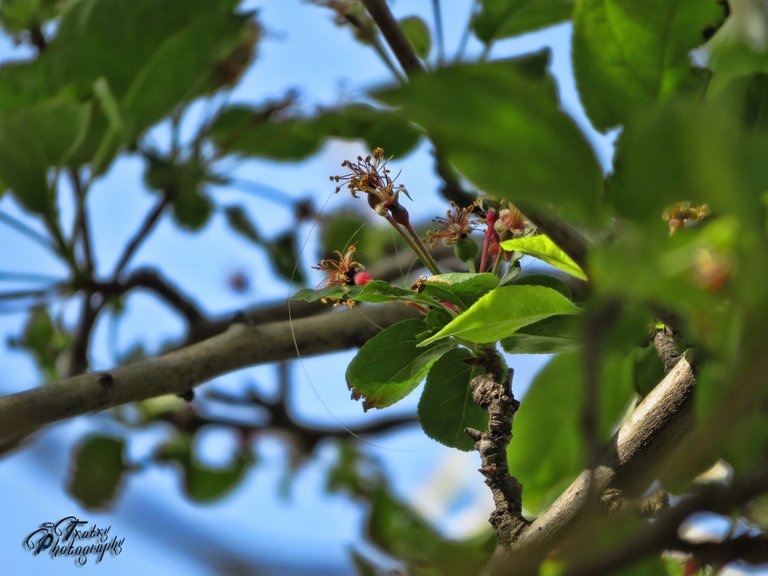 You realize that for your life, as for that of the trees, time has passed, with many changes.
Of time, of season, of joys and sorrows.
The dark garnet of them remind you.
Late apples that clung to the tree and slowly dry up.
Te das cuenta que por tu vida, como por la de los arboles ha pasado el tiempo, habiendo muchos cambios.
De tiempo, de estación, de alegrías y tristezas.
El granate oscuro de ellas te lo recuerdan.
Manzanas tardías que se aferraron al árbol y poco a poco se secan.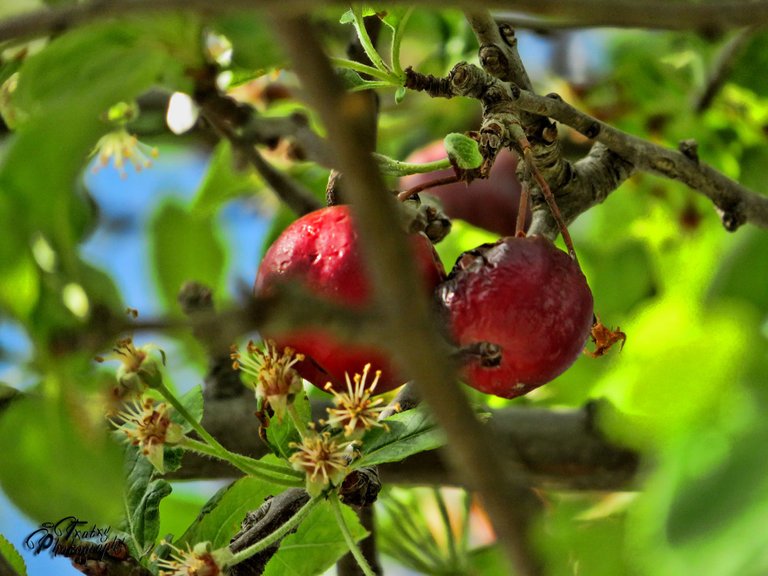 The days have stolen her freshness and it has been exchanged for wrinkles on her skin.
Los días le han robado su lozanía y se la ha cambiado por arrugas en su piel.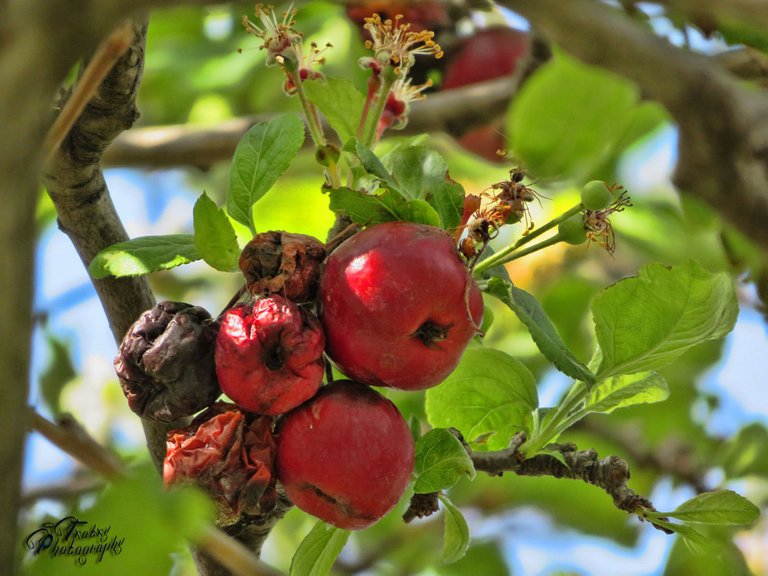 Others less fortunate did not.
Winter and sickness got the better of them.
Otros menos afortunados no lo consiguieron.
El invierno y la enfermedad pudieron con ellos.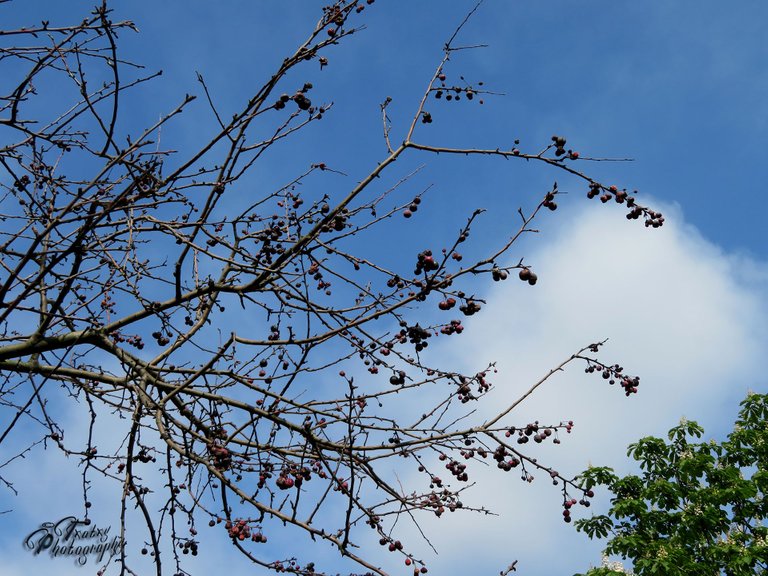 They camouflaged themselves well in the fall, the dead.
His companions saving strength for the winter.
Spring changed everything discovering that he would no longer bloom.
The apples are reluctant to fall, they want him alive.
We also.
We will miss those who left and will not return.
Se camuflaron bien en otoño, el muerto.
Sus compañeros guardando fuerzas para el invierno.
La primavera todo lo cambio descubriendo que el ya no florecería más.
Las manzanas se resisten en caer, le quieren vivo.
Nosotros también.
Añoraremos a los que se fueron y no volverán.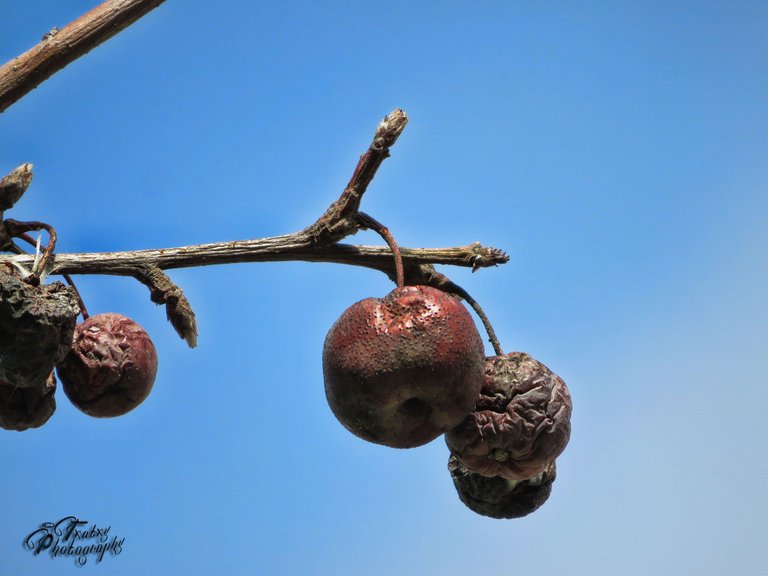 But life goes on and we move forward forgetting the sorrows and seeing life being born.
Pero la vida sigue su curso y avanzamos olvidando las penas y viendo la vida nacer.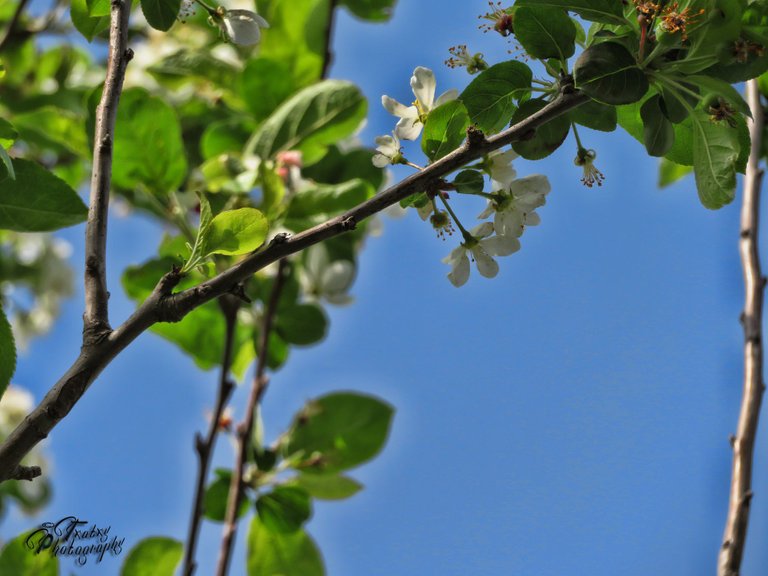 Quite a privilege to live in the city. Where we walk among trees.
happy sunday friends
Todo un privilegio de vivir en la ciudad. Donde caminamos entre árboles.
Feliz domingo amigos

Canon PowerShot SX730 HS
Image © txatxy. All Rights Reserved.
Original content by Original content by @txatxy