I want to tell you about my village, Altamira de Cáceres, a little town of no more than 500 inhabitants, nestled in the foothills of the Venezuelan Andes, in the Barinas state near the border with Merida state, about 900 meters above sea level and average temperatures Annual of 20ºC. Founded on June 30, 1577 by Captain Juan Andrés Varela, it is one of the first foundations in Venezuela, being among the first 20; was the first settlement of what we know today as Barinas, the state capital, which was later transferred, in two stages, to its present settlement.
---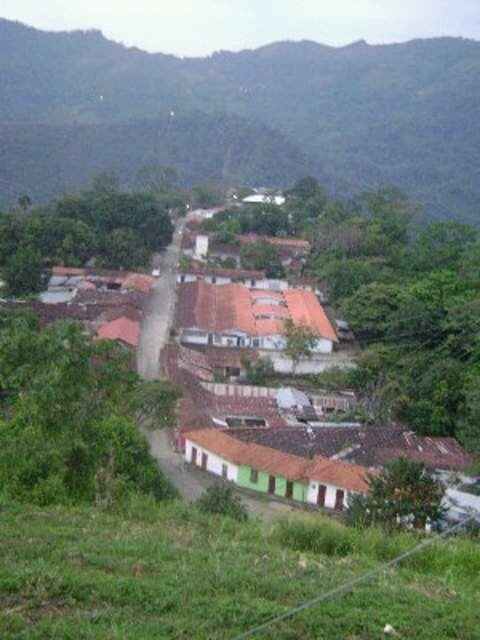 View of the village from the viewpoint "El Cerrito"
---
It is a small town where you will find what you usually get in any andean town: a Plaza Bolivar, a large church in front of the square, a few bodeguitas (small stores), a house of culture, a police command, cozy Inns, a small tavern where to hang out and talk and above all friendly, friendly people, who greets in passing and who does not hesitate to help.
It is easy to walk (it has only 10 streets!) but it is impossible to do it quickly since you stop at every corner to talk (we are very talkative 😜), look and admire old houses of bajareque or tapial with wooden balconies that evoke a distant time, with the sound of horses and wagons running through the streets.
---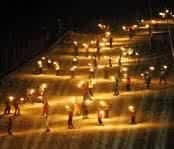 Procession of the Torches. Photograph by my cousin Rosa Virginia Leal
---
It is a town of traditions, among which are its patron saint festivities in honor of the Immaculate Conception, patron saint of the Altaimireños, held between January 16 and 24. For these festivities cultural events are prepared with traditional Venezuelan dances, some sports competitions and night parties, among others. One of the most beautiful traditions is the Procession of the Torches, in which the children of the school cross the streets of the village holding a small torch, climb to the viewpoint El Cerrito creating a path of lights at the top of the route 😄, finishing in the square Bolivar, accommodating in a concentric way. The movement with the lights creates a unique atmosphere.
---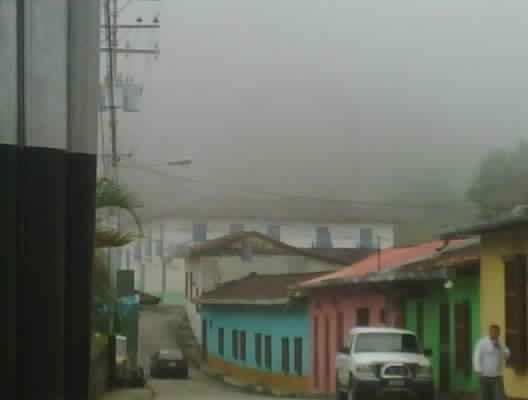 Augusto Rivas street, Altamira of Cáceres. Photograph by my brother José Contreras
---
The weather is really nice; with sunny and warm days sometimes, others with mist brushing the old roofs of the town's shingles. In those days, a good cup of coffee, grown right there, or cocoa also grown there, with sweet andean bread is what brings the cold out of the bones!
---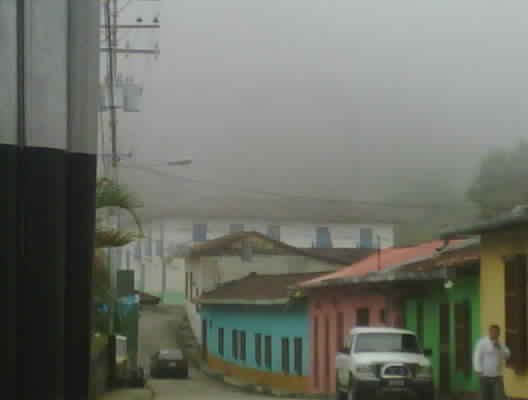 Augusto Rivas street. Photograph by my brother José Contreras
---
In Altamira it rains for hours 😮, as if it were the universal flood; it can rain for three or four hours in a row, climb, rest for an hour and start again, as if it had not rained at all; So much so that in the houses of zinc roofs you can not talk because the noise of rain on the roofs is deafening. When this happens you only have two alternatives: one, you can cuddle with a thick little blanket or two, go out to receive and enjoy the rain:
---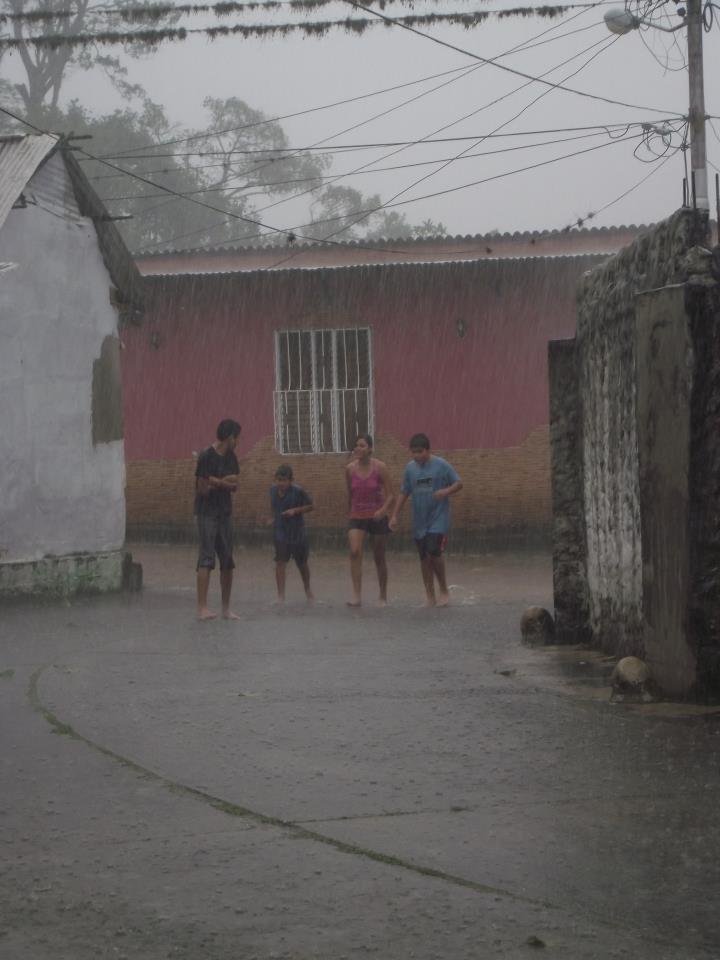 My children and my nephews having fun in the rain. Photography by María Contreras
---
The main economic activity in Altamira is the cultivation of the land, specifically the coffee cultivation, for more than a hundred years. It is said that some forests that still produce today are more than a century old. The coffee that is grown there is exquisite, aromatic, with the perfect acidity point. The thick vegetation with high trees and exceptionally fertile soils create ideal conditions for this crop. The grain harvested there, once dry and threshed, is usually taken to collection centers but can also be purchased directly from the producer. If that is the wish of the visitor, sell it toasted and ground, ready to put it in the coffee maker 😊.
---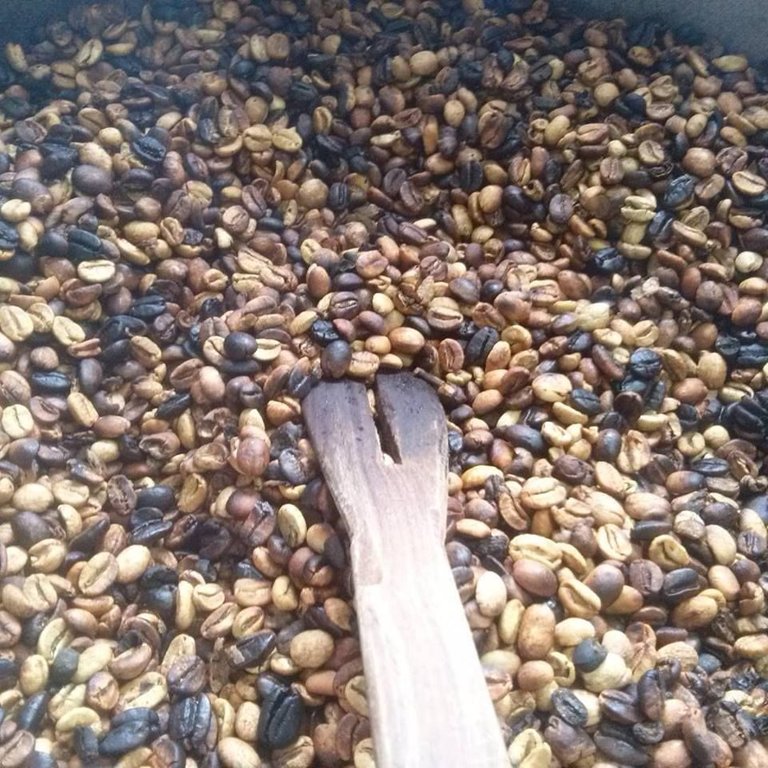 Toasting coffee, the house smells spectacular! Photography by María Contreras
---
In my town you will find a lot of activities to entertain you. Surely you do not want to stop going through the different wells and waterfalls that you get in the many ravines that surround it, there are for all tastes: deep, not deep, water falls high (very high), low, small, etc. Of course, the common denominator is cold water, a lot, which awakens even a dead person! You'll think that's a problem but no, not at all, after the first dip you no longer feel anything 😛 and you can devote yourself to enjoy it. But that's right, do not get out of the water because then you can not stop shivering 😬 Brrr!
---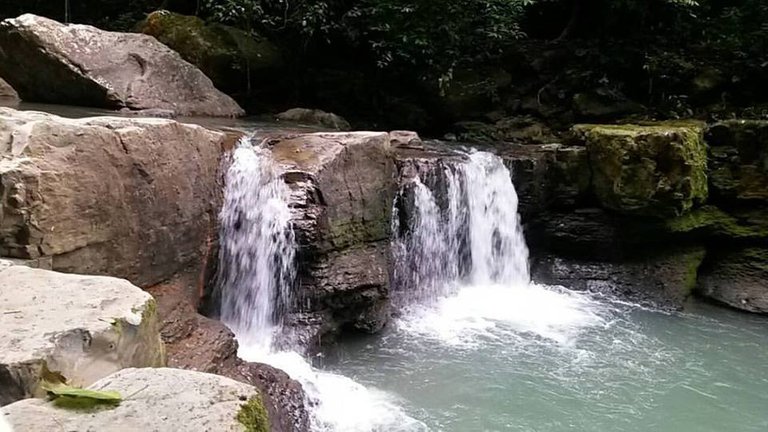 In this well you can swim very well, medium depth. Photography by María Contreras
---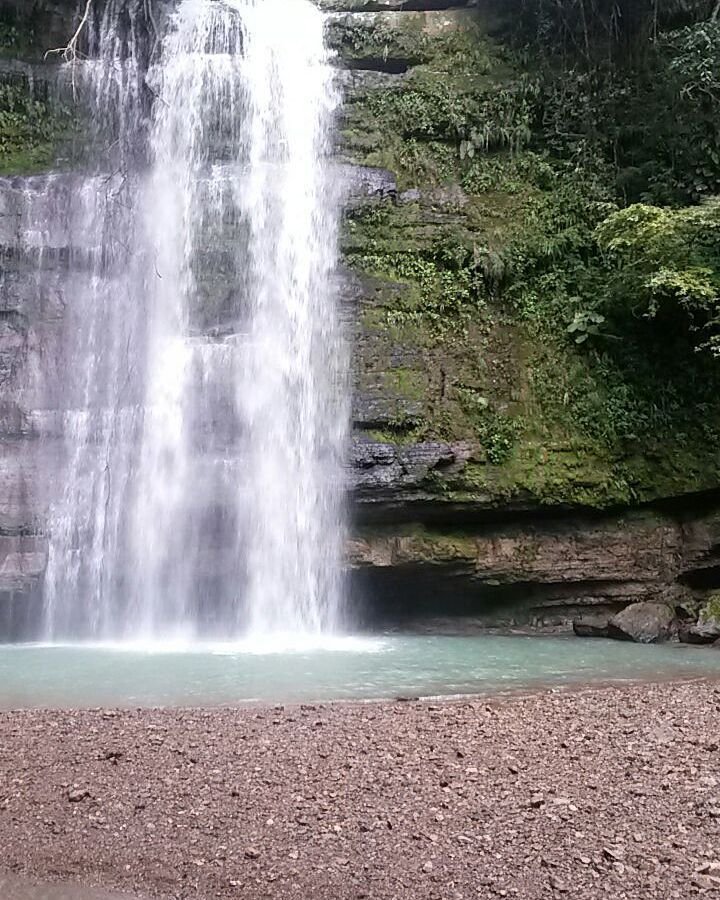 Silencio's Fall, this waterfall is about 34 meters high, the well is quite wide and deep, although near the waterfall there is a landing where you can stand in front of the waterfall. Photography by María Contreras
---
Well, I could continue talking (or in this case, writing) for hours and hours of my town, it is a simply wonderful place, there are endless things to do, some escape my mind. There you can practice some extreme sports, take walks, Easter is made alive representation of the Passion of Christ and a lot of other activities that I will comment on in the following post. Meanwhile, I leave you with one last photograph, the street where my mother lives. Note the cables covered with vegetation 😄. This happens because the little birds go there cleaning their beaks, leaving seeds and, with the humidity of the place, it germinates whatever, wherever it is!
---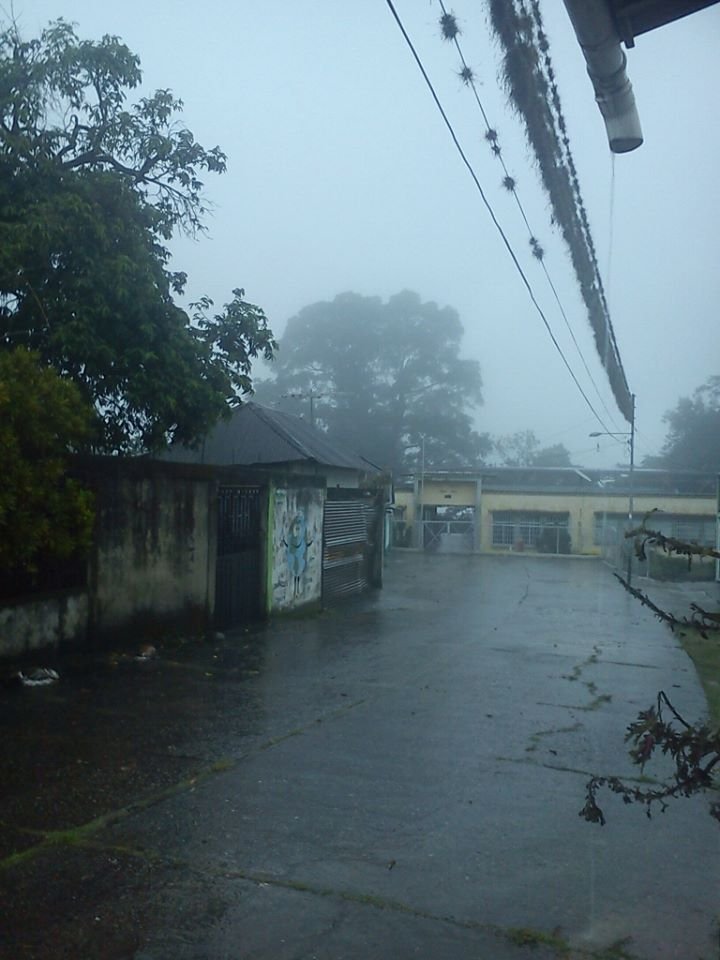 The "hairy" wire of my beloved Altamira de Cáceres. Photography by María Contreras
---
Would you like to visit Altamira 😜?