Hello, how are you today? I want to tell you a little bit about a community I'm a member of and with which I've been able to grow together with all the other users, it's called @project.hope you can visit it at any time. In this space all the users do the possible thing to support to us, commenting and voting our publications, the idea of everything is to be a very united community and I believe that we have obtained it.
I would like you to dare to visit us, you can leave me your opinion in the comments.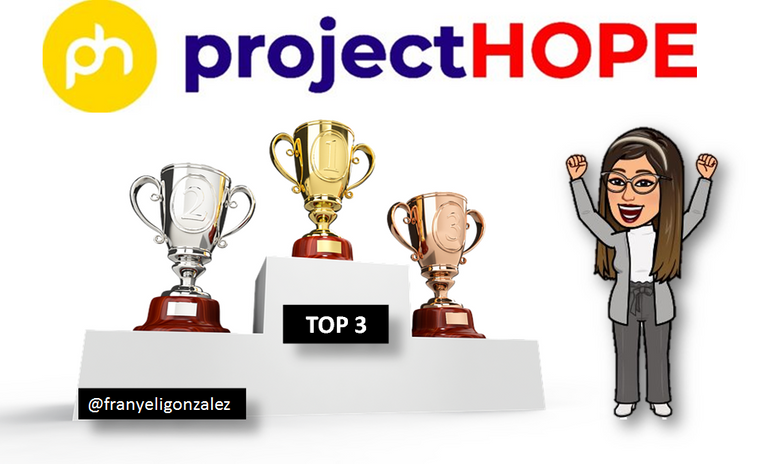 Source
Source
For that reason today I bring you my top 3 of the week, I think they are publications of great interest and quality. Take a look at them!

MY TOP 3
First of all we have our friend @rbalzan79 who brings us an interesting publication, he tells us a little bit about loneliness, about the importance of appreciating those great moments alone, of finding ourselves and being able to rest from the outside environment. Sometimes we need that dose of tranquility that we don't have in our daily lives.
I love solitude, I believe that these are moments that we can enjoy with ourselves. I invite you to visit their publication and leave a quality comment.
A moment in solitude / Personal reflection

Secondly we have our friend @gifxlove who brings us an excellent input, she talks a little about how to motivate or inspire our creativity, something very important in our lives, being creative will help us in many moments of our day to day. It gives us tools to be able to wake up that creativity that sometimes we lose, it is good to put our mind to work, that will help us with our neural connections.
I invite you to visit its publication and leave a quality comment.
How To Develop Your Creativity In Your Field Of Work - Part 3

Thirdly we have our friend @janettyanez who brings us a super interesting publication that I think is important for all of us. LEARNING ANOTHER LANGUAGE, something extremely important nowadays, is something that brings us many benefits, starting with the fact that it opens many doors for us to work, it also helps us to know other forms of communication and helps our brain to stay active among other things.
I invite you to visit its publication and leave a quality comment.
The importance of learning languages

This is my top 3 this week, I hope you will join me in reading these publications, also it would be great if you join our community!

Source

The emojis used are from Bitmoji