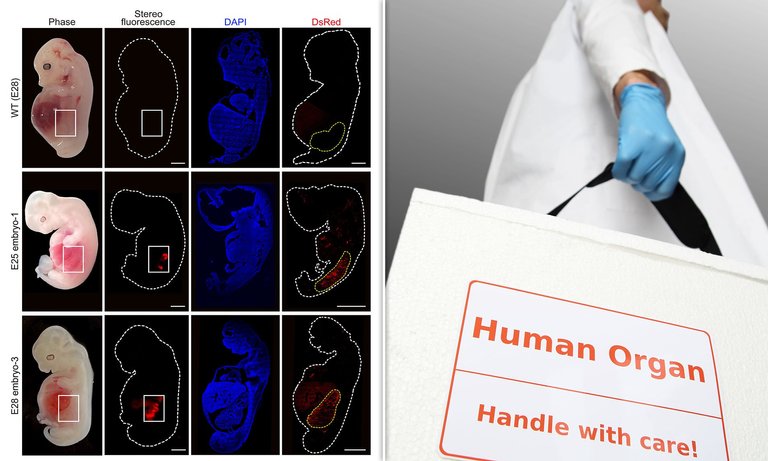 Source
Organ transplants are for many people the only possible solution to stay alive. According to experts, it is estimated that around one hundred thousand organ transplants are performed in the world each year, but the waiting list of people who still need transplants is two hundred and fifty thousand people long, so we have a clear deficit.
Los transplantes de órganos son para muchas personas la única solución posible para seguir con vida, según los expertos se calcula que en el mundo se hacen unos cien mil transplantes de órganos al año, pero la lista de espera de personas que aún necesitan transplantarse es de doscientas cincuenta mil, por lo que tenemos un claro déficit.
In an attempt to alleviate this deficit, so-called xenotransplants have been attempted, which are organ transplants between species. In the case of humans, it seems that the pig is the animal with the most compatible organs, but today and despite the money and effort expended have still not achieved functional results.
En un intento por paliar este déficit se han intentado los llamados xenotransplantes, que son los transplantes de órganos entre especies, en el caso de los humanos parece que el cerdo es el animal con los órganos más compatibles, pero a día de hoy y a pesar del dinero y el esfuerzo empleados todavía no se han conseguido resultados funcionales.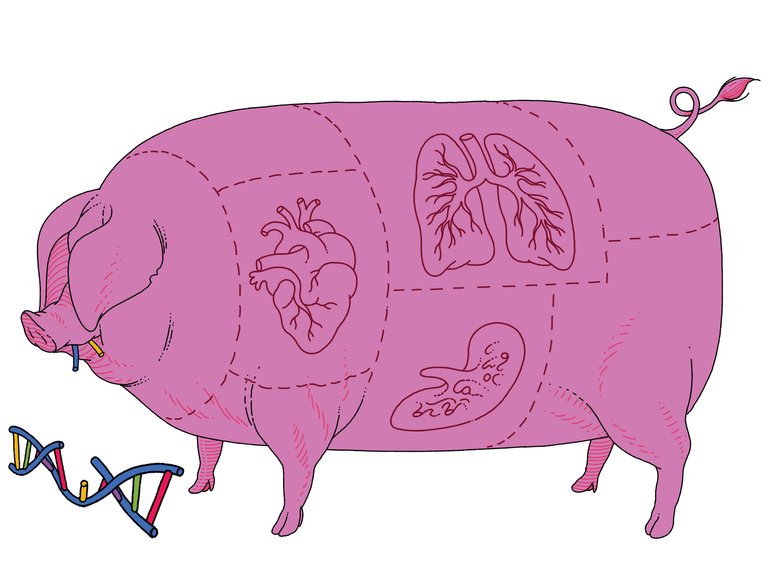 Source
Now a team of scientists from the Institute of Biomedicine and Health in the Chinese city of Guangzhou have managed to create chimeric embryos that contain a combination of human cells and porcine cells that are then transferred to a female porcine species to complete its development.
Ahora un equipo de científicos del Instituto de Biomedicina y Salud de la ciudad china de Guangzhou, han conseguido crear embriones quiméricos que contienen una combinación de células humanas y células porcinas que luego son transferidos a una hembra de la especie porcina para que complete su desarrollo.
In the experiment carried out, the scientists used kidney cells, pig cells are genetically modified using CRISPR to remove two essential genes for kidney development from porcine DNA, at the same time they modified human stem cells to make them more susceptible to integration.
En el experimento llevado a cabo, los científicos utilizaron células renales, las células porcinas son modificadas genéticamente mediante CRISPR para quitarle al ADN porcino dos genes imprescindibles para el desarrollo del riñón, al mismo tiempo modificaron células madre humanas para hacerlas más susceptibles a la integración.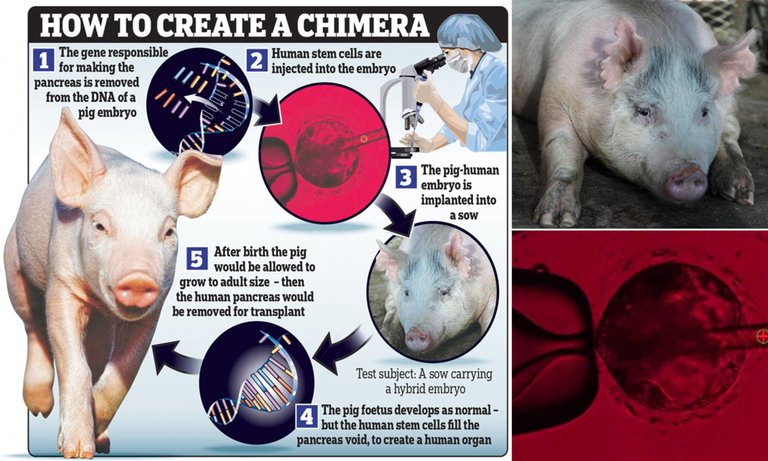 Source
These modified embryos were transferred to female pigs for development. After 28 days, they interrupted the gestation process and analyzed the embryos to check their development. To their delight, they found that the modified kidneys had the degree of development expected for the gestation period.
Estos embriones modificados se transfirieron a hembras porcinas para su desarrollo, pasados 28 días interrumpieron el proceso de gestación y analizaron los embriones para comprobar su desarrollo, para su agrado encontraron que los riñones modificados tenían el grado de desarrollo esperado para el tiempo de gestación.
Meanwhile, in several countries there are organizations that manage organ donation, whether from deceased or living people, with Spain being the country that leads in the number of donations, which makes me proud.
For my part, I am a donor of all my organs when I die and what is left over, give it to McDonalds, at least you will eat good meat for once.
Mientras tanto, en varios países existen organizaciones que gestionan la donación de órganos, ya sea de personas fallecidas o con vida, siendo España el país que va a la cabeza en número de donaciones, lo que me hace estar orgulloso.
Por mi parte yo soy donante de todos mis órganos cuando fallezca y lo que sobre, que se lo den a McDonalds, al menos comeréis buena carne por una vez.
More information/Más información
https://www.dailymail.co.uk/sciencetech/article-12491191/Scientists-grow-human-kidneys-inside-PIGS-28-days-breakthrough-revolutionise-organ-transplants.html
https://cadenaser.com/euskadi/2023/09/08/las-maquinas-y-sus-creaciones-los-robots-ya-escriben-novelas-radio-bilbao/