Kaizen
Zagadnienie jakim jest Kaizen staje się coraz bardziej popularne. Pojawia się wiele artykułów i książek, z których ludzie dowiadują się, czym jest ta Japońska filozofia. Ciekawe, że oprócz sposobu zarządzania, Kaizen przedstawiany jest jako rozwiązanie dotyczące poprawy swojego życia, korygowania swoich przyzwyczajeń, a nawet sposobem na schudnięcie.
Najogólniej Kaizen przedstawiany jest jako doskonalenie za pomocą drobnych kroków. Trzeba przyznać, że takie rozumowanie jest słuszne. Faktycznie Kaizen nie jest rewolucją, nie szuka się w nim rozwiązań wymagających dużych nakładów finansowych, czy wdrażania wielkich innowacji.
Czego nie wiemy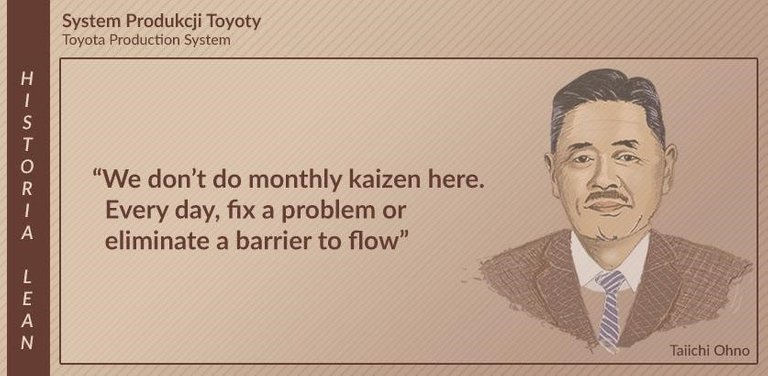 Problem pojawia się gdy pojawiają się pytania o bardziej dokładne szczegóły typu: jakie właściwie mają być te drobne kroki, kiedy mamy je robić, w jakim kierunku mają być one skierowane? Tłumaczenie Kaizen jako "ciągłe doskonalenie" jest zbyt ogólne i może być bardzo różnorodnie interpretowane. Także, samo tłumaczenie pojęcia jako "zmiana na lepsze", raczej nie skłania ludzi do refleksji.
Drogą do właściwej odpowiedzi na to czym jest Kaizen, jest poznanie źródeł tej metody. Taiichi Ohno (inżynier Toyoty, jeden z twórców TPS) wskazuje, iż Kaizen jest odpowiedzią/ reakcją na zaistniały problem. Ohno przedstawia Kaizen jako podejście do rozwiązywania problemów każdego dnia. Podejście to nie może się ograniczać do usprawnień wykonywanych tylko raz w miesiącu.
Przy takim rozumowaniu bardzo ważne staje się wykrywanie problemów podczas pracy:
"Ustaw wszystko tak, by produkcja nie mogła
być kontynuowana, kiedy pojawi się wada"
Taiichi Ohno
Do dziś, to właśnie podejście do problemów jest podstawą Toyoty, co potwierdzają słowa prezesa (Toyota Wałbrzych) Karla Klemma:
"W biurze i w fabryce używaj wszelkich możliwych narzędzi jako andon, żeby jak najszybciej dostrzec pojawiające się problemy."
Wykrywanie problemów (przerwanie pracy i zatrzymanie się) i właściwe reagowanie na nie, to Jidoka - jedna z dwóch zasad Systemu Produkcji Toyoty (drugą jest Just in Time)
Co daje właściwe wykorzystanie Kaizen?
Toyota wdraża globalnie milion pomysłów rocznie, pozostałe firmy próbują i na razie ich wyniki oscylują wokół 1% tego wyniku.