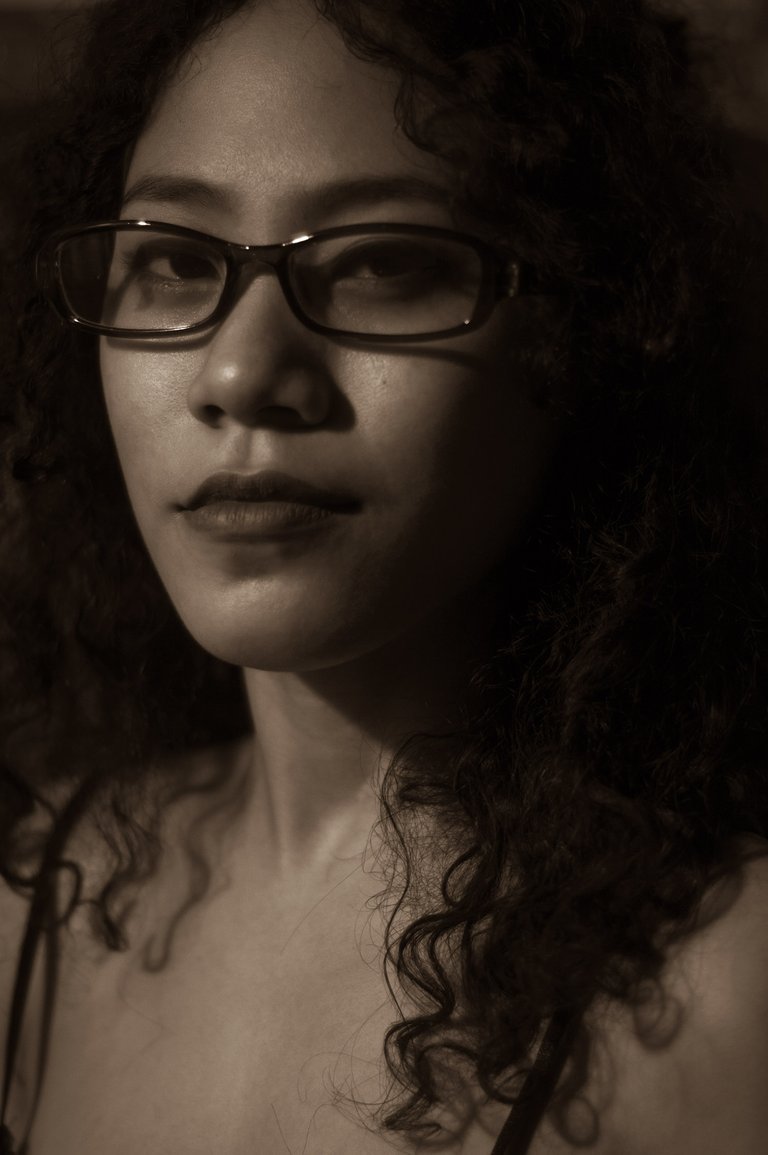 Self Portrait from last year. Just felt some 'detective' vibes here so gonna use this pic in here XD

I'm also quite a detective here on Hive you know
---
I usually listen to music while I wash the dishes but the other day I didn't want to, but I felt it's pretty boring to just hear the noises of the plates.. Then I remembered that podcasts on Spotify exist, so I checked that out.
I've listened to podcasts on Spotify before but I was kinda not interested that time and then just forgot about it.
So I browsed the podcasts section and there were several categories: comedy, art, entertainment, horror stories, etc.. But one series caught my attention: Serial Killers.
Basically, this podcast talks about real serial killers. Their life, how they did their crimes, how they were caught, etc.. Those things interest me not only just cos I'm curious how they killed their victims, but the psychology of the crimes themselves.
This podcast doesn't just narrate the stories, but they did some research on each serial killers too. So, you're gonna learn a bit of psychology while listening to it as well.
First one I listened
I first listened to the story of Hannibal the Cannibal. I only heard of his name cos he's pretty famous lol but didn't really dig deeper on his life. Like most of the serial killers, he had a terrible childhood as he was abused and neglected. I'm not gonna spoil much but basically all he wanted was to get the help that he needed (to consult a psychiatrist and undergo treatment) but the system failed him.
The mind is pretty complex and powerful that it can hide the trauma from your conscious state, but still let your subconscious mind affect what you do in your life. Just like "Hannibal the cannibal", his mind struggled to seek justice for the trauma he had experienced in his childhood and found those temporary satisfaction by killing pedophiles.
Obviously, he is sick in his mind but these psychological explanations aren't to justify what he's done, but rather, to understand why he was driven to do such things.
After I listened to the part I, I was looking for the part II but I struggled to find it and thought they were cunts for leaving me hanging. XDD Until I realized I was listening to the most recent podcast and that I have to wait for another week to get to the part II.
Review of this podcast (kinda)
I like this podcast very much cos like I mentioned earlier, they don't just narrate the stories, but gives you out scientific research information about the topic itself. I've listened to other podcasts before (though I forgot which ones) but all they do is narrate, which is pretty boring.
The way they narrate is pretty smooth as well. Often times when I listen to something, I lose my focus cos there are times I needed to comprehend what they were saying cos some use difficult words or some just narrate too fast (like Youtube videos kinda fast). I'm a visual learner, so it was quite surprising I was able to follow and understand the story pretty well even though I am also washing the dishes at the same time.
The thing that I like in this podcast too is that THERE WERE NO ADS LMAO. In some podcasts, they insert ads a lot. Like twice in one episode. It's pretty annoying but I know it is needed to keep their podcast going. In this one, I appreciate that they care about the readers' entertainment and didn't add those ads.
I also just saw that they have a new series that is specifically about medical professionals who purposely harm their patients. The series is called Medical Murders and of course that caught my interest as well. I haven't listened to it yet but I will soon. :D
---
I enjoyed this podcast and I will continue listening to it. Of course, if there is one podcast that I recommend, it is this.^ Hope you enjoy it too. :D