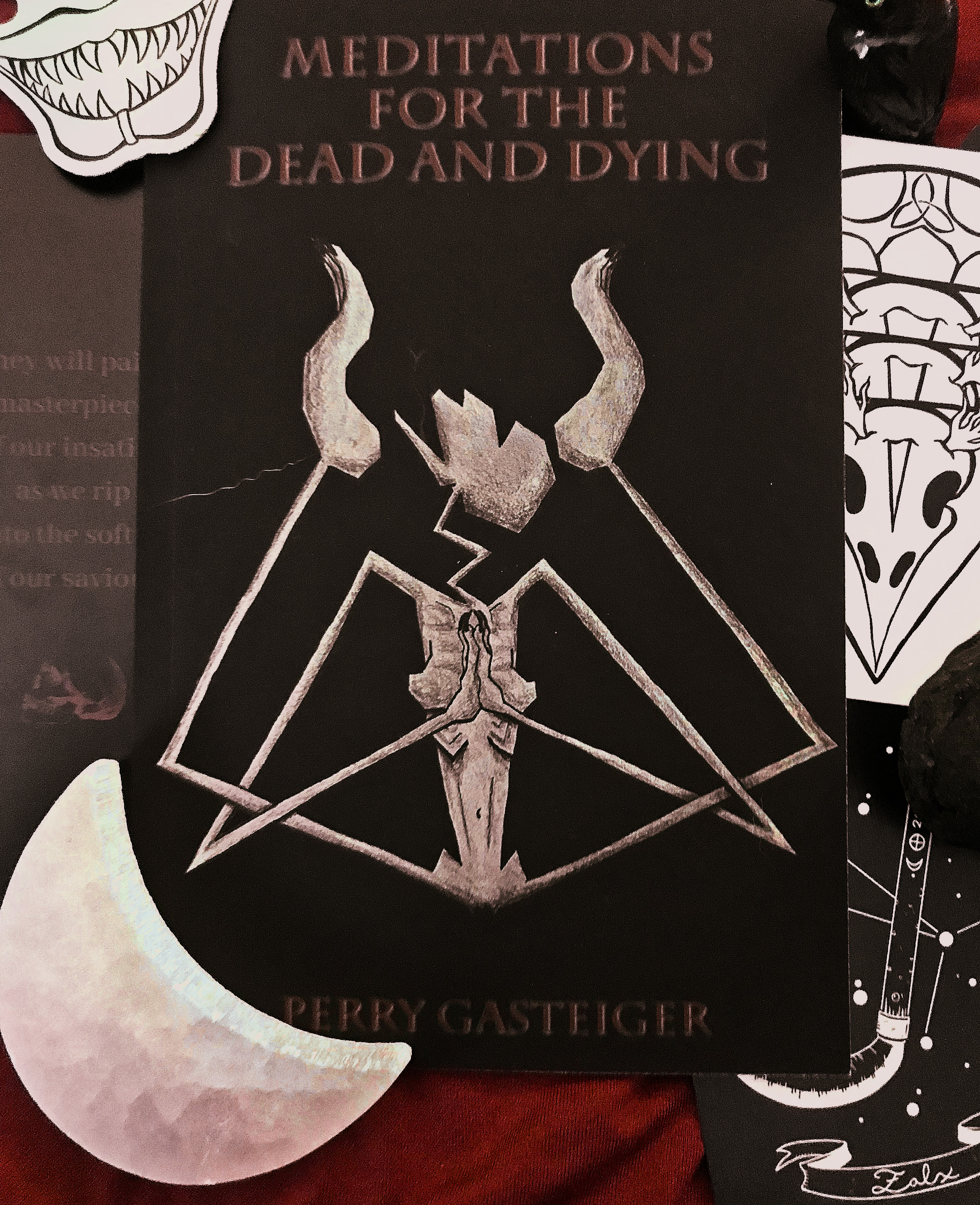 "Like a snake, I shed the skin you so graciously shoved me into"
Meditations for the Dead and Dying is a visceral masterpiece; one that encompasses a contemporary free verse lyricism and pays homage to the vivid, tenacious style of the beatniks and the Romantics alike.
Following a winding trail from early growing pains, to death, rot, and carnage, to a strange rebirth, Meditations for the Dead and Dying creates a path of skillful language that guides the reader through an archaic graveyard of the speaker's own making, brimming with haunted pasts, rotted regrowths, and unknown futures that loom equally above us all.
"We are borne from the marrow of the skeleton of the universe: she taps a femur and lets it crack."
Beginning with an ode to I Sing the Body Electric, Especially When My Power's Out by visceral genius Andrea Gibson (who was in turn inspired by I Sing the Body Electric by Walt Whitman), this collection carries the weight of its inspirations with grace, and pays to homage to past works and its own individuality in the best way. This first poem boldly sets the scene: a juxtaposition of the eerie wonders of nature, and of the nature of inhabiting a physical body.
Corpus Corallium runs wild where the introduction leaves off, an innate exploration of each piece of the body accompanied by the aesthetics of the ocean, as raw and blood-wounded as a human being ever is. Truly, blood-stained and tender is an apt description of this collection as a whole, dancing across the human experience of trauma and growing paints as they ache for us all.
And yet, there are soft moments interspersed that speak to the softness of humanity as well, that make this collection so truthful and approachable. A Snack in the Sunshine and Apricots are both incredible snapshots of gentle existences, always slightly marred by the deep and dark, bruising bite of growing pains and familiar hurts.
"A child screams and I fall asleep/thinking of you in the fragrant heat."
The language is heavy and convex at times, occasionally convulting the focus, but admittedly, all good poetry carries this curse from time to time. Overall, the language curves and twists masterfully to create a beautiful product of immersion and storytelling both, and Gasteiger makes skilled use of poetic form and a deeply engaging style to create a solidly compelling collection that leads with emotion and spares no experience unexplored.
Meditations for the Dead and Dying releases on December 4th, 2021, and you can keep updated by following author Perry Gasteiger on Twitter and keeping an eye on this blog for updates, as I'll be eagerly awaiting the official release! The author was kind enough to send me a digital ARC to review, but you can expect some beautiful flatlay shots of the physical book when it arrives. Stay tuned!
"Perry Gasteiger is a queer, non-binary poet and writer from Waterloo, Ontario. Their work shows an interest in the mundane darkness of our everyday world using juxtaposition between the real and the abstract, the beautiful and the deformed, the congruent and the disordered. Perry's work explores issues surrounding pain, trauma, mental illness, and how these twist perceptions of the human condition. Their work aims to see the easily unnoticeable in an evocative and darkly empathetic way."
---
If you enjoy the work I do, consider supporting me on Ko-fi, subscribing to my Patreon where there are more Patron-only posts just like this, signing up for my newsletter, or simply checking out the rest of my work on my site. As always, thanks for reading!