This post is part of a series that explores the various features available on https://quello.io.
In the first part of this series, we took a look at questions and how easy they're to create on https://quello.io. In case you missed it, you can find it here.
In the second installment of this series, we'll be looking at topics and how they're used to navigate questions on Quello. Currently, Quello lists around 75 different topics. These range from sport to Splinterlands, finance to psychology, we've tried to add something for everyone. We're working to add more topics every day and you can find a full list of the available topics here, let us know if you can't find something you're looking for.
When we created Quello, we wanted to make sure that finding questions relevant to your interests was easy, and to help this, we created a dedicated page to explore topics. Below you can see an example of the topics page, here you can find a list of all of the topics available on Quello.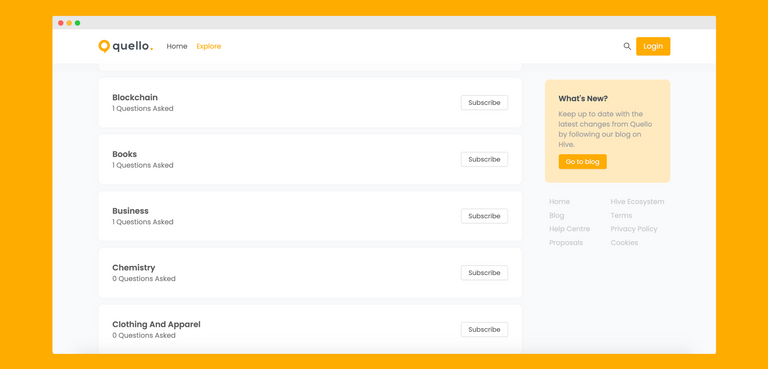 On the topics page, you can see a list of all the topics combined with some useful information relating to how many questions have been asked i that particular topic. As you can see, you also can subscribe to every topic on Quello. When you subscribe to a topic this will become a topic shown within your topics feed. Your topics feed holds all of the questions related to the topics you're subscribed to and provides an easy way for you to navigate questions on Quello. You can see this below: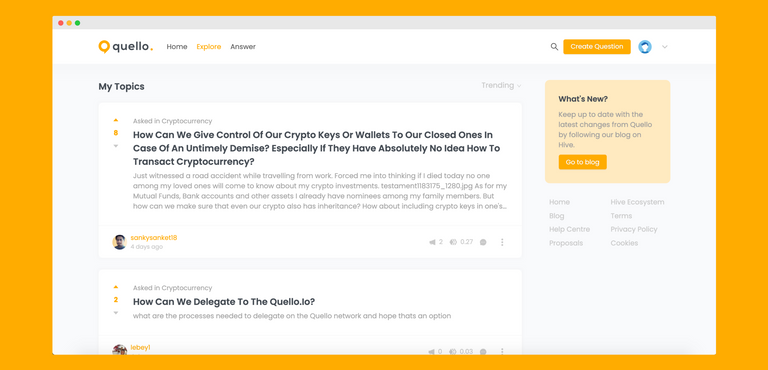 We'll be to improve how we sort topics in the coming months, this includes more information surrounding trending topics and finding relevant topics to you, however in the meantime if you think we've missed a topic please let us know and we'd be happy to add it to Quello.
As always, we love hearing your feedback surrounding Quello so if you've got anything you'd like to suggest or if you have any questions, please let us know. We'd be happy to help.
Related Posts
#1 Exploring Quello - Creating Questions on Quello
Get Started with Quello Today!
You can get started on Quello today by visiting https://quello.io
Support Quello
Join us on Discord: https://discord.gg/G2XZsau
Follow our blog on Hive: https://peakd.com/@quello