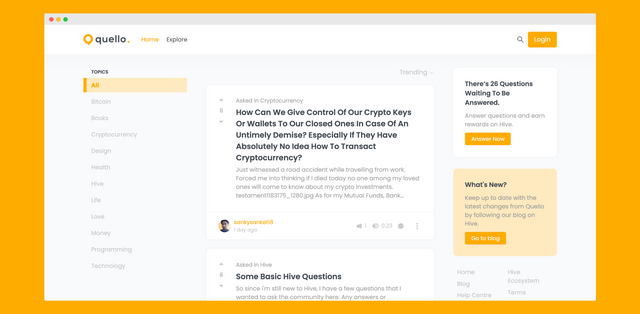 In case you missed it, we recently announcement that Quello is now live and available for all your questions and answers.It's great to see that people are already using the site with new questions and answers being added each day.
At Quello, we're focussed on taking your feedback onboard and incorporating that into our roadmap. To help us gather feedback surrounding Quello, we ask you to join our Discord let us know what you love, hate and what you would like to see in the future. We've already had some great feedback and we're excited to hear yours too.
If you haven't already you join our Discord using the link below:
Got a suggestion?
If you have any suggestions or improvements you can let us know by joining us our Discord and posting them our #suggestions channel
Found an Issue?
As Quello is currently in beta, we expect that there is a possibility that a few minor issues have slipped through. If you find an issue you can let us know in our #issues channel.
---
You can find a link to our recent annoucement of Quello here:
https://peakd.com/hive/@quello/introducting-quello-io-quello-is-ready-for-your-questions