Hello Steemitverse and Foodies around the world!
Today I will be sharing you our Korean Grill at Home - Take two.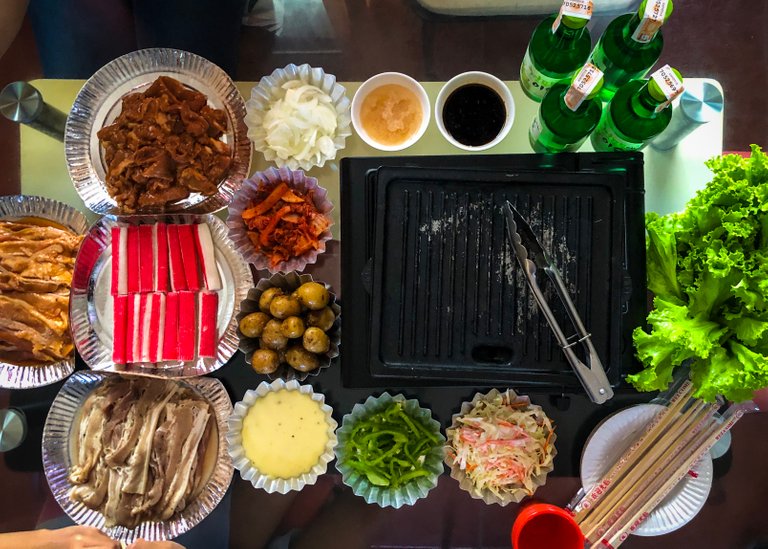 When my other group of friends saw the photos of my first experimental Korean inspired grill at home, they were jealous and demanded to get a chance to taste it since we haven't seen each other for almost a year because of our busy schedules. We set it on Saturday at lunch time.
It's a challenging early morning preparation for me. I bought everything I need in the supermarket and immediately get everything set.
Here they are: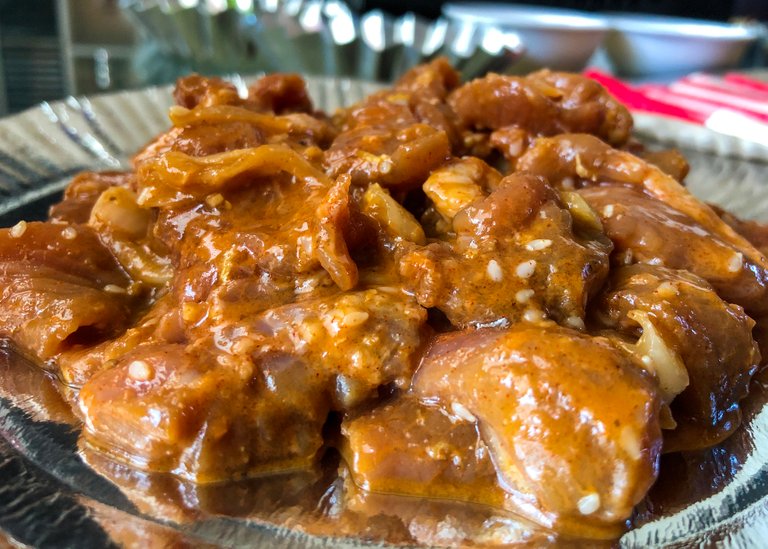 Spicy Pork Bulgogi, it's thinly sliced pork marinated in spicy bulgogi sauce. This time I'm quite confident with my recipe, for it is my second time to made such one.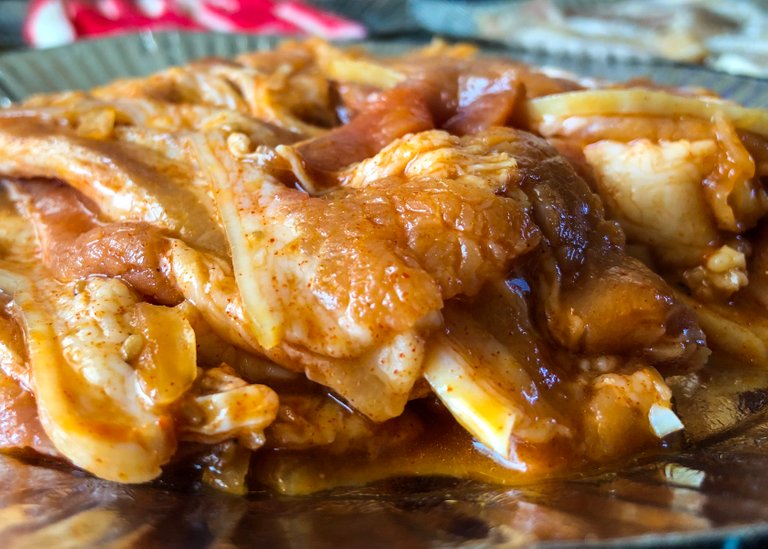 Spicy Samgyeopsal, I think this one also looks and tastes great. Spicier too.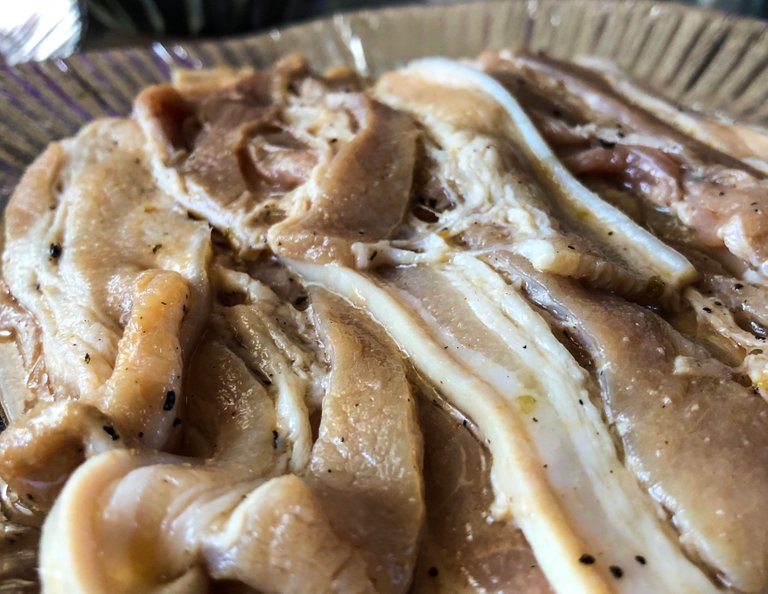 Sweet Samgyeopsal, the light variant. It's simply marinated in sweet pineapple with garlic, pepper and salt. Fortunate to found ready thin sliced pork belly in the supermarket, unlike before that I manually sliced the meat and took a lot of time and effort.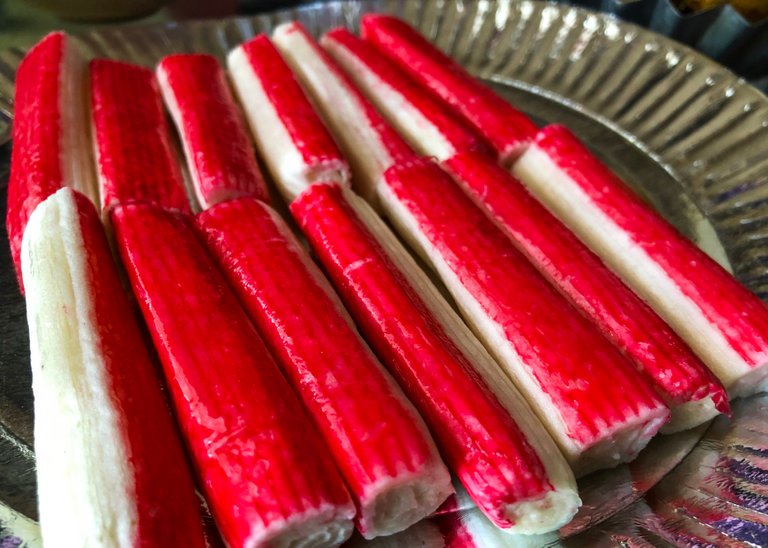 Crab Sticks, also from the supermarket which is frozen and an imitation of the real crab meat.
For the Side Dish: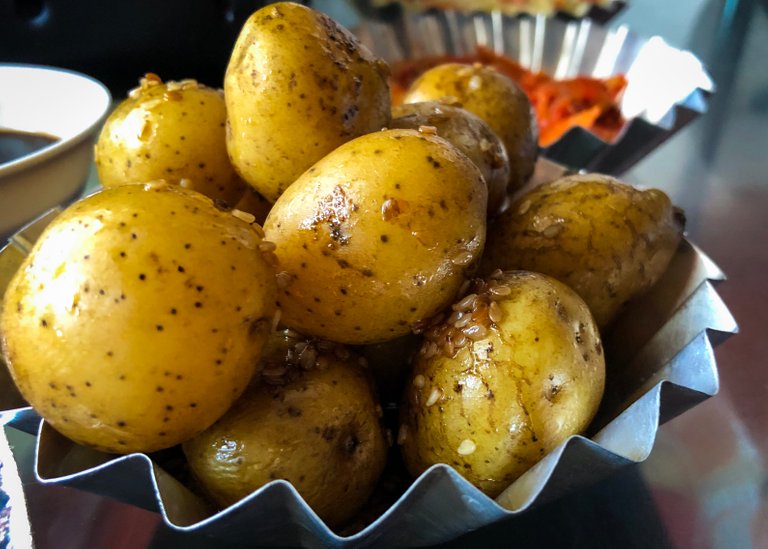 Braised Baby Potato, I made some research how to cook this one because I am not so familiar with this side dish and just ate once. Google is always here to the rescue, haha! Basically, it contains water, soy sauce, white wine, brown sugar, corn syrup and sesame seeds. Turns out the same taste with the one I ate.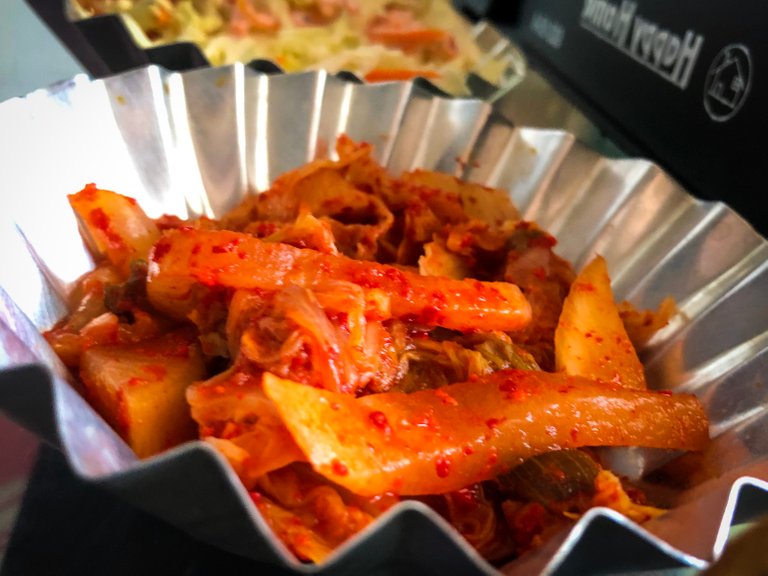 Kimchi, it is a ready made bottled kimchi I also bought form the store.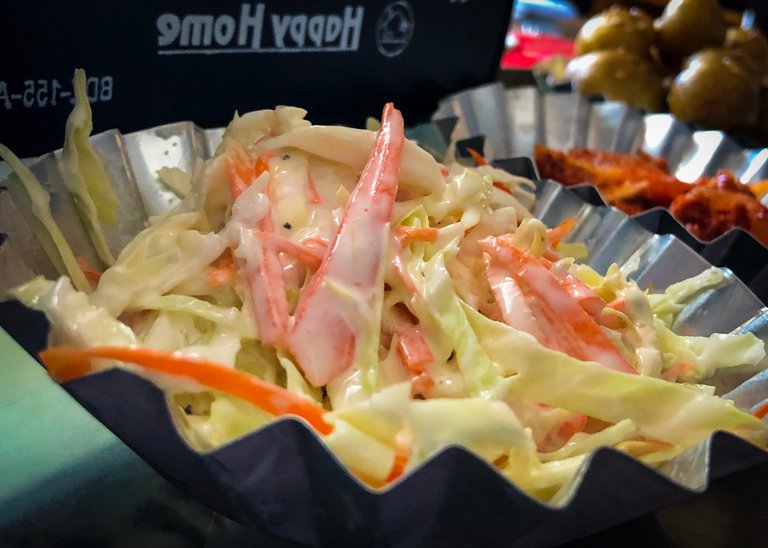 Coleslaw, easy to prepare salad made from cabbage and carrots with mayonnaise, dash of sugar, pepper, salt and lemon juice.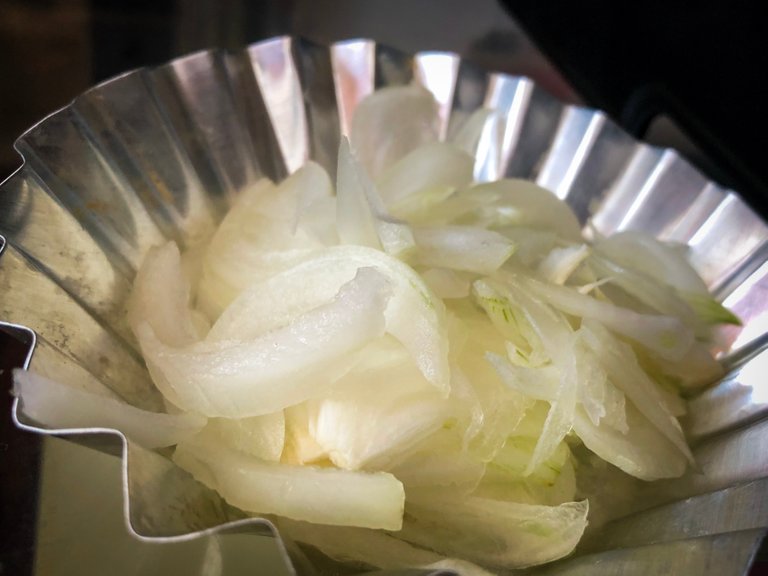 White Onion, since I don't have pickled onion I just sliced some fresh white onion as substitute.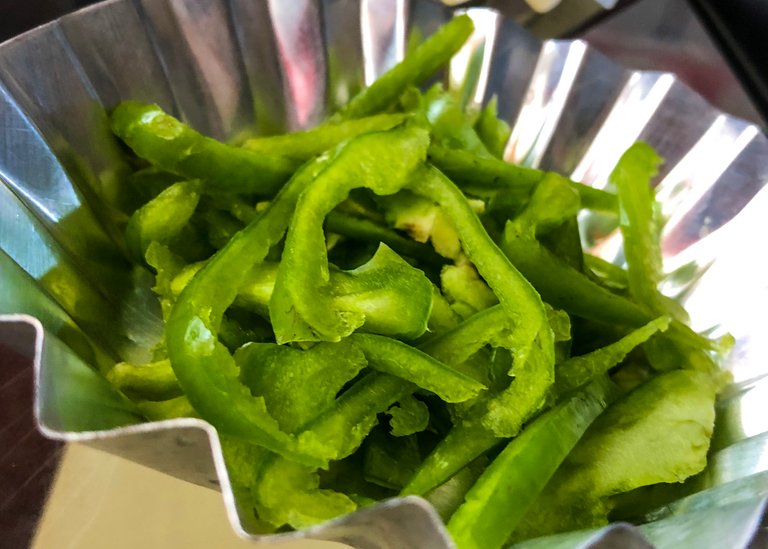 Green Bell Pepper, same with the onion it is also freshly sliced.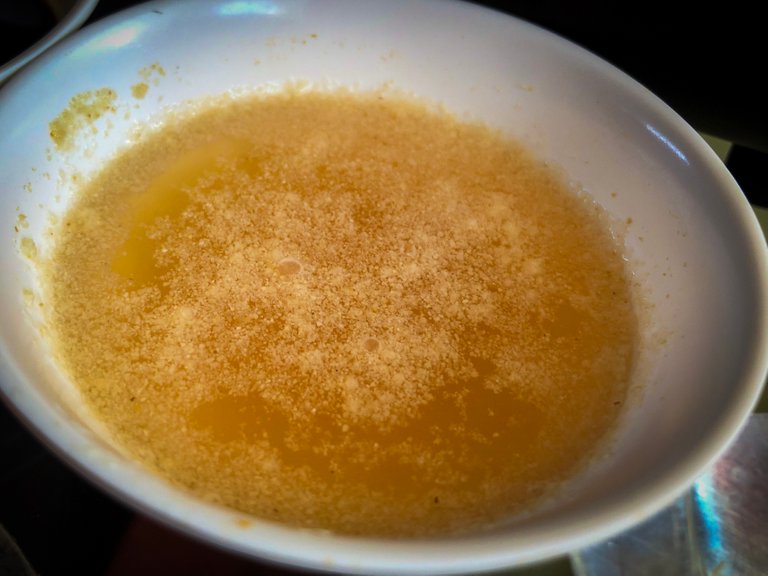 Garlic and Vinegar, simply garlic powder and white vinegar with pinch of salt.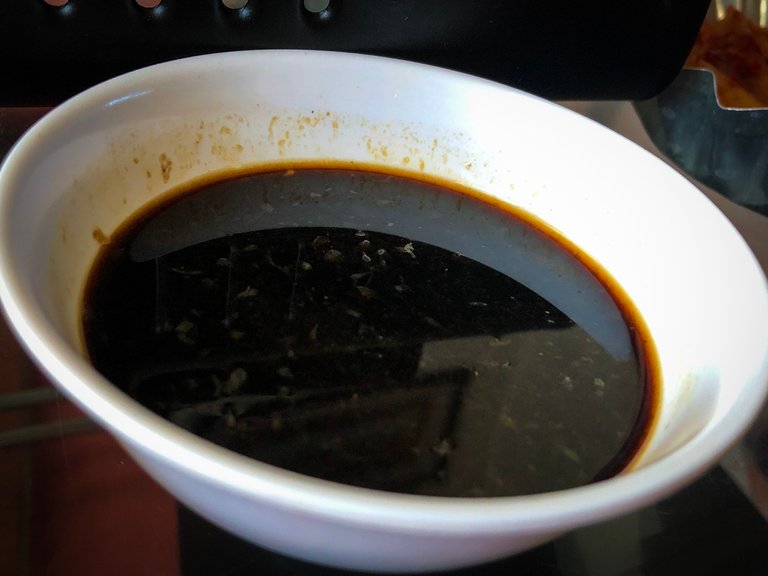 Soy sauce, actually it's kinda Filipino style dip - soy sauce with calamansi.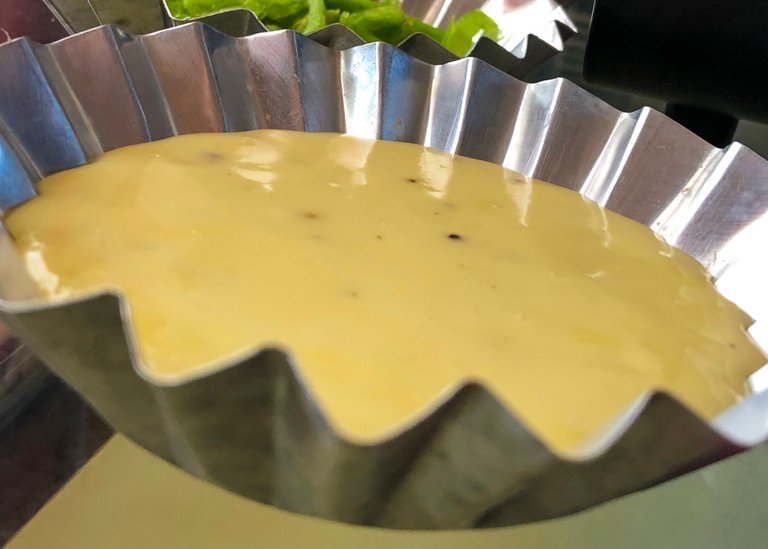 Cheese Dip, oh I love making these cheese dip. I have done it many times. Simple ingredients and easy to prepare, grated cheddar cheese, milk, butter, flour and dash of pepper and you'll got the mozzarella like gooey texture.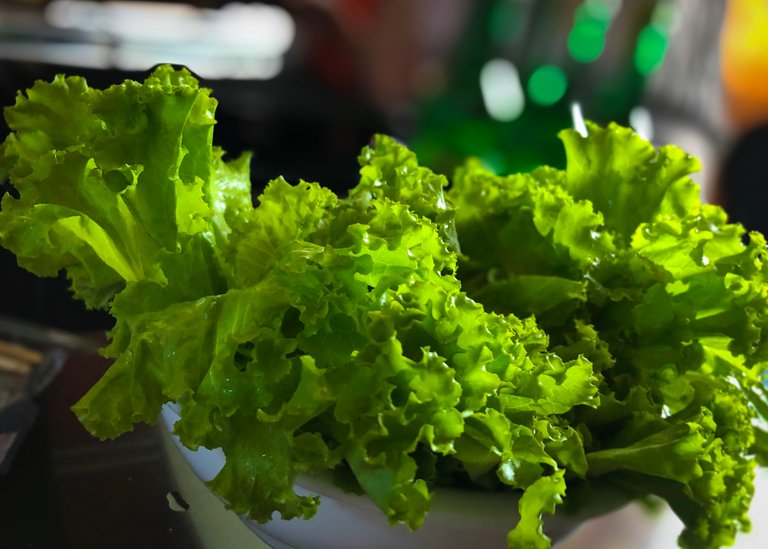 Lettuce, fresh green leaf lettuce that serves as the wrapper of the grilled meat together with the side dish.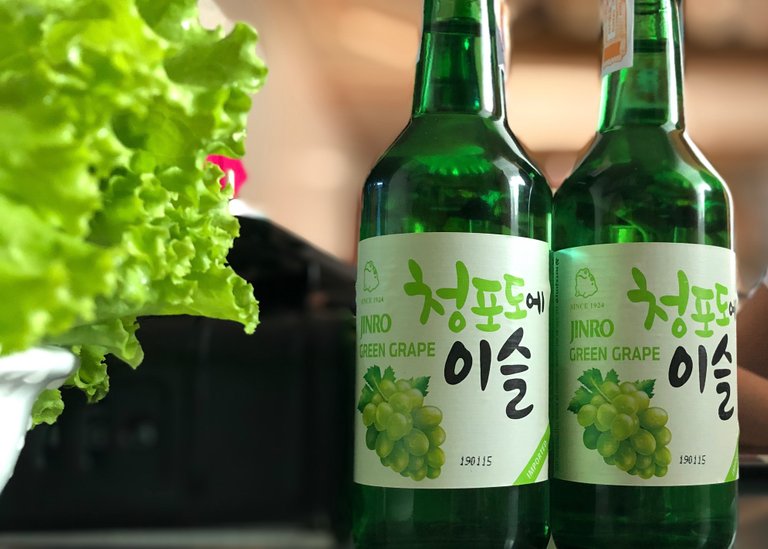 Soju, to have the complete Korean food trip experience we tried this green grape variant. Just right intensity of flavor, fruity and sweet.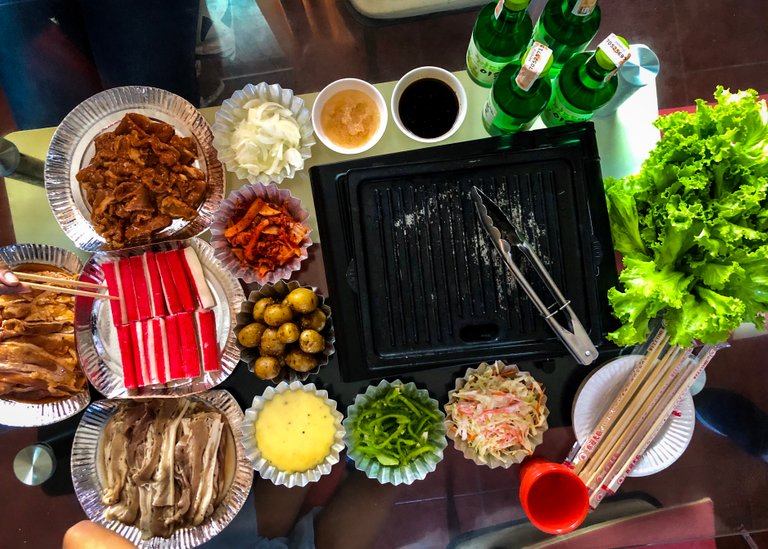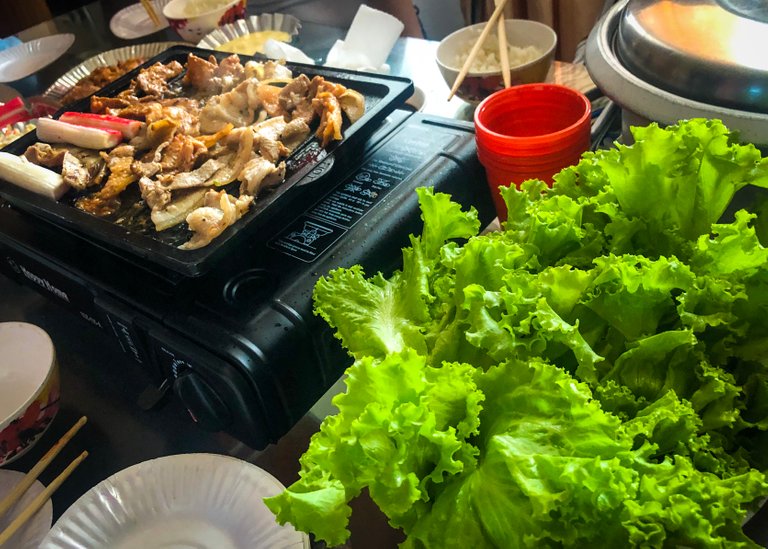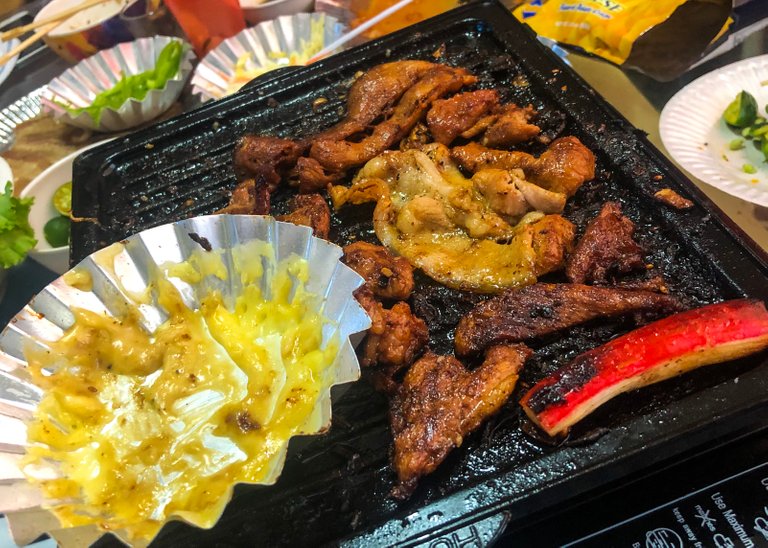 We are group of 5 and it's like we had the unlimited bbq also because I made 1 kilogram each flavor of meat. They said it's delicious just like the Korean restaurants, we also had
quality bonding time.
This meal was way cheaper compared eating outside the resto. 😋😉
By the way this is my contribution for @qurator's Tasty Tuesday #100.
Thank you and have a great day!
xoxo,
@travelsbyblue
---
📸 I OWN ALL PHOTO/S AND CONTENT POSTED ABOVE 📝