To begin with...
Rabona is a Soccer Manager Game built on the Hive blockchain. It is in Open Beta at the moment but has already gathered an active userbase. Feel free to join in right now! :))
https://peakd.com/@rabona/ rabona.io
---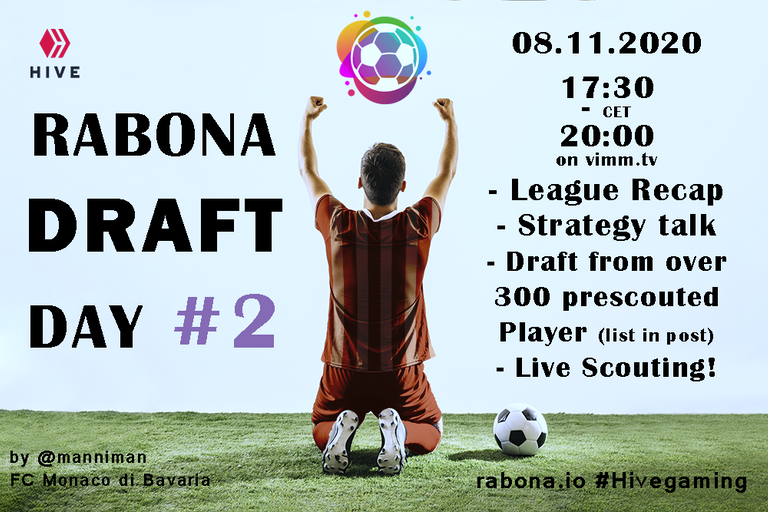 Hello Trainers, Managers and Soccer Fans on the Hive Blockchain,
a lot of things changed since last week. We tried the Update, Season 5 came to an end and started the most challenging Season in Rabona so far. We see Clubs finding themselves under tremendous financial pressure already while Player Salaries are still rising fast pace. To sum it up, it's exciting - Season 6 will deliver for the winners and crush the losers!
A lot of stuff to talk about and of course, it's on! DRAFT DAY :))
To participate, gather in the 'General' Rabona discord channel https://discord.gg/FQJW7zG when we go live or earlier. The smaller your Club still is, the better your Draft Slots will be. You can earn an extra Draft Slot by Re-Blogging this Post or #tagging some friends in the comments.
Here are the Rules:
You need to be in discord to participate
Everyone gets min. 2 Draft Slots
Every Manager can only participate with one of his Clubs
The order will be set in the first 30Min. of the Stream
Get an extra Slot for ReBlog or Tagging Friends
You are allowed to trade or sell your slots
If you're late, you might still be able to join in and you can still take part in the Live Scouting after the regular DRAFT.
Agenda:
17:30 CET - 18:00 CET Gather and distribute the Slots
18:00 CET - 18:45 CET Drafting from the Pre-Scouted Players
18:45 CET - 19:15 CET General Discussion
19:15 CET - 20:00++ CET Live Scouting with Player Giveaways
The Player Lists for the DRAFT can already be found on Discord and on this GDrive: https://drive.google.com/drive/folders/1vU6Af0gHZC0mo0GhYCqX2jBEfsv10Zci?usp=sharing
I hope you can make it and bring some fellow Managers with you!
I will host the second Rabona DRAFT Sunday (today) on Vimm.tv (same as last time)
https://www.vimm.tv/manniman