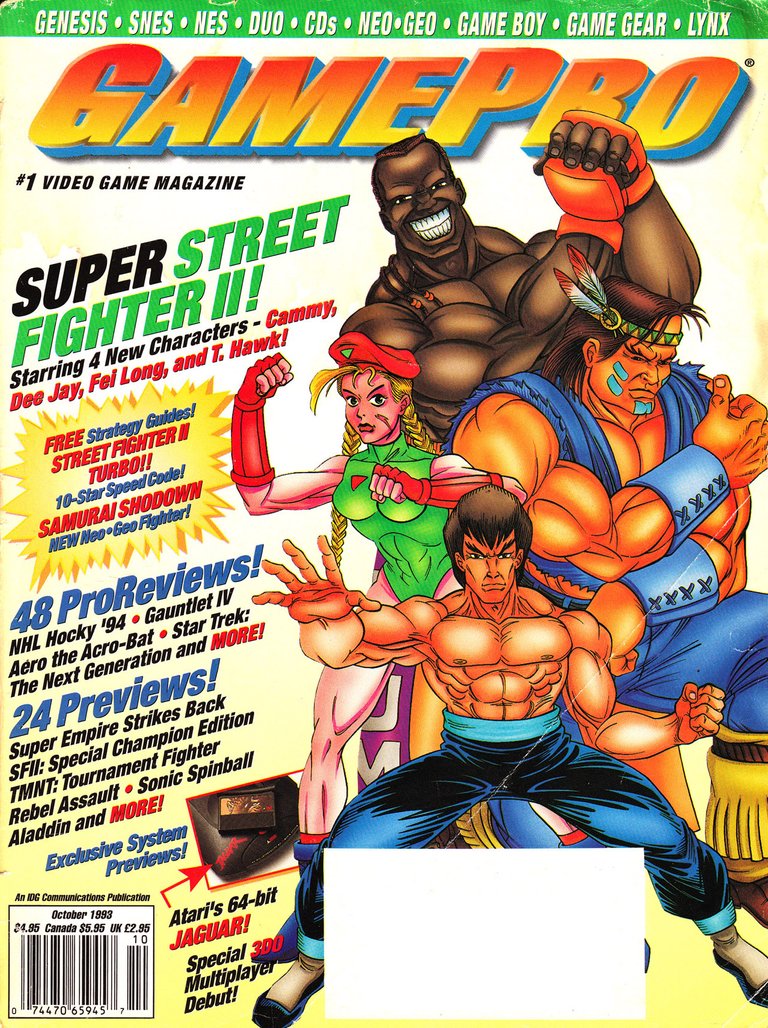 Cover of the October 1993 issue of GamePro
There were tons of video game magazines from the late 1980s through the late 1990s. GamePro wasn't my favorite (I preferred EGM and VG&CE) but there is no doubt that it was one of the most popular. The October 1993 issue includes the following:
Letters from the GamePros - The GamePro editors explain their rating system.


The Mail - Letters from readers with comments and questions on video game violence, playing NES games on the SNES, taking the Turbo Duo on the road, converting Japanese RPGs, obtaining back issues, choosing games to create strategy guides for, baseball games, and more.


Cutting Edge - A detailed look at the upcoming Atari Jaguar, including some of the first games. It's a shame Atari didn't put more effort into games development and courting 3rd party developers. This could have been a great system.


Special Feature: Hot at the Arcades - Part 2 of a Slam Masters Strategy Guide, an arcade wrestling game from Capcom that plays a bit like Street Fighter II.


Role-Player's Realm - Hints and strategies for RPGs including Shining Force for the Genesis, The Seventh Saga for the Super NES, Final Fantasy Legend III for the Game Boy, and Defenders of Oasis for the Game Gear.




Table of Contents from the October 1993 issue of GamePro



ProReviews

Genesis - Reviews of Aero the Acro-Bat, Haunting Starring Polterguy, Dashin' Desperadoes, Dinosaurs for Hire, Gauntlet IV, The Adventures of B.O.B.; Plus previews of Street Fighter II Special Champion Edition, Robocop Vs. Terminator, Robocop III, Pink Panther: Pink Goes to Hollywood, and Sonic Spinball
Sega CD - Reviews of AH-3 Thunderstrike and Spider-Man vs. Kingpin plus a preview of Stellar-Fire
SNES - Reviews of Terminator 2: Judgement Day, SimAnt, Legend, Battle Cars, Super Aquatic Games, Incredible Crash Dummies, Where in the World is Carmen Sandiego, Mr. Nuts; Plus previews of Teenage Mutant Ninja Turtles: Tournament Fighter, ActRaiser 2, Captain America and the Avengers, and Cliffhanger
Nintendo - Reviews of Star Trek: The Next Generation and Mario is Missing!
Neo Geo - A strategy guide for Samurai Showdown





Table of Contents from the October 1993 issue of GamePro (continued)



Overseas ProSpects - A look at Jim Powers for the Super NES and Genesis.


The Sports Page - Reviews and previews of sorts games including NHL Hockey '94 (Genesis and SNES), Legends of the Ring (Genesis and SNES), Riddick Bowe Boxing (SNES), Evander Holyfield (Game Gear), Madden NFL '94 (Genesis and SNES), Football Fury (SNES), Top Gear 2 (SNES), and Nigel Mansell's World Championship Racing (Genesis, NES, Game Boy). Plus news about upcoming sports releases.


GamePro Lab Report - A look at the Dual Turbo wireless controllers for the SNES and Genesis, the Naki Pro Control Pad for the Genesis, and more.


Short ProShots - Brief looks at Formula 1 World Championship (Genesis), Prince of Persia (Genesis), Pit-Fighter II (Genesis), WWF Royal Rumble (Genesis), Super Baseball 2020 (Genesis), Dune II (Genesis), Wizzy 'n' Lizzy (Genesis), Puggsy (Genesis), Incredible Hulk (Genesis), Bubba 'n' Sticks (Genesis), Microcosm (Sega CD), EA Sports Soccer (Genesis), The Adventures of Rocky and Bullwinkle (Genesis), F-1 Pole Position (SNES), Lester the Unlikely (SNES), NBA Showdown (SNES), Redline: F-1 Racer (SNES), Super Battletank 2 (SNES), Turn and Burn (SNES), Super Putty (SNES), Super Off Road: The Baja (SNES), Kirby's Pinball Land (Game Boy), John Madden Duo CD Football (Duo), James Pond II (Game Gear), and more.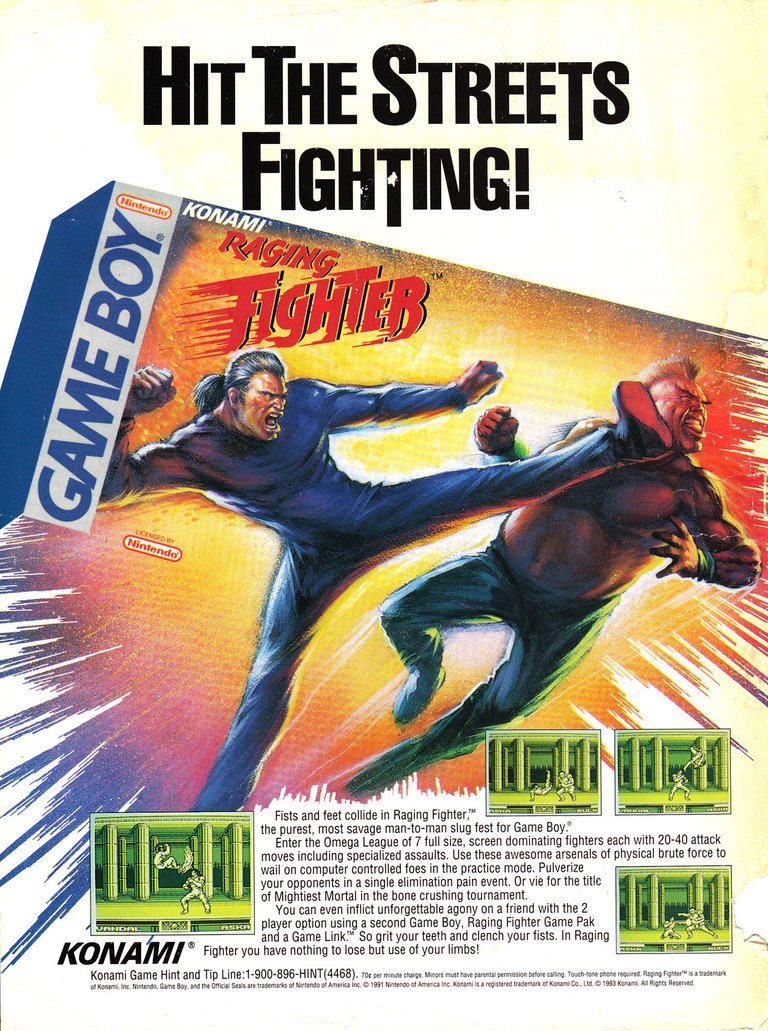 Back cover of the October 1993 issue of GamePro
Read more: https://www.megalextoria.com/wordpress/index.php/2017/11/29/gamepro-october-1993/