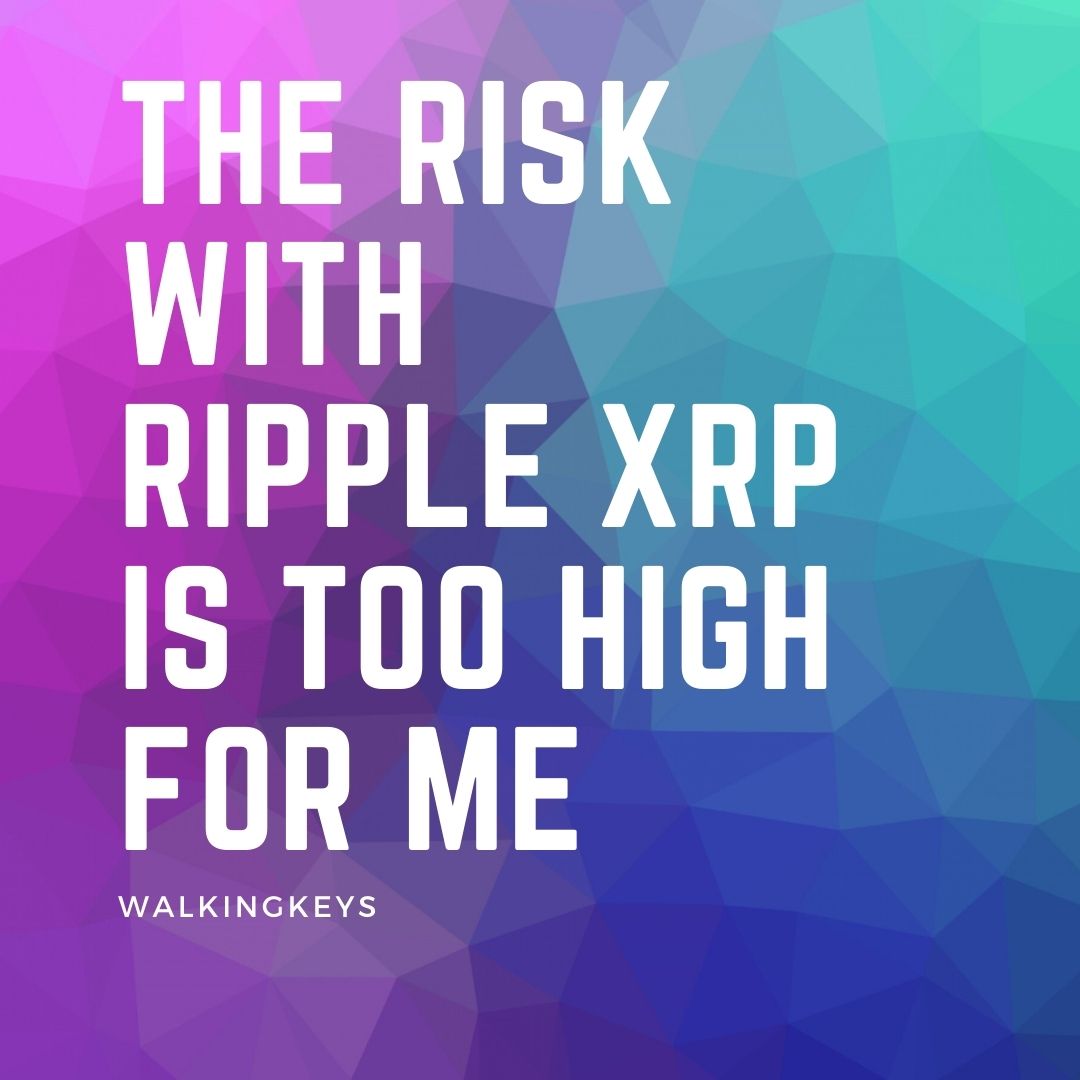 Late November and early December was filled with me reaching out to my closest friends and family with a pitch on why they should seriously consider buying Bitcoin and start investing time to learn and money into cryptocurrency projects that could end up changing the world.
A few of the people I talked to asked what other coins I really liked, and one that I talked a lot about was Ripple (XRP). The upside is tremendous and they are built to talk and work with the existing banking system. From what I could tell, it seemed like a solid bet.
I was buying XRP during the bear run over the last couple of years and even doubled down again in March after the crash. My cost average was around $0.19. After the big push in November, I took profits and put it all into BTC. XRP dropped down and I bought back in with a new investment at $0.46. I didn't keep that for long, and sold at $0.56 before the big crash.
As soon as I heard that the SEC was suing Ripple, I sold out of my position. All of it.
When it hit $0.35 I thought about buying back in, but didn't.
When it hit $0.25 I thought about buying back in, but didn't.
Then it bounced like 30% in a day and I was kicking myself... but I have yet to buy back in. And to be honest, I am not sure I am until I think this SEC thing is going to wrap up.
Simply, it is too risky.
My strategy is to stack BTC as best I can and trade other coins around and hold them until I get profits I can move over to BTC.
I'm not a day trader, and that is what you have to be in order to try and capitalize on XRP in the short term.
The case against XRP raises too many questions.
What happens if Coinbase decides to delist XRP?
How fast will the price drop then?
Only winning the case is really going to set the price on fire and to be honest, I hope they do win.
My goal is to wait for it to level out a little and see where the market is. Then if it looks good, I'm going to buy back in.
I plan on owning Ripple again at some point, because I still believe in the use case and the team they have working on the project. They have a former SEC chair defending Ripple against the SEC.
There are a lot of questions surrounding the case, but I don't know enough to talk about them yet.
For now, the volatility is not something I want right now. Especially heading into a possible alt-coin season. This case could keep XRP down if the market pops.
For the time being, I moved the money I had in XRP into Theta... which is way up and I'm stoked about that.
There are just so many opportunities right now, so I'm dodging as much of the volatility I can in an industry that is already prone to some incredible volatility.
Let me know your thoughts.
Are you holding onto XRP and just counting down the days until they beat the SEC?
or
Are you happy you sold and never coming back?
Thanks for reading.
WK