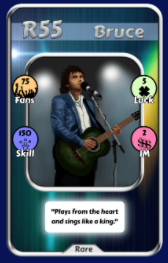 Onwards to the future
Level 30, here I come! In approximately 5 minutes, my current mission finishes, leveling me up to 30 in the Rising Star crypto game. I'll have the "shopping mall" mission available to me. Not having done the math on it yet, I'm not sure how often I'll start it, but it's bound to be better than anything in Home Town anyway, so it's probably replacing Saturday Headline. My confession? I was a little impatient. Music lessons boosted my way through.
A rap about rap
Earlier today, I've written a 5-minute freewrite for @mariannewest's contest. Because the prompt is "listen to the rhyme", I wrote a rap about rap. Tell me if you like it!
Title: Crash Course in Life
Listen to the rhyme, it's his form of expression
Rapping all his poems so he doesn't get depression
Let him vent out all the anger, it's justified
You don't like his style? But his ideas are verified
You want to complain, it'll be in vain,
You get petrified by his disdain, you're so tame
Your attention is his gain, you're impressed
Now you understand why others feel so repressed
All you had to do is listen, you didn't wanna
Now that you've had to, you feel like you won a
Crash course in life
---
YOU WIN
Due to a few breaks I've had to take, there were only 6 giveaways in the past 15 days. What a shame! Let's pick up the pace, shall we? But first, here are all the winners:
@manclar Slippy
@supriya.gupta Slippy
@erking "Random common card" - It's a Jonny!
@dubble Blue Guitar
@javiss R67 Febie
@irisworld R67 Febie
Congratulations! It was obviously karma due to your good deeds. You've already gotten your cards.
I'm just kidding guys, I really do randomize winners. Everybody who leaves a comment gets an entry - only one entry per person per post, no matter how many comments they've made in a single post. Using random.org for the lottery does the trick.

---
R55 Bruce in today's giveaway. To participate, just leave me a comment with whatever you like.