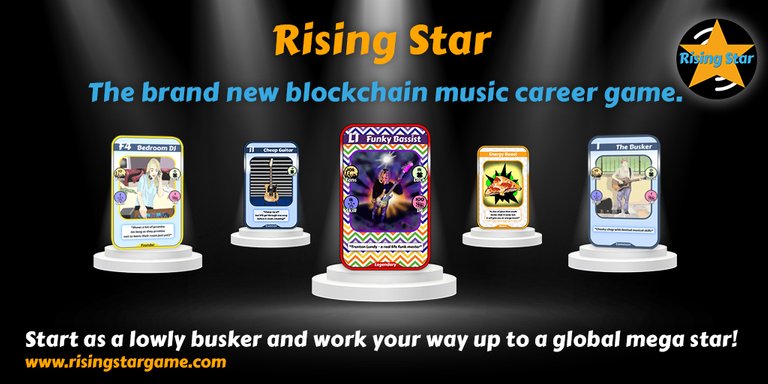 Der @bitandi ist der Sieger in dieser Woche. Glückwunsch an dich, @Bitandi der/die "Songwriter" ist untwerwegs.

In der letzten Woche habe ich ein bisschen geschludert und habe nicht so viele Missionen gemacht und somit habe ich auch nicht so viele Packs geöffnet. Ich hoffe, dass ich in der nächsten Woche wieder etwas mehr Zeit hierfür aufwenden kann.
Im Moment stehe ich kurz vor dem Level 69.
Gespielte Minuten der letzten 7 Tage: 5425 (Rang 34)
Anzahl Karten: 180
G I V E A W A Y
Wie in der letzten Woche gebe ich auch in dieser wieder einer meiner Karten an einen Kommentatoren ab. Heute stehen zur Auswahl:

Regeln
Bitte die Karte, die ihr haben wollt, in den Kommentaren schreiben
Dauer der Verlosung ca. 7 Tage
Upvote- oder Reblog darf, muss aber nicht
Mindest-Reputation: 40
Bitte nur mit einem Account teilnehmen
Bots sind verboten
Der Gewinner wird zufällig ermittelt und hier bekannt gegeben
Wer noch nicht Teil des Spiels ist kann gerne meinen Link verwenden und direkt loslegen.

RISINGSTARGAME
---
---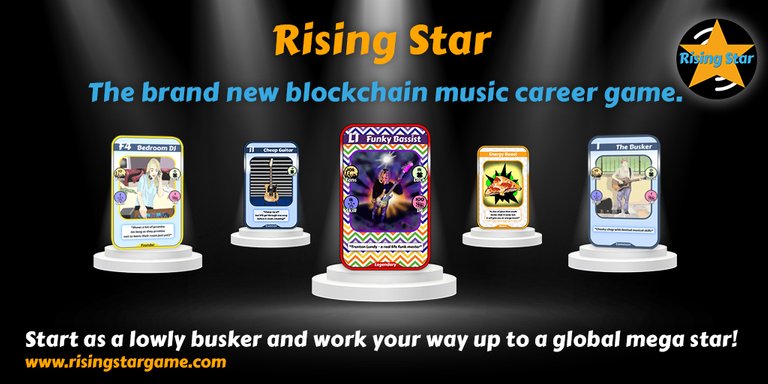 The @bitandi is the winner this week. Congratulations to you, @Bitandi the "Songwriter" is on his/her way.


In the last week I've been a little sloppy and didn't do so many missions and so I didn't open so many packs. I hope that I can spend a little more time on this next week.
At the moment I am close to level 69.
Played minutes in the last 7 days: 5425 (Rank 34)
Number of cards: 180.
G I V E A W A Y
As in the last week, I am also giving one of my cards to a commentator this week. Today you can choose from: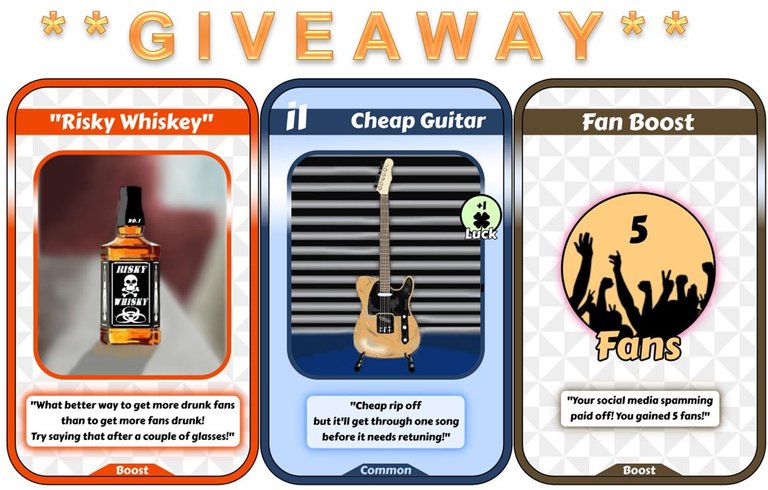 Rules
Please write the card you want in the comments
Duration of the raffle approx. 7 days
Upvotes are not necessary but welcome
Minimum reputation: 40
Please only participate with one account
Bots are prohibited
The winner will be determined at random
If you are not part of the game yet, please use my link and get started right away.
Risingstargame
---
---
All pictures are from @risingstargame #risingstar #risingstargame
---
---
Bisherige Teilnehmer / previous participants:
@bitandi @musicuniversity @fabiyamada @simsibee @monsterbuster @ciderjunkie @itharagaian