Well it is holiday season, so it is time to thanks some people and project who did support me during the past year. Without their support I never would have been capable to reach the 1K own SP mark, which I will pass next week.
25% of one post per day will be shared!
I will donate 25% of one of my daily posts with some people and projects. I know this isn't much but I do guess that this should be seen as a sign of appreciation. My daily post does earn between $1.5 and $2.
So after curation that will be between $1.125 and $1.5. So 25% will be donated which is around 1 Steem. I hope that we all could do some similar things. The hardcore steem community is even started to feel the impact of the ongoing bear market!
People are dropping out, which is understandable!
Most of the time in the past year I was mainly focused on surviving myself on the Steem blockchain! Trying everything out to see what works and what doesn't. To be honest all with the idea to grow my account, but also with in the back of my mind with the knowledge that he stronger my account is, the stronger I can support others!
Well while I am still a little minnow, the time to give something back has arrived!
How will I donate?
Well for this I will be using steempeak! Steempeak is another front-end for the steem blockchain! And besides that it looks great, it has an ideal feature which could be used!
First let me show you how great the interface of Steempeak is: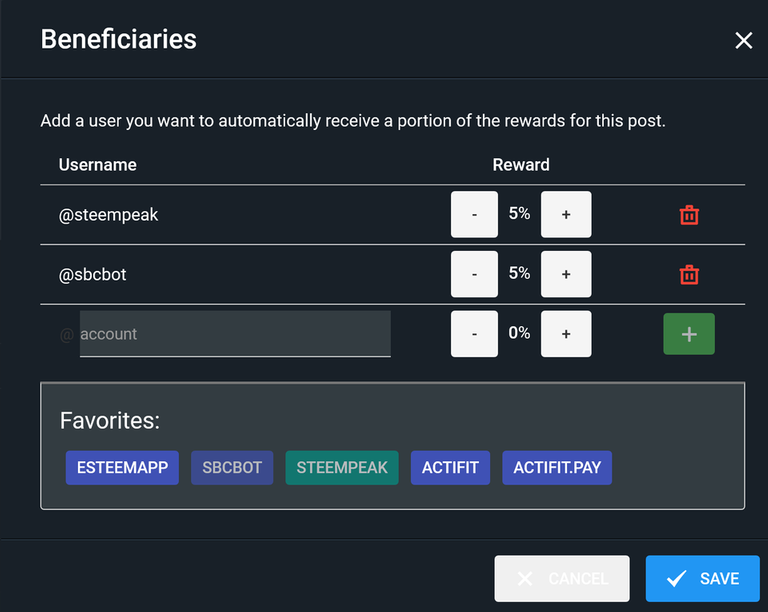 I do know that it is not the only interface who does offer this, but the more I do use Steempeak, the more I like it. Each day I am discovering new features!
But the feature that I really could use is the option they offer to add beneficiaries to your post. You can add a steem account and enter the desired % of the reward this account will get!

I did try this earlier this week to check if the feature was working! And according to steemworld it does.


So I will try to write my main daily post with steempeak. This will mean that I will be missing out of the busy.pay upvotes but it is for a good cause!
The first lucky ones!
It was hard to choice which people or project will be first!
Of course @steempeak will get their reward for allowing us to use this great interface and feature list. So on each post the @steempeak will get 5%!
This is their main income stream, so if we don't support it enough, the investment into steempeak could stop!
They also do run a witness account, so if you still have a free witness spot availbale, consider this group! They are actually investing into the steem blockchain!
Thanks @asgarth
I will start with 2 projects. 2 projects which probably have saved a lot of users from the burn rate with their daily support!
Our beloved Steem Betting Community bot. Who does support lots of us on a daily basis. Since this summer I am running this account, while the other crew members are focusing on expanding our territory!
@beat-the-bookies, @costanza, @stimp1024 and @acelad! You rock guys! Hope that we will have a great 2019! You all will also get some beneficiary rewards this year!
Well created by @meno, the idea is to create a community where people do support each other! He did a great thing with this project. I already bought some steembasicincome share for @helpie some months ago and they can consider this another sign of appreciation.
If all steemians who do get the support of @helpie would do the same, even if it is only one. The @helpie account would grow much faster, resulting in a situation where it can support more members!
It would be great of more people would follow this example! This way we can support others!
Cheers,
Peter
Sports Bettors On Steemit Unite and Join the SBC !


@steemitbloggers