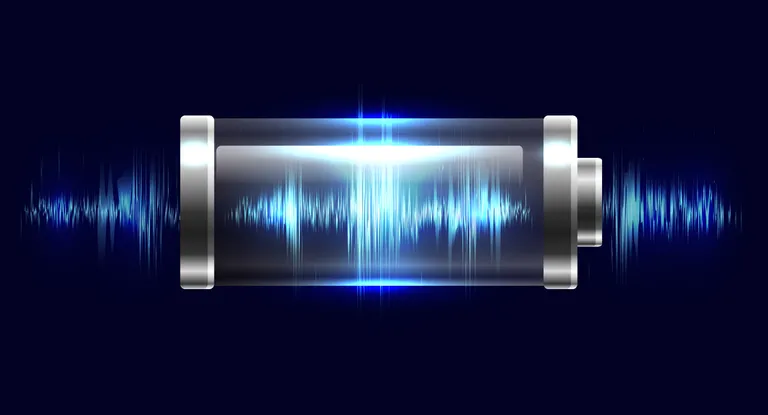 Source
Although enormous progress has been made in the last decade and the autonomy of the batteries is already around 600 km on one charge, this is only about 1/3 of what the most efficient combustion engine achieves that can travel up to 1,800 km with a single 72 l fuel tank, there is also the speed of recharging that, when it comes to liquid fuels such as gasoline or diesel we are talking about minutes.
Aunque se ha avanzado enormemente en la última década y la autonomía de las baterías ya ronda los 600 km con una carga esto solo supone alrededor de 1/3 de lo que consigue el motor de explosión más eficiente que puede recorrer hasta 1.800 km con un solo depósito de combustible de 72 l, además está la velocidad de recarga que, cuando se trata de combustibles líquidos como gasolina o gasoil estamos hablando de minutos.
Conventional lithium batteries work relatively well when it comes to energy density, that is, the amount of energy stored in relation to its weight, but in terms of power density, that is, how quickly the device can manage energy during charging and discharging are quite slow and we are talking about recharging hours.
En lo que se refiere a densidad de energía, es decir la cantidad de energía almacenado en relación con su peso, las baterías convencionales de litio funcionan relativamente bien pero, en cuanto a la densidad de potencia, es decir la rapidez con que el dispositivo puede administrar la energía durante la carga y descarga son bastante lentas y hablamos de horas de recarga.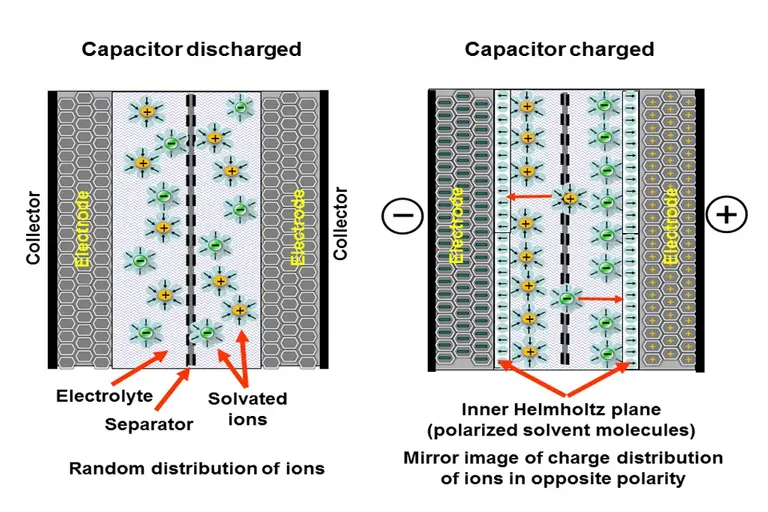 Source
To improve this power density, super capacitors capable of extracting and releasing energy from the system almost instantaneously have already been developed, which translates into enormous power and a recharge time of minutes comparable to that of fossil fuels, but in this case, super capacitors have very low energy density.
Para mejorar esta densidad de potencia ya se han desarrollado los super condensadores capaces de extraer y liberar la energía del sistema casi instantáneamente lo que se traduce en una enorme potencia y en un tiempo de recarga de minutos comparable al de los combustibles fósiles pero, en este caso, los super condensadores tienen muy poca densidad de energía.
Now a group of researchers from the Queensland University of Technology (QUT) have developed a hybrid device that combines the energy density of batteries with the power density of super conductors so that, although the autonomy would be similar, the recharge time would be so short that autonomy would no longer be a problem.
Ahora un grupo de investigadores de la Queensland University of Technology (QUT) han desarrollado un dispositivo híbrido que combina la densidad de energía de las baterías con la densidad de potencia de los super conductores con lo que, si bien la autonomía sería similar, el tiempo de recarga sería tan corto que la autonomía dejaría de ser un problema.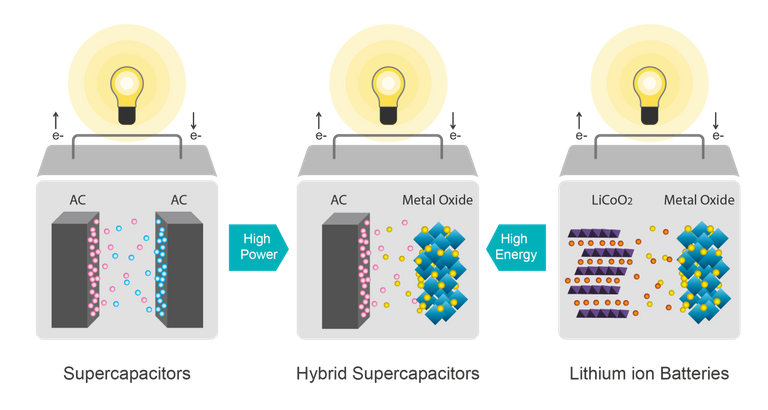 Source
In this development, the QUT scientists have designed a device that uses a negative electrode composed of titanium carbide as a capacitor and a battery-style hybrid graphene positive electrode, this results in a device with an energy density similar to a nickel-metal hydride battery but with a power density 10 times higher.
En este desarrollo los científicos de la QUT han diseñado un dispositivo que usa un electrodo negativo compuesto por carburo de titanio como condensador y un electrodo positivo híbrido de grafeno al estilo de las baterías, esto resulta en un dispositivo con la densidad de energía similar a una batería de níquel-hidruro metálico pero con una densidad de potencia 10 veces mayor.
What surprises me the most is that there are still people who do not believe that the electric vehicle is an option, not for the future, but for the present; For many deficiencies that can be found in electric vehicles, which still have many, we must bear in mind that while the electric motor is on the crest of the wave of research, no one invests one euro in improving internal combustion engines.
Lo que mas me extraña es que todavía haya gente que no cree que el vehículo eléctrico es una opción, no ya de futuro, sino de presente; por muchas deficiencias que se pueda encontrar en los vehículos eléctricos, que aún tienen muchas, hemos de tener en cuenta que mientras en el motor eléctrico está en la cresta de la ola de la investigación nadie invierte un euro en mejorar los motores de explosión.
More information/Más información
https://newatlas.com/energy/qut-hybrid-supercapacitor/
https://ecoinventos.com/supercondensador-hibrido-qut/