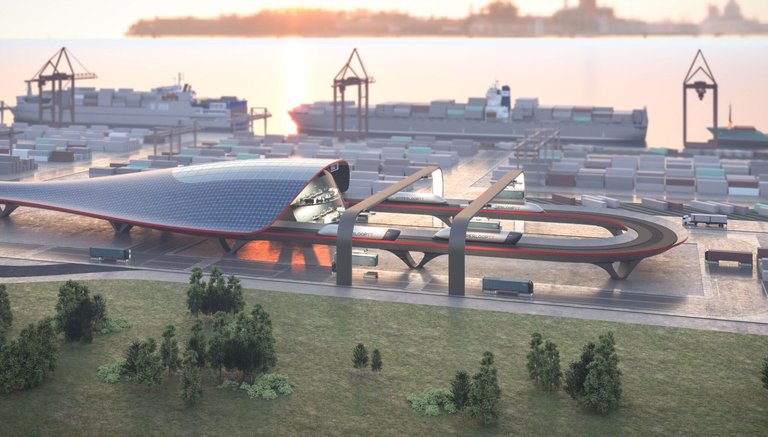 Source
It has been more than ten years since Elon Musk publicly announced the Hyperloop, a revolutionary system for transporting goods and passengers through a tube or system of sealed tubes from which the air is partially extracted, through which they would move the "wagons" without air resistance that could theoretically reach 1,200 km/h.
Hace ya más de diez años que Elon Musk anunciaba en público el Hyperloop, un revolucionario sistema de trasporte de mercancías y pasajeros a través de un tubo o sistema de tubos sellados a los que se les extrae el aire parcialmente, a través de los cuales se moverían los "vagones" sin resistencia del aire que podrían teóricamente alcanzar los 1.200 km/h.
As usually happens with all these things, humans are very impatient and fickle, if it doesn't work in a few months it stops being news and we move on to something else, but fortunately the engineers continued working on the concept and it seems that a decade later the forgotten Hyperloop It's starting to bear fruit.
Como suele pasar con todas estas cosas, los humanos somos muy impacientes y volubles, si no funciona en unos meses deja de ser noticia y pasamos a otra cosa, pero afortunadamente los ingenieros siguieron trabajando en el concepto y parece que una década después el olvidado Hyperloop empieza a dar sus frutos.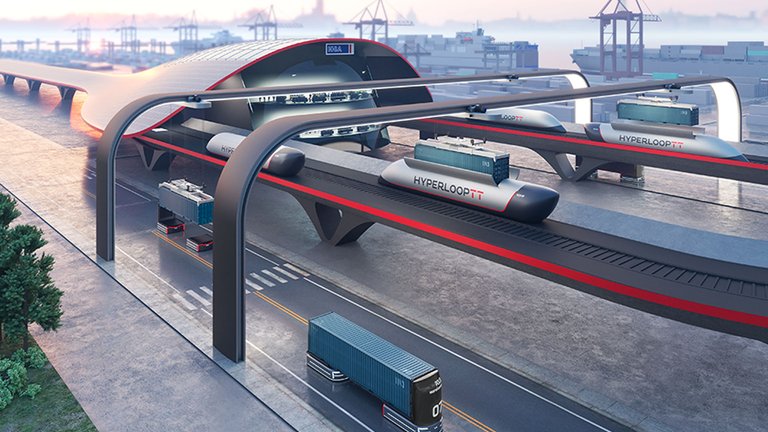 Source
The HyperloopTT company has begun testing in Europe of its HyperloopTT Express Freight project, a system of cargo transport capsules designed in collaboration with the design consultancy Tangerine, moved through the hyperloop system that aims to revolutionize logistics and bring the trucks on the road.
La empresa HyperloopTT ha iniciado las pruebas en Europa de su proyecto HyperloopTT Express Freight, un sistema de cápsulas de transporte de carga de mercancías diseñado en colaboración con la consultora de diseño Tangerine, movidas a través del sistema hyperloop que pretende revolucionar la logística y sacar a los camiones de la carretera.
The capsules would be designed to be loaded and unloaded through sliding doors or gates at the top through which the containers can be loaded directly. For all this to work, platforms would be installed in the ports to unload goods directly to hyperloop capsules.
Las cápsulas estarían diseñadas para cargarse y descargarse a través de puertas corredizas o de compuertas en su parte superior a través de las que se pueden cargar directamente los contenedores, para que todo esto funcione se instalarían plataformas en los puertos para realizar las descargas directamente a las cápsulas de hyperloop.

Source
With all this, HyperloopTT could offer solutions for quickly loading goods that could be integrated into the existing infrastructure, making logistics simpler and more efficient and consequently lowering prices, although the hyperloop routes from the unloading stations to the cities would still need to be designed.
Con todo esto HyperloopTT podría ofreces soluciones de carga de mercancías de forma rápida que podría integrarse en la infraestructura existente, haciendo más sencilla y eficiente la logística y consecuentemente abaratando precios, aunque todavía quedaría diseñar las rutas hyperloop de las estaciones de descarga a las ciudades.
Obviously this is just an experiment and it will take a while to see it working in our cities, but it is a reminder that good ideas are not forgotten even though they stop being news and there is no doubt that it would be a good idea to release the roads with a huge number of trucks that travel them daily.
Obviamente esto es solo un experimento y tardaremos en verlo funcionando en nuestras ciudades, pero es como un recordatorio de que las buenas ideas no quedan en el olvido a pesar de que dejen de ser noticia y no cabe duda de que sería una buena idea para liberar las carreteras de ingente cantidad de camiones que las recorren diariamente.
More information/Más información
https://www.hyperlooptt.com/
https://www.carscoops.com/2023/10/hyperlooptt-believes-its-about-to-revolutionize-the-shipping-industry/
https://www.autobild.es/noticias/hyperlooptt-ya-ha-iniciado-pruebas-europa-presenta-nueva-imagen-1326120