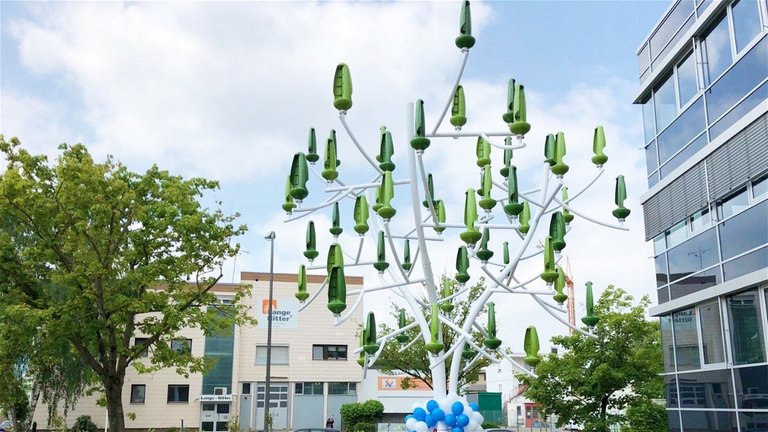 Source
A couple of days ago we commented on the excellence of wind energy as a clean and sustainable energy and how wind turbines have been evolving year after year, becoming increasingly more efficient and compact, but even so they remain overly cumbersome gadgets that have to be deployed far from the urban centers.
Hace un par de días comentábamos las excelencias de la energía eólica como energía limpia y sostenible y como los aerogeneradores han ido evolucionando año tras año haciéndose cada vez más eficientes y compactos, pero aún así siguen siendo unos artilugios demasiado aparatosos que han de desplegarse lejos de los núcleos urbanos.
But now the company New World Wind with its Aeroleaf technology has designed something like wind trees, structures that have the appropriate size and design to be able to install them both in rural environments and in cities without causing a negative impact since they integrate perfectly in both landscapes.
Pero ahora la empresa New World Wind con su tecnología Aeroleaf han diseñado algo así como árboles de viento, unas estructuras que tienen el tamaño y el diseño adecuado para poder instalarlos tanto en el entorno rural como en las ciudades sin causar un impacto negativo pues se integra perfectamente en ambos paisajes.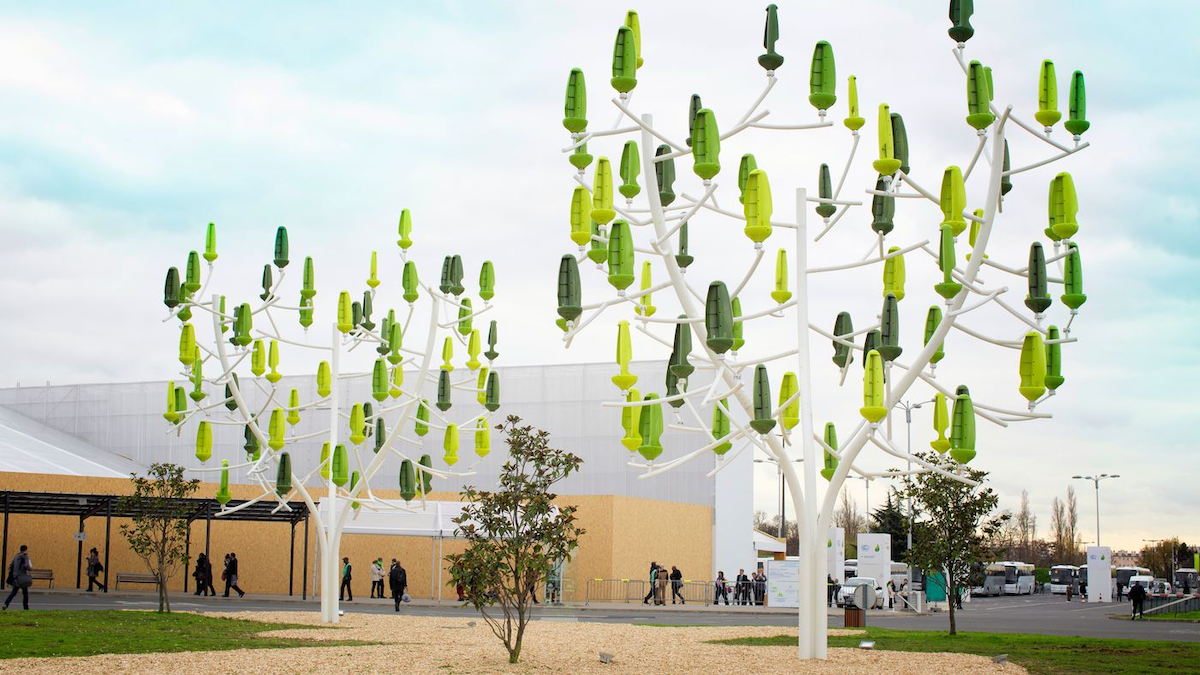 Source
These trees have branches at the ends of which mini-wind turbines are installed. One of these standard trees carries up to thirty-six of these turbines that, in total, could reach a production of 36,000 kWh per year, provided we have an average speed of the wind of around 40 kilometers per hour.
Estos árboles cuentan con ramas en cuyos extremos llevan instaladas unas mini-turbinas eólicas, uno de estos árboles estándar lleva hasta treinta y seis de estas turbinas que, en total, podrían alcanzar una producción de 36.000 kWh al año, siempre que tengamos una velocidad media del viento de alrededor de 40 kilómetros por hora.
According to data issued by the company, a 4 kW solar energy system in a standard home could produce around 3,000 kWh each year, which implies a more than considerable difference with this tree, but still the company offers a variety that has, in addition to the mini-iturbines, leaf-shaped solar panels.
Según datos emitidos por la compañía, un sistema de energía solar de 4 kW en un hogar estándar podría producir alrededor de 3.000 kWh cada año, lo que implica una diferencia más que considerable con este árbol solar, pero aún así la compañía ofrece una variedad que tiene, además de las min-iturbinas, paneles solares en forma de hoja.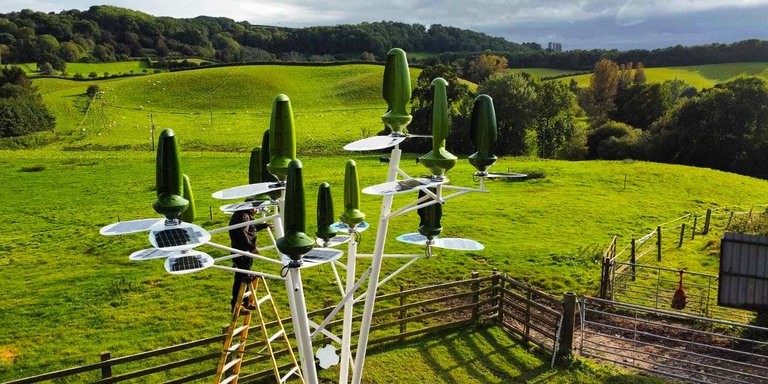 Source
New World Wind offers three different systems that include more or less turbines and solar panels depending on the desired location, whether for a company or an individual, LED bulbs can also be incorporated to function as a streetlight or chargers can be incorporated for vehicles and other devices.
New World Wind ofrece tres sistemas diferentes que incluyen más o menos turbinas y paneles solares dependiendo de la ubicación que se desea, ya sea para una empresa o para un particular, además pueden incorporarse bombillas led para que funcione como una farola o incorporar cargadores para vehículos y otros dispositivos.
Apparently the prices would be around $52,000 for a "tree" with 36 turbines and the hybrid version, with twelve turbines plus solar panels, would cost about $25,000.
There is no doubt that at least it is pretty, if it also works as promised it is a revolutionary invention.
Según parece los precios rondarían los 52.000 dólares para un "árbol" con 36 turbinas y la versión híbrida, con doce turbinas más los paneles solares saldría por unos 25.000.
No cabe duda de que al menos es bonito, si además funciona como prometen es todo un invento revolucionario.
More information/Más información
https://www.designboom.com/technology/aeroleaf-hybrid-new-world-wind-turbine-tree-solar-panels-green-energy-11-14-2023/
https://zbr.com.mx/sin-categoria-es/new-world-wind-revolutionizes-green-energy-production-with-tree-shaped-wind-turbines/736488/#gsc.tab=0