Source
The growing demand for batteries for all types of uses, from cars to home batteries, means that lithium has become one of the most requested metals in recent decades, fortunately or unfortunately, most of the reserves of lithium in the world are in the possession of China, which is not exactly the best friend of the West.
La creciente demanda de baterías para todo tipo de usos, desde automóviles hasta baterías para la casa, hace que el litio se halla convertido en una de los metales más solicitados en las últimas décadas, por suerte o por desgracia, la mayor parte de las reservas de litio del mundo están en poder de China que no es precisamente el mejor amigo de occidente.
That is why all the great powers invest enormous amounts of resources in the search for new deposits of this precious metal. Along these lines, a group of volcanologists and geologists from the United States believe they have discovered what could be the largest reserve of lithium in the world and it seems be under an ancient volcano.
Por eso todas las grandes potencias invierten enormes cantidades de recursos en la búsqueda de nuevos yacimientos de este preciado metal, en esta línea un grupo de vulcanólogos y geólogos de Estados Unidos creen haber descubierto el que podría ser la mayor reserva del mundo de litio y parece estar debajo de un antiguo volcán.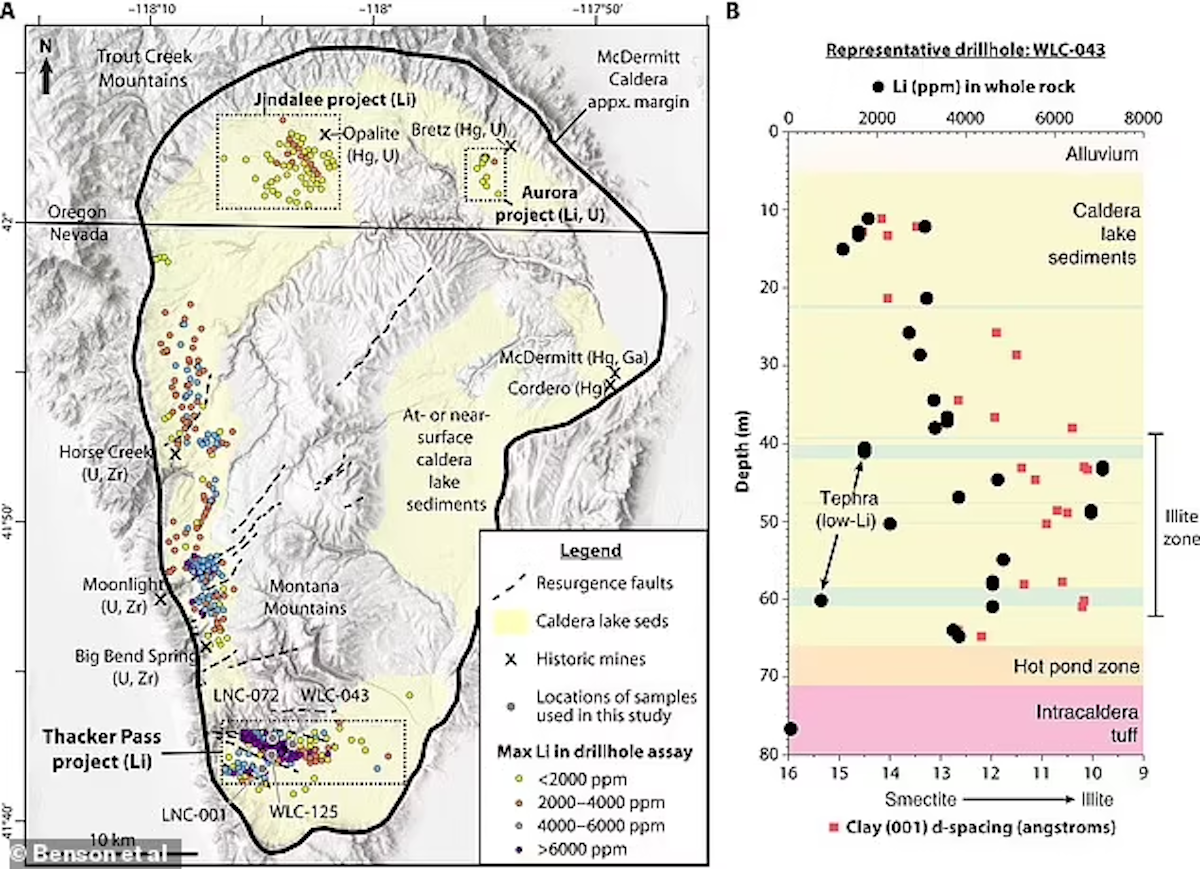 Source
This is the McDermitt Caldera, an ancient volcano 45 kilometers long and 35 kilometers wide located between Nevada and Oregon, in which it is estimated that there is a reserve of between twenty and forty million tons in the form of "illite", a material that has twice the concentration of lithium than the "smectite" found in other deposits.
Se trata de la Caldera McDermitt, un antiguo volcán 45 kilómetros de largo y 35 kilómetros de ancho situada entre Nevada y Oregón, en el que se calcula que hay una reserva de entre veinte y cuarenta millones de toneladas en forma de "illita", una material que tiene el doble de concentración de litio que la "esmectita" encontrada en otros yacimientos.
What the experts are not very clear about is how this illite got there, but according to their theory the McDermitt erupted and collapsed about sixteen million years ago, leaving a crater full of clay rich in lithium, this clay due to various geological and chemicals processes ends up becoming illite.
Lo que no tienen muy claro los expertos es como llegó esa illita hasta allí, pero según su teoría el McDermitt entró en erupción y colapsó hace unos dieciséis millones de años dejando un crater lleno de arcilla rica en litio, esta arcilla por diversos procesos geológicos y químicos acaba convirtiéndose en illita.


Source
Now it seems that the company Lithium Americas Corporation intends to exploit a seventy-two square kilometer mine in the area, but it seems that environmental activists do not agree, so they are still going through the courts, until they find a suitable solution to both parties.
Ahora parece que la compañía Lithium Americas Corporation pretende explotar una mina de setenta y dos kilómetros cuadrados en la zona, pero parece que los activistas del medio ambiente no están muy de acuerdo por lo que aún están recorriendo tribunales, hasta que busquen una solución que convenga a ambas partes.
According to activists, mining exploitation could cause a drop in groundwater levels, which could be a considerable danger to the native antelope, capercaillie and golden eagle, species that are revered by local indigenous people.
Let's hope that sanity and balance between what matters and what really matters triumphs.
Según los activistas la explotación minera podría provocar una caída de los niveles de agua subterránea, lo que puede ser un peligro considerable para el antílope nativo, el urogallo y el águila real, especies que son veneradas por los indígenas locales.
Esperemos que triunfe la cordura y el equilibrio entre lo que importa y lo que realmente importa.
More information/Más información
https://www.dailymail.co.uk/sciencetech/article-12504841/Worlds-largest-lithium-deposit-McDermitt-Caldera-US.html
https://www.xataka.com/movilidad/eeuu-cree-haber-encontrado-reserva-litio-grande-mundo-esta-debajo-antiguo-volcan