Source
More than once we have commented how the electrification of flying devices is something very complex, its weight and size, in addition to the long average distances that this type of vehicles normally travel, would require enormous batteries, which with their dead weight would limit the effectiveness of this type of transport, unless they could be recharged in flight.
Alguna vez hemos comentado como la electrificación de aparatos voladores es algo muy complejo, su peso y tamaño además de las largas distancias medias que normalmente recorren este tipo de vehículos requeriría de enormes baterías, que con su peso muerto limitarían la efectividad de este tipo de transporte, a no ser que pudiesen recargarse en vuelo.
And this is what the US agency DARPA intends with its POWER (Persistent Optical Wireless Energy Relay) project, a project that aims to send energy through laser beams launched from the ground to receivers in the distance, whether ground stations or devices in flight such as unmanned planes and drones.
Y esto es lo que pretende la agencia estadounidense DARPA con su proyecto POWER (Persistent Optical Wireless Energy Relay), un proyecto que pretende enviar energía mediante rayos láser lanzados desde tierra firme a receptores en la distancia, ya sean estaciones terrestres o aparatos en vuelo como aviones y drones no tripulados.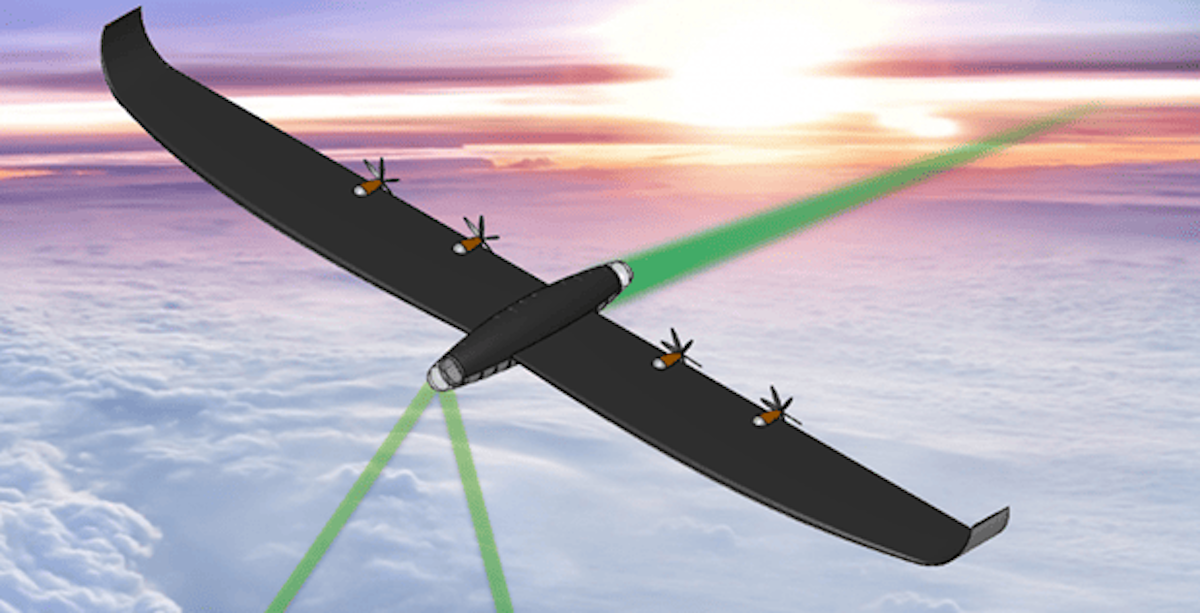 Source
In theory, a battery of lasers could send energy to the flying devices to recharge them in flight, which would make them fly unlimitedly, but the thing is not so trivial because the lasers travel in a straight line and it would be a matter of time to lose visual contact with the target to recharge, which is why the installation of intermediate repeater stations is necessary.
En teoría una batería de láseres podría enviar energía a los aparatos voladores para recargarlos en vuelo lo que les haría volar ilimitadamente, pero la cosa no es tan trivial porque los láseres viajan en linea recta y sería cuestión de tiempo perder el contacto visual con el objetivo a recargar, por eso se hace necesario la instalación de estaciones repetidoras intermedias.
And that is what DARPA is focusing on with its POWER program, which will focus on developing the conceptual designs to develop these intermediate stations that will act as relays and use existing infrastructure to send 10 kilowatts of laser energy across the length of 200 km.
Y eso es en lo que se está centrando DARPA con su programa POWER, que se enfocará en desarrollar los diseños conceptuales para diseñar estas estaciones intermedias que harán la función de relés y utilizar las infraestructuras ya existentes para conseguir enviar 10 kilovatios de energía láser a lo largo de 200 km.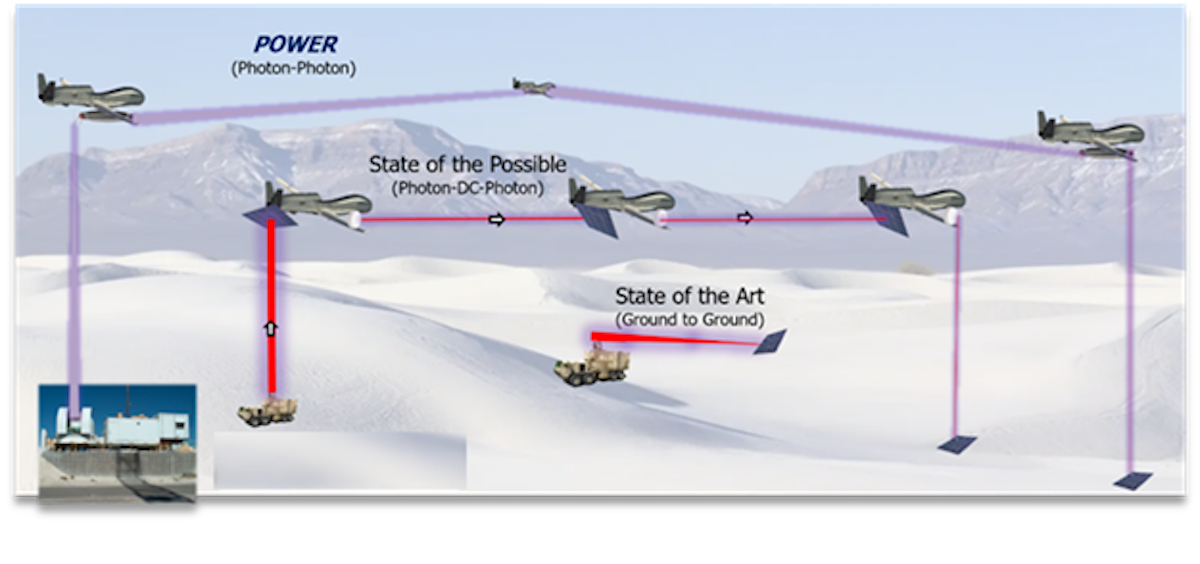 Source
Currently this program is in its first phase so it will still be necessary to invest time and resources, but there is no doubt that this constitutes one more step in the utopia of wireless energy dreamed of by Nicola Tesla, not to mention that this transportation system also could be used to send harvested energy from space.
Actualmente este programa está en su primera fase por lo que todavía habrá que invertir tiempo y recursos, pero no cabe duda que esto constituye un paso más en la utopía de la energía inalámbrica soñada por Nicola Tesla, por no mencionar que este sistema de transporte también podría utilizarse para enviar energía recolectada en el espacio.
The good thing about these things is that, once the military stops playing soldier and throwing genetic material at each other, these inventions pass to civil society where we can all, more or less, benefit from all these innovations that were initially created to kill each other.
Lo bueno que tienen estas cosas es que, una vez que los militares dejan de jugar a los soldaditos y de arrojarse material genético mutuamente, estos inventos pasan a la sociedad civil donde podemos todos, mas o menos, beneficiarnos de todas estas innovaciones en principio creadas para matarnos unos a otros.
More information/Más información
https://www.darpa.mil/program/power
https://thedebrief.org/darpa-wants-to-use-lasers-to-send-energy-directly-to-war-zones-this-is-the-wireless-power-beaming-technology-that-will-make-it-happen/