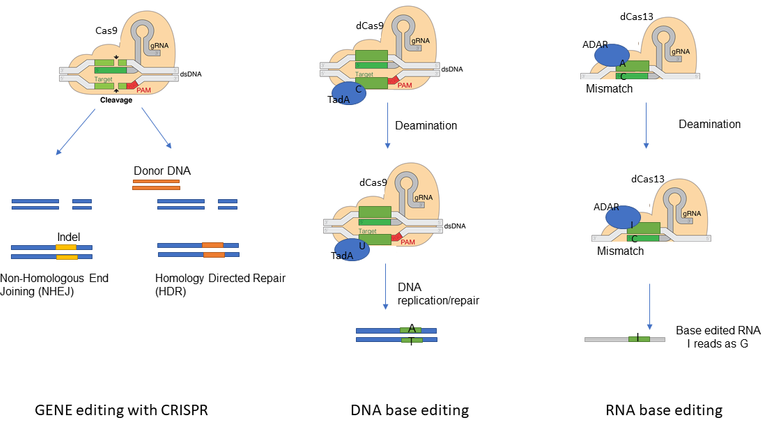 Source
It is not the first time nor will it be the last that we talk in this blog about the CRISPR genetic editing tool, capable of locating a specific DNA sequence of a cell and eliminating it or changing it for another previously established sequence of letters of life (C, A, G, T).
No es la primera vez ni será la última que hablamos en este blog de la herramienta de edición genética CRISPR, capaz de localizar una secuencia concreta de ADN de una célula y eliminarla o cambiarla por otra secuencia previamente establecida de letras de la vida (C,A,G,T).
This editing tool has already amply demonstrated its effectiveness in the treatment of some genetic diseases, but it is not always as effective as one would like, such is the case of diseases such as Progeria, which is a very rare disease that causes premature aging of the people who suffer from it.
Esta herramienta de edición ya ha demostrado sobradamente su eficacia en el tratamiento de algunas enfermedades genéticas pero no siempre es todo lo eficaz que se desearía, tal es el caso de enfermedades como la Progeria que es una enfermedad muy rara que provoca el envejecimiento prematuro de las personas que la padecen.
This disease is produced by the change of a single letter in the coding of the gene that creates a certain protein, this defect in the coding of the gene causes it to synthesize a variant of the protein that is toxic and that ends up spreading through the rest of the body affecting the rest of healthy cells.
Esta enfermedad es producida por el cambio de una sola letra en la codificación del gen que crea una determinada proteína, este defecto en la codificación del gen hace que sintetice una variante de la proteína que es tóxica y que se acaba propagando por el resto de del cuerpo afectando el resto de células sanas.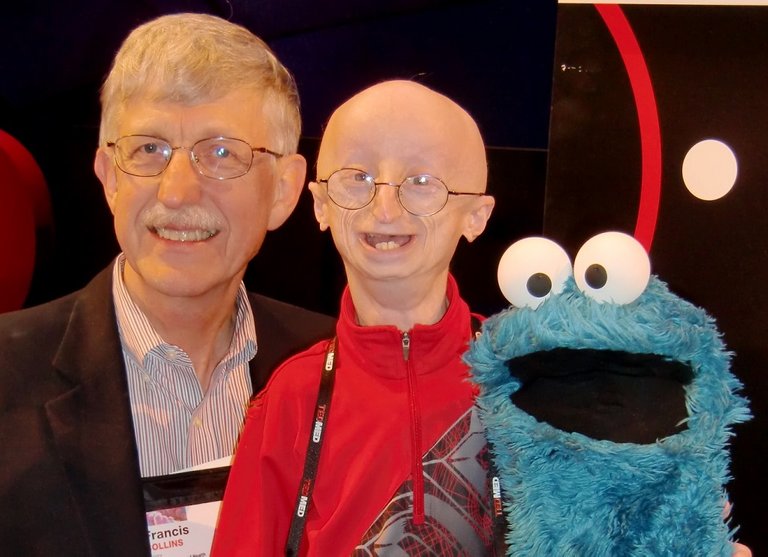 Source
For these cases, the original CRISPR-Cas9 genetic tool is not as effective as is needed, since it is not about eliminating or changing a DNA sequence but rather about changing a letter C for a T in a specific part of the sequence of the gene that encodes a protein called Lamin A that, as we mentioned, becomes toxic with this mutation.
Para estos casos la herramienta genética original CRISPR-Cas9 no es todo lo eficaz que se necesita pues no se trata de eliminar o cambiar una secuencia de ADN sino de cambiar una letra C por una T en una parte concreta de la secuencia del gen que codifica una proteína llamada Lamin A que, como mencionamos se vuelve tóxica con esta mutación.
To remedy this, Harvard University professor David Liu developed base editors based on natural enzymes capable of changing DNA bases, these can convert (A) denin into (G) uanine and (C) itosin into ( T) imine, which is precisely what is needed to repair these mutations that cause progeria.
Para subsanar esto el profesor de la Universidad de Harvard David Liu desarrolló los editores de bases basándose en enzimas naturales capaces de cambiar las bases del ADN, estos pueden convertir la (A)denina en (G)uanina y la (C)itosina en (T)imina que es precisamente lo que se necesita para reparar estas mutaciones que provocan la progeria.

Source
David Liu modified these enzymes to make them more precise and fused them with CRISPR, taking advantage of its ability to traverse the DNA to locate the desired sequence, with this he created the so-called base editors with which they were subsequently tested with animals showing great efficiency, now it only remains to use it in humans.
David Liu modificó estas encimas para hacerlas más precisas y las fusionó con CRISPR aprovechando la habilidad de éste para recorrer el ADN localizar la secuencia deseada, con esto creó los llamados editores de bases con los que posteriormente se hicieron pruebas con animales demostrando una gran eficacia, ahora solo queda utilizarlo en humanos.
Gene editing is one of these disruptive technologies that will make us explode the brain, first it will be used to cure genetic diseases but, inevitably, later it will end up being used to improve the human race, as in fact it is already being done or are pretending to do with soldiers, which sounds terribly controversial.
La edición genética es una de estas tecnologías disruptivas que nos hará explotar el cerebro, primero se utilizará para la curación de enfermedades genéticas pero, inevitablemente, después se acabará utilizando para mejorar la raza humana, como de hecho ya se está haciendo o se pretende hacer con soldados, lo cual suena terriblemente polémico.
More information/Más información
https://theconversation.com/new-crispr-technology-could-revolutionise-gene-therapy-offering-new-hope-to-people-with-genetic-diseases-153641
https://newsroom.unsw.edu.au/news/science-tech/new-crispr-technology-could-revolutionise-gene-therapy-offering-new-hope-people